Summer is wrapping up, so here are ten fall style essentials you'll need in your closet this season.
Disclosure: Some of the links on this post are affiliate links, which means I may receive a small commission if you click a link and purchase something I have recommended. While clicking these links won't cost you any extra money, they will help me keep this site up and running and keep it ad-free! Please check out my disclosure policy for more details. Thank you for your support!
It may be summer, but that doesn't mean we can't prepare for fall yet. We recently saw many great fall pieces in recent sales (especially at the Nordstrom Anniversary Sale), which got me thinking of the style essentials we need for the upcoming season.

If you're looking for inspiration, I've listed ten items that are sure to be your fall style essentials this season. So bring on the cooler weather, because you'll be ready for it with these finds!
To shop, just double-click on any of the images below. Also, don't forget to subscribe for more fashion, beauty, and travel inspirations!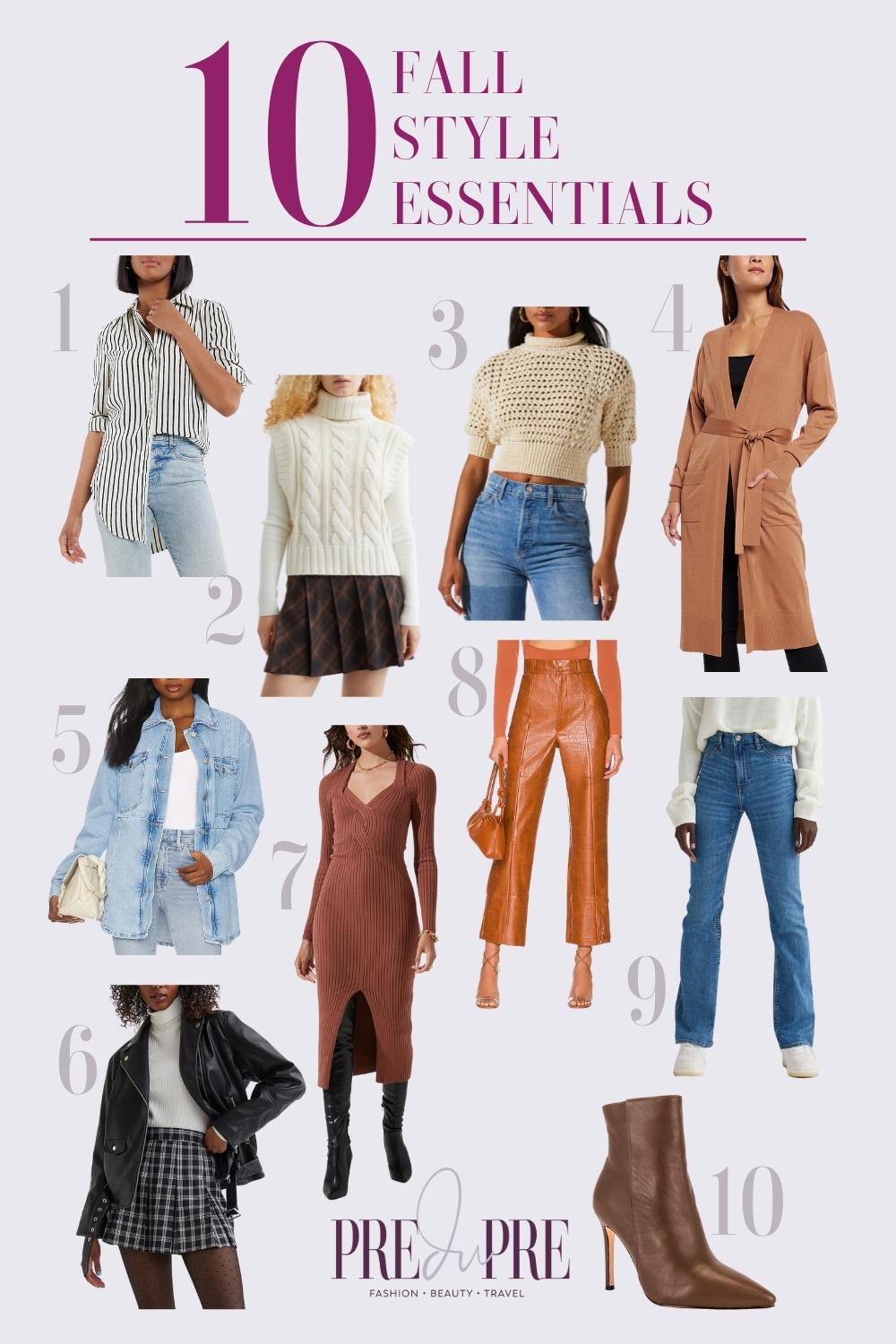 FALL STYLE ESSENTIAL #1 – A BUTTON DOWN TOP
A button-down top can go so many ways. Whether it be a classic white top, a plaid design, or casual chambray, these button-down tops can be taken from day to night. Plus, they pair so well with jeans, leggings, skirts, dresses – basically anything! My go-to style is tucking them in jeans (you can also pair them with leggings) or wearing a skirt and a belt.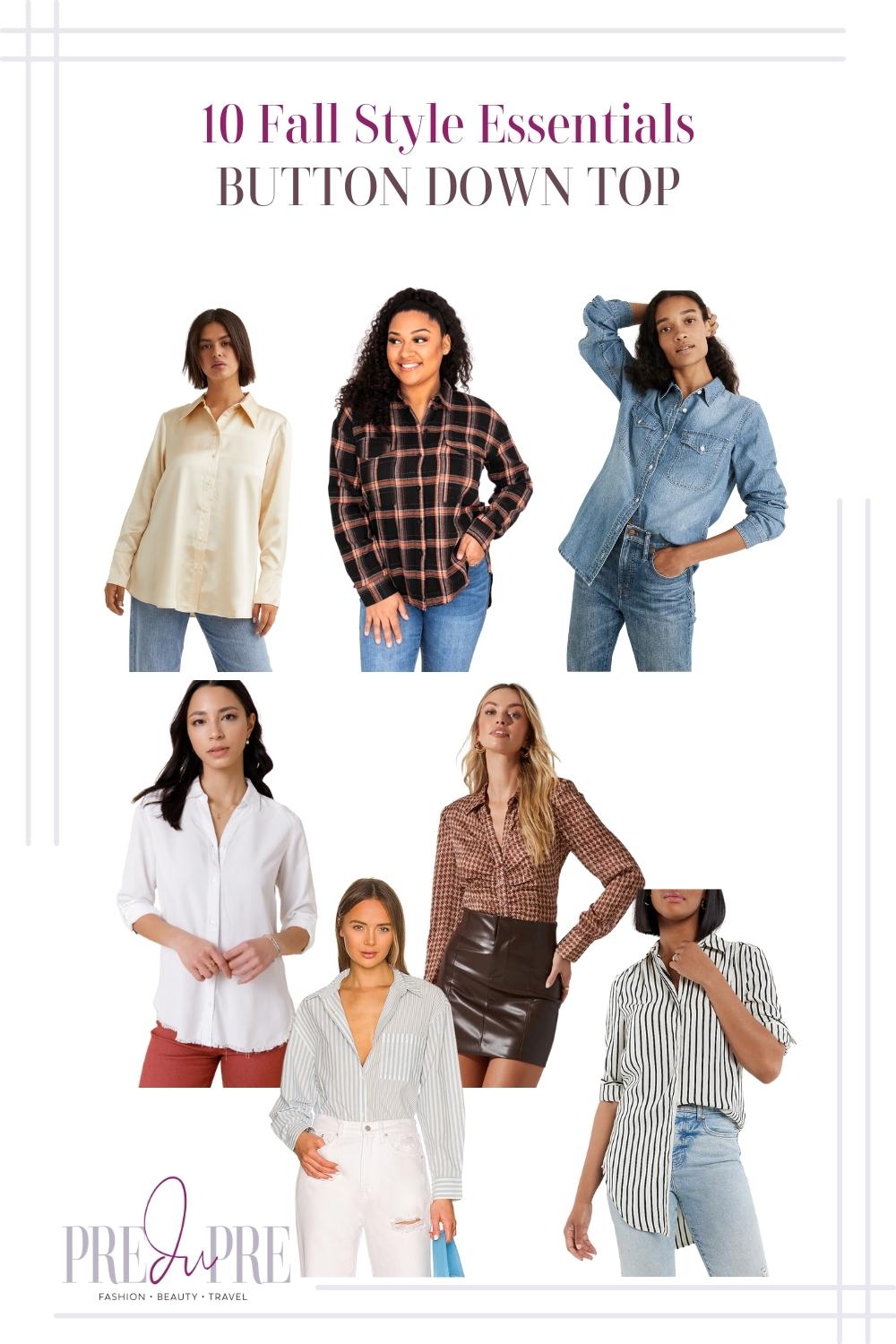 FALL STYLE ESSENTIAL #2 – A TURTLENECK TOP
Seeing people in turtlenecks is a sure sign that fall has arrived. What I like about turtlenecks is that it comes in many styles. You can get a chunky knit or light fabric (depending on how cool the weather is where you live). Sleeveless turtlenecks make for a great layering piece over your button-down top, or you can opt for a turtleneck shirt/long sleeve that is great worn under a leather jacket with jeans.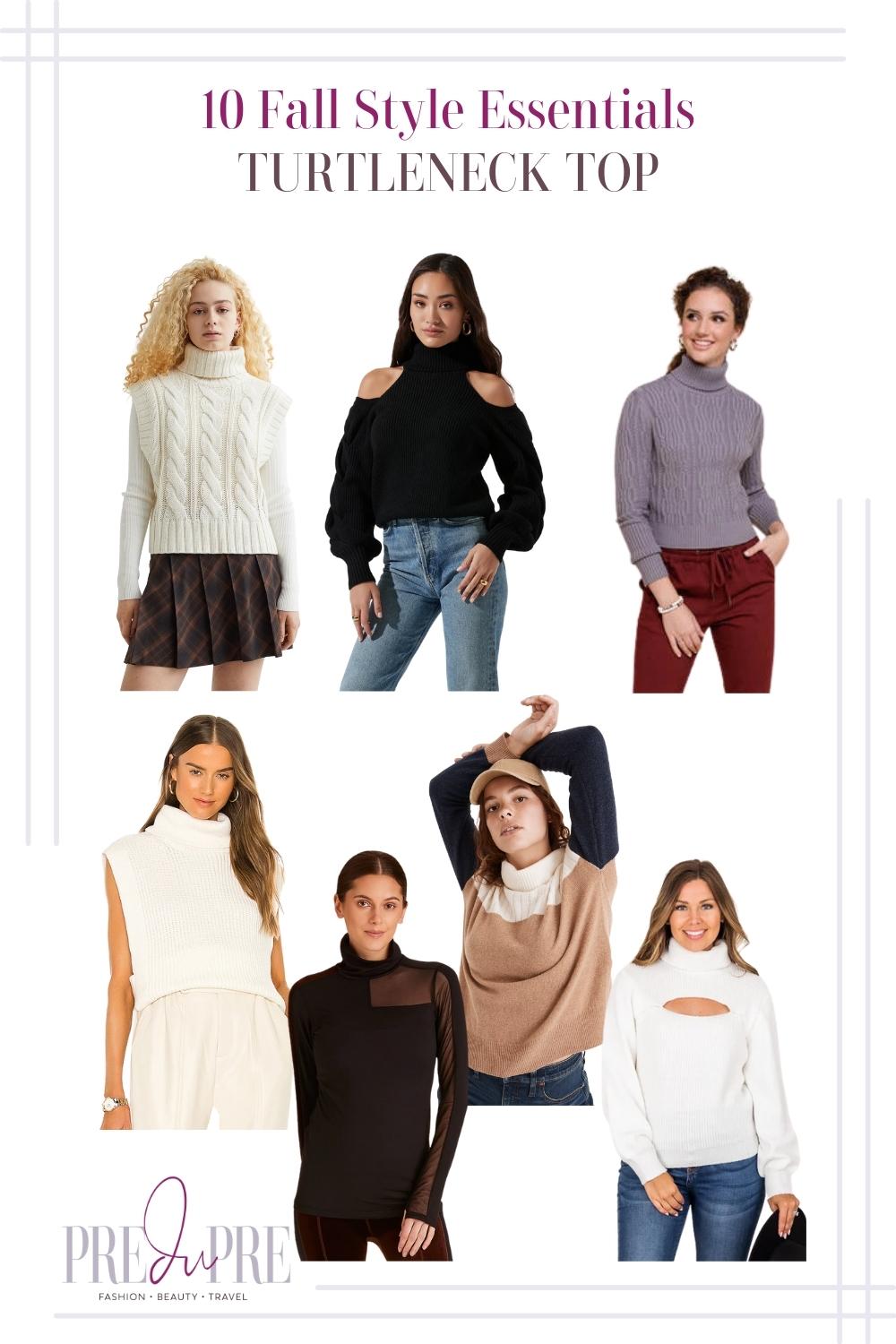 FALL STYLE ESSENTIAL #3 – A SWEATER
Fall is the perfect time to wear a sweater. Whether a chunky knit or soft lighted one, a sweater gives an added texture and shape to an outfit. Just like a button-down top and turtleneck, you can wear a sweater with anything! Instant cozy-ness that you can bring anywhere. That's a win!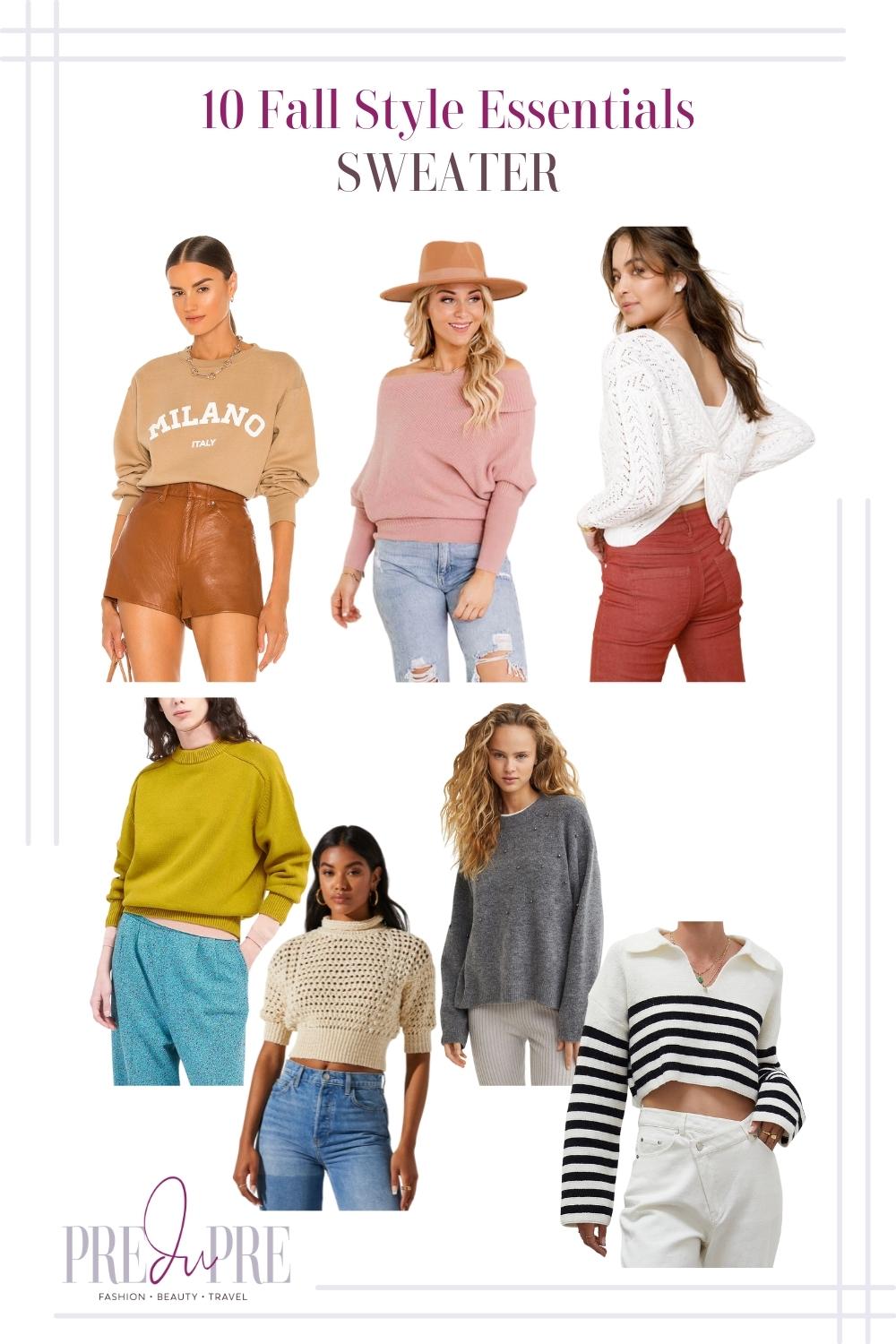 FALL STYLE ESSENTIAL #4 – A CARDIGAN
A cardigan is like the kimono of fall. Put one on over your t-shirt and jeans, and you're set for a day/night out. The best part is cardigans come in a variety of styles and lengths. A long cardigan is my personal favorite and this piece can definitely transition to winter by adding more layers.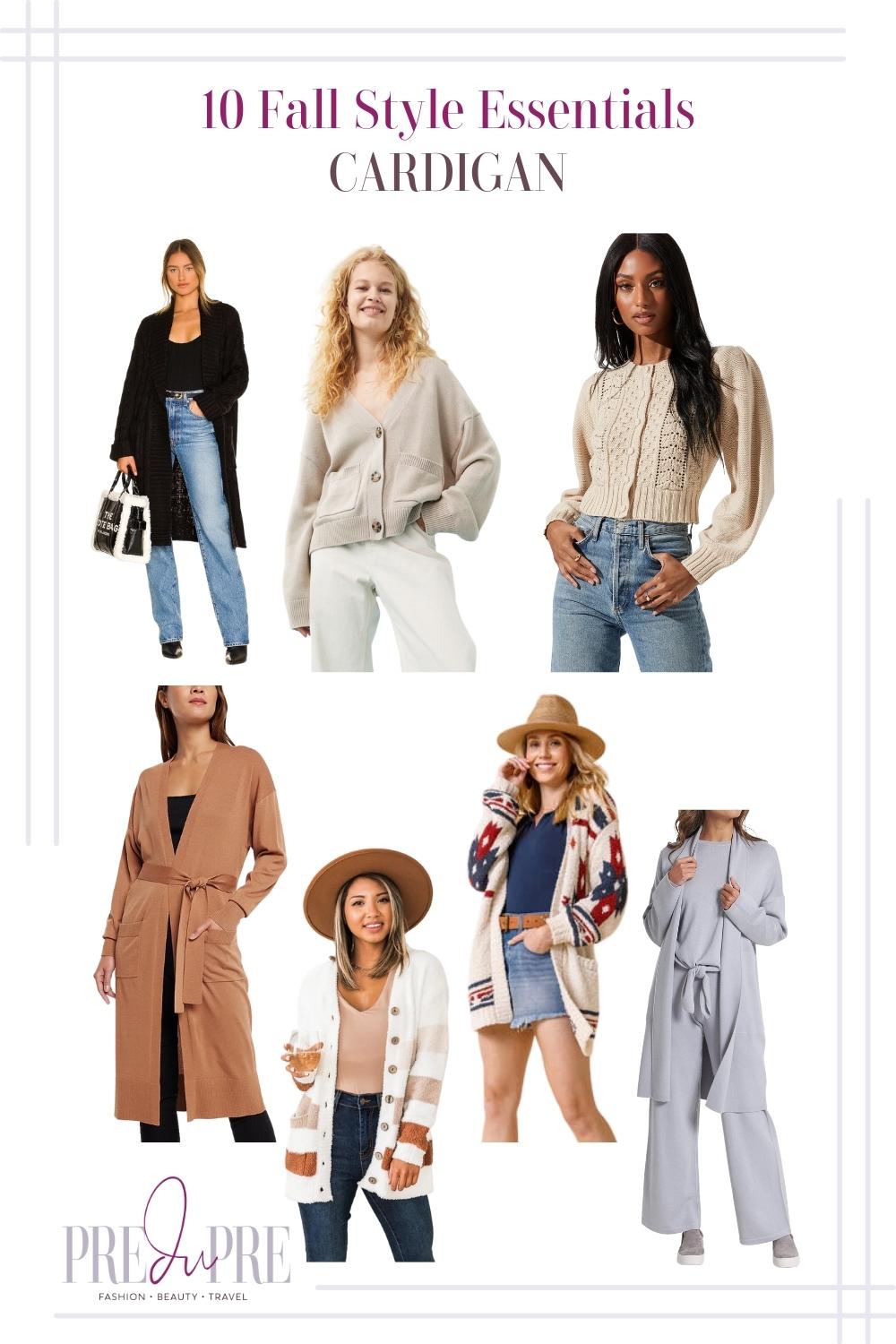 FALL STYLE ESSENTIAL #5 – A DENIM JACKET
This is a staple throughout any season. Just how well it works for spring and summer, a denim jacket is perfect for fall too! Denim jackets come in a variety of styles – your classic fit, cropped version, to even a puff sleeve style. Throw it over any fall outfit, and it adds so much more personality. If you're looking for a denim jacket, now's a great time to get one (or two).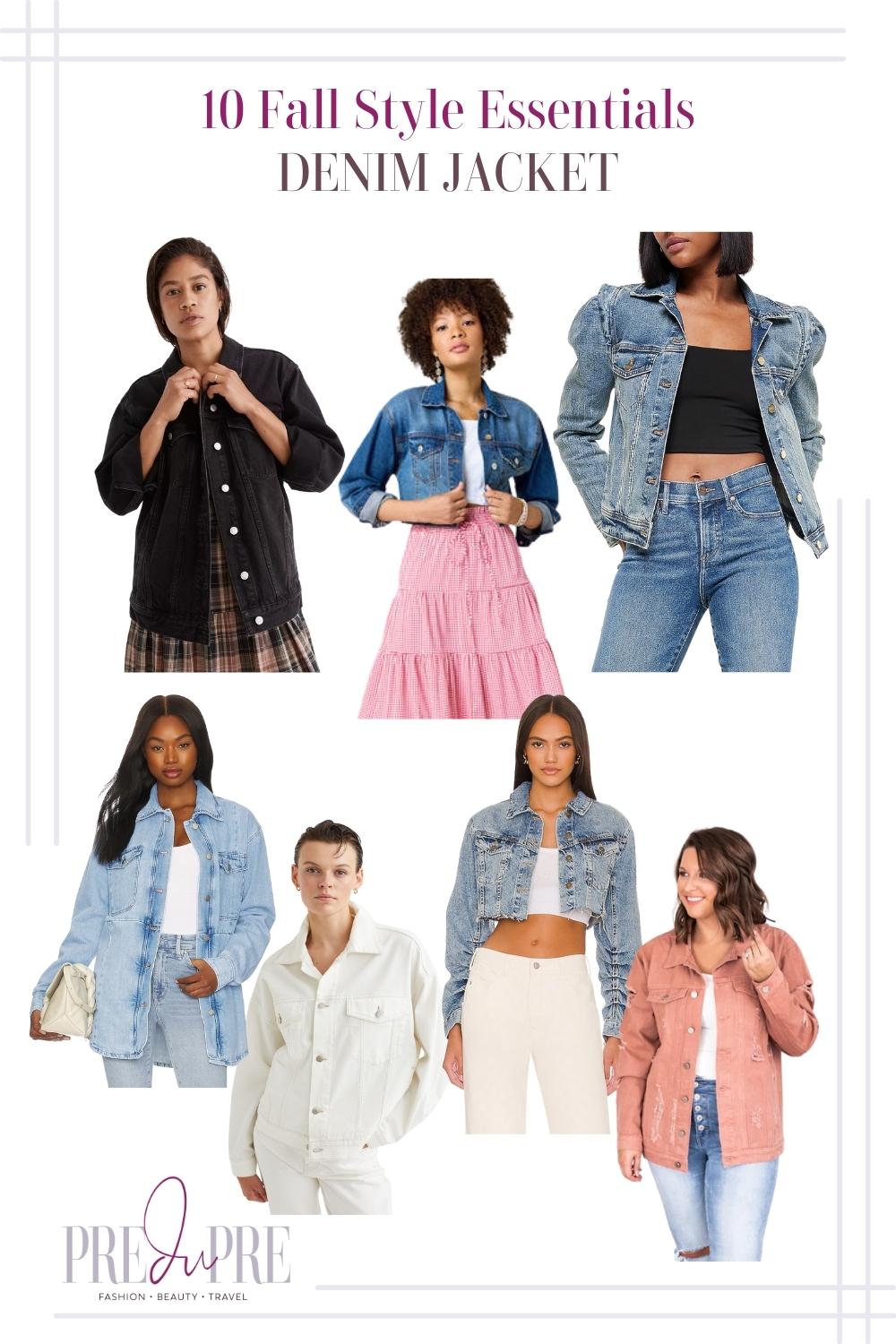 FALL STYLE ESSENTIAL #6 – LEATHER / SUEDE JACKET
Another fall closet essential is a leather or suede jacket. Leather jackets add an edgy vibe to your fall look. Plus, the weight of the fabric makes it suitable for fall weather. If leather or faux leather isn't your thing, then a suede jacket gives the same appeal. Get them in your classic black, or go for a modern look with a pastel pink colored leather jacket. If it's suede, neutral colors like browns, khaki, or greens are great for fall.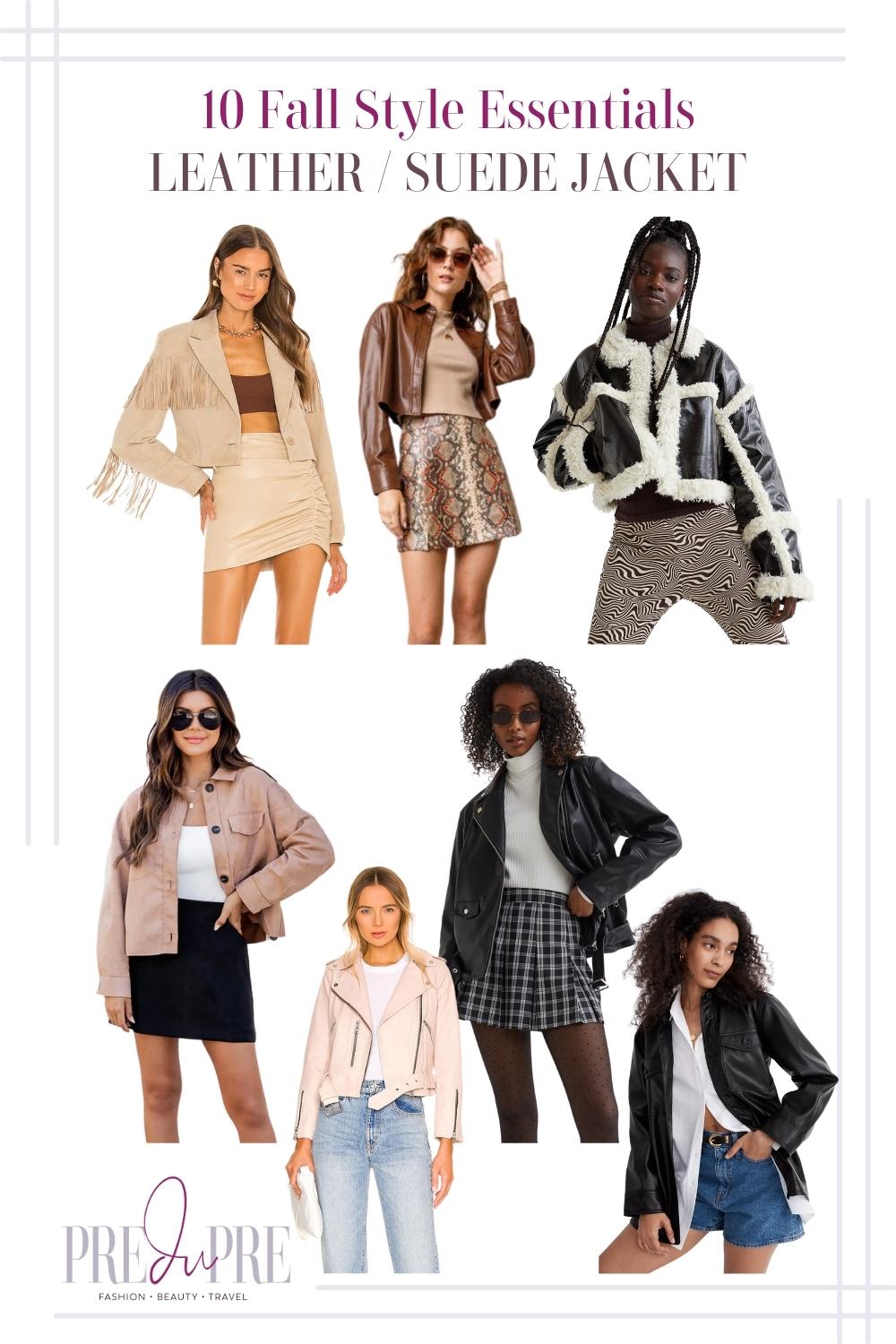 FALL STYLE ESSENTIAL #7 – A SWEATER DRESS
You all know how I love dresses, so of course, I wouldn't forget a dress for fall. A sweater dress is a great fall essential for those quick errand runs or out for date night. It's so easy to dress it up by adding a belt, hat, and different shoes! I think they look amazing with booties or knee-high boots. Talk about fall chic!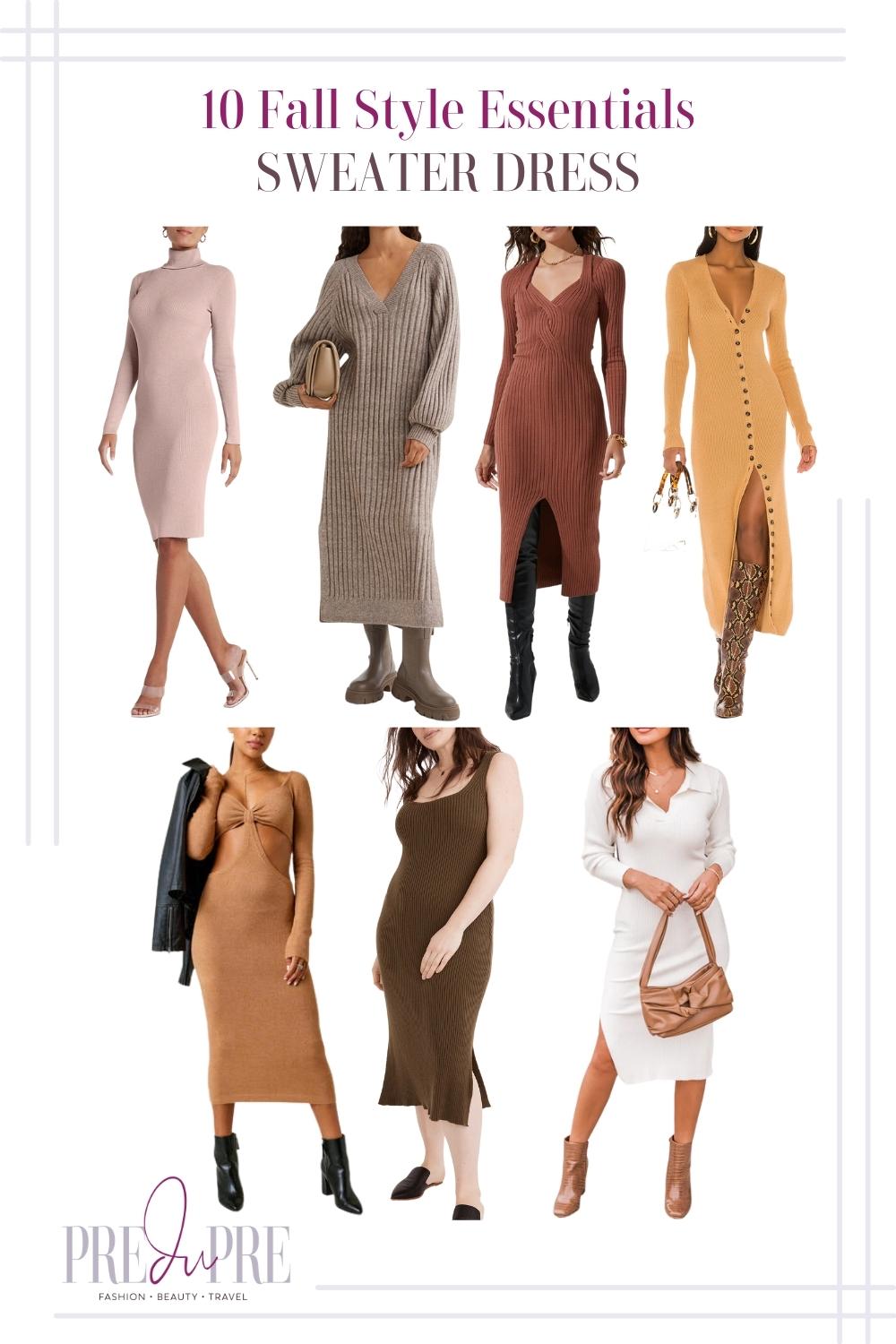 FALL STYLE ESSENTIAL #8 – A PAIR OF PANTS/TROUSERS
With cooler weather on its way, it makes perfect sense to style ourselves with some cute pair of pants or trousers. Leggings are a usual go to but lately we've seen a rise in all sorts of pants from wide leg, high waist, fitted, and all sorts of textures too. I see this continuing over to fall and the best part is it all looks good when you pair it with your boots or sneakers. Go for street style casual chic with a pair of cargo pants, afternoon date chic with loose fit trousers, or evening glam with leather pants.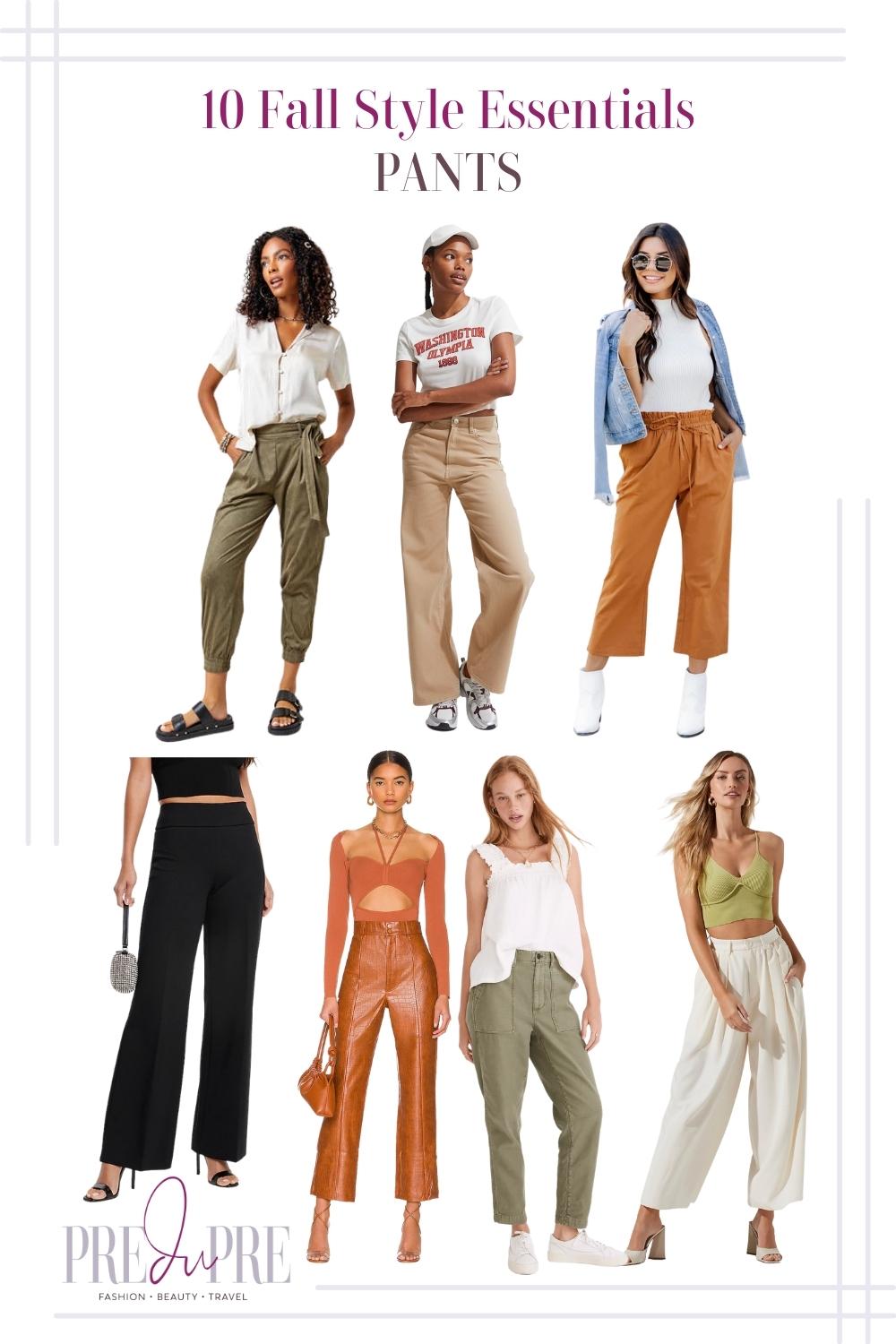 FALL STYLE ESSENTIAL #9 – A PAIR OF JEANS
This is a fall style essential you need in your closet! If dresses and shorts are your go-to items in summer, jeans are your go-to piece in fall. Straight leg, wide leg, boot cut, high-rise, white, denim, black – whatever jeans you choose to have will serve you well this season. Pair them with other fall style essentials like a button-down top and a long cardigan, and you are set!
FALL STYLE ESSENTIAL #10 – BOOTS
This is the footwear every fall outfit needs! Ankle boots are the cutest, but you can't deny that knee/thigh-high boots give that oomph to your fall look. You can't have too many boots for fall! I like matching the styles for the different looks (dressy, casual, or comfortable). Even if others may say you have too many, another pair won't hurt. Am I right??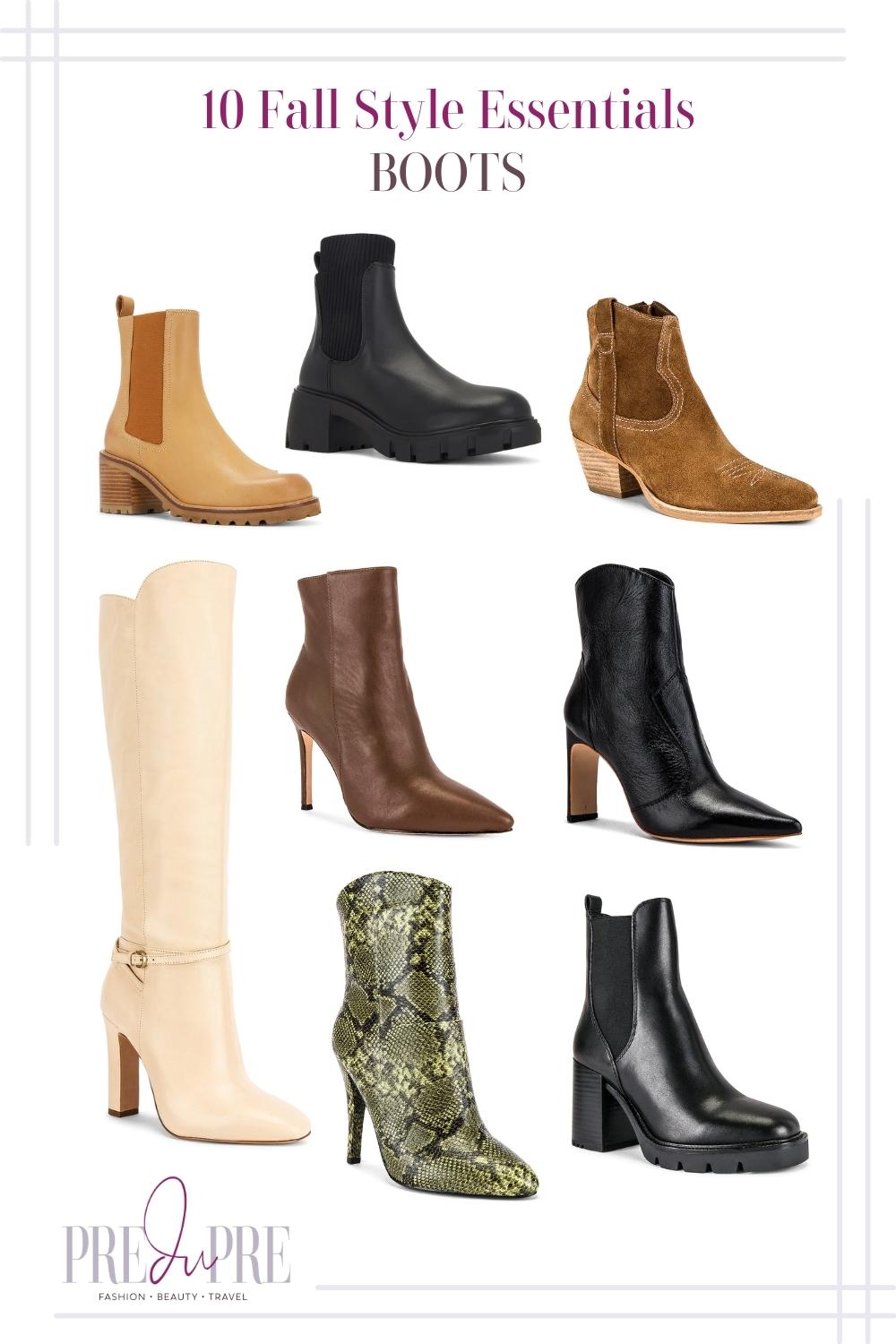 ---
Which fall style essential are you needing this season? Comment below!