I love visiting New York City with so much to see and do. When it comes to dining, it is hard as a tourist to select from so many offerings. I thought it would be good to share an insider's view from Katrine Moite to help with your selection next time you in NYC. Bon Appetit!
All photos by Katrine Moite Photography (unless noted otherwise). I highly recommend her great photography skills (her Instagram accounts cover cityscape, food, portraits, and life events). She's an absolute pleasure to work with and super easy going! You can follow this former lawyer on Instagram @moite_foodphotography or @katrine_moite_photo or visit her website.
La Mercerie
Invite a friend for breakfast, lunch, or dinner to enjoy everyday French cooking by Chef Marie-Aude Rose. Stop by this French cafe for a tasty bite of pastries and coffee.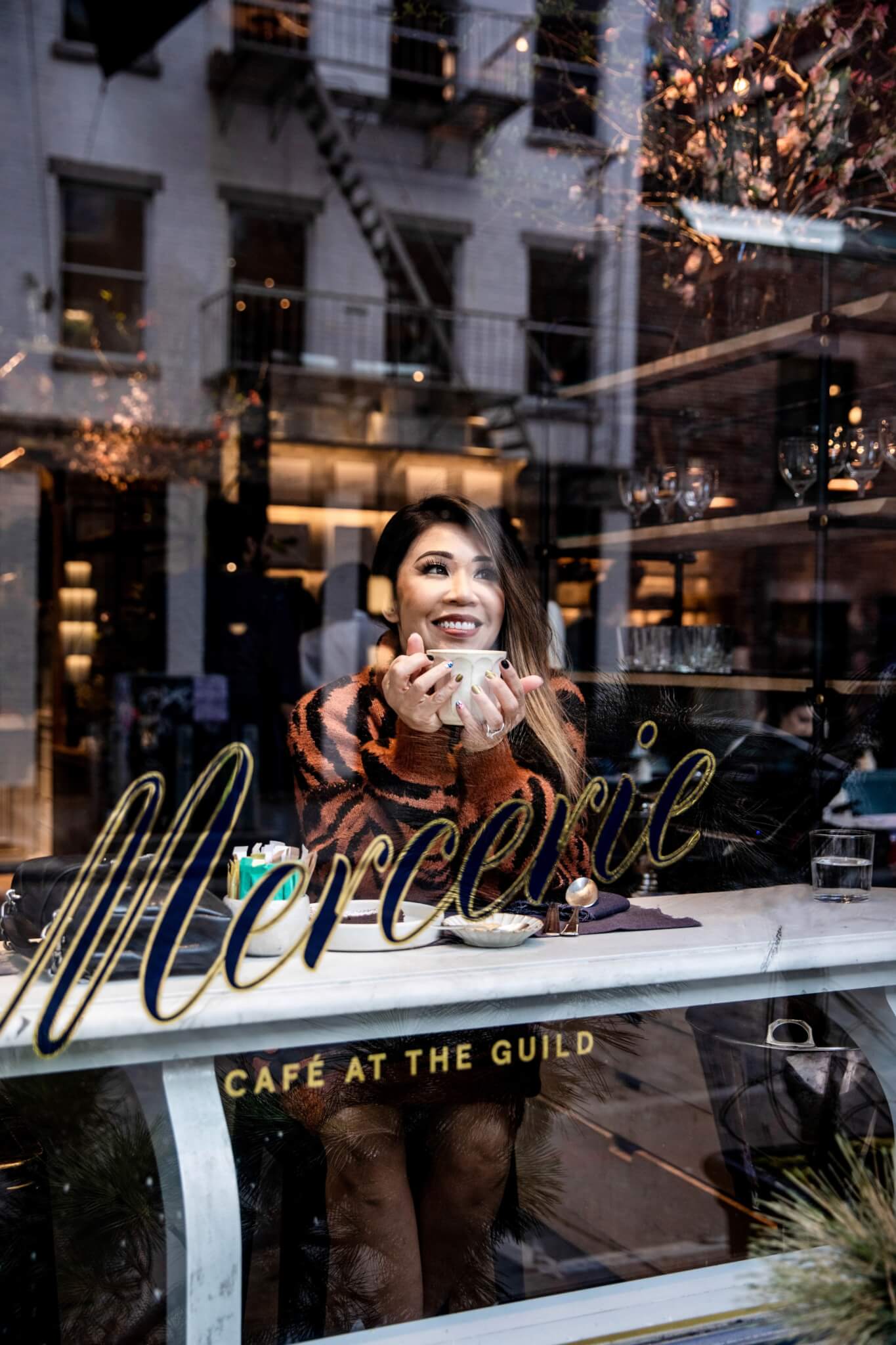 Why Go
1. If you want to feel like being in your favorite bistro in Paris
2. To shop at the adjacent store, The Guild, for lovely, modern furniture and home goods
What to Eat and Drink
Chocolate Flourless Cake – Chocolate cake made with hazelnut flour. Add a side of vanilla ice cream, crème anglaise or crème fraîche for even greater satisfaction
Any of their coffees for that delicious after dinner drink or for a quick pick me up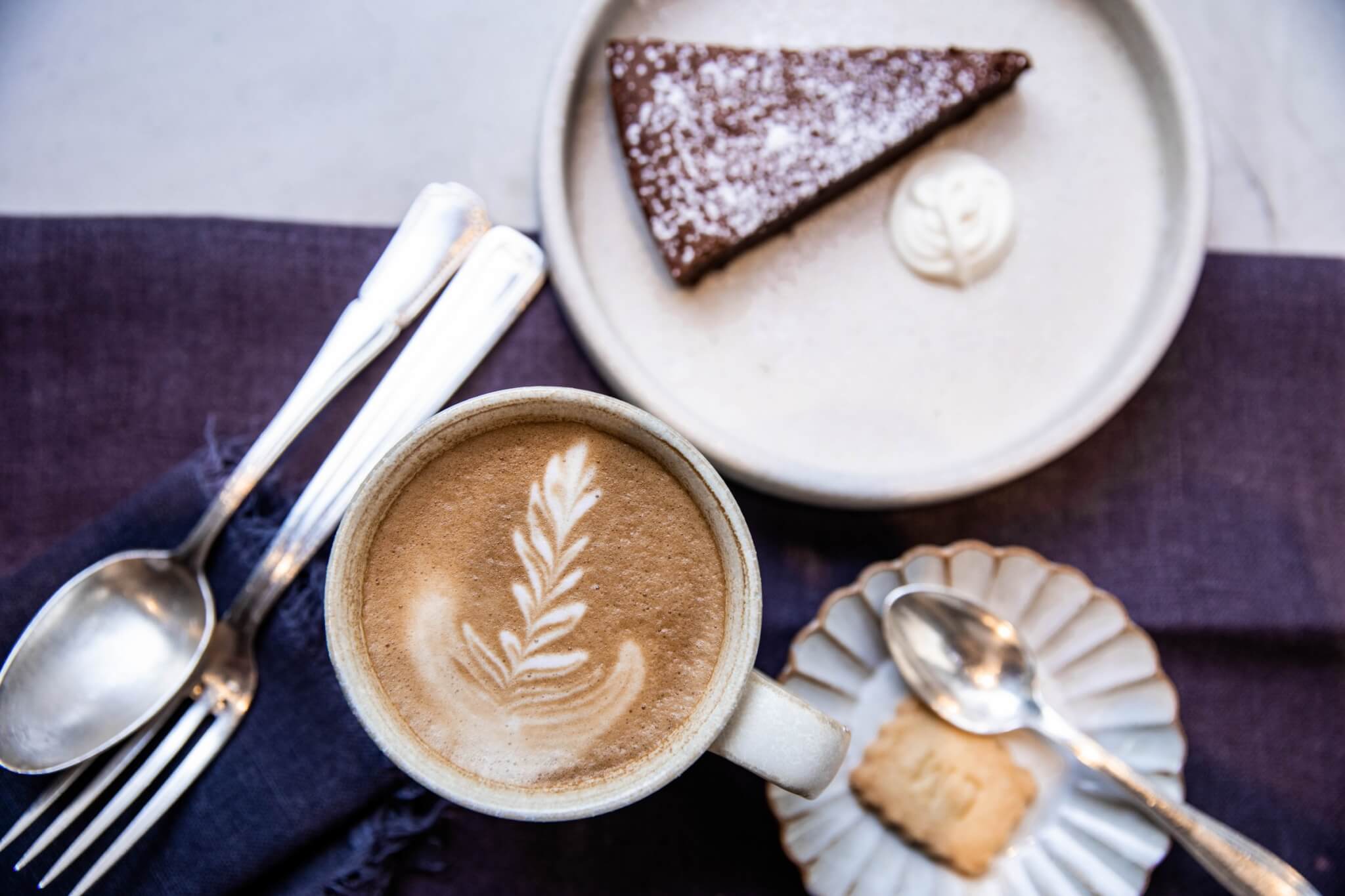 Gupshup Bombay House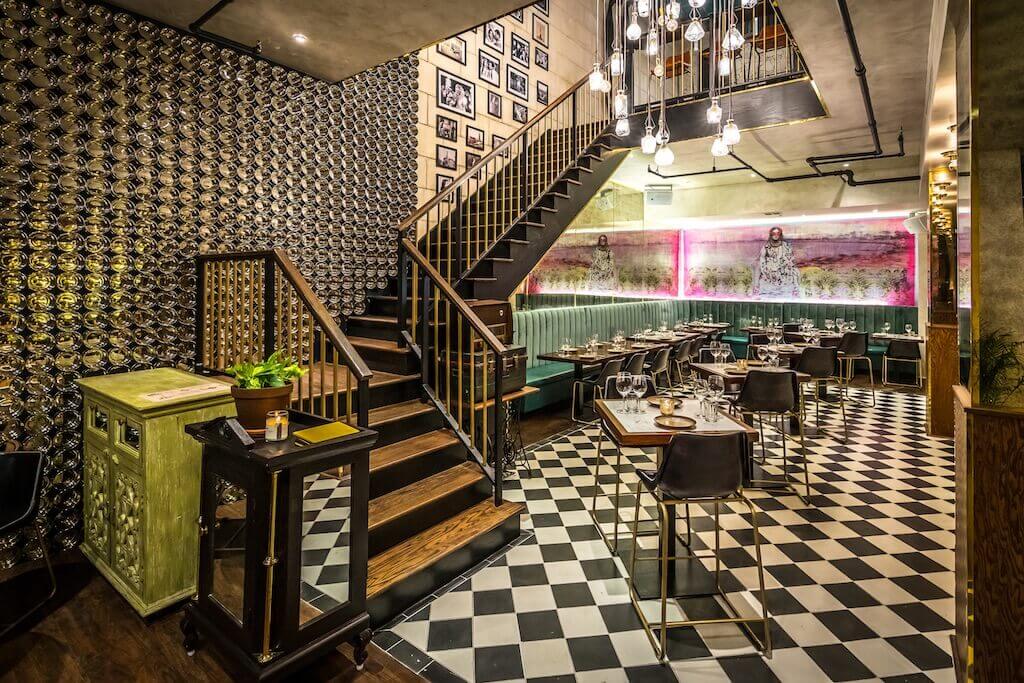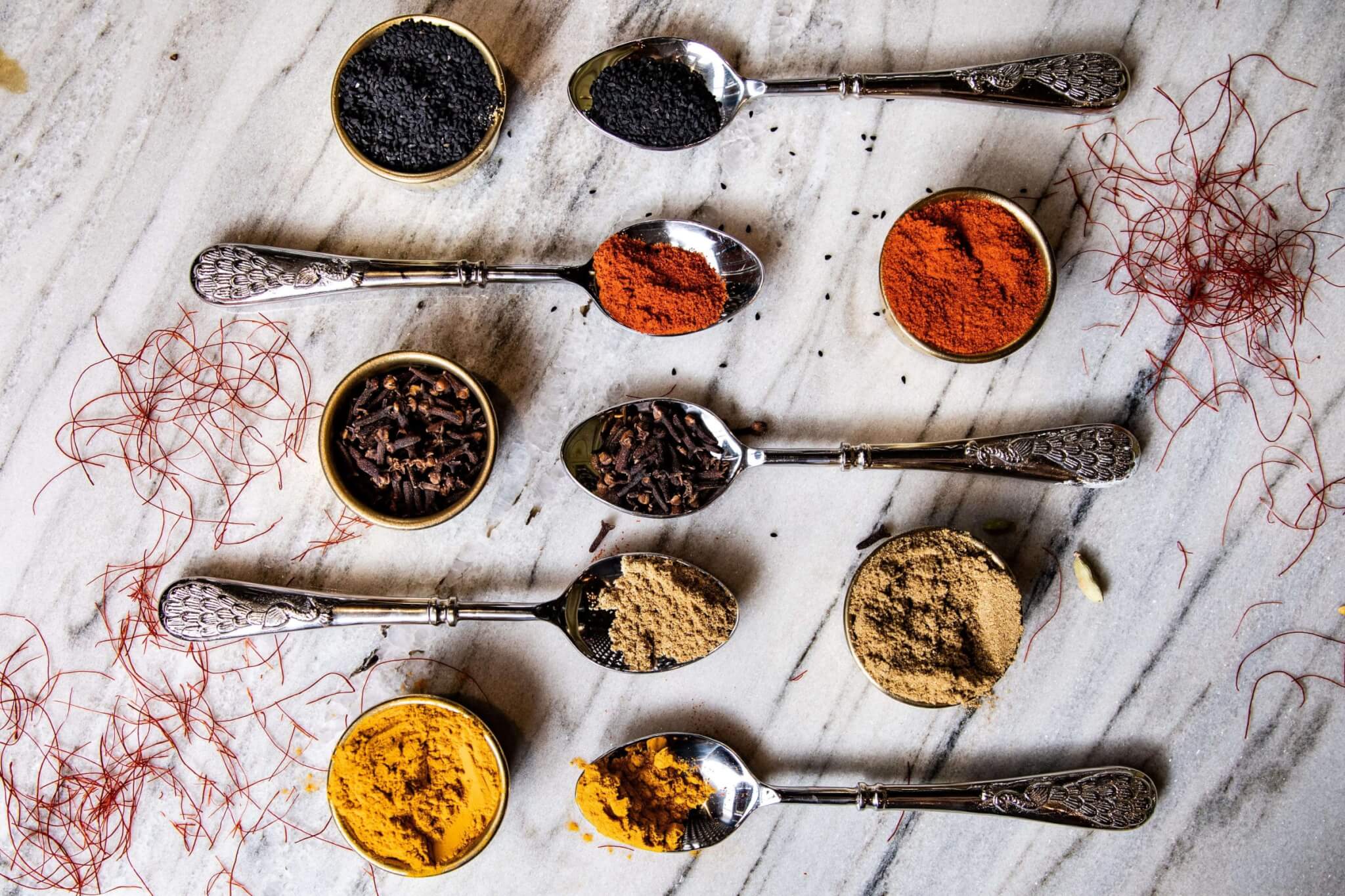 If you haven't found Indian food that you enjoy, it's probably because you have not been to Gupshup! Everything here is perfect: balance of the spices, table service, beautiful interior, attentive staff, and a bar with many crafted cocktails. Feel the Bombay vibes while being in the concrete jungle of New York City!
Why Go
1. For the spices and curries
2. If you want to feel like a Bollywood star
What to Eat and Drink
Lamb Shank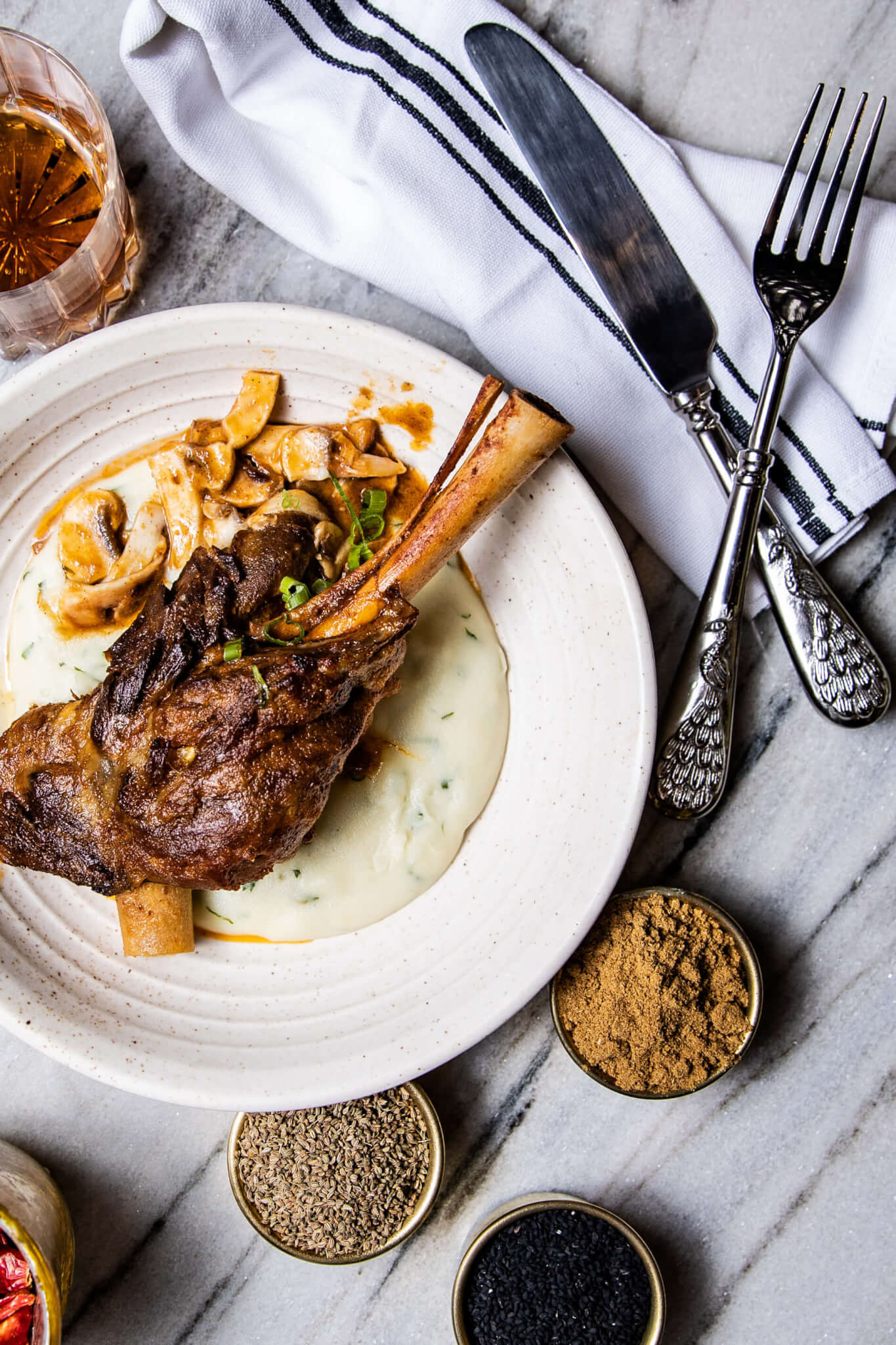 Curried Lentils with buttered edamame and winter vegetables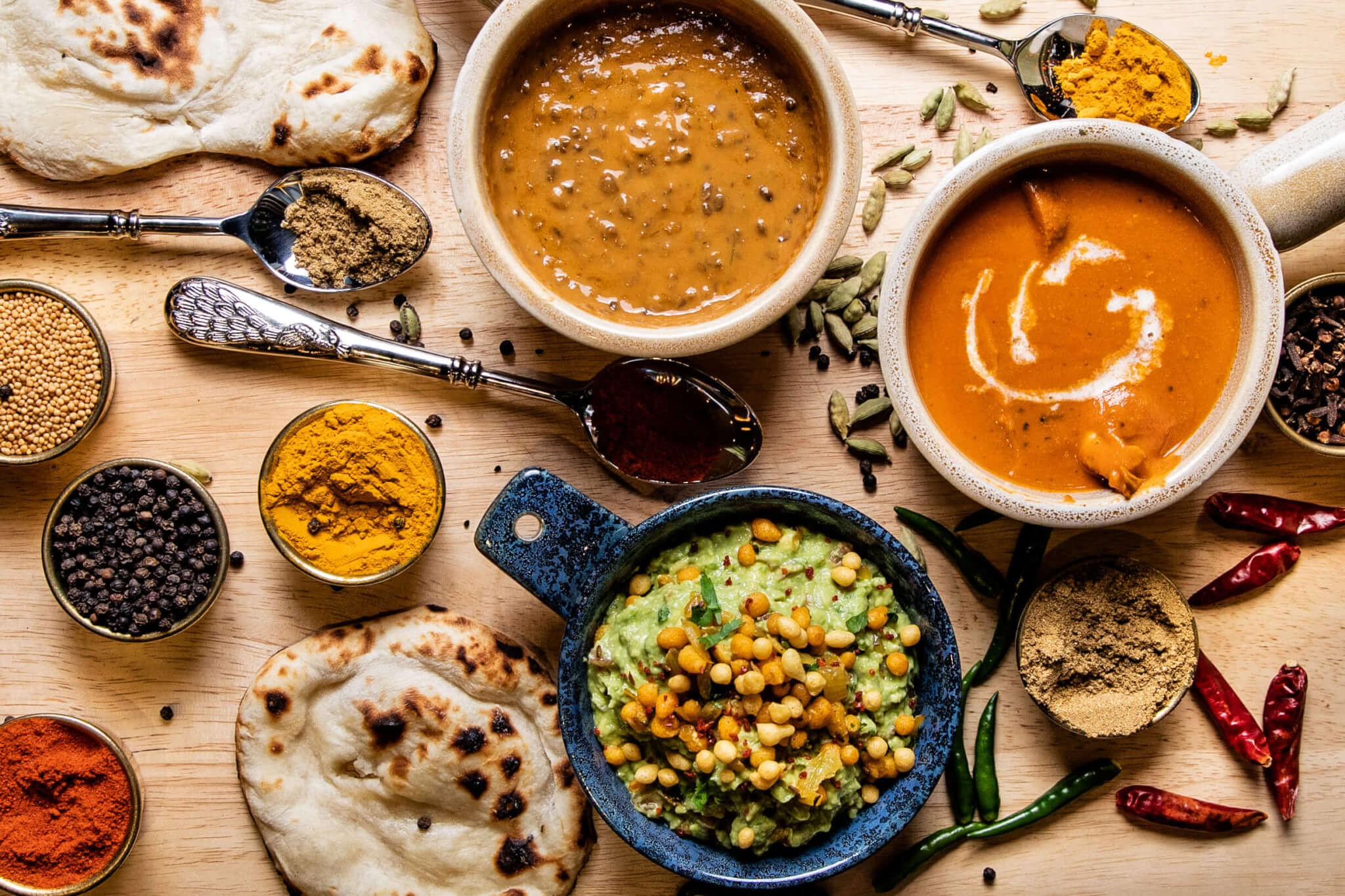 Kale Salad made with sloppy joe chickpeas, cranberries, toasted sesame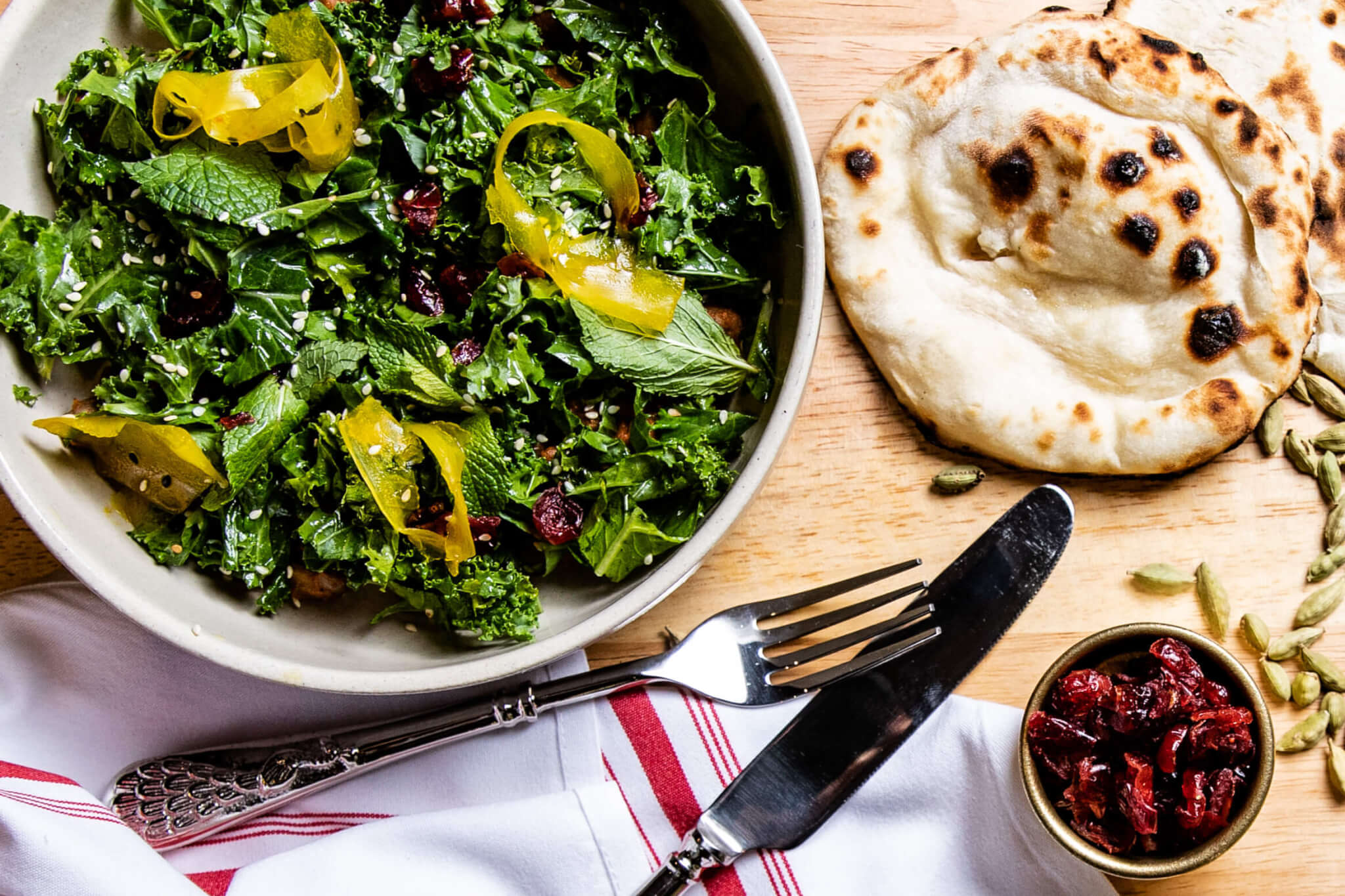 Ayurvedic JackAss made with vodka, lavender, turmeric, lime, and ginger fizz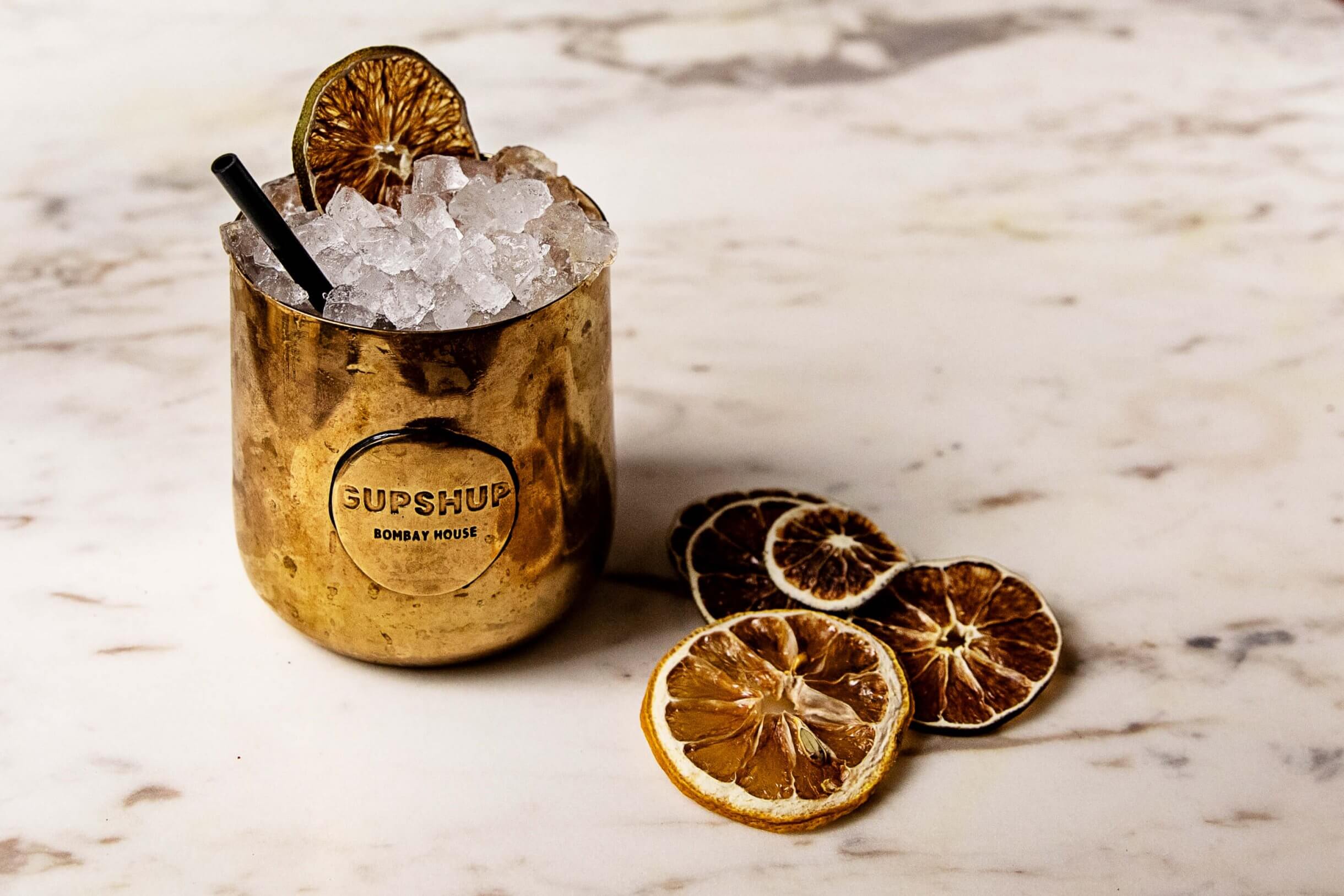 The Campbell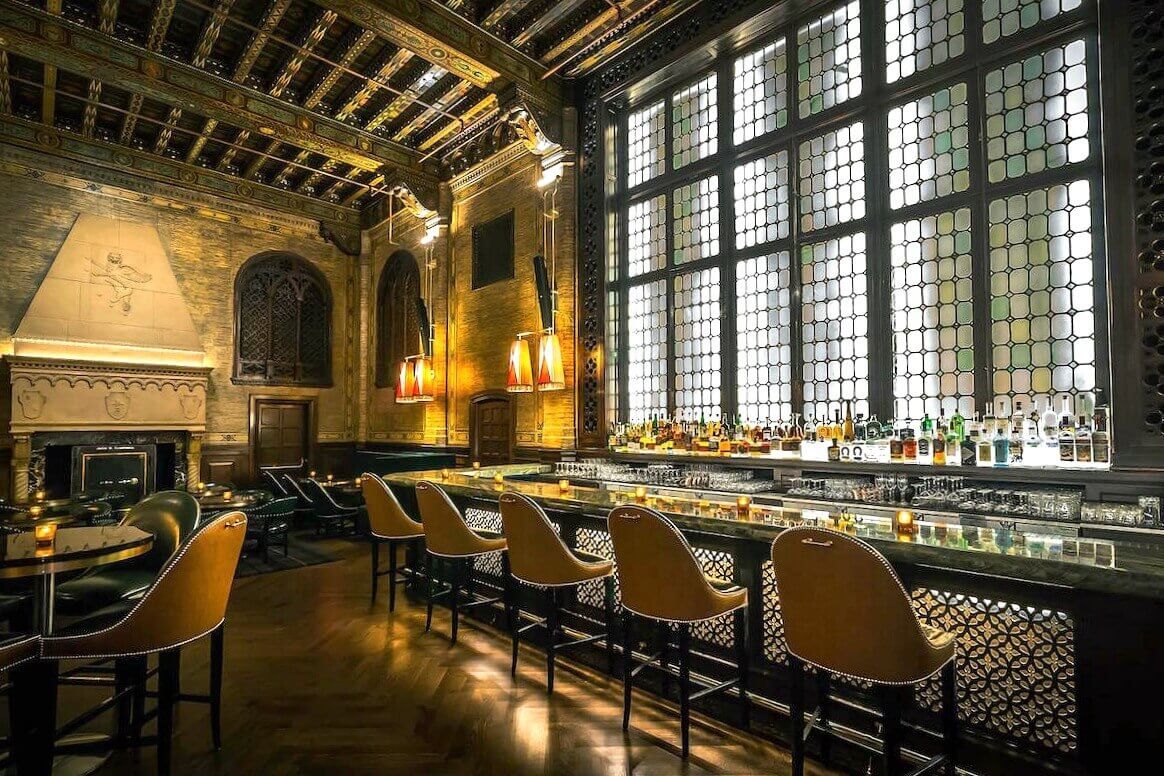 The Campbell is a historic establishment in New York City located in Grand Central Terminal. The location alone is a reason to add this amazing bar to your list of must-sees when in the city. This place has not lost its grandeur feel from the early '20s; it was originally the office of John Williams Campbell, an American financier and railway magnate. It has recently gone through a renovation, keeping intact the original architecture and design (his famous fireplace and safe are still there).
Stop by in the afternoon or evening to experience the intimacy of this unique location. It's a great place for those who want to go somewhere romantic, enjoying the art deco and best craft cocktails in NYC.
Why Go
1. If you want to feel what it's like to be a millionaire from the 20th century
2. To see Grand Central Station and enjoy a bit of history like the architecture, artwork, and famous Campbell safe in the fireplace
What to Eat and Drink
Mini Lobster Bites with lemon fennel aioli and shaved celery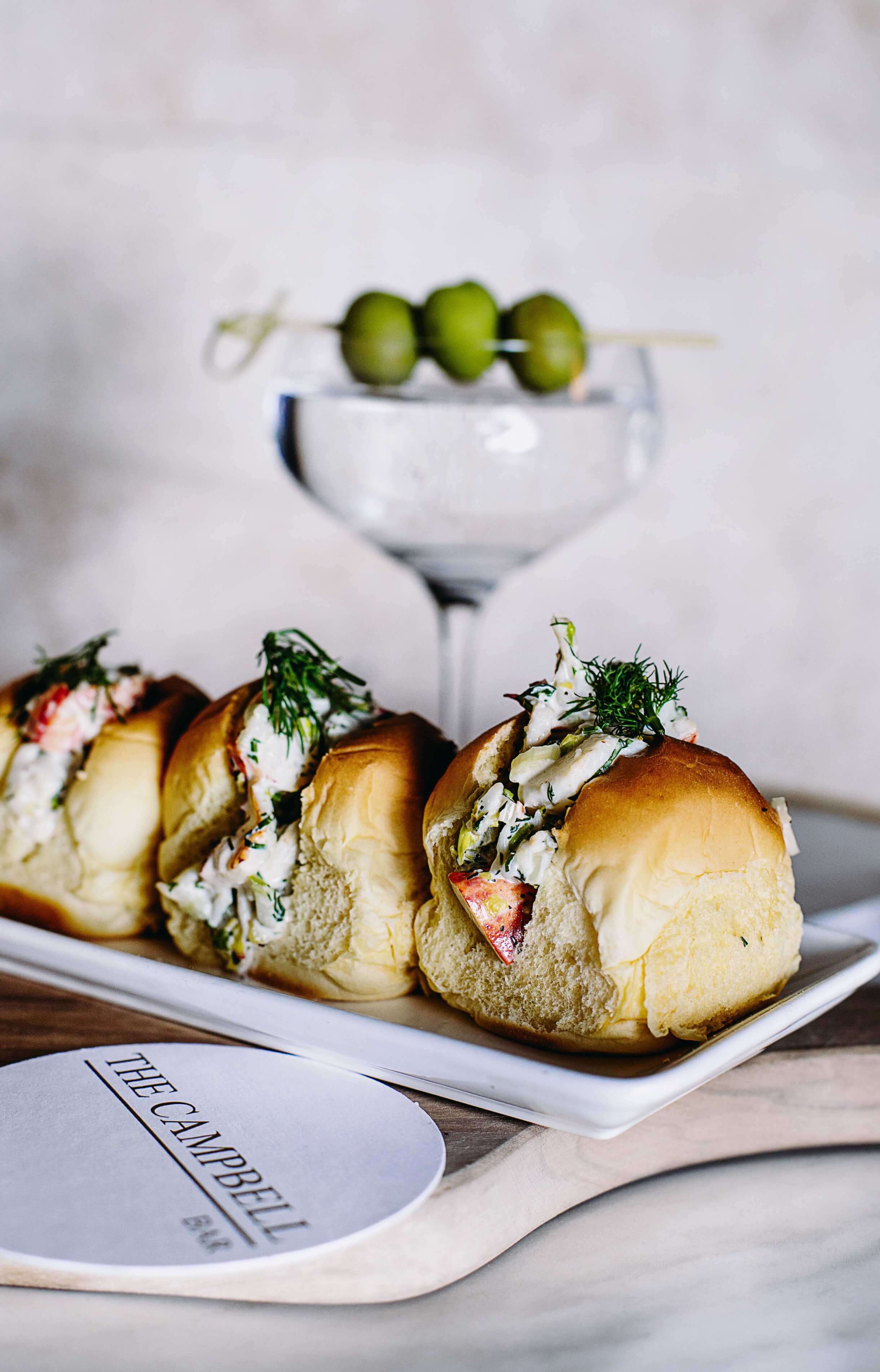 Grilled Cheese with aged gruyere and smoked mozzarella on sourdough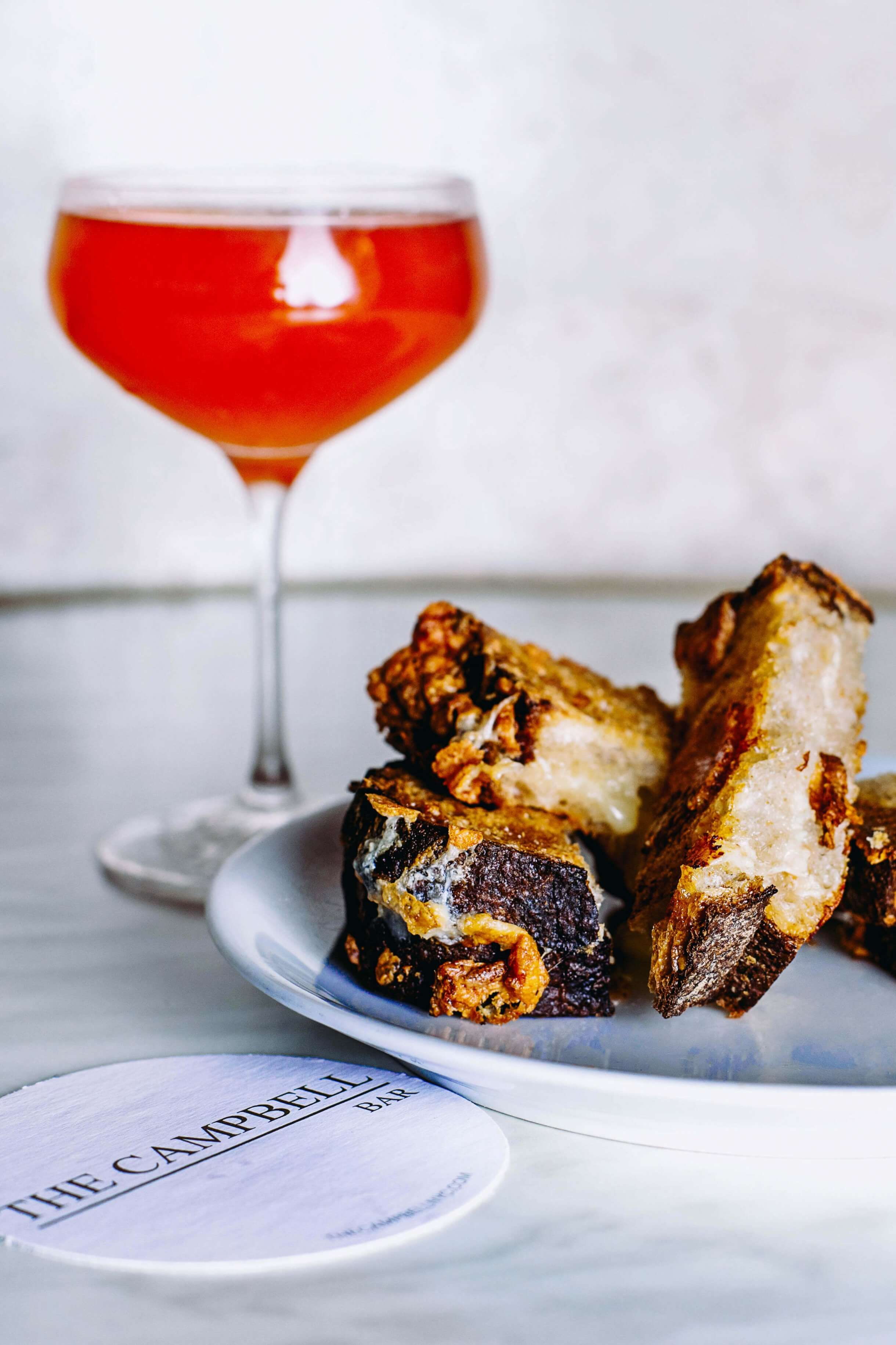 Cocktails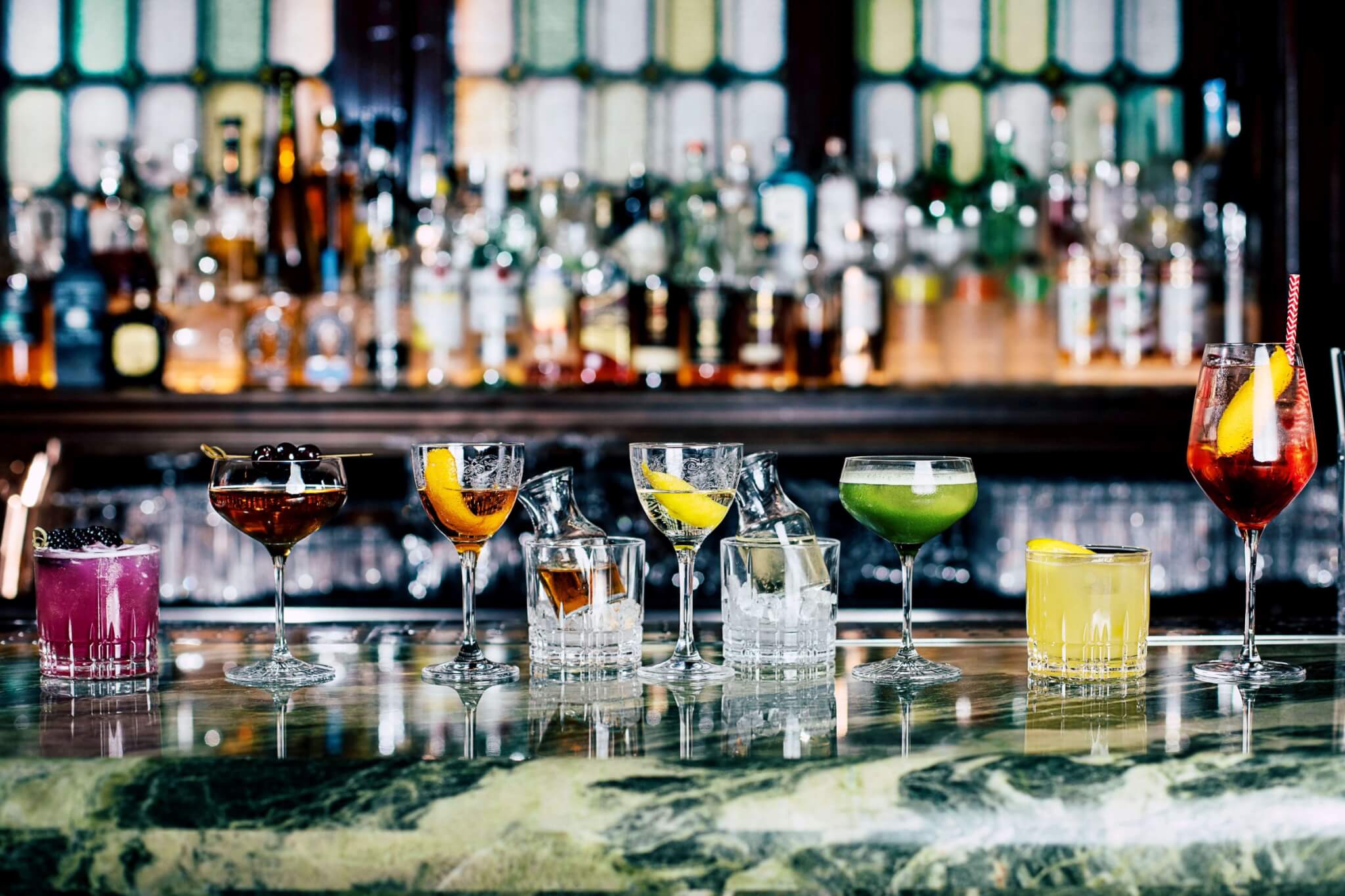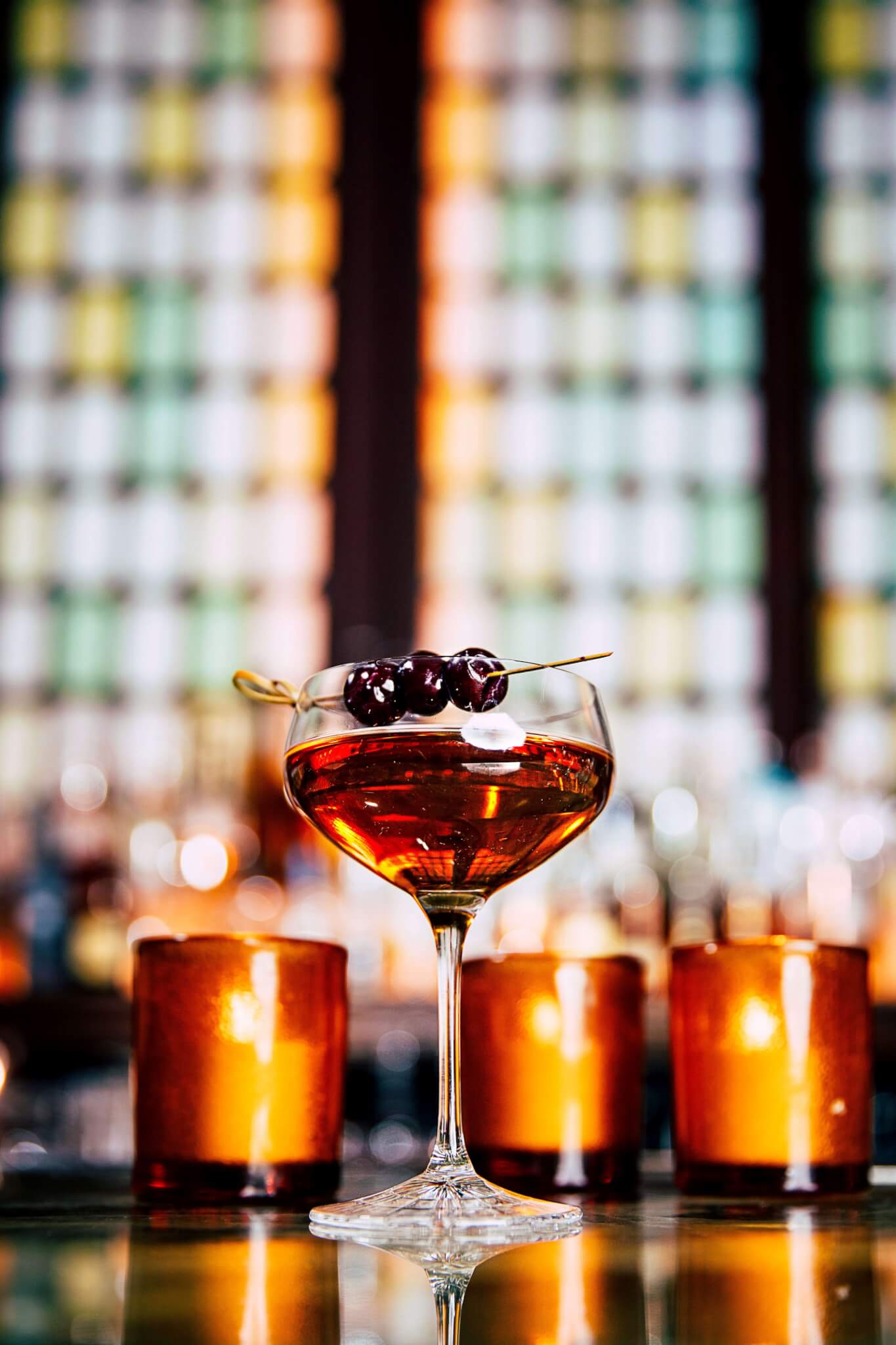 Mr. Purple
180 Orchard St (between Stanton and Houston)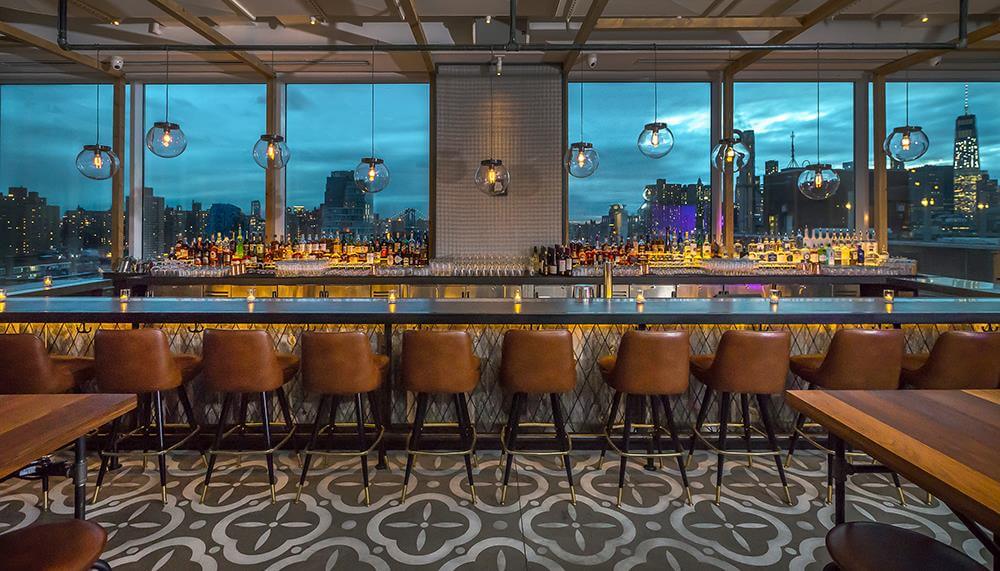 Mr. Purple is one of the best rooftops in New York City located on the 15th floor of Hotel Indigo. Have a glass of Veuve Clicquot Chalet or enjoy various cocktails, with stunning views of New York, and a heated swimming pool.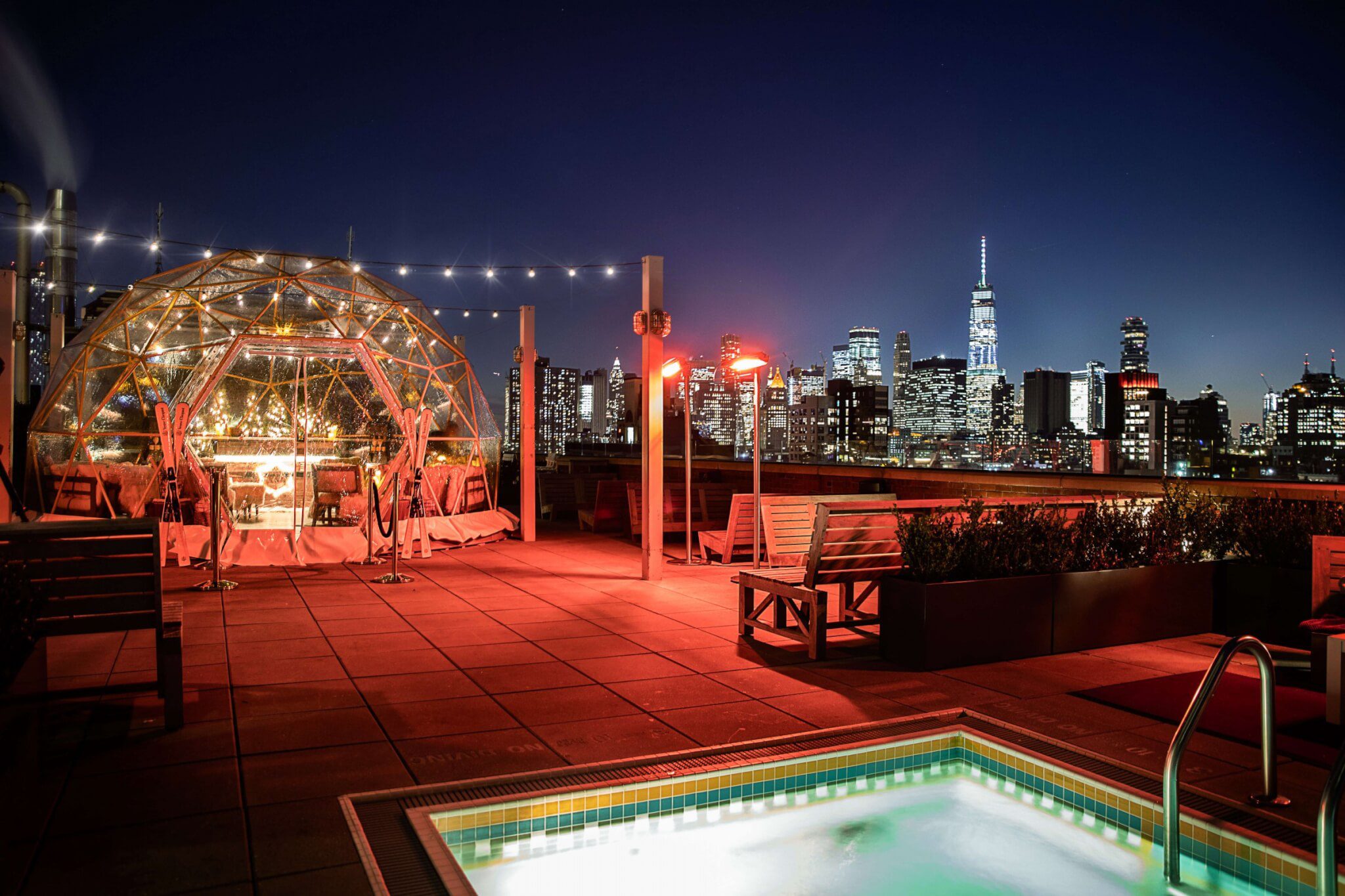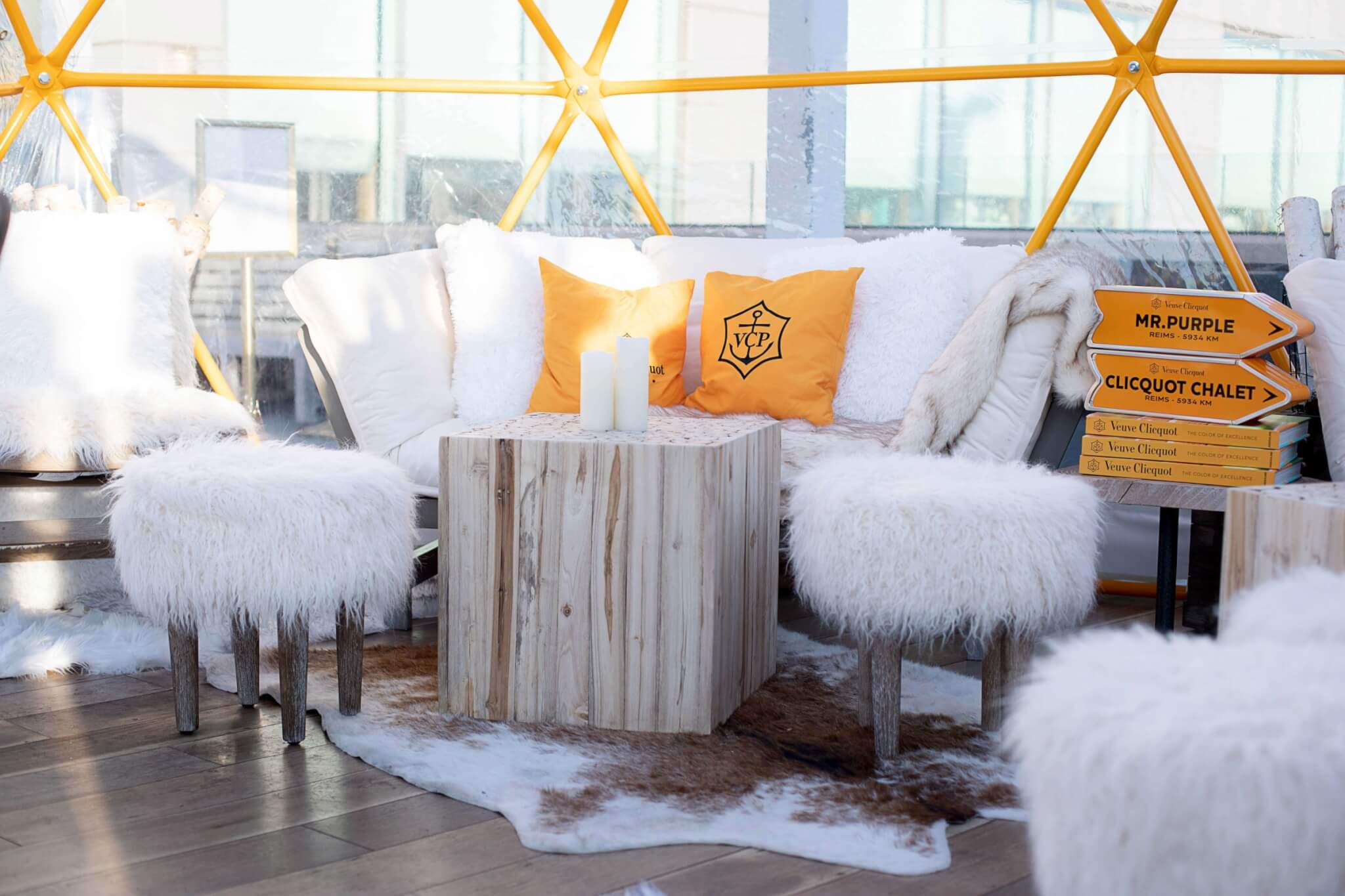 Why Go
1. If you are on the hunt for great New York City views
2. Best cocktails
3. Rooftop swimming pool
What to Eat and Drink
Chocolate and Cheese Fondue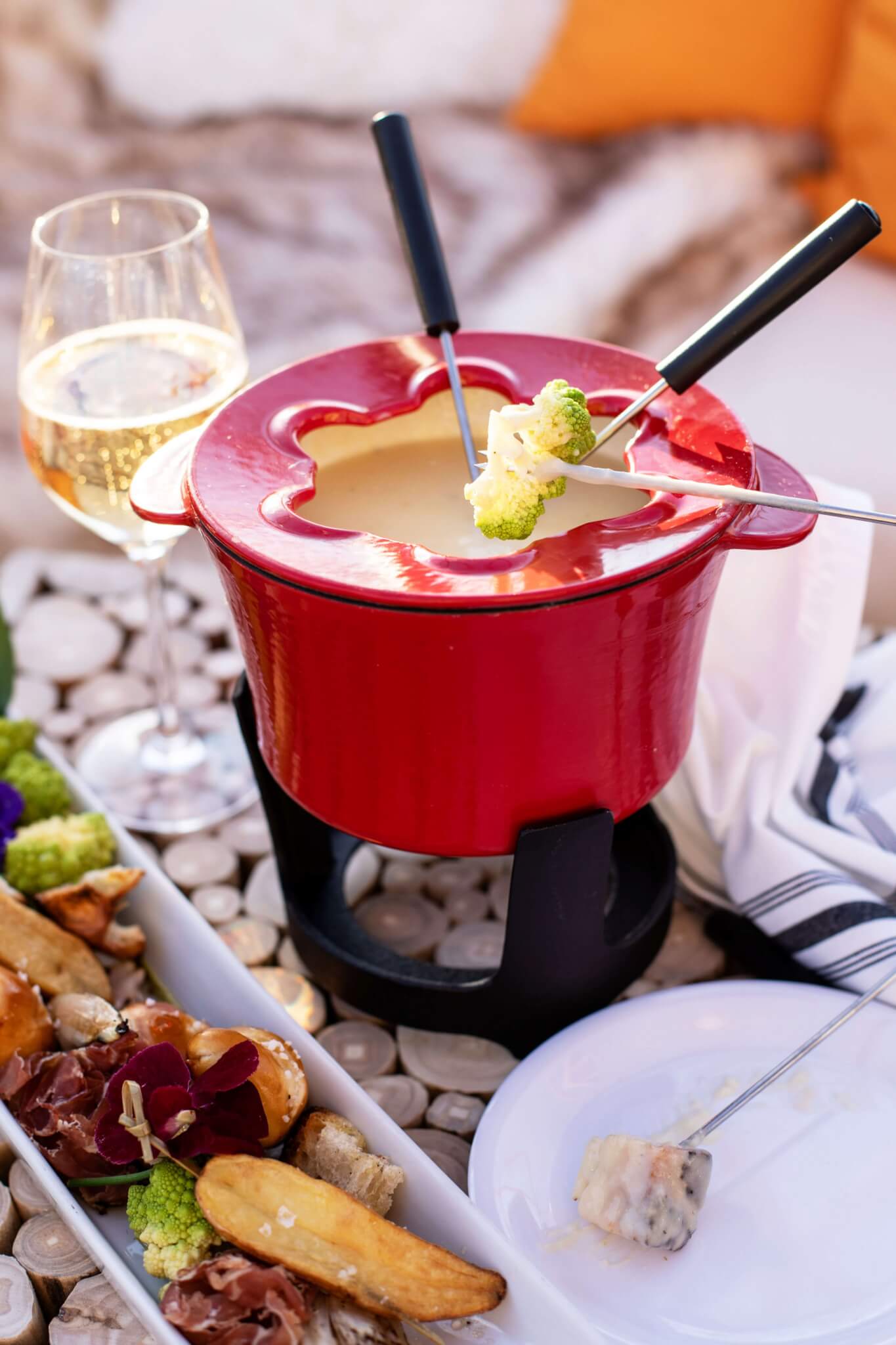 Any cocktails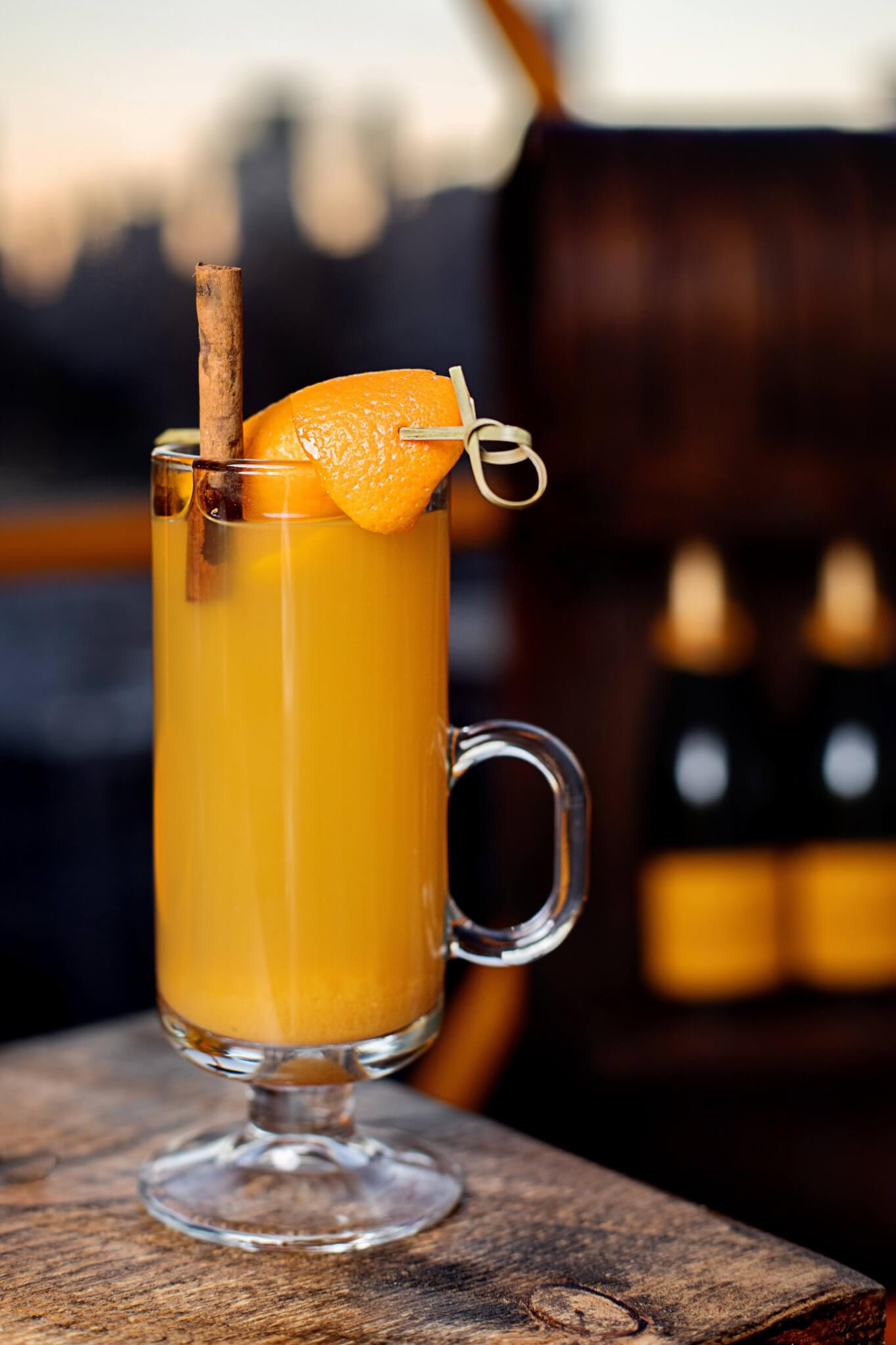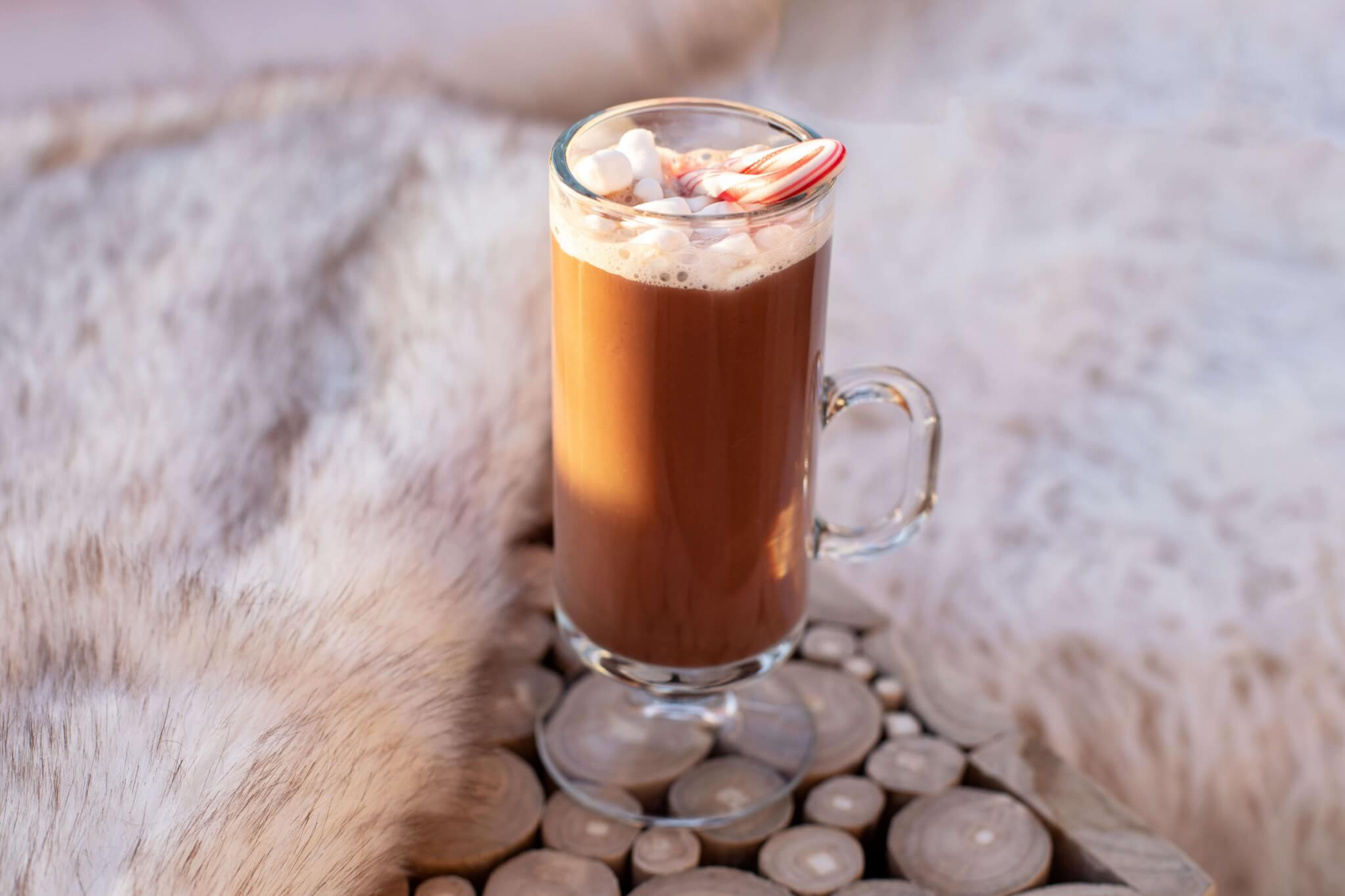 Aroma Espresso Bar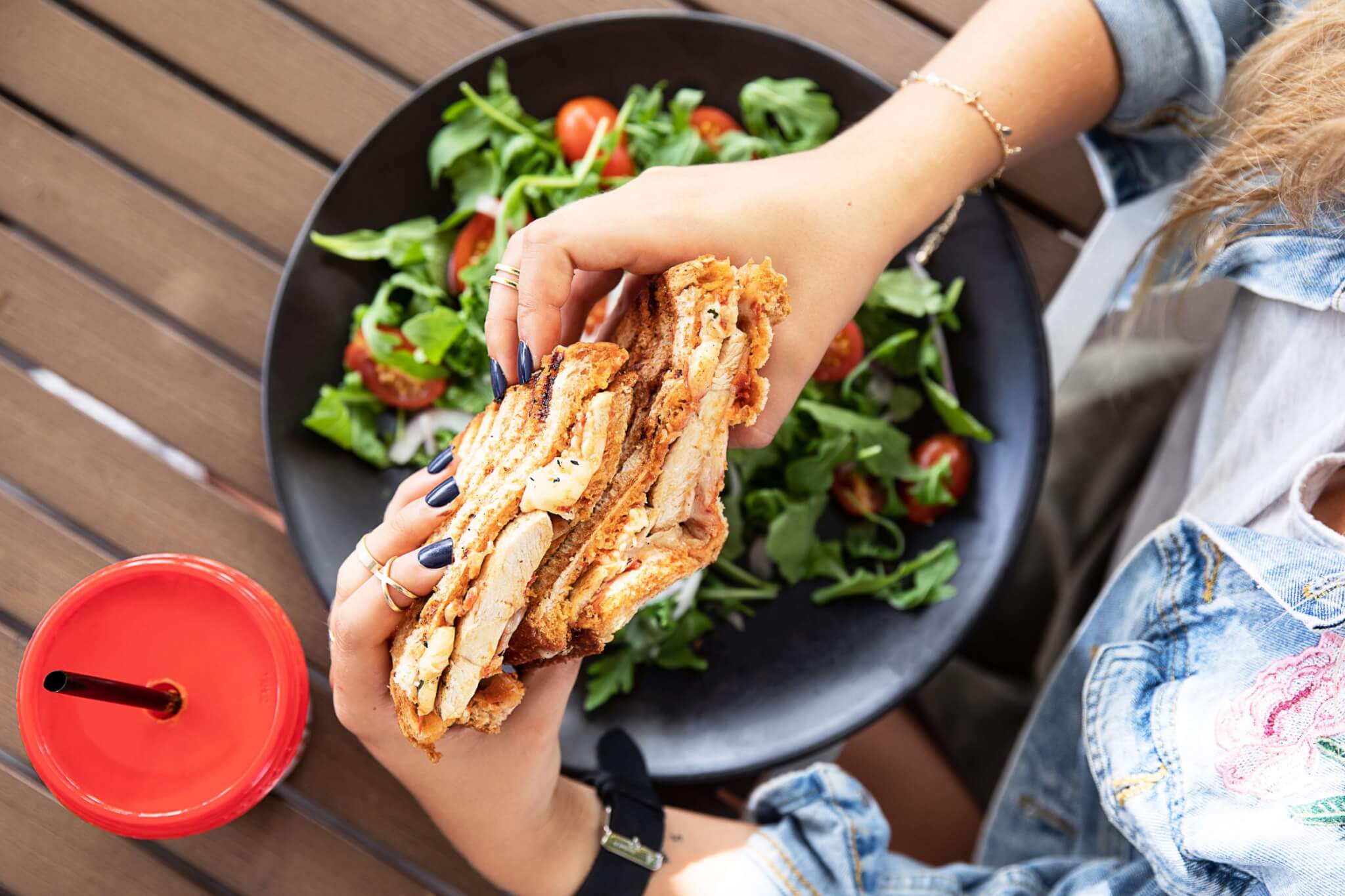 A great (and affordable) breakfast and lunch place known for homemade bagels, pastries, sandwiches, salads, and of course their coffees. Everything here is satisfying and delicious — a good healthy option after all the cocktails at The Campbell or Mr. Purple.
Why Go
1. If you like healthy alternatives and tasty snacks
2. For the hot chocolate
3. Near the 9/11 Memorial
What to Eat and Drink
Hot chocolate made with real chocolate. Do not forget to mix it up; it settles at the bottom of your cup!
Any of the sandwiches or panini with signature homemade bread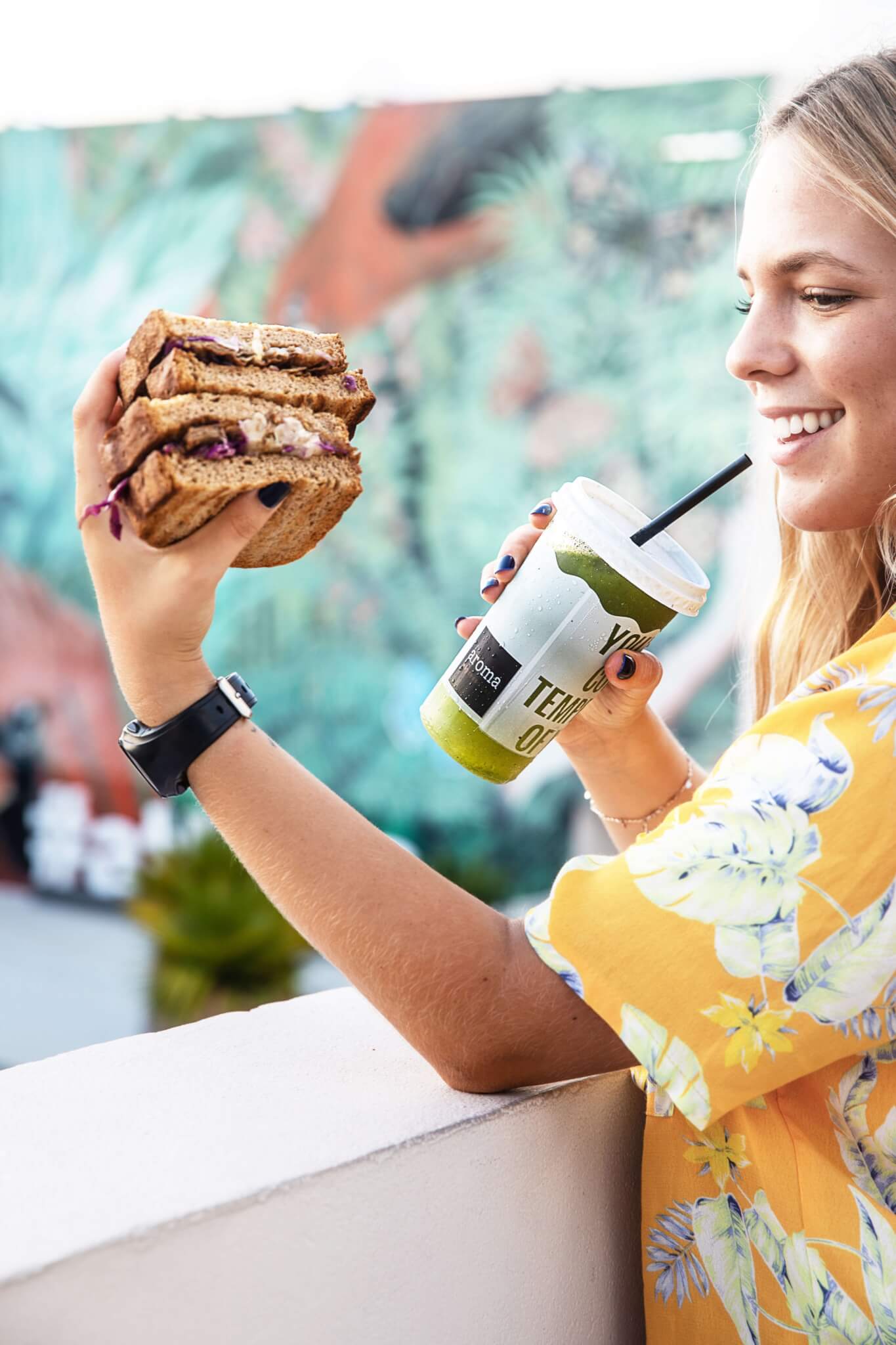 For Halumi lovers, get a Halumi salad or Halumi sandwich (because it's hard to find this in New York)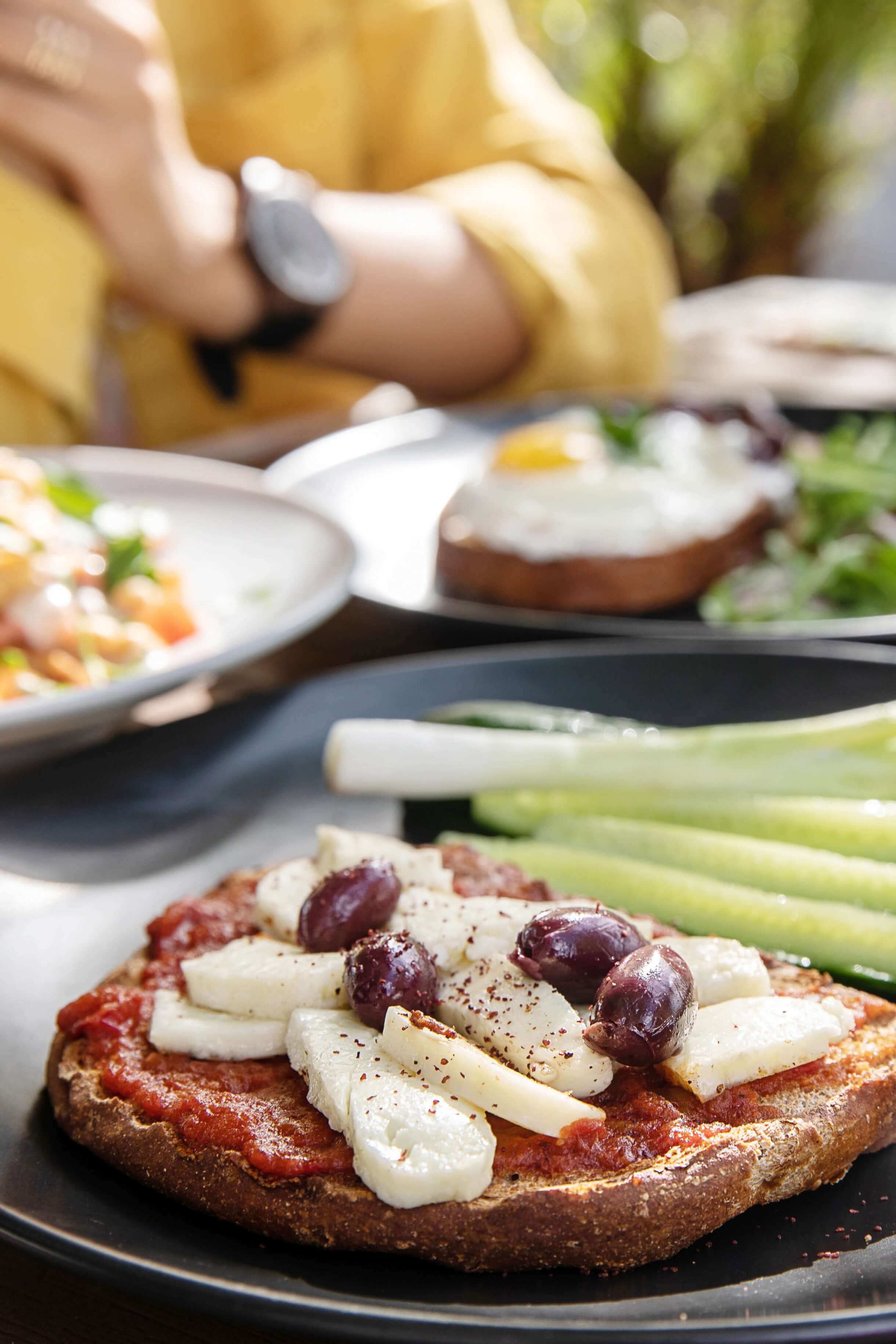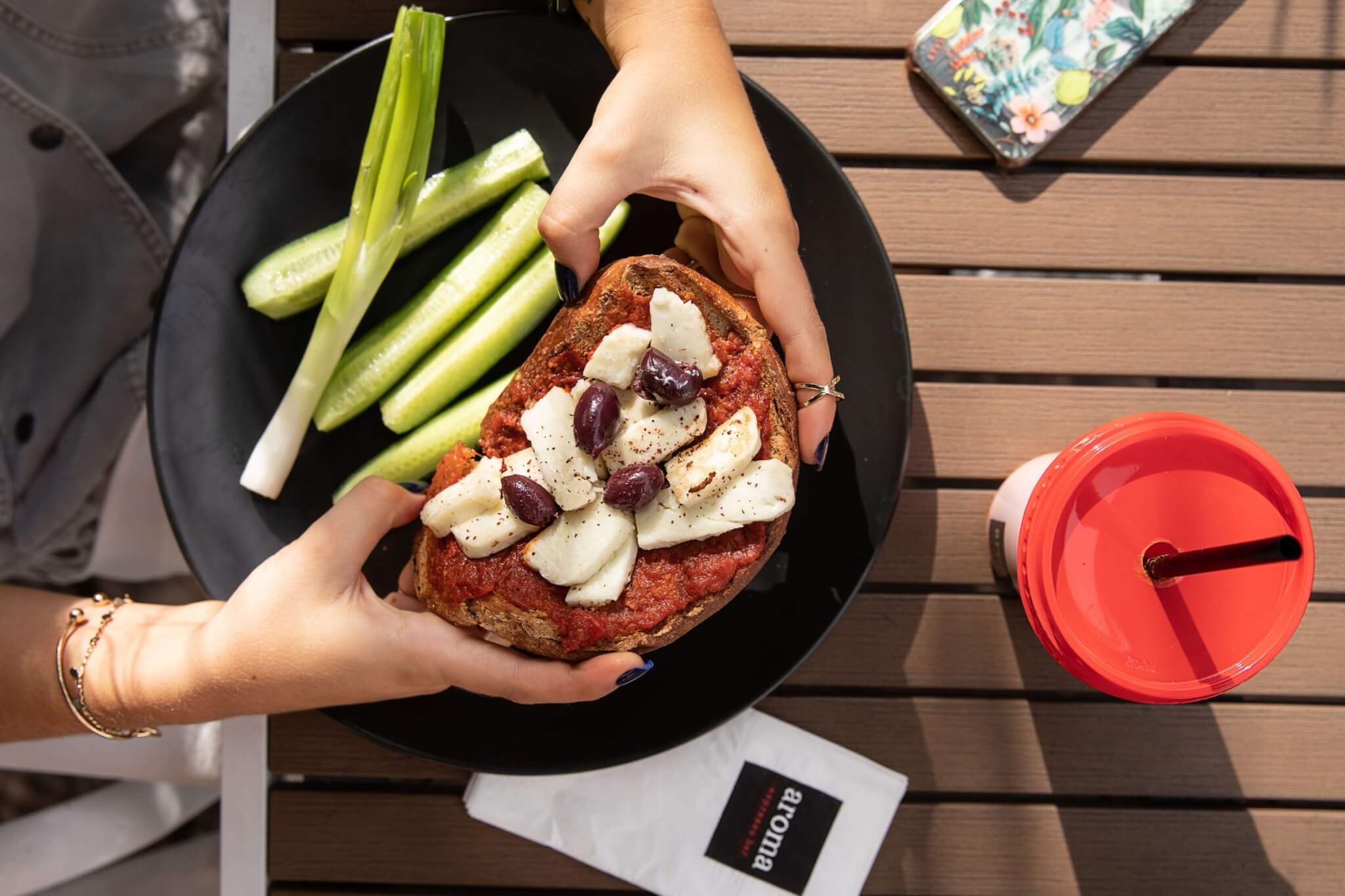 Avocado toast with almond and cheese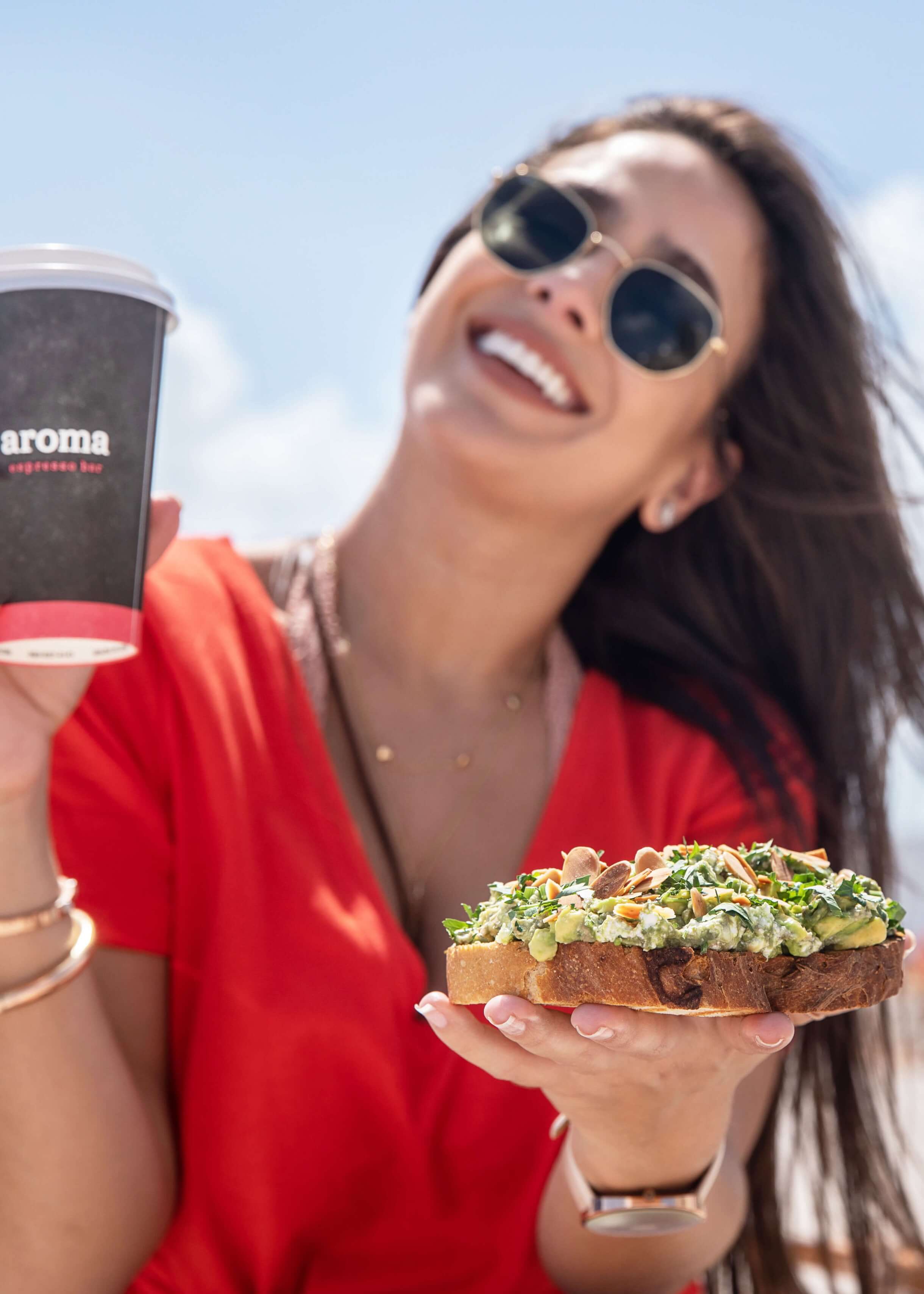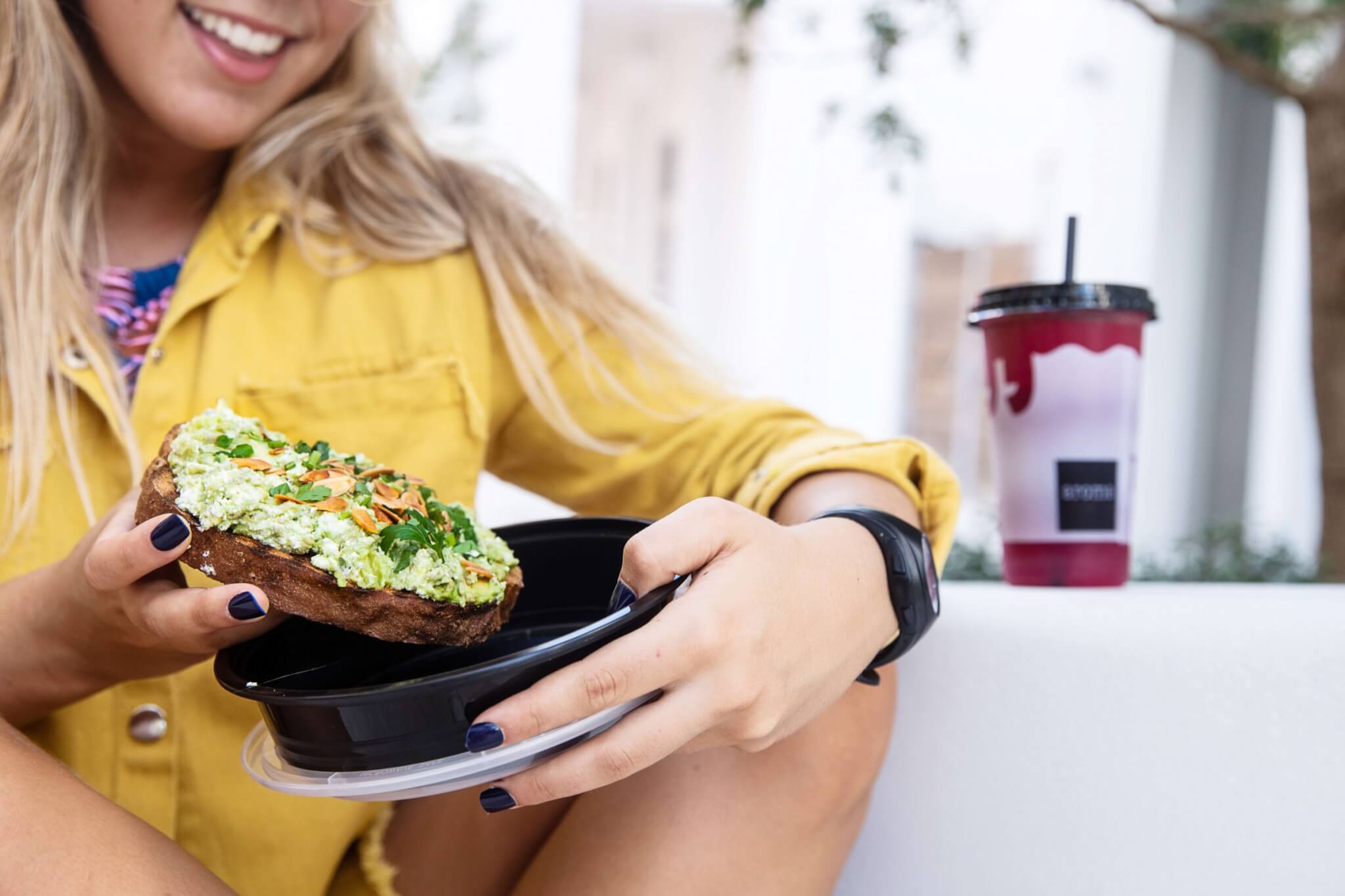 French toast – desserts are never too much! Ask for an extra scoop of homemade cream to make it even tastier.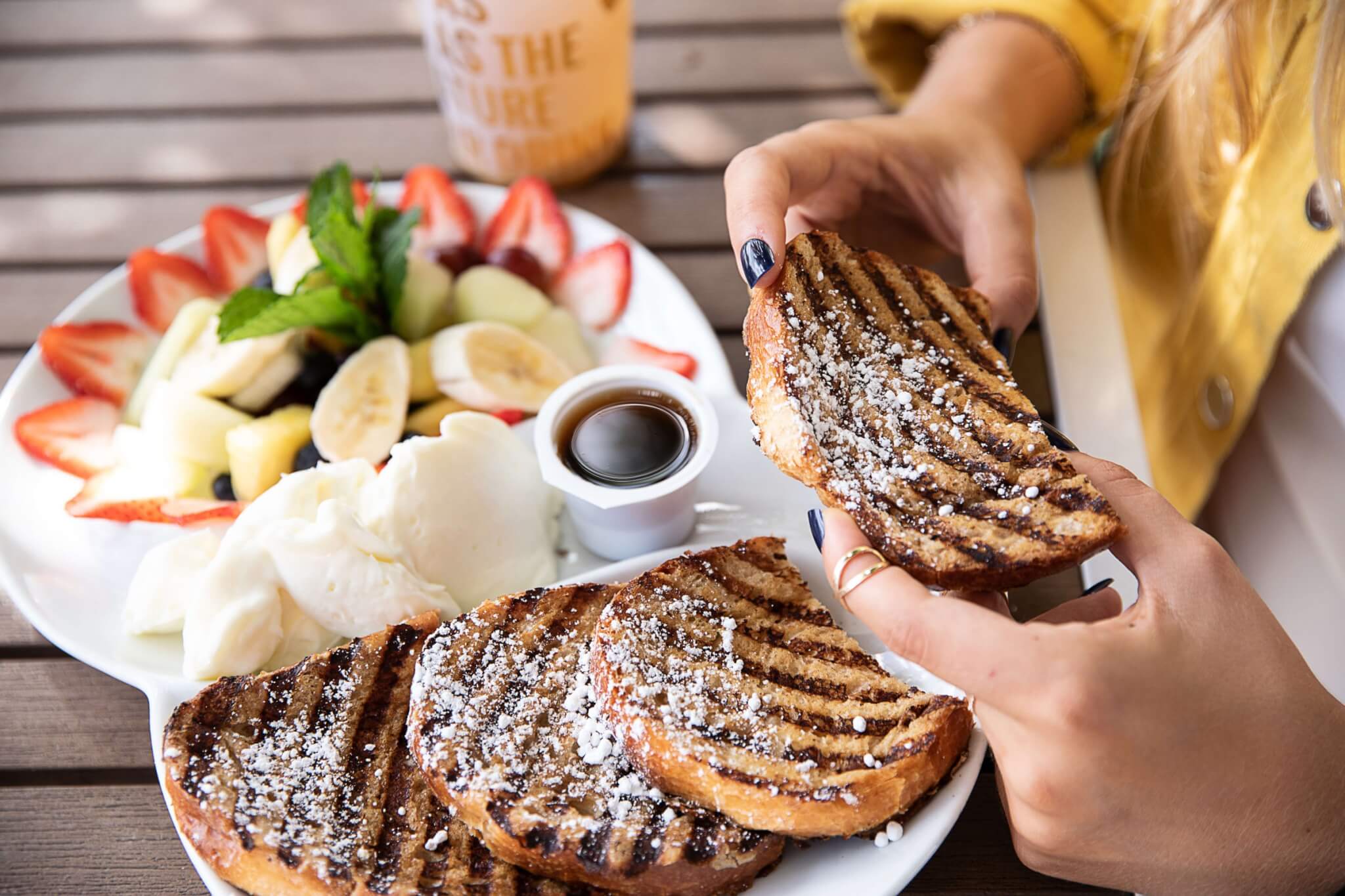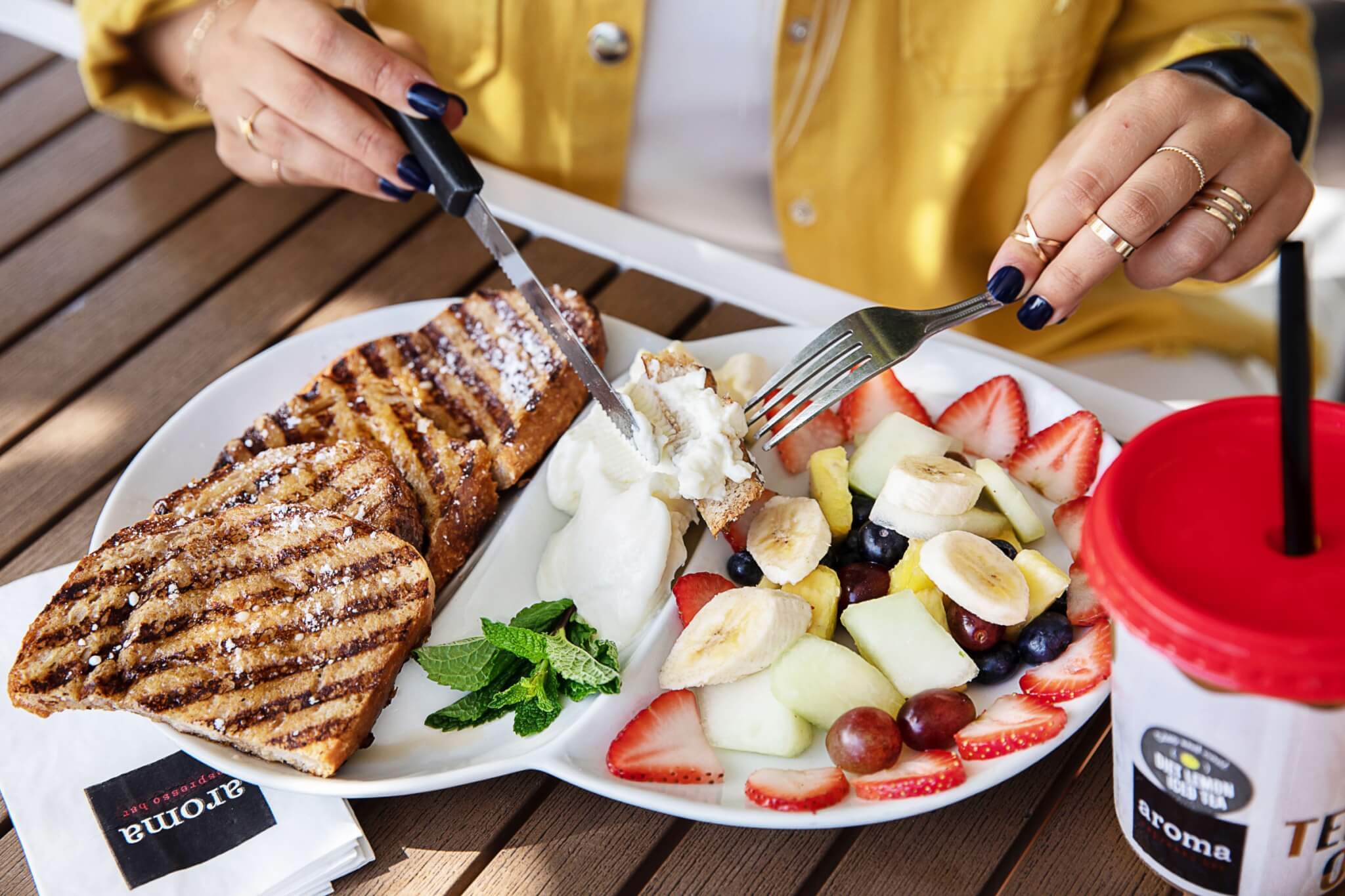 Aviary Bar
Get a fascinating bird's-eye view of Columbus Circle and Central Park from the 35th floor of the Mandarin Oriental Hotel in New York City. Order incredible steaming cocktails and huge chips – although one chip is enough for the whole group!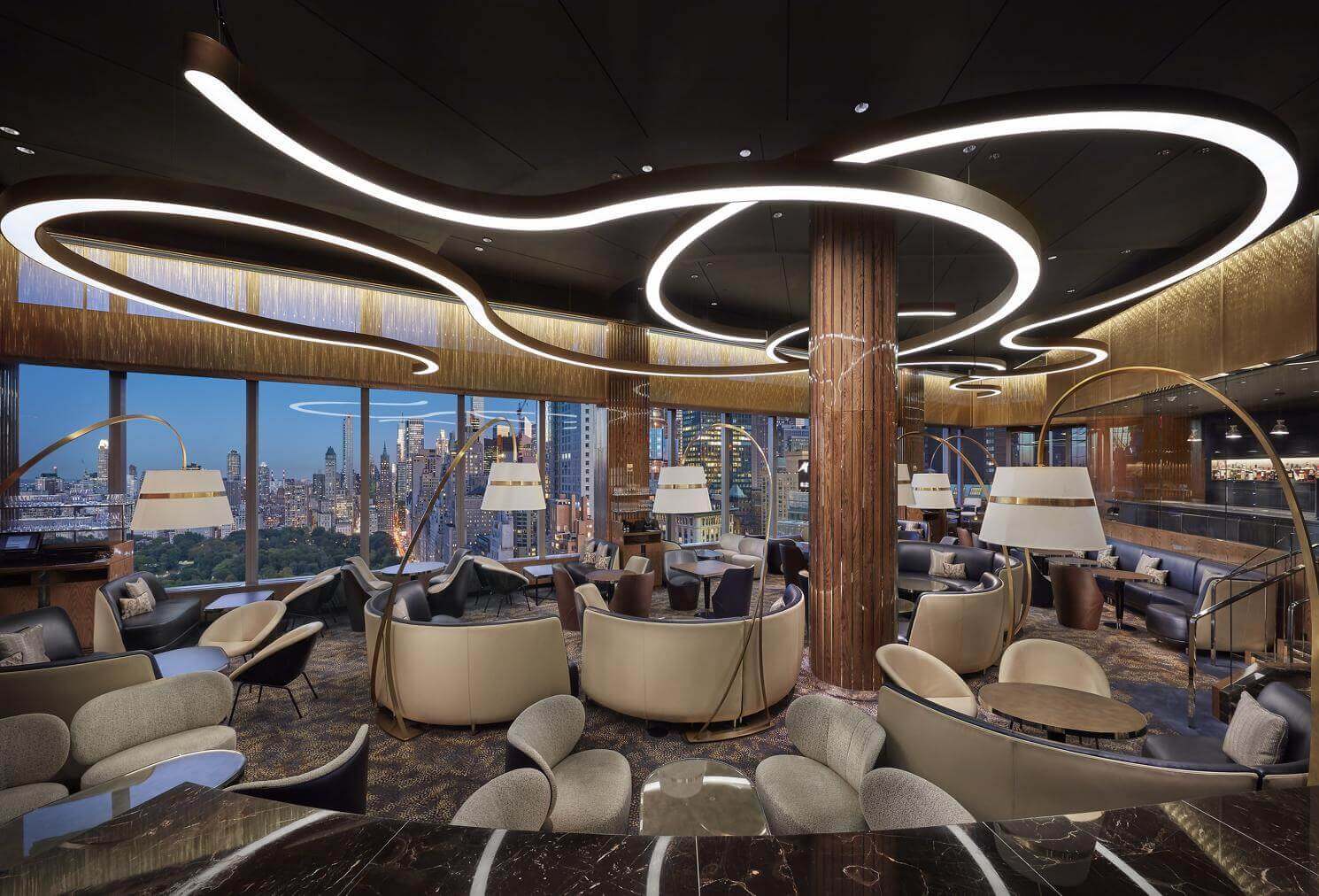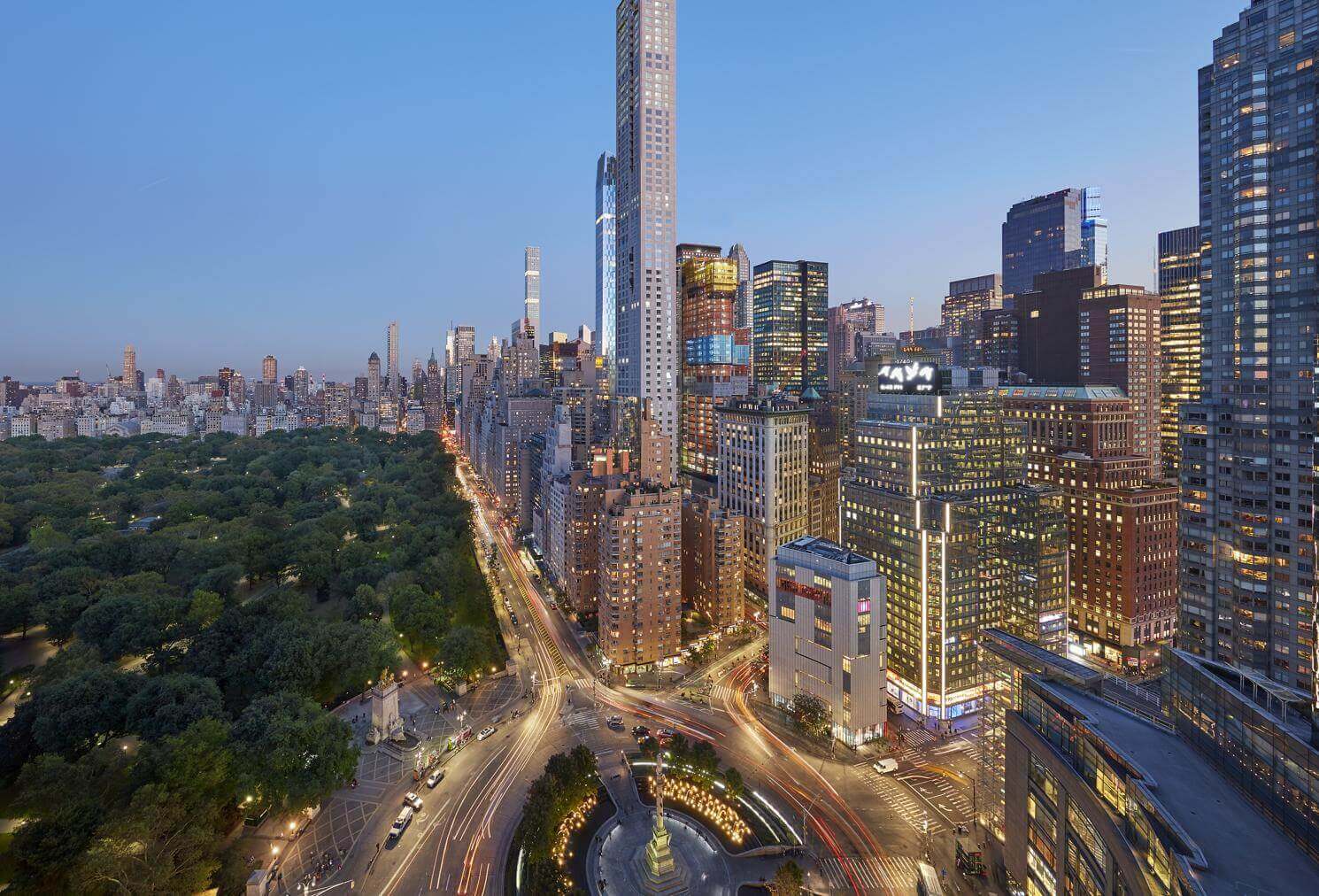 Why Go
For the breathtaking view
What to Eat and Drink
Huge chips and fun, unique cocktails
Photos in this Aviary Bar NYC gallery by Lizzie Munro via Punchdrink.com
The Beekman, a Thompson Hotel
Once an abandoned building for decades, now a 5-star hotel. Stop by this historic location to get those Great Gatsby vibes! Enjoy the glamorous feel of the place while sipping your cocktail of choice.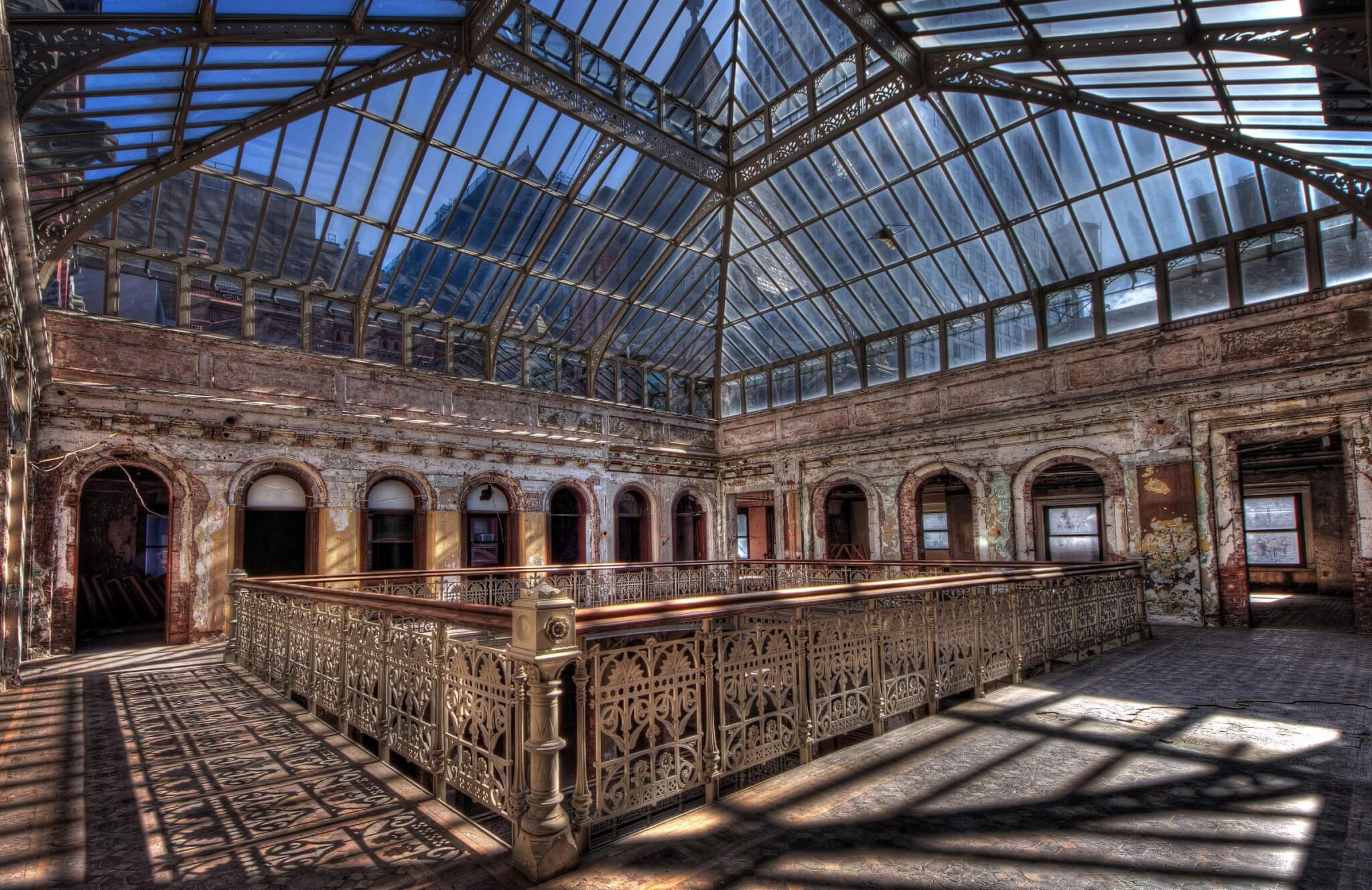 Why Go
1. For the history
2. If you want a throwback of what it may have been being at Mr. Gatsby's party
What to Drink
Can't go wrong with any of their cocktails
Chanson & The Dessert Bar
Get ready to be impressed with an extraordinary experience! Desserts are prepared in front of you, as they share how it's made. Hard to imagine anything more special and delicious than the dessert they serve here!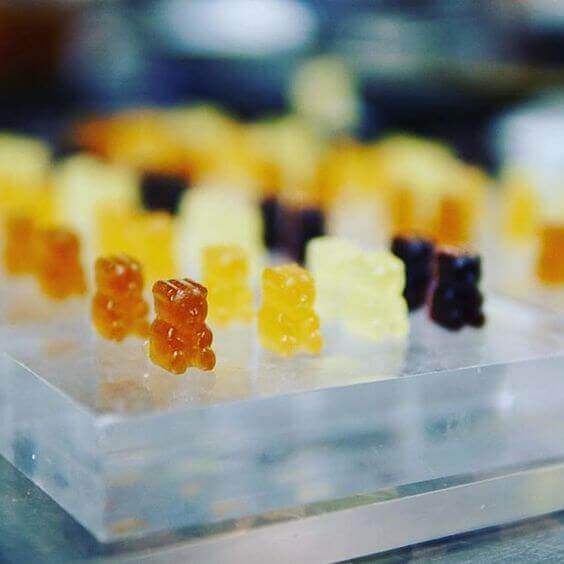 Why Go
1. Stunning late night Dessert Bar concept with super cocktails
2. One-of-a-kind desserts by culinary expert Chef Rory Macdonald
3. Not just a presentation or tasting, but a real cooking show with smoke, illuminated stone pans, and other special effects (like ice cream in smoke with salt, olive oil, and cheese)
4. Jelly bears made of bourbon and whiskey
What to Eat and Drink
Everything! The price includes a seasonal selection of sweet treats. Try the cocktail with propolis (bee glue)
Doughnut Plant
89 East 42nd Street, 379 Grand Street, or 220 West 23rd Street (Also in Brooklyn and Queens)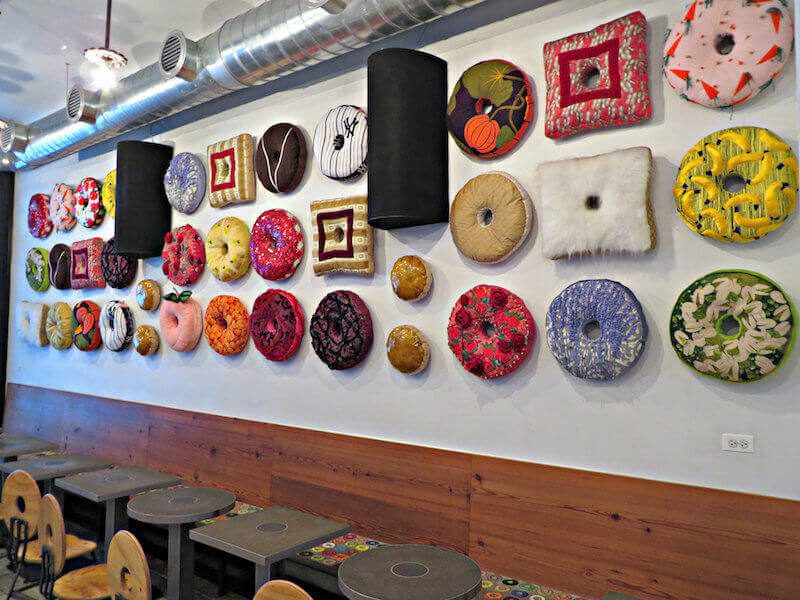 This place is not for chilling; it's for enjoying the ultimate donut experience! Enjoy unique donut flavors such as lychee, ginger, rose, creme brulee, red velvet, wild blueberry, carrot cake, coffee, mocha, and more (and yes, it's all about donuts)!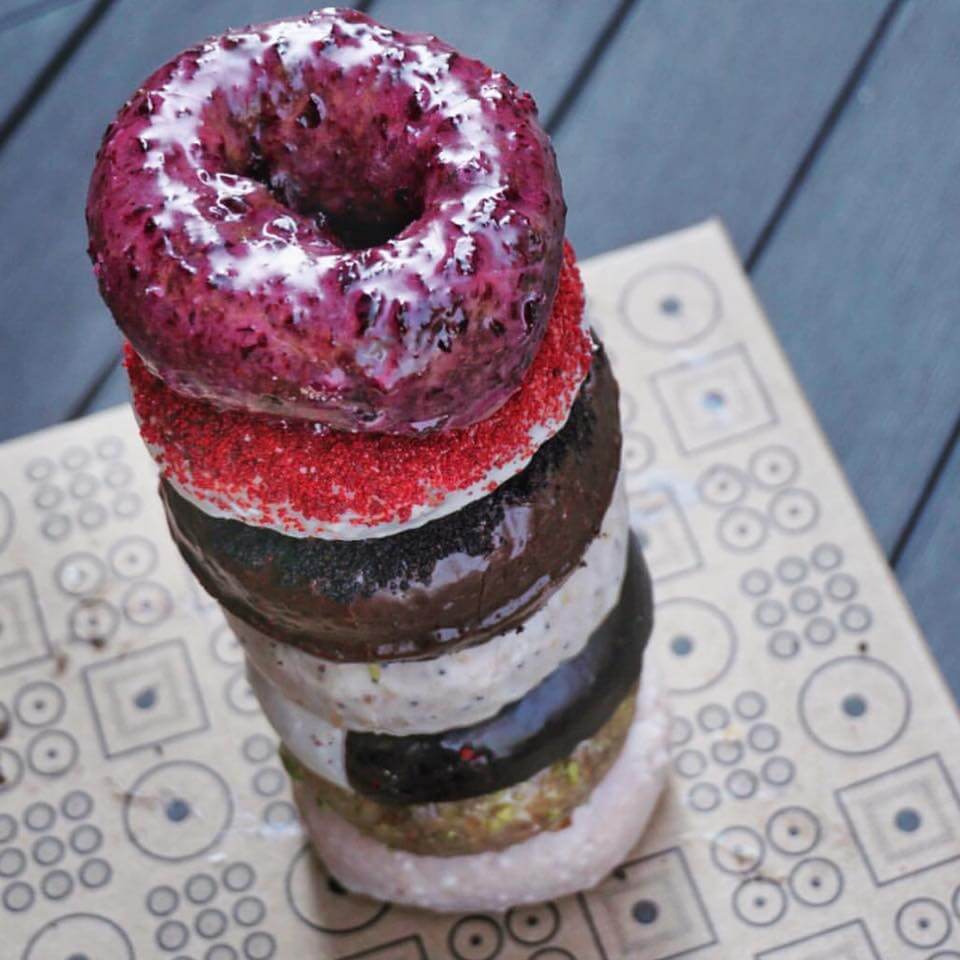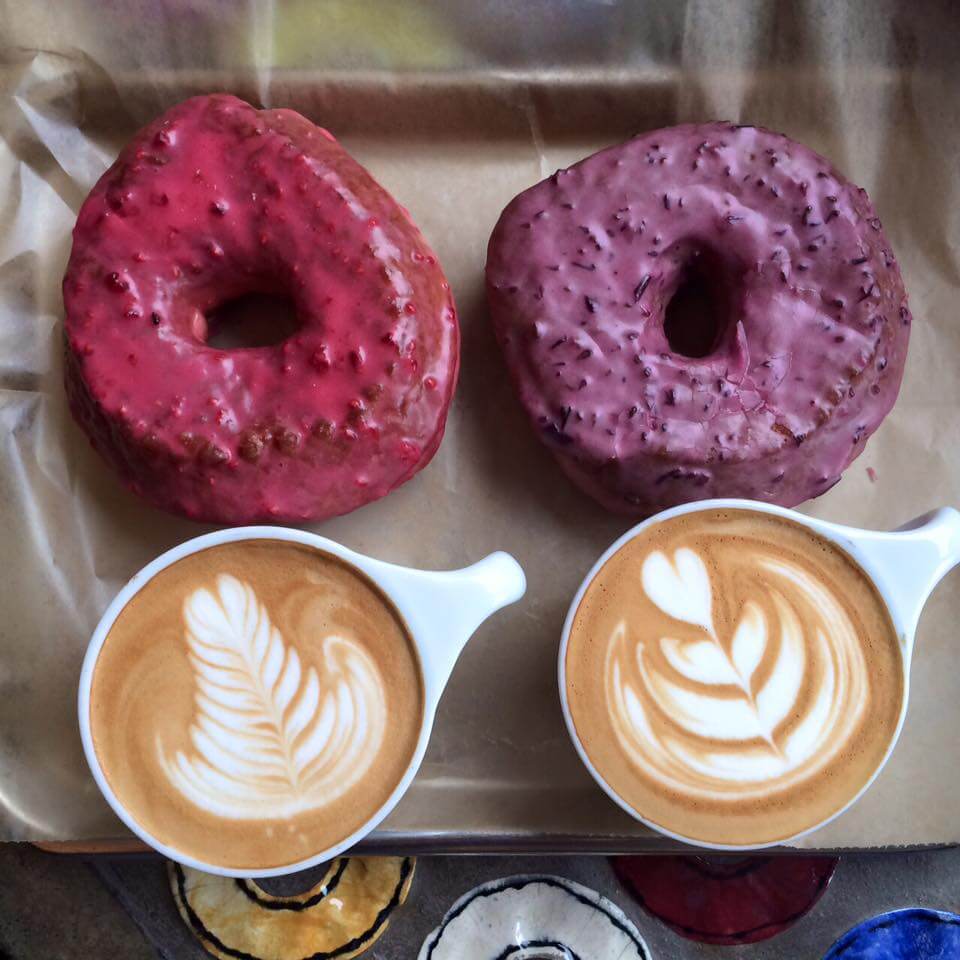 Why Go
1. If you are a real donuts gourmand
2. If you're going to eat donuts, it might as well be deliciously one-of-a-kind!
What to Eat
Any or all of the above!
Happy Hot Hunan
Visit this authentic Chinese eatery with Hunan cuisine specialty! Simple yet tasty, these guys know a lot about their food! If you find yourself in the Upper West Side, be sure to visit and enjoy a delicious meal.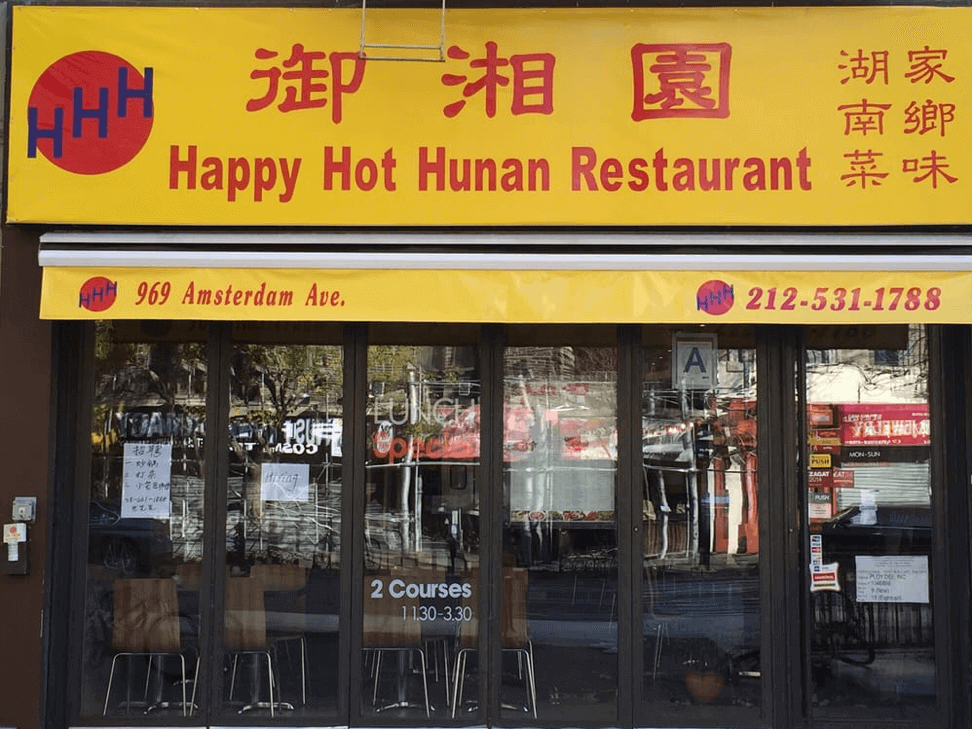 Why Go
1. Affordable prices. For example, a small bowl of hot and sour soup is $ 3
2. If you're looking for authentic Hunan-style cooking
What to Eat and Drink
Hot and Sour soup (eat with a side of scallion pancake)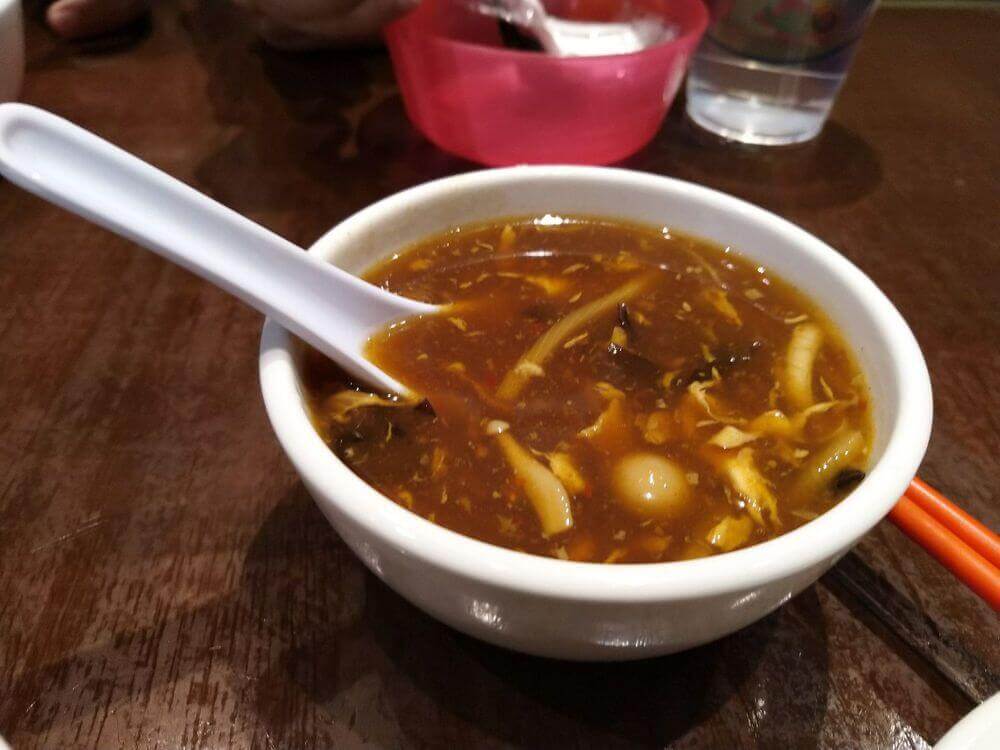 Steamed Eggplant with Salted Egg Yolk
Hot or cold Strawberry tea with bubbles
Locanda Verde
This Italian Restaurant is co-owned by Robert De Niro – a place for true lovers of pasta and antipasto. Andrew Carmellini is the chef and co-owner.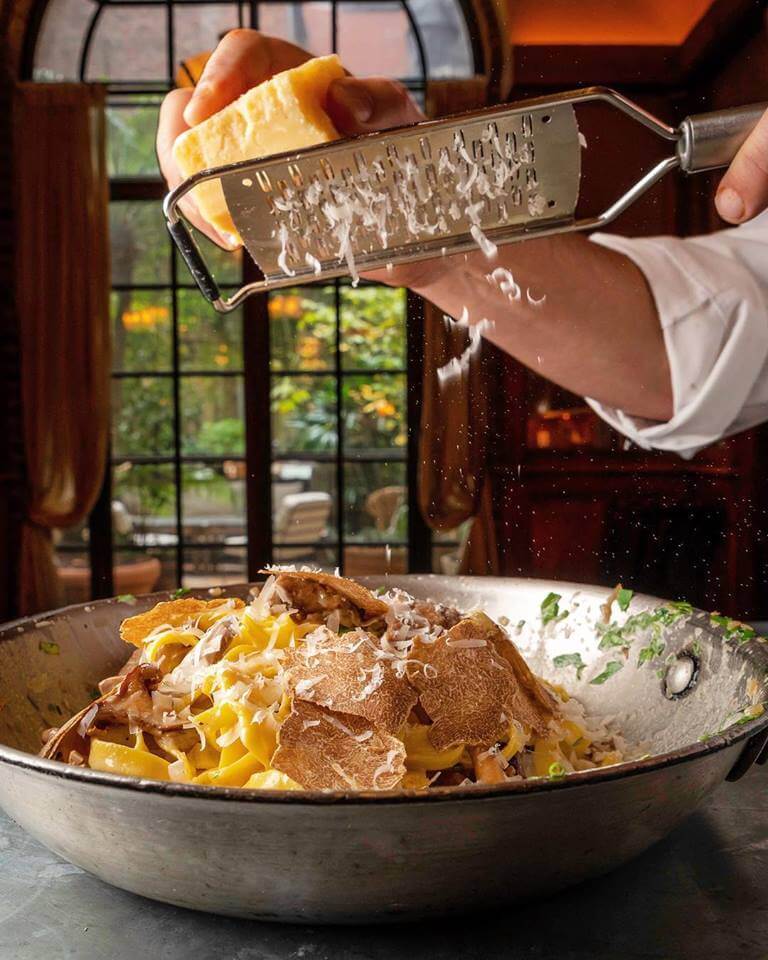 Why Go
1. Italian restaurant created by Italians
2. De Niro can never do anything bad or ordinary
3. Awesome homemade pasta
What to Eat
Steak Tartara Piemontese made with prime-aged wagyu beef, hazelnuts, black truffle
My Grandmother's Ravioli – nothing more to be said!
Duck Arrosto almond crema, pickled rhubarb, cherry mostarda
Katz's Delicatessen
205 East Houston Street (corner of Ludlow St)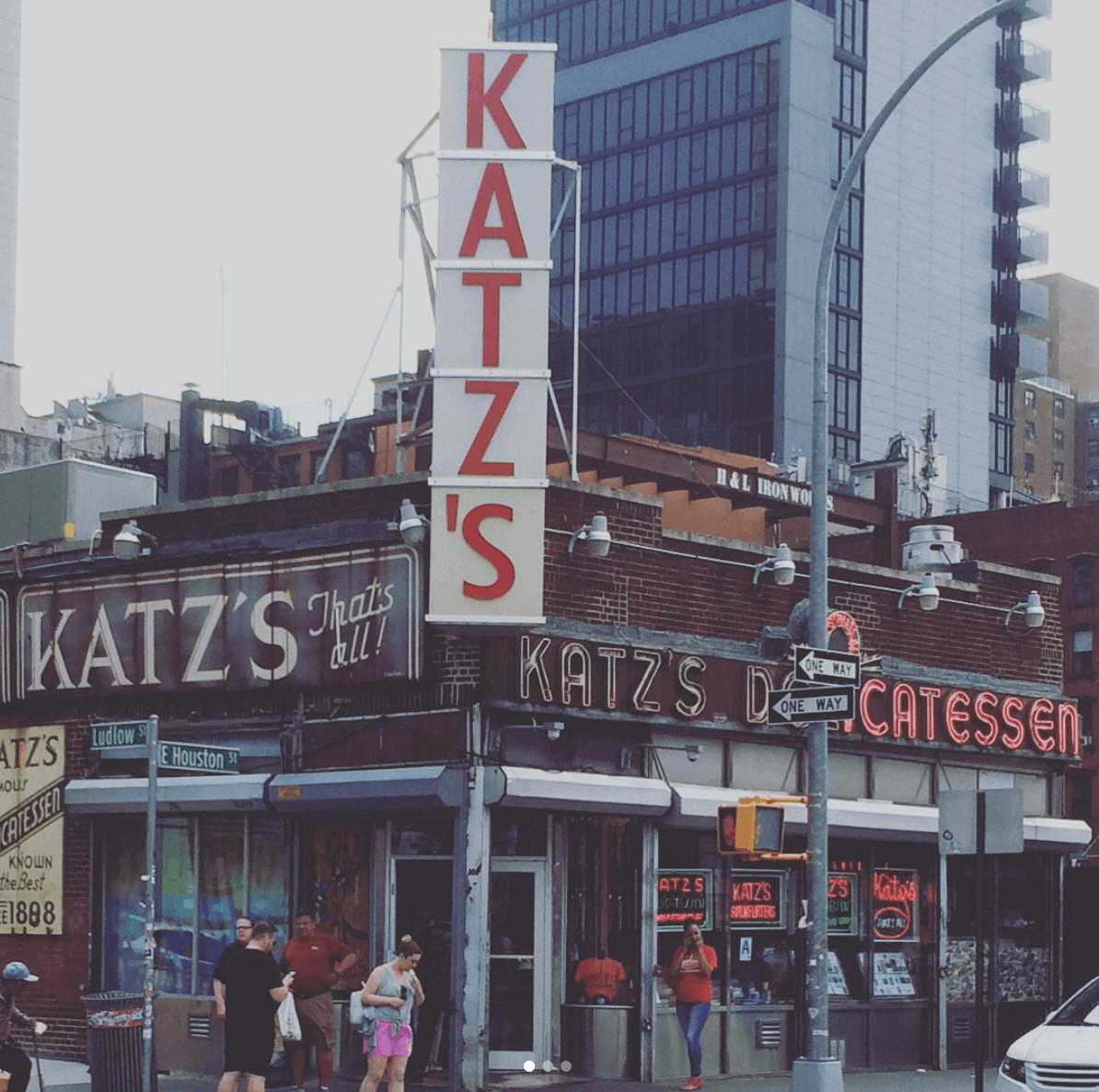 Since its founding in 1888, this deli has become a local favorite and a popular attraction. This iconic deli is known for pastrami sandwiches and Jewish dishes like Bessarabia and hot dogs.
The company slogan "Send a salami to your boy in the army" came as a result of the original owners sending food to their sons while serving in the armed forces during World War II. This is mentioned in the famous song of Tom Lerer's "So Long Mom" where the lyrics says, "Remember Mommy, I'm off to get a Commie, so send me a salami, and try to smile somehow".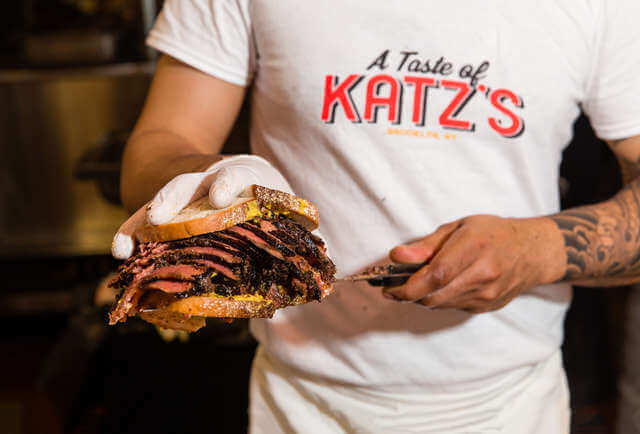 Why Go
Katz is a must-eat in New York City. You'll find hundreds of celebrity photos hanging inside along the wall. If you don't like lines, come early (they open at 8 am) – lines won't be as long and will be easier to find a table.
What to Eat
Famous pastrami sandwich with a side of pickled cucumbers and green tomatoes
*** Let us know what you think of these recommendations. Have you been to any of these restaurants? Feel free to share your favorite places to eat in NYC! #nyceatstagram ***