With the change of weather officially upon us, it's time to change up your skincare routine. I'm providing you with a few options from Borghese's Fango mud mask collection that is worth buying and customizing based on your skin type.
All photos and video were taken by Ksenia Pro Photography. Ksenia is based in the Washington DC metro area. She left her Finance career to focus on her true passion – photography! Her style is timeless, classy, yet modern. Learn more about Ksenia on her website or follow her on Instagram or Facebook.
**There are some affiliate links below, but these are all products I highly recommend. I will never put anything on this website that I haven't verified and/or personally used. I may receive a small commission in exchange if you purchase through my links, that is at no additional cost to you. Please see my Privacy Policy + Disclosure for more information.**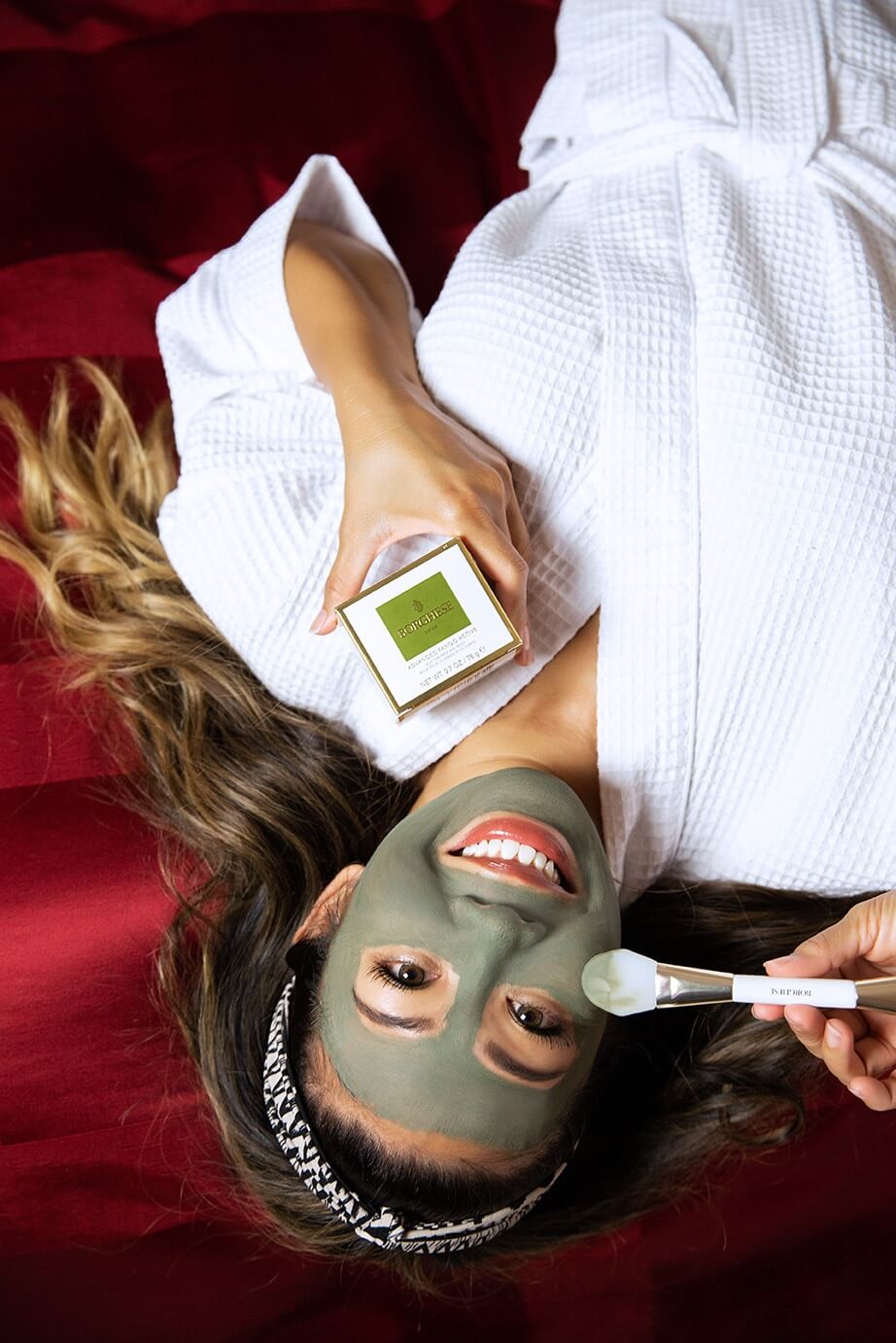 I love skincare. I've been obsessed ever since I can remember. As a child, I raided my mom's beauty products – lipstick, mascara, skincare, and anything else I can get my hands on. To this day, my obsession with all things beauty continues, as I try and buy new beauty products.
One of the products I like to use is a facial mask. Using a mask is a wonderful way to pamper our skin and give it some of that TLC it deserves! After being out in the sun all summer exposing our skin to harsh sun conditions, in the office all day with makeup, or working up a good sweat while exercising, our pores get clogged resulting in breakouts. The reason why I love using a facial mask is it does a great job of exfoliating dead skin cells to reveal that glowing skin underneath! Not only that, but the benefits are countless: remove excess oils, hydrate or calm irritated skin, and draw out impurities.
Borghese Fango Mud Mask is something I recently discovered. They come in 4 unique formulas, where each one is formulated to treat different skin types: dry, oily, sensitive, and dull/uneven. They are allergy tested and free of parabens, talc, SLS, and SLES.
One of the things I learned from Borghese is that you can customize your mask routine. By that, I mean you can apply different masks on different sections of your face or body. I saw Borghese Fango Mud Mask advertise it this way, and it makes sense! Especially for those with combination skin (where your t zone is oily, and the rest of your face is normal/dry), you can treat the area with a mask based on your skincare needs (mind blown)! Well, as the saying goes, you learn something new every day!
Masks are so easy to use. Apply to clean skin – face, neck, or body (avoid your lip and eye areas). Leave it on for about 2 to 5 minutes. Then, you remove it using a warm, wet sponge or washcloth. I typically do this 1 to 2 times a week or as needed. And that's it!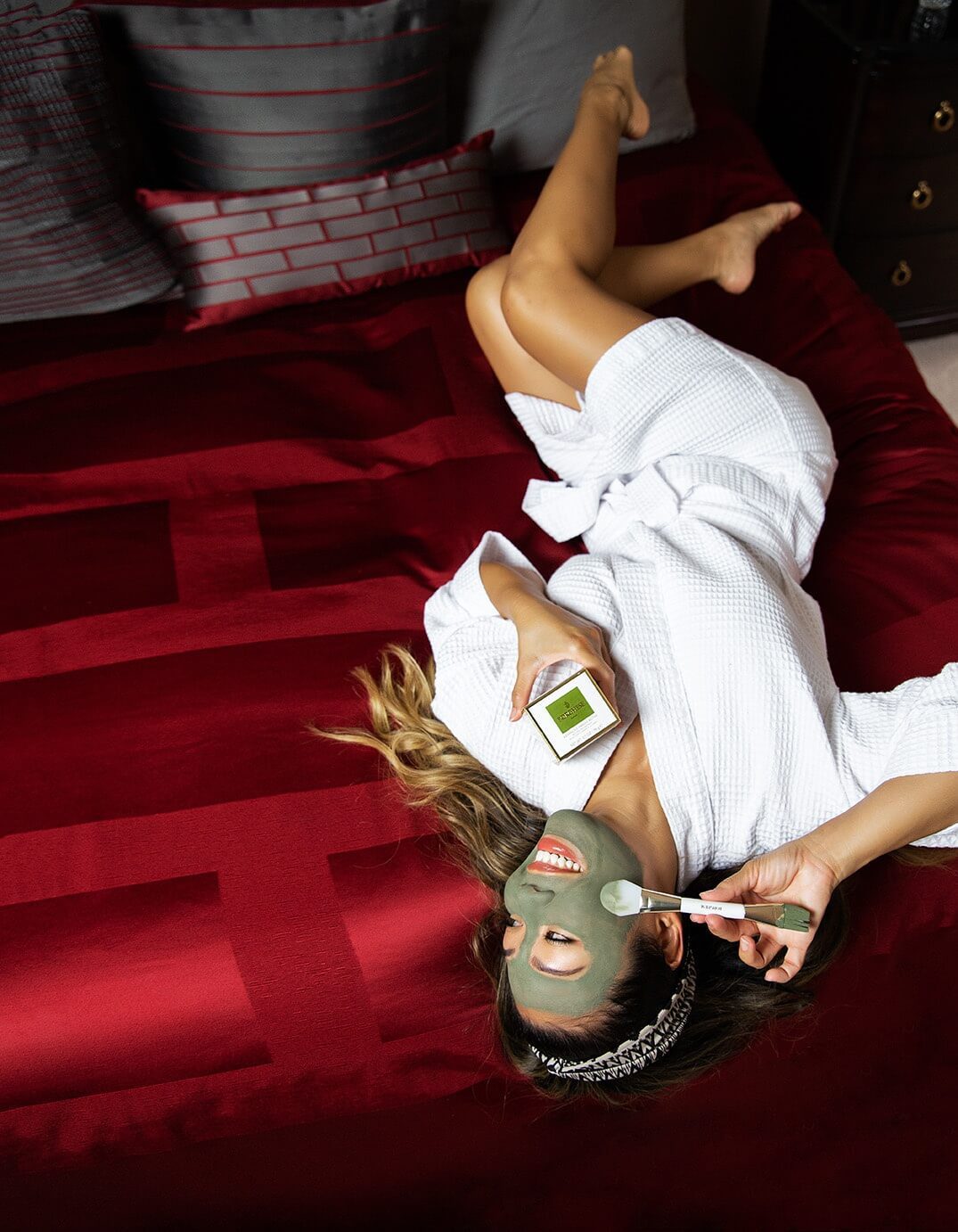 I'm all about #selfcare and #selflove so let me tell you about the different types of Fango mud masks Borghese offers!
Advanced Fango Active Purifying Mud Mask (for clogged and oily skin)
Advanced Fango Active Purifying mask helps exfoliate the skin, even skin tone, and minimize the appearance of pores and fine lines. Sweet Almond Oil and Avocado Oil enhances skin elasticity while Siberian Ginseng Root Extracts and Chaga Mushroom enhances skin's resilience. Results will reveal softer and smoother, glowing skin!
Advanced Fango Delicato Moisturizing Mud Mask (for dry and flaky skin)
Are you looking for that extra moisture? This is the mask for you! Infused with White Honey Extract and Vitamin E Acetate, Advanced Fango Delicato Moisturizing mask will provide intense moisturization leaving the skin feeling enriched and invigorated!
Fango Riparativo Calming Mud Mask (for sensitive skin)
Fango Riparativo Calming mask is for those who need to calm, soothe, and repair their skin. It contains Lemon Extract which helps balance and tones the skin while Lavender Extract and Allantoin, relieves the skin from their calming and soothing properties.
Fango Uniforme Brightening Mud Mask (for dull and uneven skin)
Sometimes our skin needs a little bit of brightening. Exfoliation is key! Fango Uniforme Brightening mask will help exfoliate the dead skin right off and reveal that glowing skin! Coffee Seed Extract and Caffeine aids the skin to stimulate and fight free radicals. Boswellia Serrata Extract, Centella Asiatica Extract, Betula Alba Bark Extract, and Polygonum Cuspidatum Root Extract all help to even and smooth skin tone.
Why I like it
I used the Advanced Fango Active Purifying mask on my combination skin. The mask made my skin feel extra clean! My pores appear smaller and removed any impurities. I especially like using it when I have those unwanted pimples to help calm my irritated skin. I would even spot treat and leave it on overnight to help dry it out!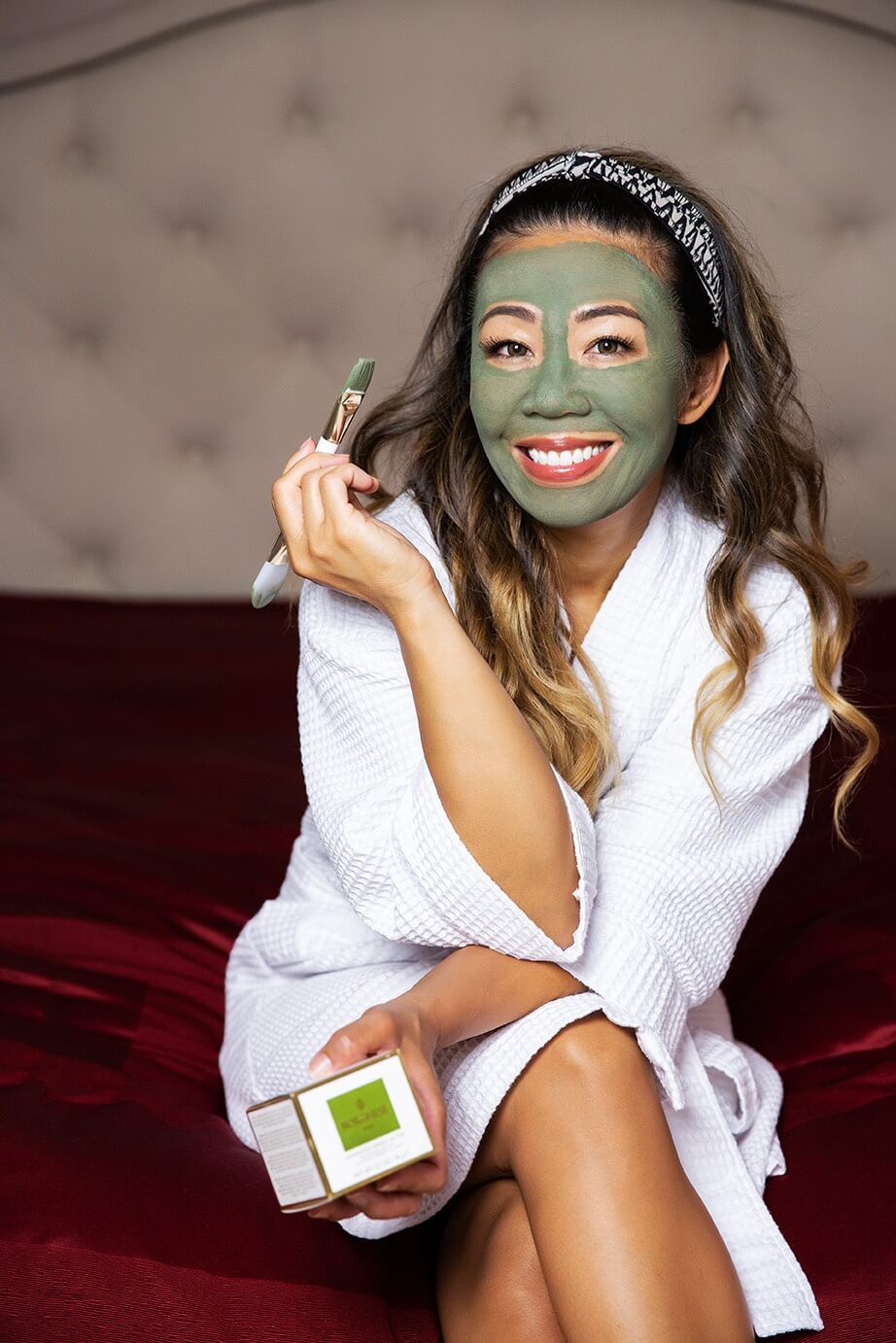 Oh! Here's an additional tip! We tend to think of lathering masks on our face only, but don't forget the rest of your body too! Treat your neck and decolletage to help firm and diminish signs of aging, your hands for that smooth appearance, and even your feet for that brighter countenance (just like when you get that special pedicure)!
Be sure to follow up with a good moisturizer, and you're good to go! Borghese has you covered with their Fango mud mask for ANY skin type! You'll get your money's worth!