Are you tired of fine, thin, or limp hair? Hair Biology, a new haircare collection designed for women in their 40s and above, is the solution for you. Hair Biology Full & Vibrant Collection helps restore volume and adds dimension for a fuller look. Pump up the volume with these products, so that you can fall in love with your hair (again)!
This post is sponsored by Hair Biology. All thoughts and opinions are my own.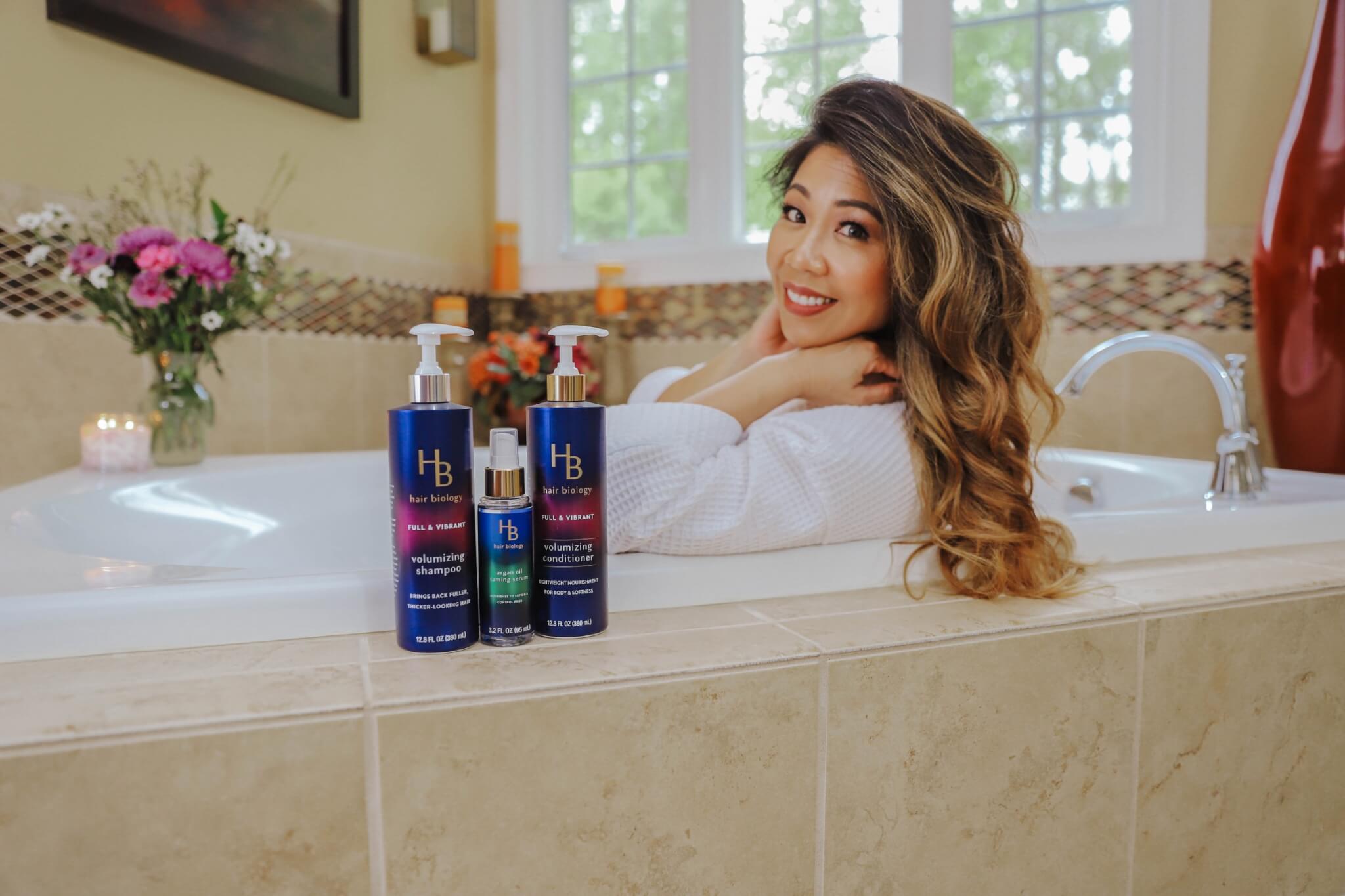 About Hair Biology
As we age, things change, our hair included – it's just biology.
Hair Biology is specially formulated for women who are noticing changes in their hair while helping them combat four key hair challenges (dryness, thinning, greying and quality), so we may have a great hair day every day. The Soft & Hydrated Collection brings back shine to dry, damaged or brittle hair. The Silver & Glowing Collection corrects yellow tones to reveal stunning silver strands. The Full & Vibrant Collection brings back volume to fine, thin, or limp hair.
What It Does
I'm using the Hair Biology Full & Vibrant Collection which includes a volumizing shampoo and conditioner that together weightlessly cleanses, nourishes, and instantly creates volume and transforms thin, flat hair to look and feel more abundant and bring visible fullness. The key ingredient – biotin – helps to coat fine hair and builds body. It's free of parabens and dyes and safe for color-treated and aging hair.
How to Use
Shampoo: Wet your hair, apply shampoo, and gently massage into hair and scalp. Rinse thoroughly. Follow with Hair Biology Volumizing Conditioner.
Conditioner: Use after Hair Biology Volumizing Shampoo. Squeeze out excess water from hair. Apply evenly onto damp hair and massage into hair. Rinse thoroughly.
Argan Oil Taming Serum: Use after Hair Biology Volumizing Conditioner. Add a drop or two of hair smoothing serum to the bottom half of hair. Style as desired.
Why Use it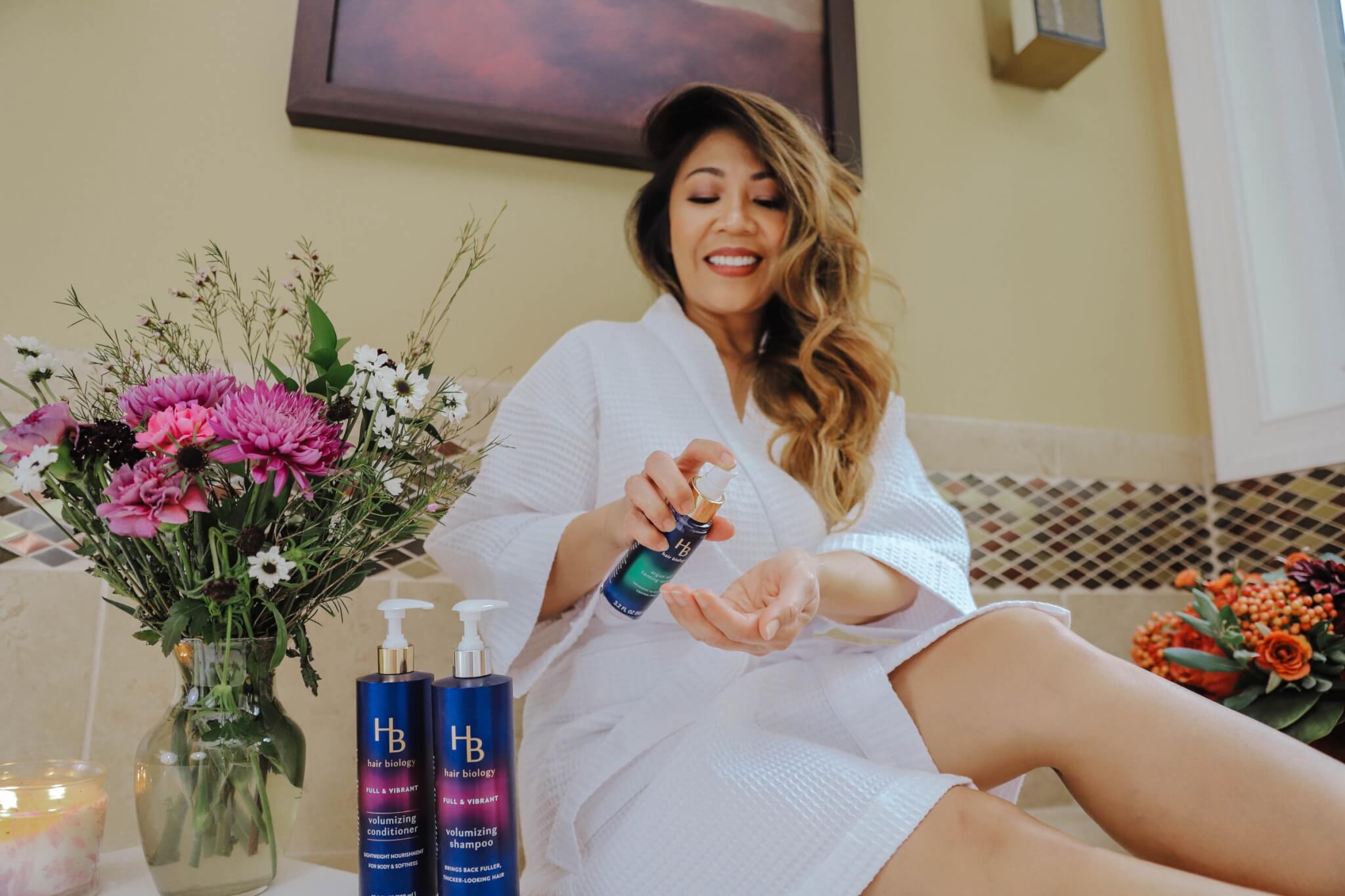 I have tried many different hair treatments that provide benefits to damaged hair. But this is the first product I have tried that specifically targets the unique challenges that we face as our hair changes, like thinning and dryness.
As I age, I am always on the lookout for products that help keep my hair looking youthful. When I was approached about these hair products designed specifically for those in their mid-40s+, I was all over it! As an influencer, I want to provide the best solutions to help everyone feel and look their best at any age! We need all the help we can get, so to learn of a brand like Hair Biology come up with a formula designed to help hair in its already weakened state, I thought, "What a great idea!"
After using Hair Biology Volumizing Shampoo and Conditioner, I feel the set worked well to build body and volume. The key ingredient – biotin – made my hair look more abundant and feel fuller. Although it provided a lot of volume and more body, I must admit, my hair was still dry.
As a solution, I followed my regimen with the Hair Biology Argan Oil Taming Serum. This treatment helped restore essential nutrients into my hair, repaired my dry hair and split ends, added shine, and smoothed flyaways. This serum made my hair feel SO much better, since it provided all the moisturizing, smoothing, and softening benefits my hair needs.
A word of advice on the serum – don't use too much as one pump of this oil goes a long way! You don't want to weigh your hair down, so use sparingly and only on the bottom half of your hair.
Overall, I feel the Hair Biology products worked well in making lifeless and fine hair feel fuller, healthier, smoother, and shinier.
Beauty is not defined by any age, and that is especially true these days. We live in a time where age does not limit what we can do or how we can look. We even see brands like Hair Biology focused on dealing with one small aspect of aging, providing an option to reverse those effects on our hair. So why deal with the adverse effects of time when you have an easy, effective way to counteract them!
They say as we get older, we get wiser, so why not put products like Hair Biology to work for us. Why settle when you have an option that will roll back the effects of time, making us look and feel better as we age. We worked hard to get here, so why not enjoy it to its fullest?! #boldernotolder

Where to Purchase
Hair Biology's Volumizing Shampoo, Conditioner and Argan Oil Taming Serum are exclusively available at Target online and in select stores nationwide. Shop the Hair Biology Full & Vibrant collection here.