Looking for an easy yet beautiful holiday decoration? Meaghan of Meaghan Clare Photography shows us how to make a Christmas garland in only six steps!
Our guest today is Meaghan of Meaghan Clare Photography. Does her name sound familiar? Perhaps, you've seen her name on my hair tutorial which you'll find here!
Meaghan is an art teacher and teaches kids "how to see and capture true beauty in the world." When not in the classroom, you'll find her as a photographer capturing life-inspired images such as engagements, weddings, family portraits, branding, and lifestyle shots. Meaghan's style uses a lot of natural light to maintain bright, clean, and beautiful images as you'll see throughout this post!
Follow Meaghan on her blog, Instagram @awinsomeview, or Facebook Meaghan Clare Photography.
Decorate your home with this easy and straightforward garland! The great thing about this tutorial is you probably have most of these items at home already. If you don't, you may purchase the materials at your local craft store and the greenery at grocery stores, florists, or Christmas tree farm.
You may use these festive garlands to:
Decorate your staircase – hang loosely like a swag and tie a bow every 3 feet (a red color is great to keep with the festive theme) or tie on top of the rails and have stockings going down the steps
Add to your dining or coffee table and accent it with candles, faux antlers, or scatter pinecones around it
Put it around your doorways, mantels, and windows (place on the ledge or frame your big window and add a wreath in the middle)
Wrap around pillars
Outline mirrors or art pieces hanging on the wall
Place on chandeliers
The beauty of this garland is you can personalize it any way you want! For instance, if you like that "snowy" look, purchase flocking spray and spray the greenery before putting this all together. For a more modern look, spray metallic gold or silver for that extra sparkle!
Another way to make this your own is to add ribbons, pinecones, sleigh bells, fresh flowers (magnolias perhaps?), Christmas ornaments, and battery-operated Christmas lights (just to name a few)!
Well, let's get to it!
Materials you'll need:
Floral wire
Scissors
A variety of greenery
Twine
1. Start by cutting a variety of greenery like sprigs of nandina, laurel, and pine.
2. Start with the laurel leaves first. Group them in threes and wrap floral wire around them. Make sure to leave a little bit of wire to attach to the twine.
3. Next, cut a piece of twine and fold it in half. Put your first laurel leaf at the center of the twine and evenly attach the other laurel leaves around the rest of the twine. Make sure to make them all go in the same direction.
4. Pair the nandina with the pine by wrapping them each with a little floral wire.
5. Attach each of the pine and nandina sections along the rope in between the laurel leaves.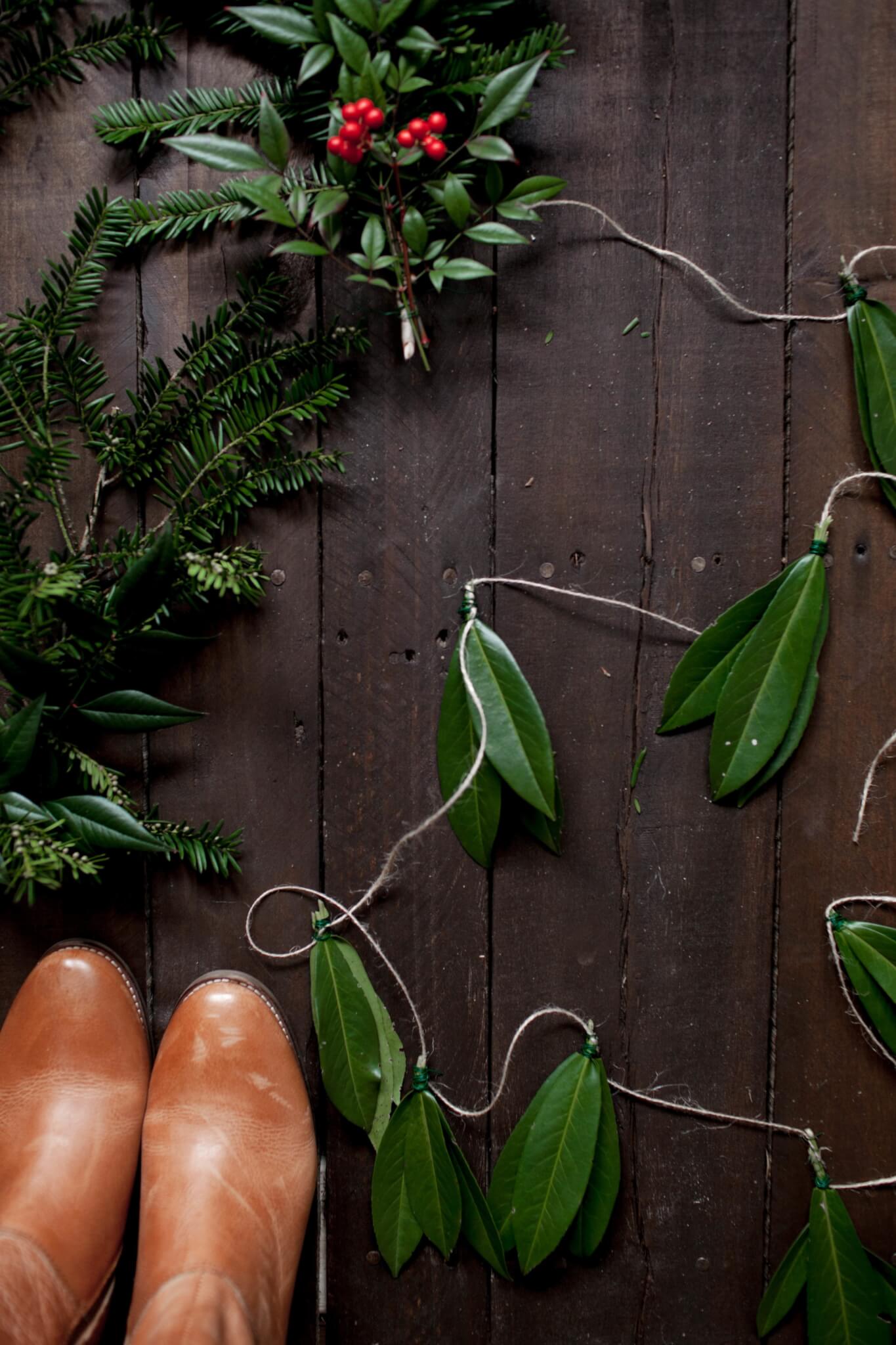 6. Lastly, put the garland in the location where you want it to go and fill in the areas that might have gaps.
By the way, notice the addition of faux antlers along the garland creates dimension and texture to this evergreen centerpiece.
Hope you have fun creating this! We want to thank Meaghan for inspiring us and making it look so easy to make this beautiful garland!
Be sure to let us know if you try this DIY garland by commenting below or tagging Meaghan and Cynthia on Instagram! We would love to hear from you and see your beautiful creation!