Show off your American spirit with red, white, and blue decor this Fourth of July! Dazzle your home decor with American colors, stars, and stripes!
Disclosure: Some of the links on this post are affiliate links, which means I may receive a small commission if you click a link and purchase something I have recommended. While clicking these links won't cost you any extra money, they will help me keep this site up and running! Please check out my disclosure policy for more details. Thank you for your support!
I recently shared some outfit ideas to get you into the American spirit for Memorial Day and the Fourth of July. Now that we have that down let's focus on the home front.

The holidays are a great way to change things up in your home. I enjoy making the house look festive, whether you add subtle changes or go all-out. For those who want a simple change, decorations can be subtly added to celebrate that American spirit with flowers, plates, or pillows. Now, if you want to go all out? Add more decor, which I've laid out for you below.

I've categorized the decorations based on different parts of our homes, from indoor to outdoor: front porch to welcome guests, dining room to serve delicious meals, backyard for that perfect picnic, or a pool for a fun party.
Front Porch
You know how they say a book cover gives a first impression? The same can be said about a front porch concerning our home. How you decorate your front porch gives your guests a feel of your home. When it's a holiday, it's a great excuse to be festive, especially when welcoming guests.
Adding a red, white, and blue decorated wreath is a simple and easy way to decorate. Other easy additions to your front porch are bench pillows, lanterns, or a simple doormat that can make things festive.

If you want to go all out, consider putting up bunting flags like the ones I show below. Decorate your front porch or railing, or even go all-around your home for that all-American spirit.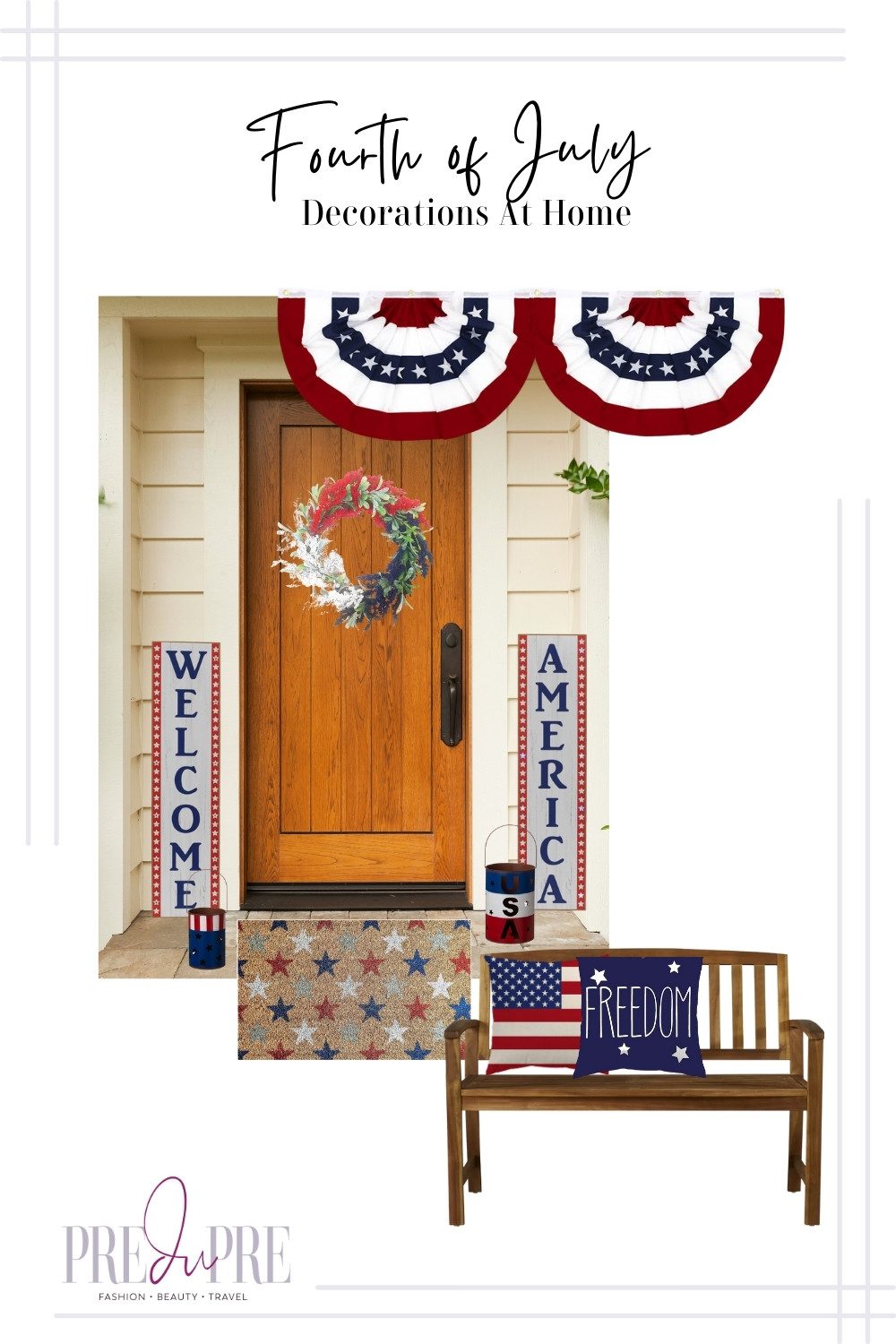 Dining Indoors
A Fourth of July holiday wouldn't be complete without a great celebration meal, but it's also a great creative outlet for setting up a patriotic tablescape! Start with a cute flag-themed table runner and red, white, and blue floral centerpiece to set the mood. Want to add more? How about a red, white, and blue placemat to add color to your existing white plate. Finish the theme with colored glasses and little details like table napkin rings and candles.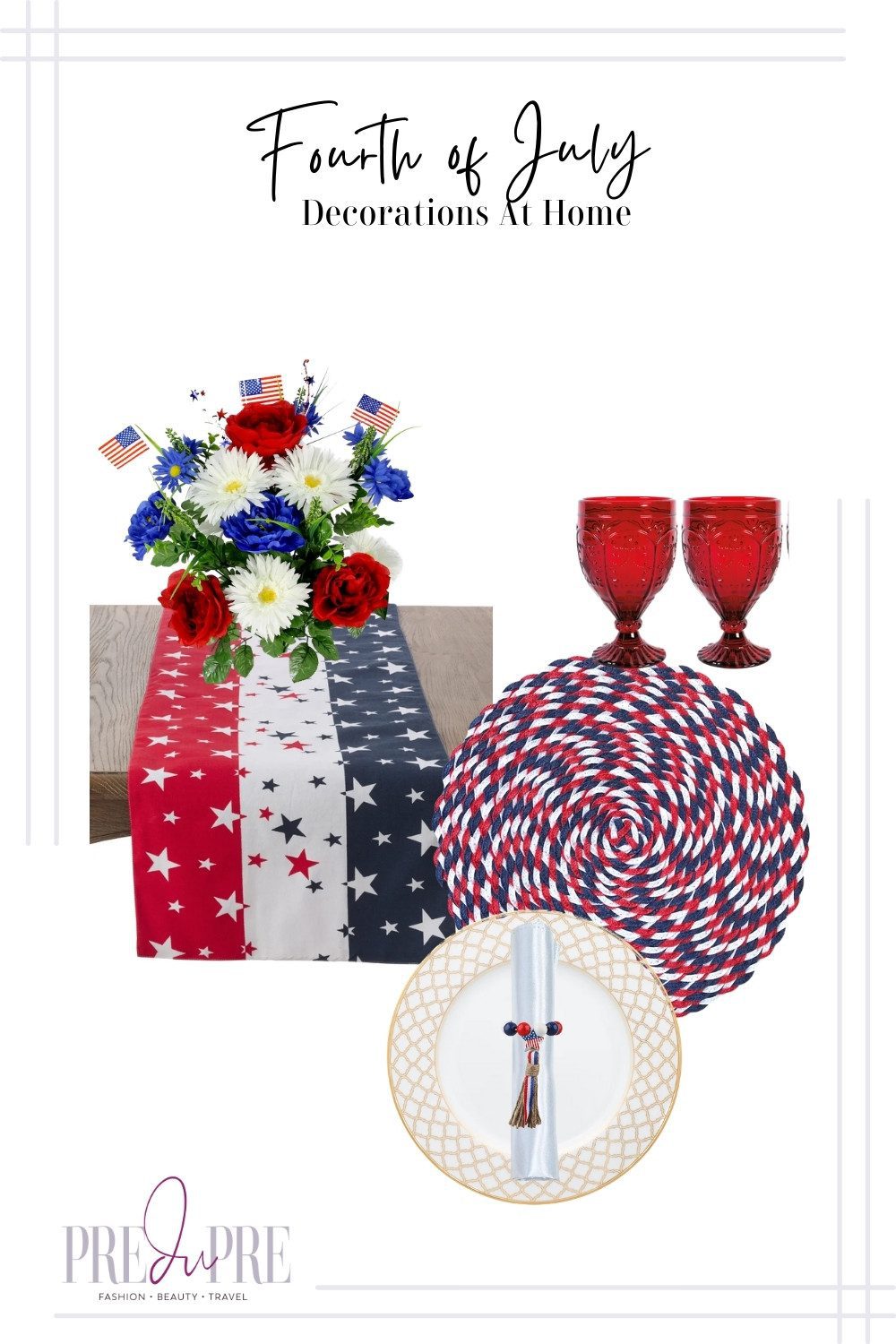 Backyard Picnic
With summer here, eating outdoors is the way to go! If you enjoy being outside, why not dress up your backyard for Independence Day with a simple display of flags and lanterns to make things all the more cheerful!

If you want to make your backyard pop, add string lights to your outdoor canopy, hang a USA banner on your wall, or place a variety of pinwheels around your backyard or in planters. If you have a picnic table or outdoor furniture set, dress that up too! For last-minute decor ideas, purchase disposable plates and utensils in stars and stripes for an instant Americana vibe.
While outdoors, make it memorable by planning a few summer games like cornhole, horse shoe, and sack races – to name a few!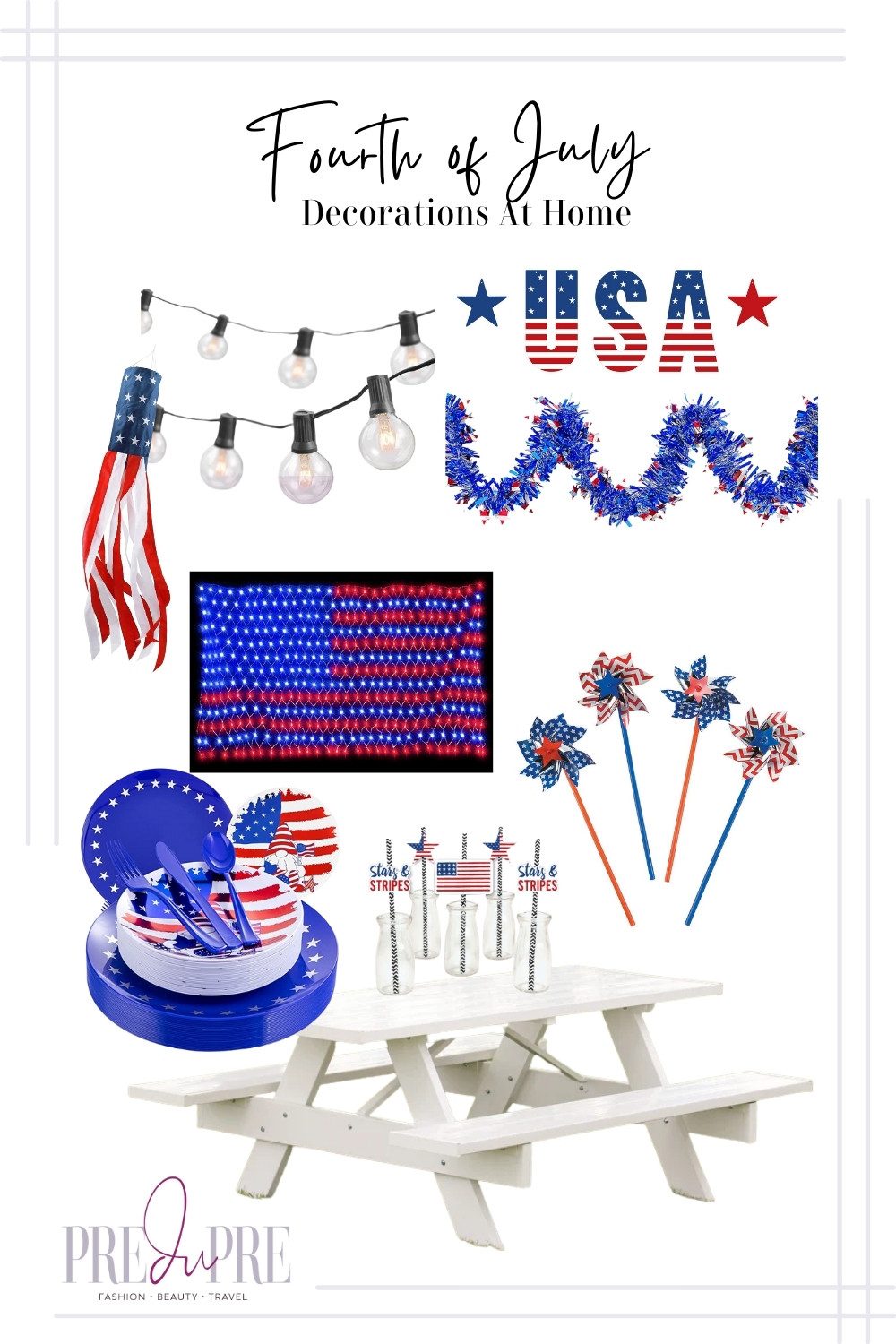 Pool Party Fun
Now, who doesn't enjoy a pool party?! It's a great way to cool off in summer heat for both kids and adults! And if you want to throw an unforgettable Fourth of July party, there are many options for decorations.

Spread the cheer by hanging paper lanterns, paper fans, pom-poms, hanging swirls, banners, and stars. Have those fun floats ready in true red, white, and blue fashion! Oh, and don't forget to plan out a few pool games to make it fun for everybody!
By the way, if you need a summer swimsuit for your Fourth of July party, click here for inspo.
Don't forget the little details like sparklers, hand fans to cool off (for those who don't want to get in the pool), patriotic bubble wands, or red, white, and blue candy and desserts.
---
That wraps it up, folks! How do you like to celebrate the Fourth of July holiday?