Looking for a skincare line that addresses dry and aging skin? Read about our experience with Perricone M.D.'s newest line – Essential Fx Acyl-Glutathione
**This is a sponsored post with Perricone M.D. As always, my reviews remain honest, and all opinions are my own.**
**There are some affiliate links below, but these are all products I highly recommend. I will never put anything on this website that I haven't verified and/or personally used. I may receive a small commission in exchange if you purchase through my links, that is at no additional cost to you. Please see my Privacy Policy + Disclosure for more information.**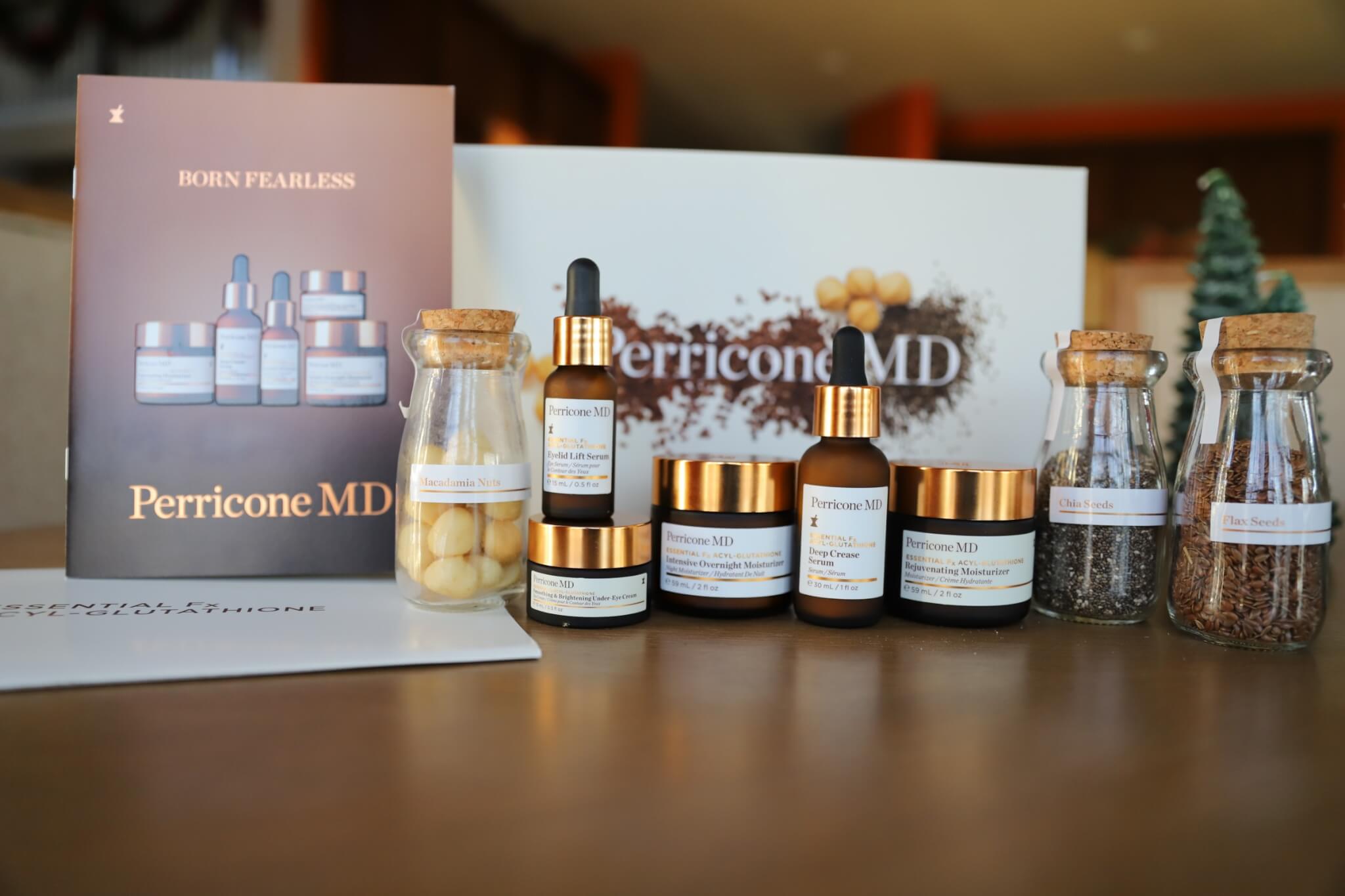 When it comes to personal care, it's nice to see a product that can be used equally by both men and women. My husband and I have always been focused on taking care of ourselves – regular exercise, eating right (well…mostly), sleeping right, and being disciplined about regular checkups. All these things help keep our bodies healthy on the inside.
We recently had an opportunity to share a product that helps with how the body looks on the outside. As we mature, our natural levels of glutathione (the body's most important detoxification agent) deplete allowing natural toxin build up on the skin appearing in the form of deep lines, creases, discoloration, and dehydration. Perricone M.D.'s Essential Fx Acyl-Glutathione is a skincare regimen that uses a proprietary molecule Acyl-Glutathione, combined with a nourishing Vitamin F (aka essential fatty acids) blend of flax, chia, and macadamia seed oils, to help correct the effects of aging and keeps the skin supple and moisturized.
We have been using The Essential Fx Collection for a month. It was delivered in a beautiful display package highlighting the individual components of the regimen you use each day and night:
Who It's For:
The Essential Fx Collection was created for women and men of all skin types but targeted for those with dry skin and those looking for solutions for deep wrinkles, creases, and crepiness.
What It does
The line hydrates, improves elasticity, encourages cell renewal, improves textures, evens skin tone, brightness, and reduces deep lines and wrinkles.
How to Use (according to Perricone M.D. website):
After cleansing, massage Deep Crease Serum onto face and neck using a gentle upward motion. Next, gently pat Eyelid Lift Serum onto eye area using your ring finger. Keep out of eyes.
Once both the Deep Crease Serum and the Eyelid Lift Serum are fully absorbed, massage Rejuvenating Moisturizer in the daytime and Intensive Overnight Moisturizer at night time onto cleansed face and neck using a gentle upward motion. Gently pat down Smoothing and Brightening Under-Eye Cream onto eye area using your ring finger. Use morning & evening. Keep out of eyes.
The Review
My husband is at that age that some wrinkles and deep lines have formed. He also has a skin type that is dry and has some discoloration on his light complexion due to sun exposure. Right away, after using this collection, you could see his skin getting firmer. The creams did a great job moisturizing his naturally dry skin, which is even more challenging in the colder winter months. So far, he has not noticed any changes to the discoloration or deep lines, but perhaps that takes more time. He is sensitive to fragrances on his face but has had no reaction to the very mild citrus fragrance. The scent fades fast upon applying and doesn't linger. He is not one to give much credence to these types of regimens, but he can feel and see the subtle differences that this product makes.
As for me, I have always been very disciplined with my skincare routine and very focused on making sure it is well moisturized. My combination skin and olive complexion are more forgiving than my husband's, but as time goes on, I have noticed changes in my appearance. I see a few fine lines mostly around my eyes, so I was excited to try the Perricone M.D.'s Fx Acyl-Glutathione products.
When I first used the collection, I was slightly concerned that the moisturizer cream might be too much for my skin. The creamy texture looks heavy, but surprisingly, it's lightweight. It goes on smoothly and non-greasy and absorbs into the skin quickly. I also like that it doesn't leave a sticky residue. I have very sensitive skin that can react to some products, but I did not experience any irritations using Perricone M.D.
While I don't see significant changes to my fine lines, the products work well to hydrate my skin and gives a smooth finish.
My husband and I will continue to monitor progress and will update you of any changes in about two months.
Price
The price point is a little steep, but it is a good investment if you're looking to improve a few things about your skin.
$98 to $179 (depending on product and size)