I'm providing a makeup tutorial on how to create a smokey plum-copper eyeshadow look – a perfect look for the holidays, date night, or just for the fun of it!
Disclosure: Some of the links on this post are affiliate links, which means I may receive a small commission if you click a link and purchase something I have recommended. While clicking these links won't cost you any extra money, they will help me keep this site up and running and keep it ad-free! Please check out my disclosure policy for more details. Thank you for your support!
---
This warm copper foil eyeshadow look is easy to recreate. This smokey eye dazzles anywhere you go! We're using the Natasha Denona Eyeshadow Palette 28 Purple Blue.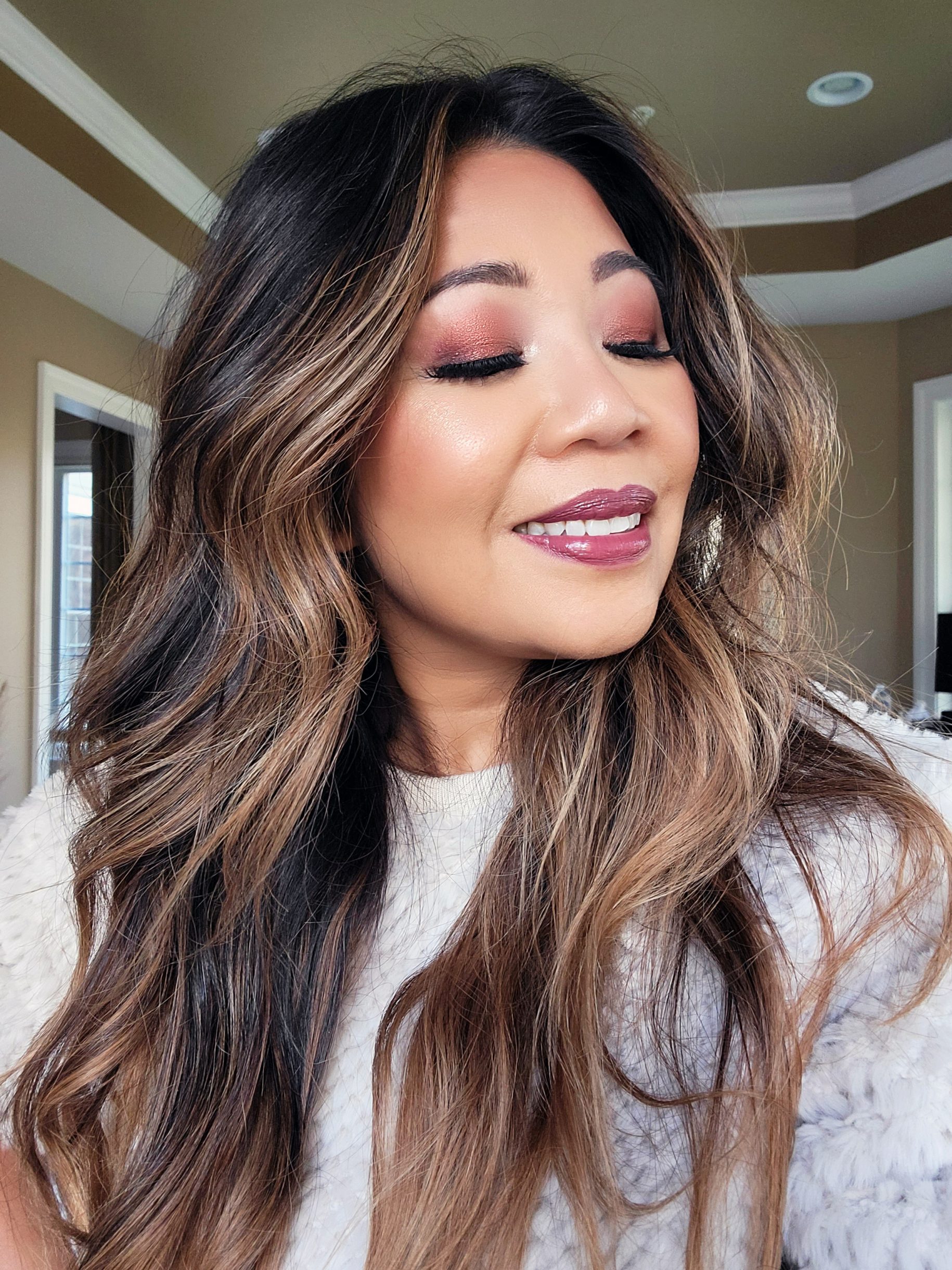 Instructions
Apply an eyeshadow base all over the lid (products used: P. Louise Base Shade 0.5)
Use Natasha Denona Palette 28 and apply shadow Cool Plum to the outer and inner corners. For the outer corner, sweep it in an upward motion toward the tail of your eyebrow. For the inner corner, dab a color and slightly bring it up.
Working on the outer corner again, take Aubergine and place it next to Cool Plum, applying on the inside (don't go too close to the center as we're applying a different color there). We're just deepening the outside and adding dimension.
Swipe on the copper eyeshadow Oxide all over the middle of the lid.
Take Golden Beige and swipe on the innermost corner (so this will be next to Cool Plum but on the outside).
Line your upper lash line with black eyeliner using a black eyeliner pen, or apply gel liner using a stiff eyeliner brush. This will help create fuller lashes. Products used: Mac Pro Longwear Fluidline Eye Liner and Mac Flat Definer Brush.
Finish the eyes with Maybelline Waterproof Falsie Lash Lift Mascara in Black and dry. Top the lashes with Kiss Lashes in Pompadour. Pinch them to blend together (use your fingers, lash curler, or lash placement tool). Add mascara again to bond them together.
Wipe off any eye makeup fall out (if any). Prep the skin with face moisturizer and let it dry.
Use foundation (we used a mix of Mac Studio Fix Foundation NC 25 and 38).
Hide imperfections using concealer (products used: Mac Pro Conceal and Correct Palette in Medium)
Top it off with Charlotte Tilbury Airbrush Flawless Finish Setting Powder in Medium.
Contour the cheeks and nose using Huda Beauty Tantour Contour and Bronzer Cream in Tan. For the cheeks, place the contour right underneath your cheekbones, and for the nose, draw two thin vertical lines.
Add warmth to the skin with Benefit Hoola Bronzer in Natural Bronze. Brush the perimeter of your face: by the hairline, your cheeks, and jawline. This just adds a bit of dimension to the face.
Use Mac Pinch Me blush and add from the middle of your cheek and brush upward toward the top of your ear.
Highlight the high points of your face: bridge of the nose, cheekbones, brow bone, and cupid's bow. Product used: Christian Dior Glow Face Palette
Line the lips using Charlotte Tilbury Love Trap, then fill with Anastasia Beverly Hills Veronica. Add NYX Butter Gloss Praline for a shiny finish.