Want to get into tip-top shape this year? Here are nine upper body exercises using the TRX Suspension Trainer!
Disclosure: Some of the links on this post are affiliate links, which means I may receive a small commission if you click a link and purchase something I have recommended. While clicking these links won't cost you any extra money, they will help me keep this site up and running and keep it ad-free! Please check out my disclosure policy for more details. Thank you for your support!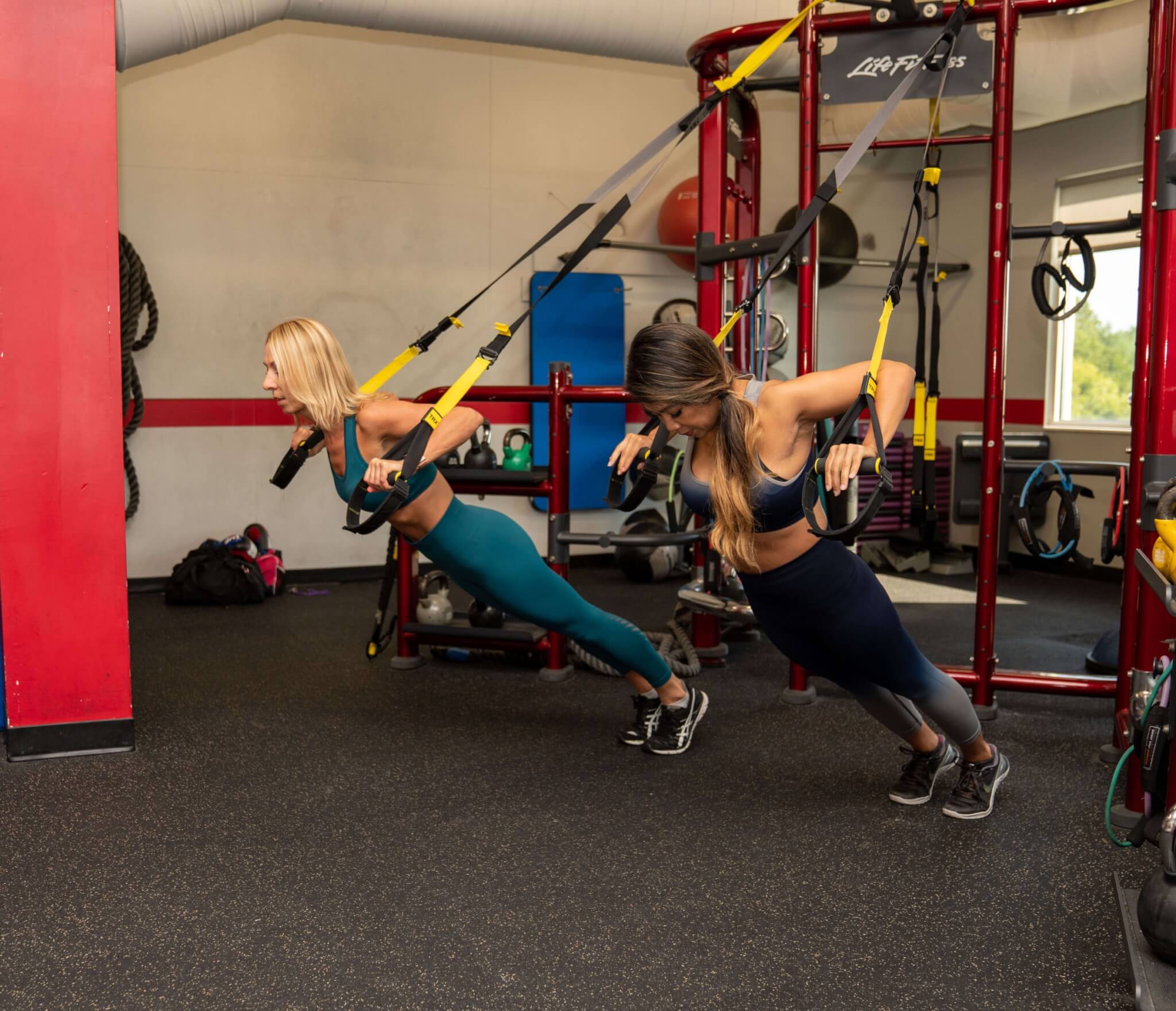 Photo by Bhawna Gupta. You can find more about TEMA Athletics on their website, Instagram, or Facebook.
Video production by Ivan Anhe of Ivan Anhe Productions. Ivan lives in the Washington DC metro area and enjoys creating videos documenting people's lives and special moments. Follow him on Instagram or YouTube.
Sabine Evans is a personal trainer, fitness instructor, and owner of Fit with Sabine. She is passionate about getting people involved in fitness. Her goal is to bring out the best in people and help take them to the next level. You can follow Sabine on Instagram, Facebook, or on her website.
Medical Disclaimer: Always consult with your doctor before beginning any exercise program. This blog post and video are not intended to replace your healthcare professional. Consult with your healthcare professional to design an appropriate exercise regimen for you.
Happy new year to all of you! I'm SO glad you are here! Whether you are here to learn more about TRX, to gain tips on how to work the TRX, or just looking for an exercise video and doing them together, you came to the right place! I have my personal trainer, Sabine Evans, instructing us via Zoom, and she is simply the best instructor as she is a certified TRX Trainer. Check out our other exercise posts on upper body and lower body while you're here!
We are kicking off the TRX workout series with 9 upper body exercises! There will be another series that will cover the lower body, one for abs, and some bonus tips on how to do stretches (which you can use to warm up before or after the exercises).
Sabine suggests that you warm-up, pick 3-4 of these exercises, and do each side for 30 seconds. Be sure to work at your own pace and modify the moves as you deem necessary.
Don't have a TRX yet? Check out the TRX link here to get yours today! Use code PREDUPRE15TRX to save 15%!
Upper Body Exercises
Chest Press (facing away anchor)
With your body in a plank position, get ready to do push-ups. Keep your core and glutes tight. You may modify this move to be harder or easier by standing closer to the TRX anchor (this will make the move more difficult) or taking a few steps in front of or away from the anchor to make it a little bit easier.
Bicep Curls (facing anchor)
With an underhand grip, keep the grip of the TRX straps at almost a 90-degree angle in front of your face. When you bring the straps closer to your face, bring them towards your temples and focus on the eccentric movement or contraction of the muscles when you are coming out of position and moving your arms away from your face. Throughout this move, it's important to go slow and keep the tension in the straps. You might need to adjust your position: moving closer or further away to the anchor or adjusting the straps' lengths.
Chest Fly (facing away anchor)
Like the chest press, you will want to keep your body in a plank position by keeping your core tight and moving your arms out in a rounded motion. This works your chest muscles while engaging your back and shoulders as well.
Power Pull (facing anchor)
Thread one of the straps through the other, so you are working with one strap at a time. With your body at about a 45-degree angle to the ground, keep your core tight, hold on to the strap with one arm while the other arm reaches back. Pull yourself up toward the anchor and extending your arm, almost parallel to the TRX strap. You will do these on both sides.
Once you've completed the exercise on one arm, you will switch arms. To make the move more difficult, you may add light weights (3 or 5 lbs) to the extending arm.
T and Y Deltoid fly (facing anchor)
Starting in a squatted position low to the ground, stand up while extending your arms simultaneously. The first move is in a sideways "T" position with your arms out to the sides (right hand up and left hand on the bottom), then squat back down and come up and extend to the opposite side (this time, left hand up and right arm down). The last move is to squat back down and extend your arms above in a "Y" position (both arms up). When you come up, take a moment to pause in each move. You will rotate those three positions for the desired length of time for the exercise.
Tricep Extensions (facing away anchor)
With the TRX handles in front of you, extend arms out in front (keep them steady). Keep your body straight and lean forward (your body at about a 50-degree angle to the floor) and only hinge your arms back at the elbow, really engaging those tricep muscles in the back of your upper arms. Make sure your hands are above your shoulders and engage your core.
Remember to keep the tension on the straps, so adjust your position (proximity to the anchor and/or the length of the straps). You may also adjust your footing so either your feet can be next to each other, or you may stand in a staggered position with one foot in front (almost like a forward lunge), but remember not to move your lower body. Focus on working those triceps!
You may do a single tricep extension by completing the exercise on one arm at a time.
Wall Slides (facing anchor)
Place your hands in the cradles (the rounded part in the very end of the straps) and start in a goalpost position with your arms on either side bent at a 90-degree angle; move your hands up to meet each other above your head. Remember to keep the tension in the straps (don't let it be loose) and engage those back muscles!
Pull Ups (facing anchor):
Starting in a tabletop position (facing up, knees bent with the rest of your body flat), hold on to the straps and pull yourself up. Keep your chin tucked in like you're doing a sit-up. Make sure to do the moves slowly: pull, pause, and back down.
You may adjust the level of difficulty by moving closer to the anchor (this will make it more challenging) or moving away from anchor (to make it easier).
Shoulder Press (facing away anchor)
You will mimic the Wall Slides' motions but in a squatted position and leaning forward at about a 45-degree angle. While gripping the handles, push your bent arms on the side towards each other above your head. Focus on engaging your deltoid and shoulder muscles.
Purchase TRX
Purchase the TRX Suspension here. Don't forget to use code PREDUPRE15TRX to save 15%!
I love my TRX as we take it with us everywhere we travel! It can easily be mounted on a wall or ceiling or anchor it on a door, beam, pole, or even a tree!
Thanks for joining us!
We appreciate your stopping by today! Don't forget the other series on lower body and abs!