Wanting to make soft pretzels from scratch? My sister made it this weekend, and it was so good! Read on to find out how to make it!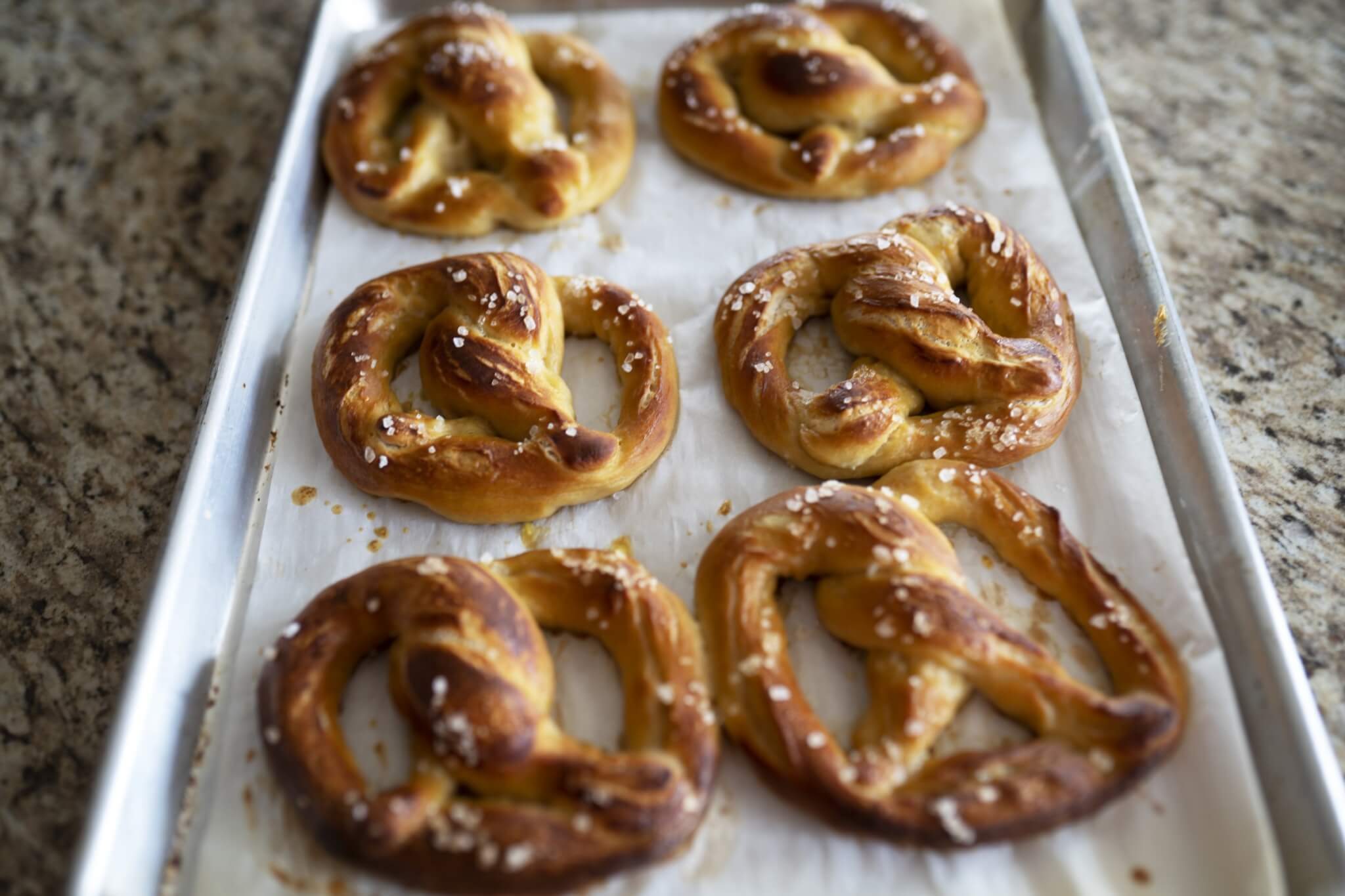 My sister found Chef Billy Parisi's Homemade Soft Pretzels recipe and decided to give it a try. Since we've been on lockdown, she has made many baked goods like cookies, cakes, and bread. This is the first time she's made pretzels, and she said it was pretty easy. This recipe is sooo good, and we definitely recommend it (hence my sharing it with you)!
You can check out Chef Parisi's website where he offers many other recipes. They are beautifully illustrated and his instructions are easy to follow. You may also follow him on Instagram, Facebook, or YouTube.
Find his pretzel recipe and instructions below.
Ingredients
• 2 cups of warm water between 110° and 115°
• 1 ½ tablespoons light brown sugar
• 1 packet active yeast
• 1 ½ teaspoons sea salt
• 3 ounces melted unsalted butter
• 5 ¼ cups all-purpose flour
• 1 tablespoon oil
• ¾ cup baking and 1 gallon of water
• 1 egg yolk whisked with 1 tablespoon cold water
• coarse kosher or sea salt for topping
Instructions
Makes 12 pretzels
Prep time: 15 minutes
Resting Time: 1 hour
Cook Time: 20 minutes
1. Pre-heat the oven to 450°.
2. In a standing mixer bowl, add in the water, brown sugar, and sprinkle on the yeast, whisk together and let it sit for 5 to 7 minutes or until it forms a foamy raft on top.
3. Add the hook attachment and turn the speed to low and pour in the salt and butter.
4. Add in the flour 1 cup at a time until combined and knead the dough on low to medium speed for 5 minutes.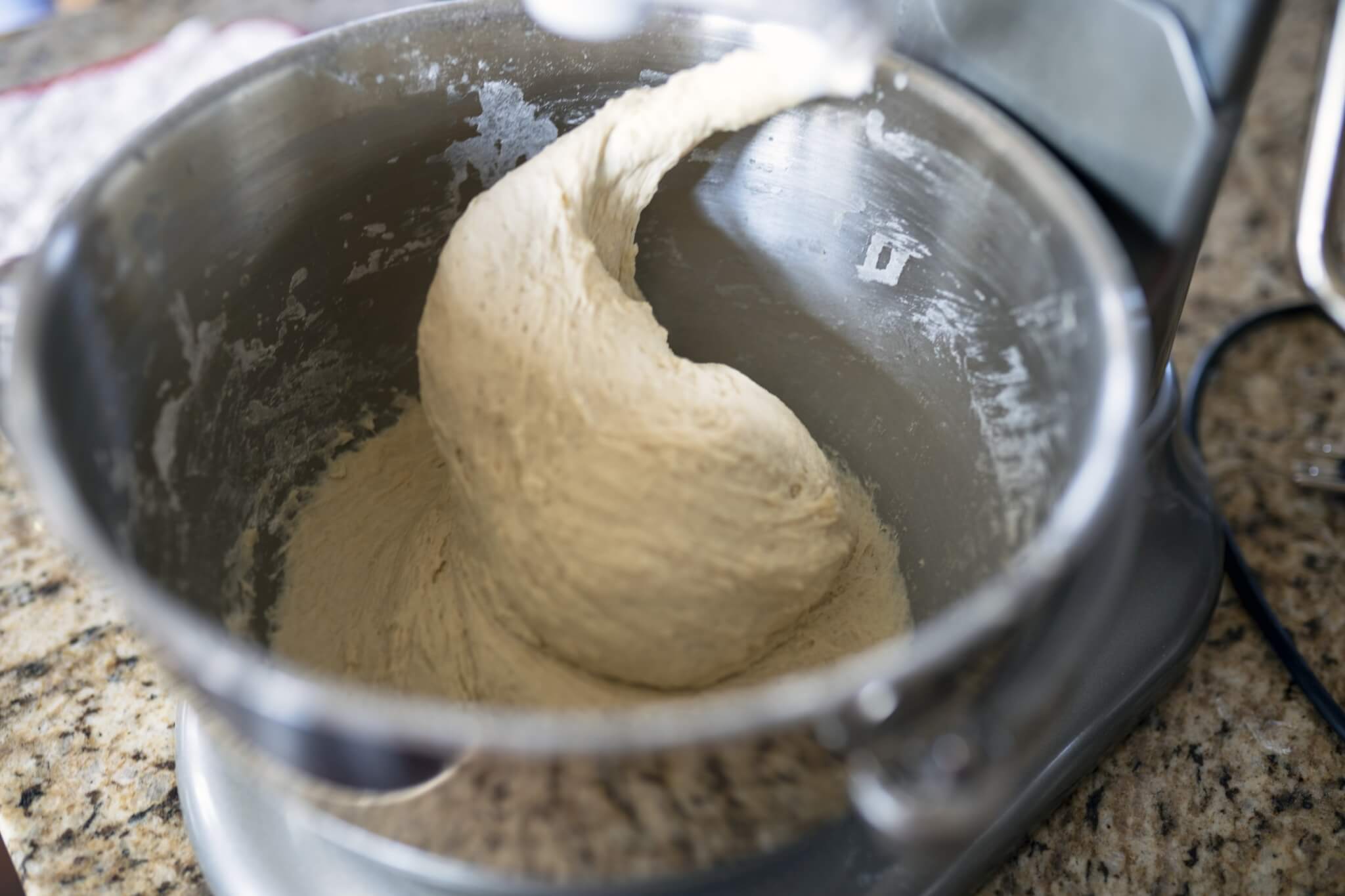 5. Add oil into a large bowl or container and place in the dough. Cover with a towel or lid and rest until it doubles in size, about an hour
6. Before it is time to form the dough, bring the baking soda and 1 gallon of water to a boil in a large pot.
7. To form the dough, take a small piece and roll it out until it is a 24" long rope. Form the dough into a U shape and holding each end cross over each other and pull down to make a pretzel with the ends slightly over the other part of the dough.
8. Turn down the boiling water to a simmer and cook each pretzel dough 1 to 2 at a time for :30 each and then place back on a cookie sheet tray lined with parchment paper or with a silpat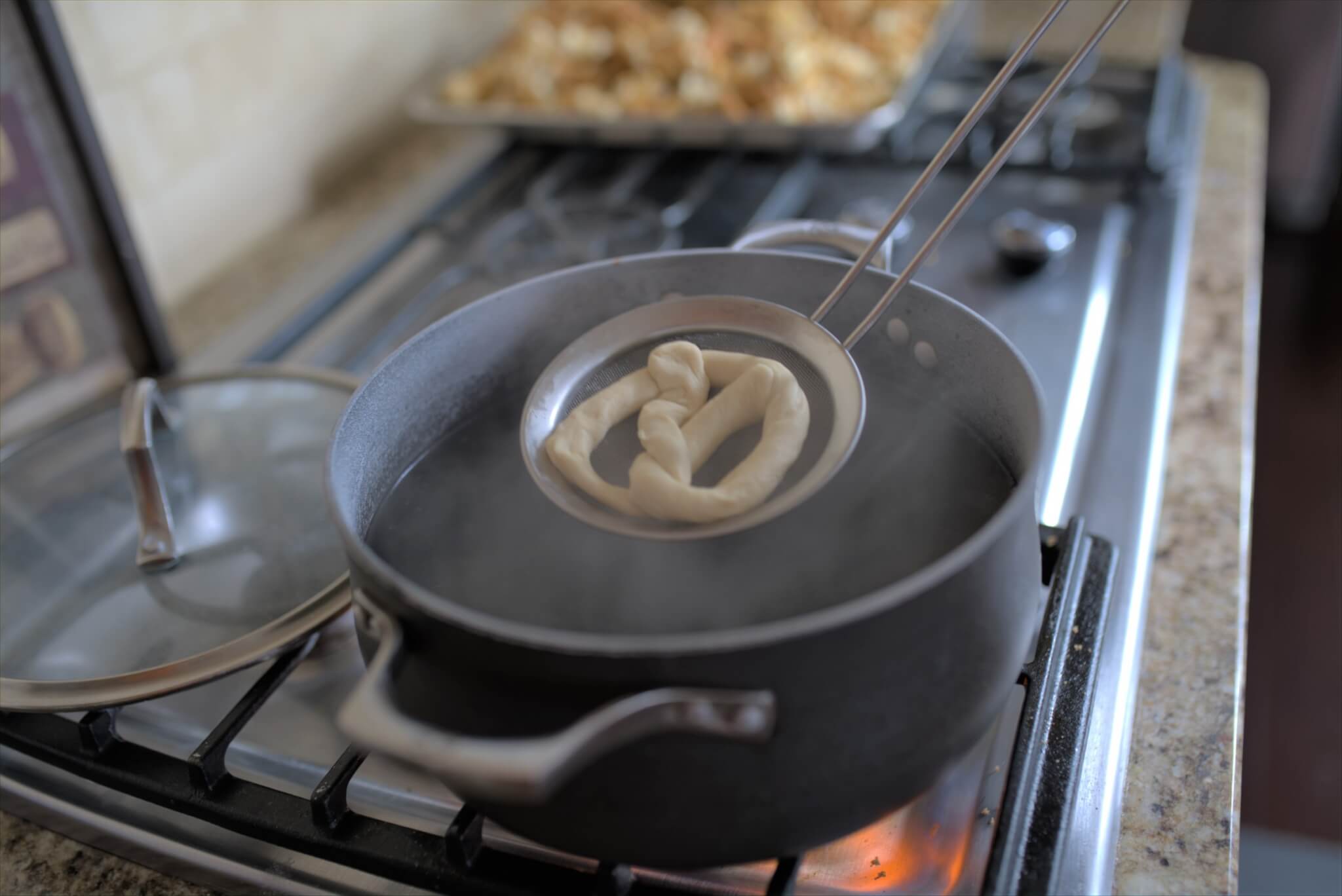 9. Once all of the pretzels have been cooked in the baking soda solution, brush the tops with the egg wash and season heavily with coarse kosher or sea salt.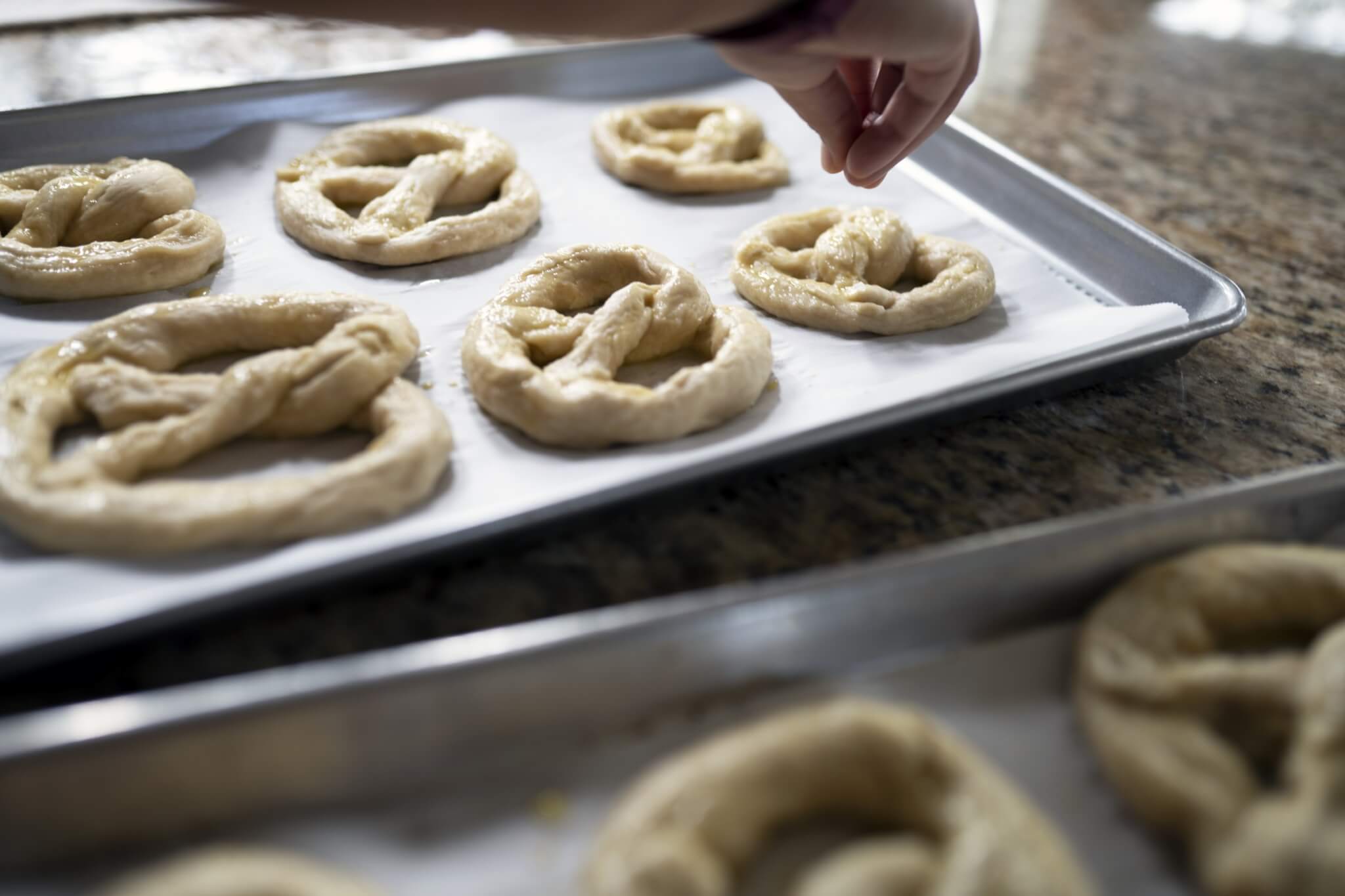 10. Bake in the oven for 12 to 15 minutes or until golden brown.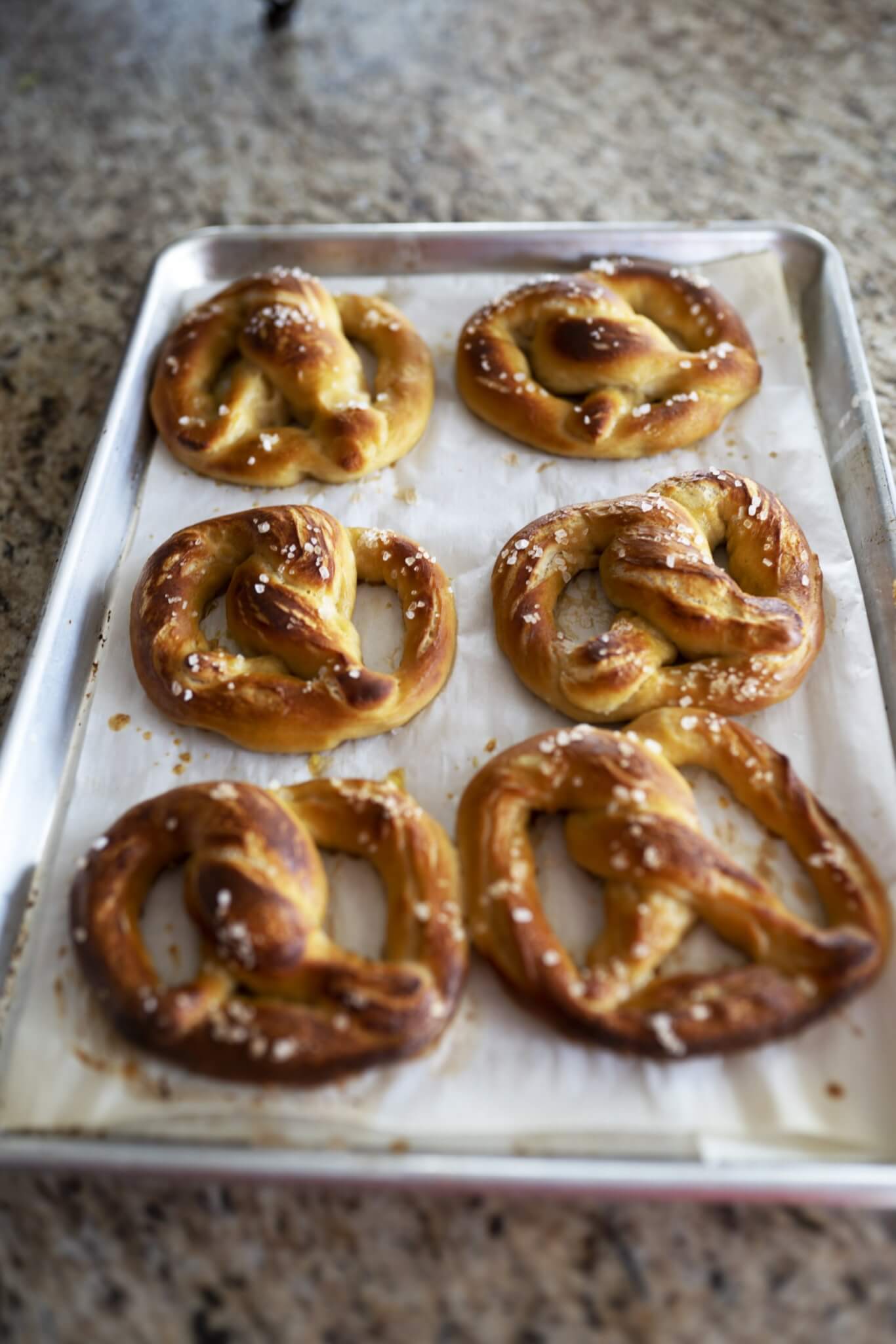 CHEF PARISI'S NOTES:
• How To Reheat: Place on a tray and wrap in foil and bake in the oven at 350° for 5-6 minutes or until hot. Likewise you can also heat in the microwave until hot.
• Make Ahead: You can make pretzels up to 1 day ahead of time and reheat before serving.
• How To Store: Keep wrapped in plastic in the refrigerator for up to 4 days.
• Feel free to make the pretzels as thick or as thin as you'd like and also consider making pretzel bites or rods.
• When adding the water to the stand mixer I usually like to go a little hotter like 118° because the bowl is usually a little chilly and drops the temperature of it by a few degrees making it perfect for the yeast.
• You may need more flour when kneading the dough in the stand mixer. The goal is that the dough be very soft but not sticky.
• A silpat is a non-stock baking sheet made of a blend of silicone and fiberglass. They are super versatile, can handle high heat and last a really long time.