Try 5 of fresh's best sellers with this mini set for a full face treatment!
Disclosure: Some of the links on this post are affiliate links, which means I may receive a small commission if you click a link and purchase something I have recommended. While clicking these links won't cost you any extra money, they will help me keep this site up and running and keep it ad-free! Please check out my disclosure policy for more details. Thank you for your support!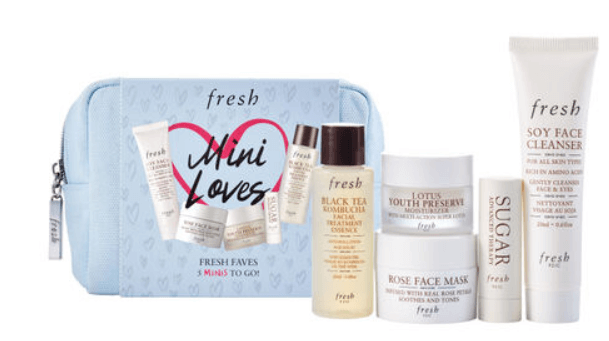 about
fresh sent this starter kit to me, and I was excited to try it out! I see this brand quite a bit in beauty stores, so naturally, I was interested to see if these products will convert me from being a curious consumer to a loyal customer!
fresh is well known for creating natural beauty products and its clean aesthetic. You'll notice in this fresh mini loves set, it contains natural ingredients like black tea, rose, lotus, sugar, and soy! They take you on a sensory journey with their textures and scents! For example, their rose mask contains real rose petals so that you can appreciate the natural ingredients in their products.
fresh has many products that span from skincare, fragrance, haircare to home.
The fresh Mini Loves 5-piece set has travel-size versions of fresh's cult classics for clean and moisturized skin. Cleanse with Soy, hydrate with Rose, protect with Kombucha, smooth with Lotus, and replenish with Sugar Lip!

how to use
Soy Face Cleanser – Use on damp skin and massage over the face and neck, then rinse. Use morning and night.
Kombucha Antioxidant Essence – Use over cleansed face and neck with your palms. I like to use a cotton pad to apply this product.
Lotus Youth Preserve Moisturizer – Apply to clean skin in the morning and night.
Rose Face Mask – After cleansing, apply a generous amount to damp skin, avoiding the eye area. Leave on for 5-10 minutes and rinse. I like to use this 2x a week for that extra TLC! Fresh suggests it's gentle enough for everyday use, so if you want that daily exfoliation, go for it!
Sugar Lip Treatment Advanced Therapy – Apply to your lips throughout the day. It's soothing on the lips and an excellent solution for dry and chapped lips!
Click on any of the products below to shop! Use code WELCOMEBACK to save $15 off $75 or $20 off $100 (good until August 23, 2020).
---

my review
The fresh Mini Loves Set is great for trying new fresh products. The Soy Face Cleanser does a great job of cleansing the skin while being calming and soothing (thanks to rosewater and cucumber ingredients). The Kombucha Antioxidant Essence is a great refreshing toner that goes on without feeling sticky and leaves my skin feeling beautiful and glowy. The Rose Face Mask is an absolute treat! Not only does it smell ah-mazing, but it gives me the ultimate feeling of receiving a facial treatment at the spa! The Lotus Youth Preserve Moisturizer hydrates the skin nicely and is not heavy (FYI for my combination/oily skin types out there). The Sugar Lip Treatment is soft and moisturizing and does a fantastic job of keeping dry lips at bay!
This fresh mini set also makes a great gift or a perfect travel set.
---
Which fresh product would you like to try? If you're already familiar with these products, which one is your favorite and why?
Comment below!