With spring in the air, I'm sharing a few table setting inspirations this season!
Disclosure: Some of the links on this post are affiliate links, which means I may receive a small commission if you click a link and purchase something I have recommended. While clicking these links won't cost you any extra money, they will help me keep this site up and running and keep it ad-free! Please check out my disclosure policy for more details. Thank you for your support!
Floral arrangement by floral and interior designer Wendy Mercer of Gatherings by Mercer. Her style is elegant and classy, and her creations will leave you in awe! Add to that, she is absolutely friendly and easy to work with! Be sure to follow her for tips and tricks and floral and design inspiration!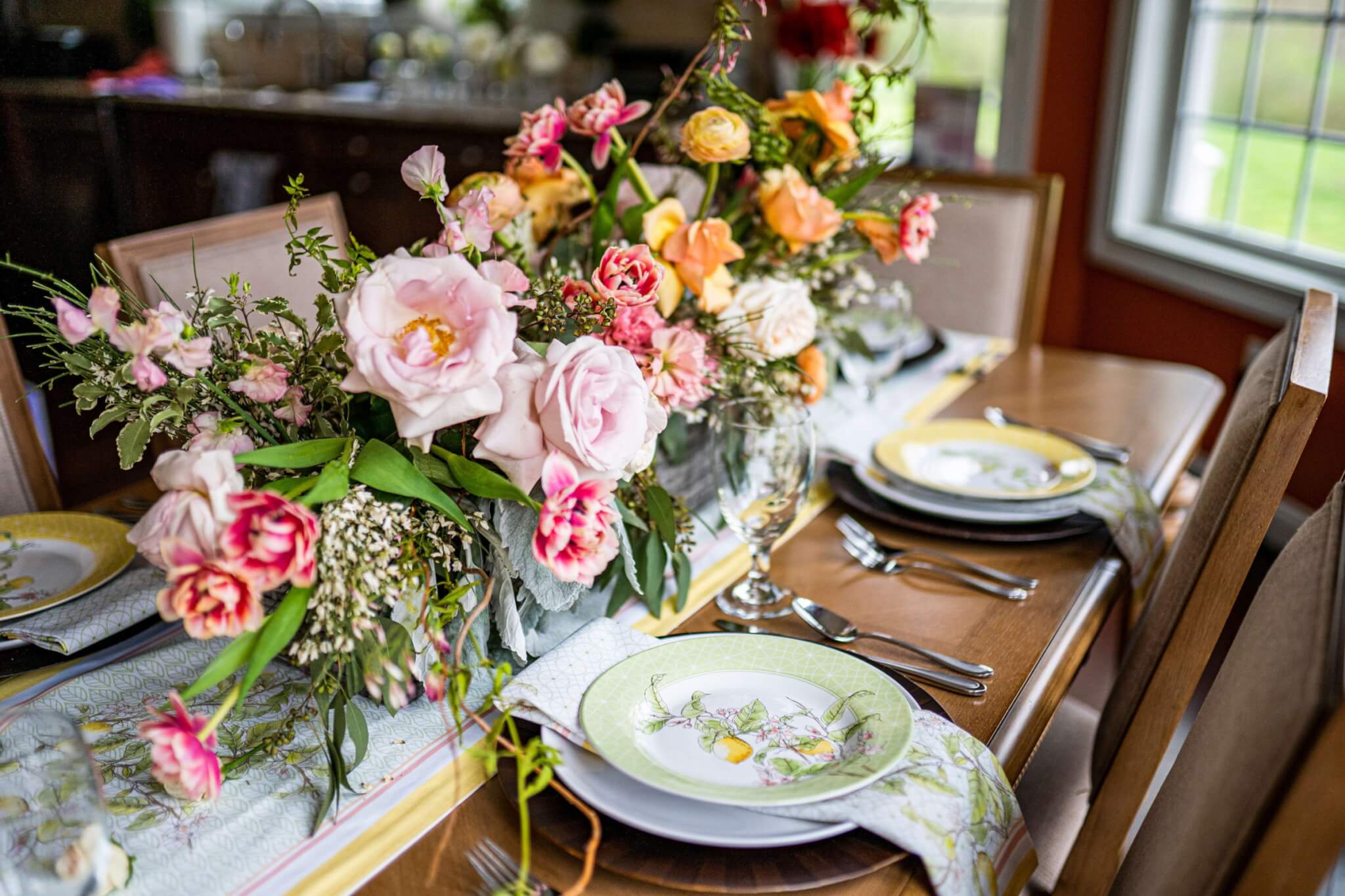 Spring has sprung and summer is around the corner! Things have transitioned into the new season with warmer weather, longer daylight hours, budding plants, and blooming flowers.
Now is a great time to rejuvenate your home with fresh linens and colorful dinnerware sets! With all the vaccines being administered, we can soon safely gather again and throw a dinner party or two.
From decorative plates to gorgeous floral arrangements, you'll find a stylish tablescape that can inspire you to create your own hosting style!
Arrange Fresh Florals
Springtime blooms are out, and what an excellent time to arrange them into a beautiful centerpiece! When I host a party, I usually buy fresh flowers to cheerfully brighten the room. Besides, it also makes your guest feel special.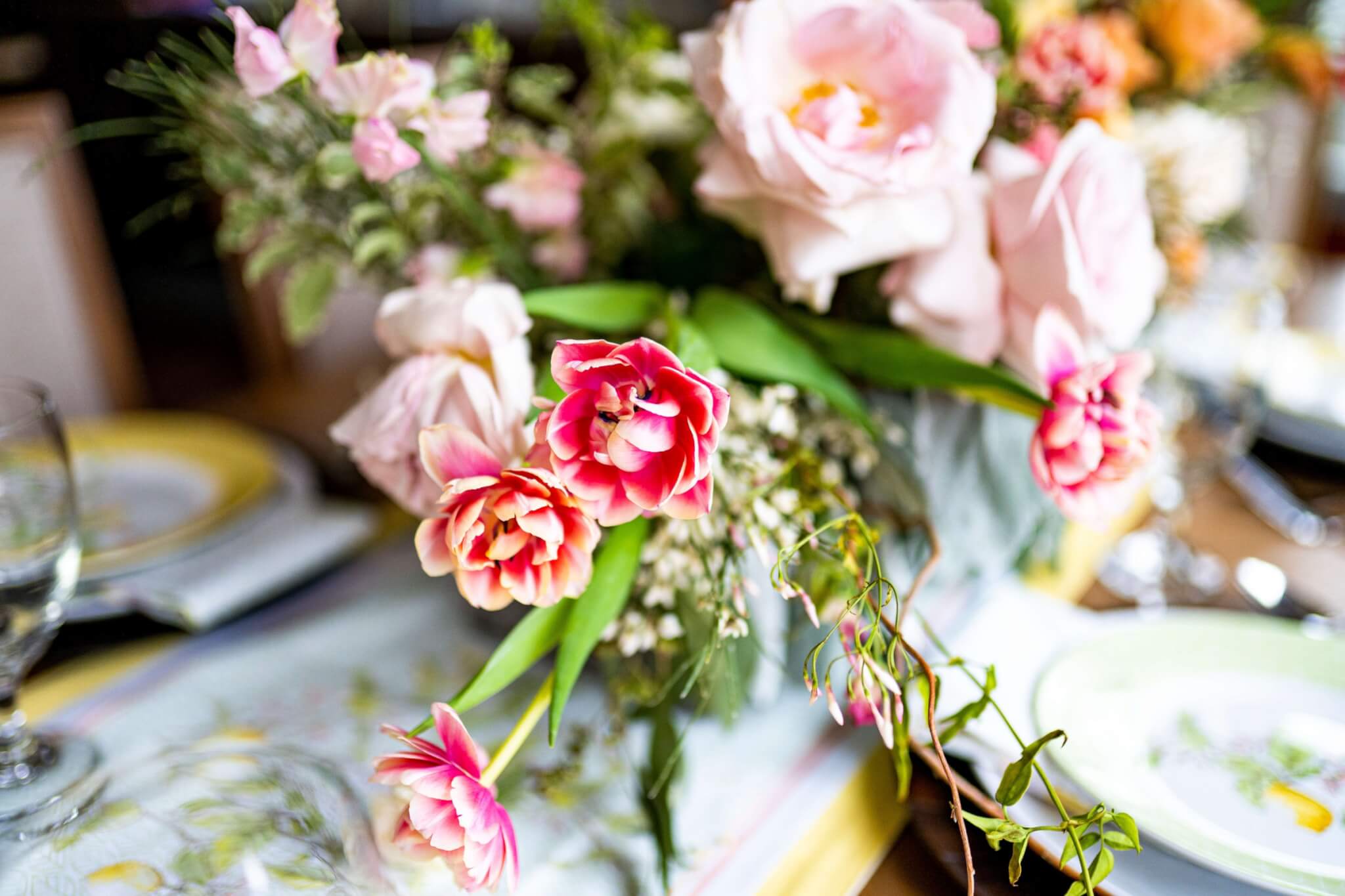 We had Wendy from Gatherings by Mercer as our special guest, and she created a couple of centerpieces for us. One of the arrangements had a romantic and fanciful feel to it, with luxurious pink and peach-colored roses and tulips, garnished with greenery including seeded eucalyptus and finished with curly willow, wrapped in a pretty jasmine vine.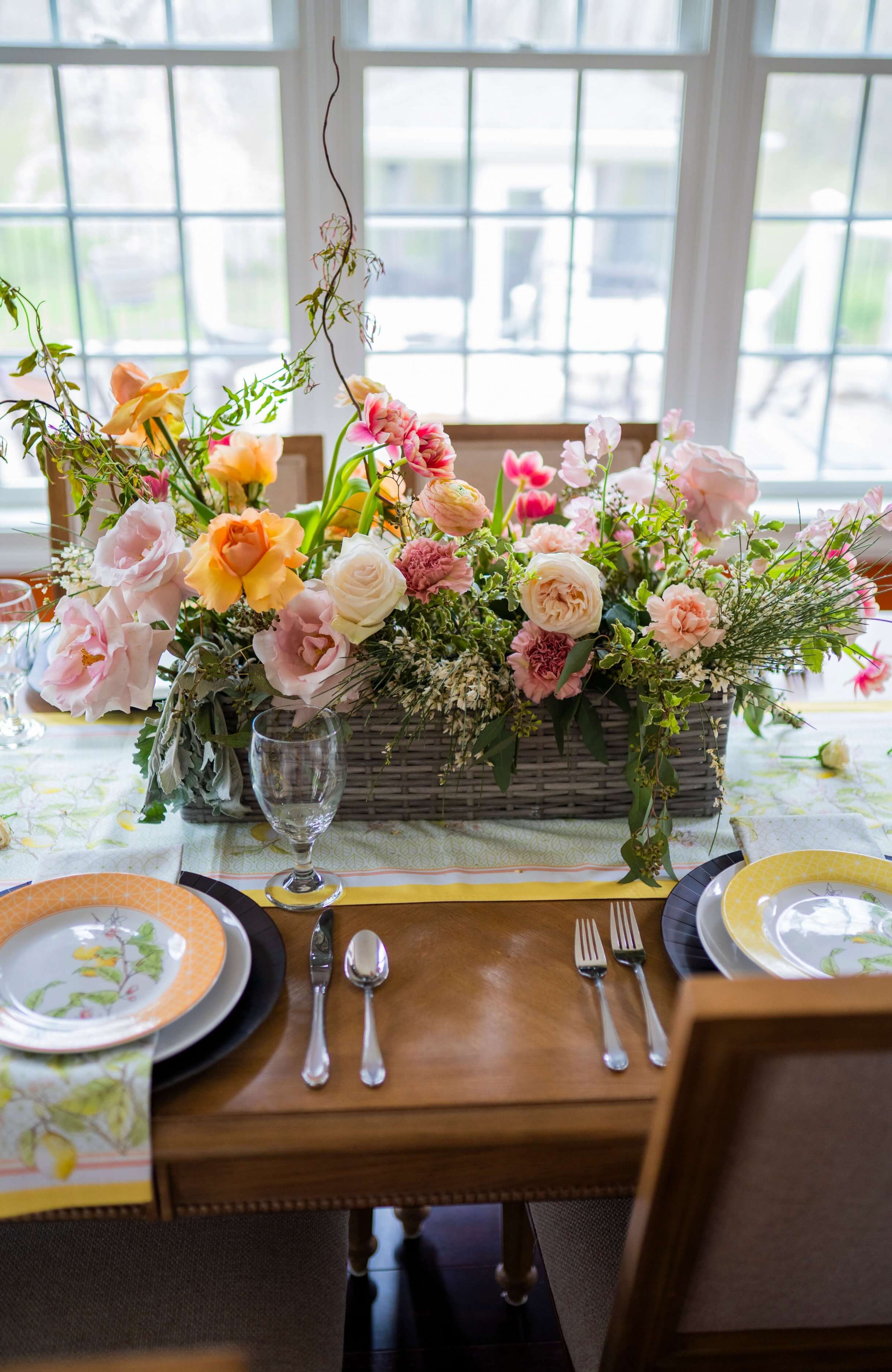 Read and watch the blog tutorial on how to create this flower arrangement.
Add Spring or summer-inspired accents
For this year's look, I found these beautiful pieces! The motifs of flowers and bees are definitely screaming for spring and summer!
For my dinette, I opted for a more French Country style décor, which included a crisp yellow and white table runner with Meyer Lemon print and light-green leaf design. I stayed with the same collection for the napkins and salad plates but used what I already had when it came to the faux wood chargers and white dinner plates. The woven wicker basket from the floral centerpiece completed the rustic look.
With the abundance of blooms available, it's no wonder that you'll find bees around as well. For the formal living room, I went with the honeycomb and wildflower pattern. I love the white, black, and gold theme for this inviting table.
The tablecloth has hive-inspired patterns throughout, and I used two different designs for the napkins: one is the same fabric as the table, and the other is a flax-hued honeycomb pattern. The accents of gold flatware and fluted edge gold charger give the table that plush feel.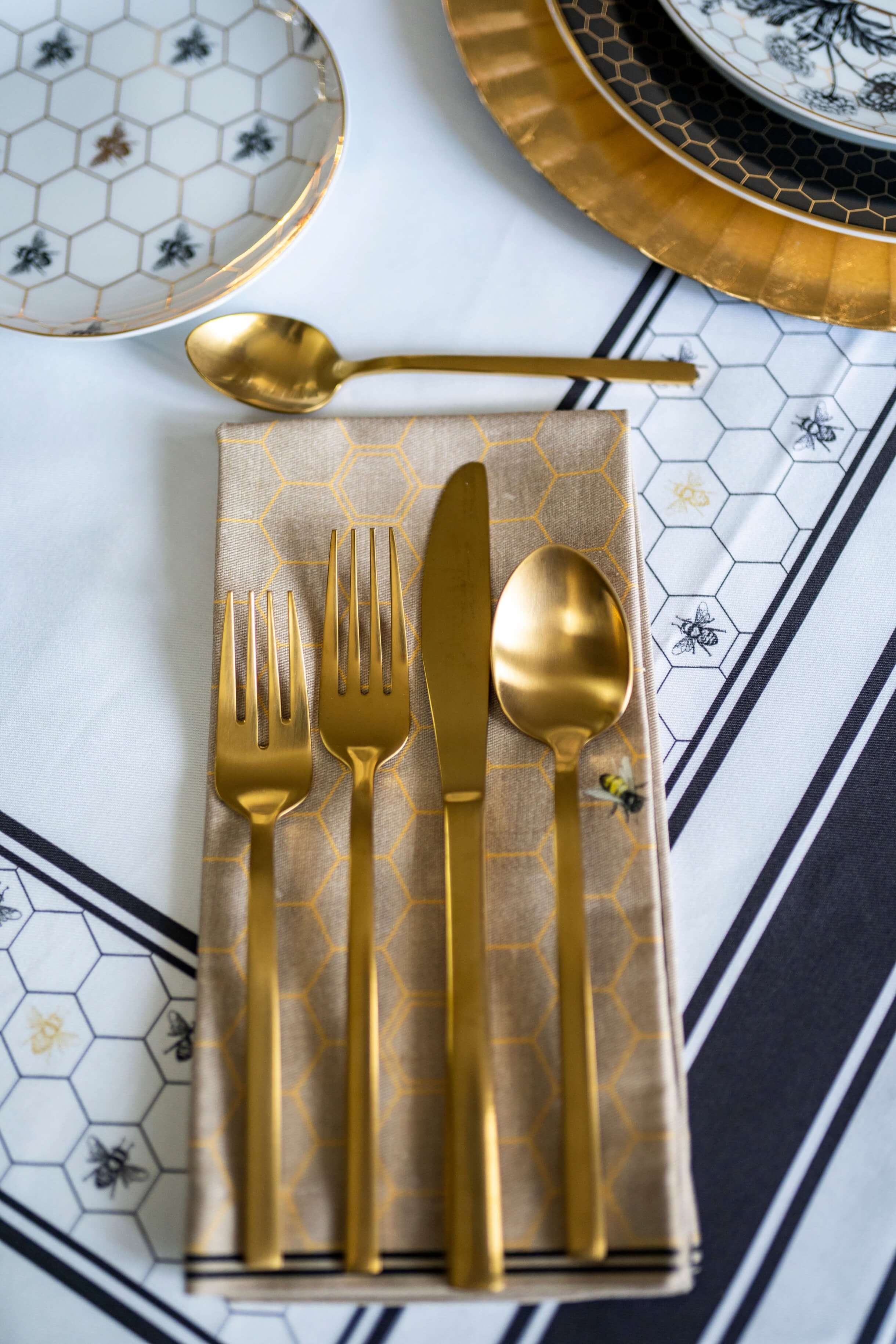 Light candles
Candles definitely add to the ambiance. It's a simple and elegant addition to your table setting. Scatter them in the middle of your table or fill in empty spaces.
Decorate with All-White Theme
There is something to be said with an all-white décor – it's clean and simple, yet it brings quite an elegance to the room. Take, for instance, this floral grouping centerpiece Wendy put together (the all-white vases are from Homegoods, but you can use whatever you have at home or some recommendations here). This grouping is channeling spring with all white flowers such as ranunculus, lollipop mums, and mini-daisies placed in all-white containers of various heights, sizes, and styles.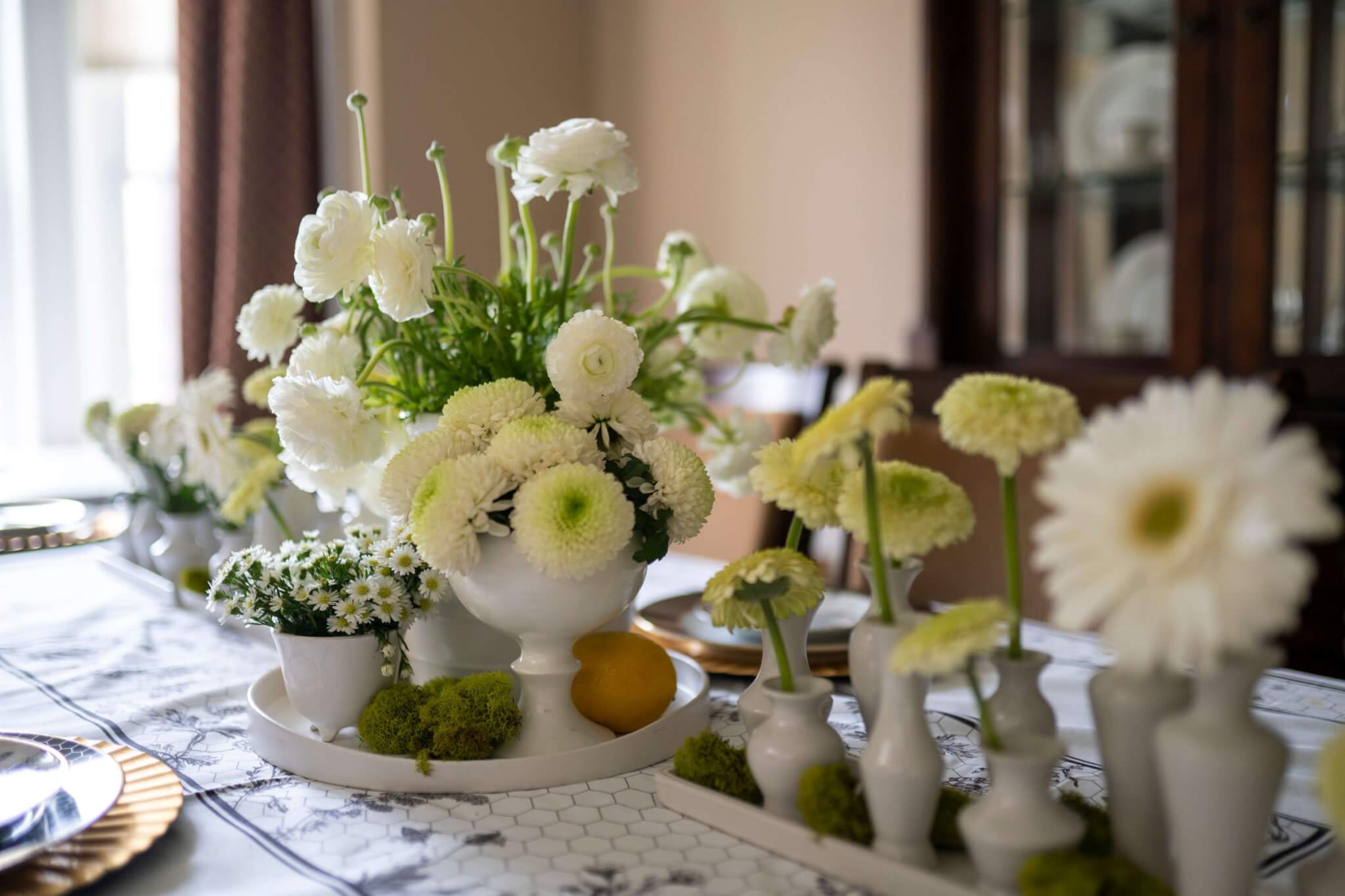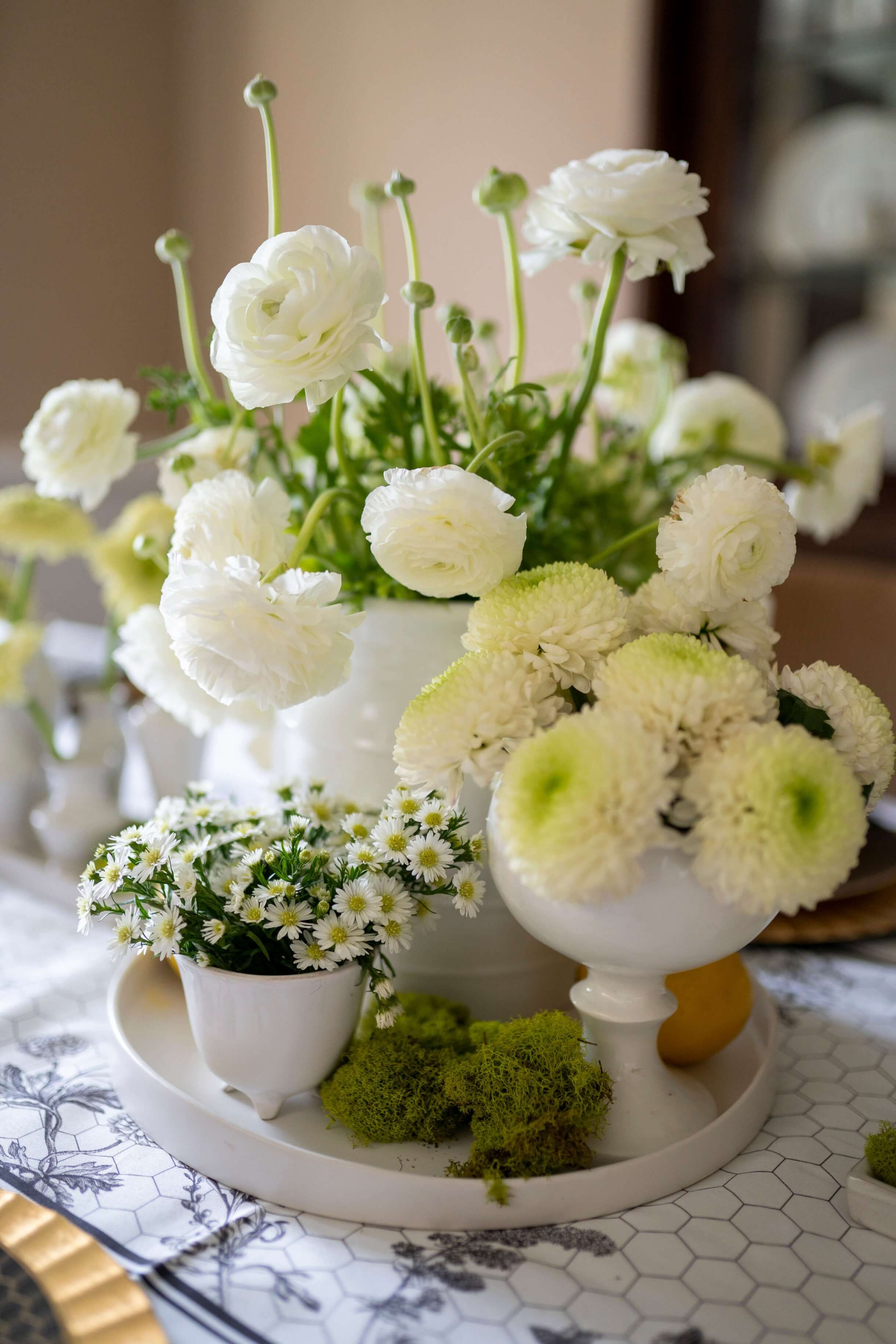 You'll see here I created another mostly white floral arrangement using hydrangeas, tulips, daisies, and mums.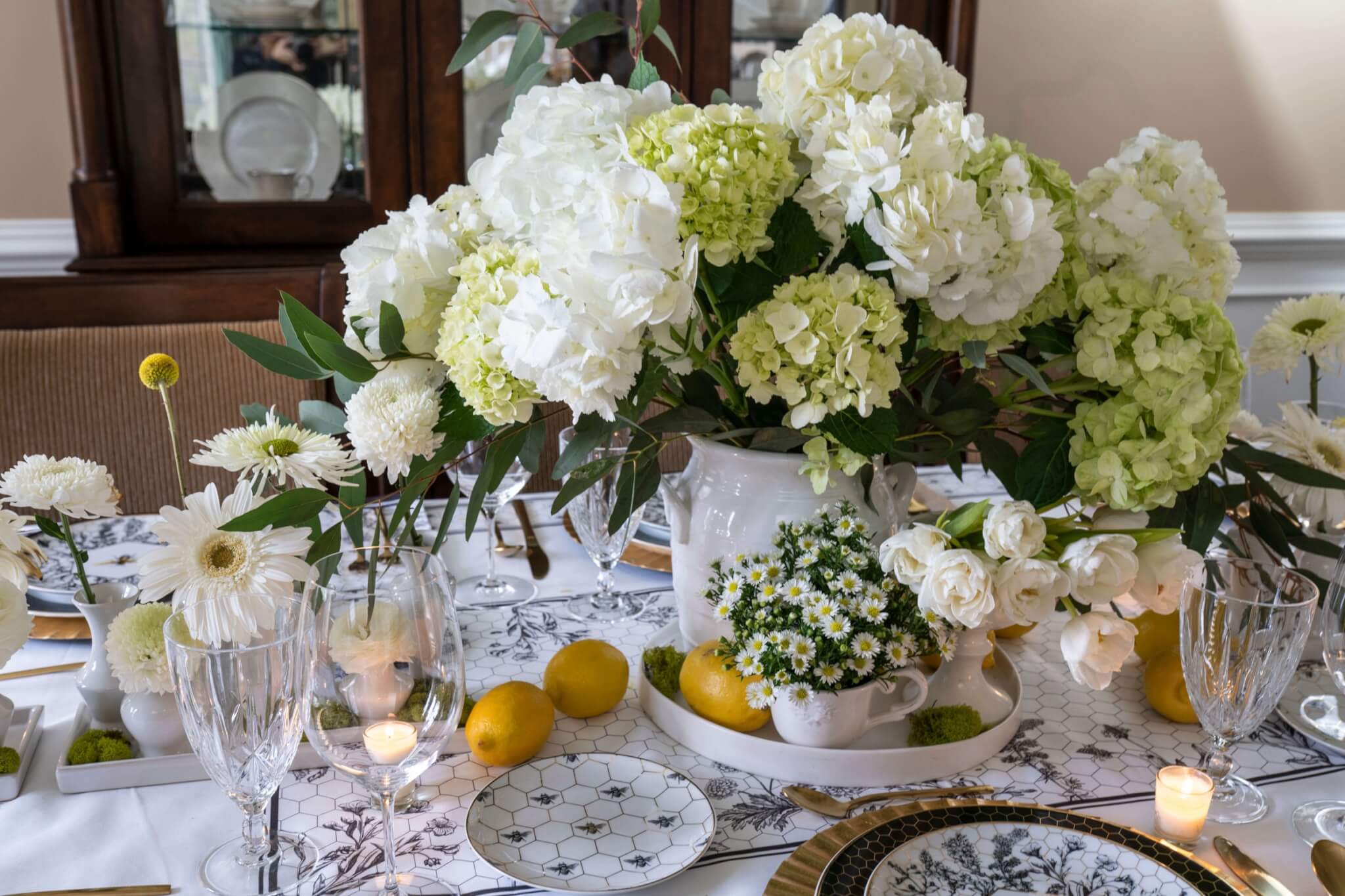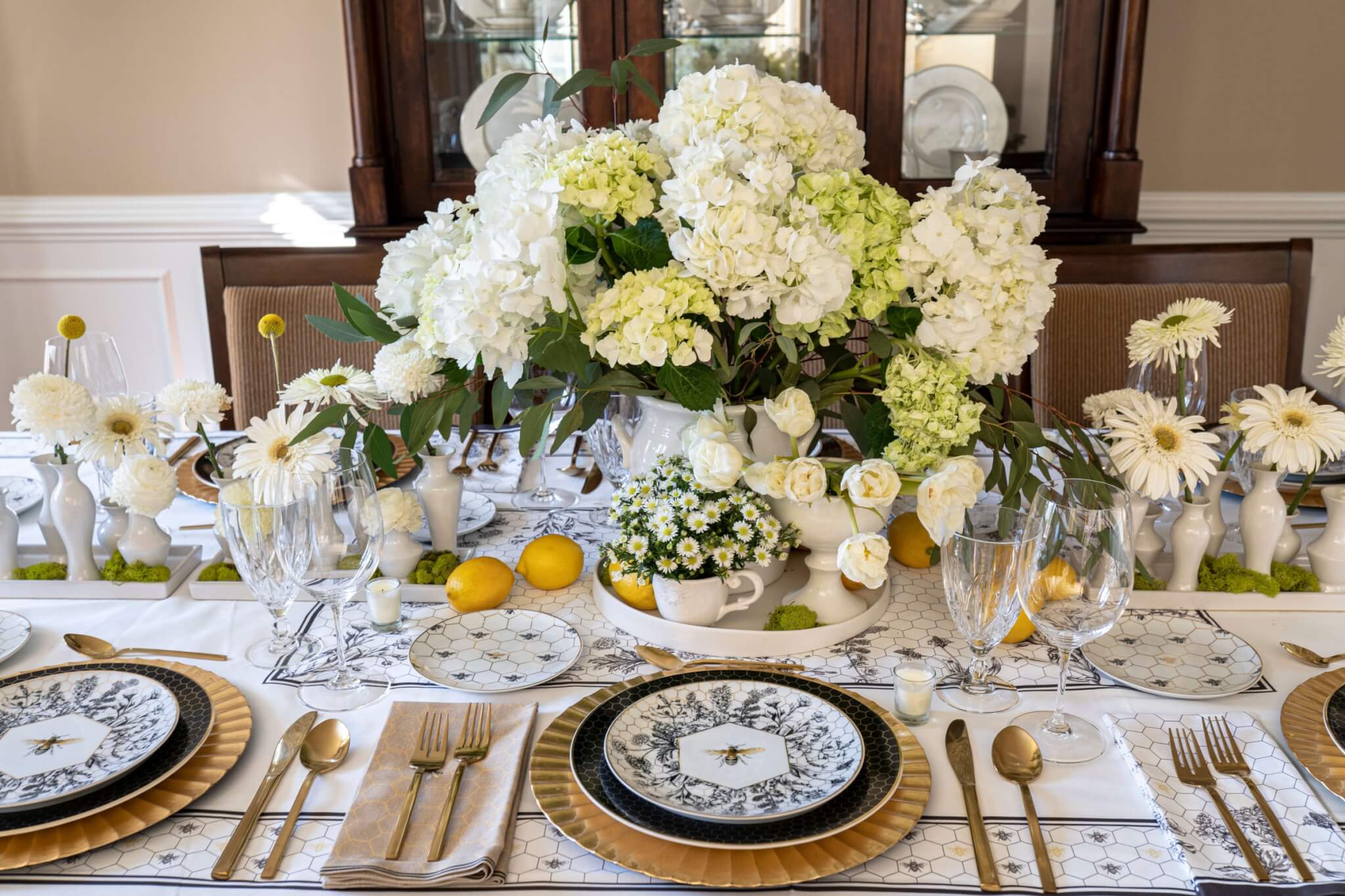 By the way, use what you already have when it comes to flower vases. I'm sure you have white pitchers or vases (or cups and saucers) somewhere in the house, so utilize them to come up with your own unique look!
Use Fruits to Spruce Up the Table
We used lemons to add a pop of refreshing color to the formal dining table. You may also use other citrus fruit varieties like limes, oranges, or kumquats.
I'll create another summer table setting soon! In the meantime, which of these tips will you incorporate in your next gathering? Comment below!