Can't wait for spring? I think we are all ready for that! While it might not feel like spring yet, I'm here to inspire you on how to transition your winter pieces to look stylish for spring! The best part is you can use items you already have in your closet!
Disclosure: Some of the links on this post are affiliate links, which means I may receive a small commission if you click a link and purchase something I have recommended. While clicking these links won't cost you any extra money, they will help me keep this site up and running and keep it ad-free! Please check out my disclosure policy for more details. Thank you for your support!
Tired of the cool winter temps and longing for warmer weather? If you're like me, you're definitely ready for spring to enjoy longer days, be outdoors, watch plants and trees come back to life and put away all the heavy layers. Don't get me wrong; I have enjoyed the snow and all the fun that comes with it (skiing and sledding).
On the other hand, I'm ready for a new season to bring out spring clothing that consists of lighter colors, vibrant prints, and lightweight material.
By the way, with the change in style, it doesn't necessarily mean you have to spend money to do a complete wardrobe haul! Let me share five easy tips on how to transition from winter to spring fashion. Most of the tips I mention below involve pieces you probably already own. Transitioning your wardrobe doesn't have to be complicated; it can actually be creatively fun!
Tip 1: Layer Right and Light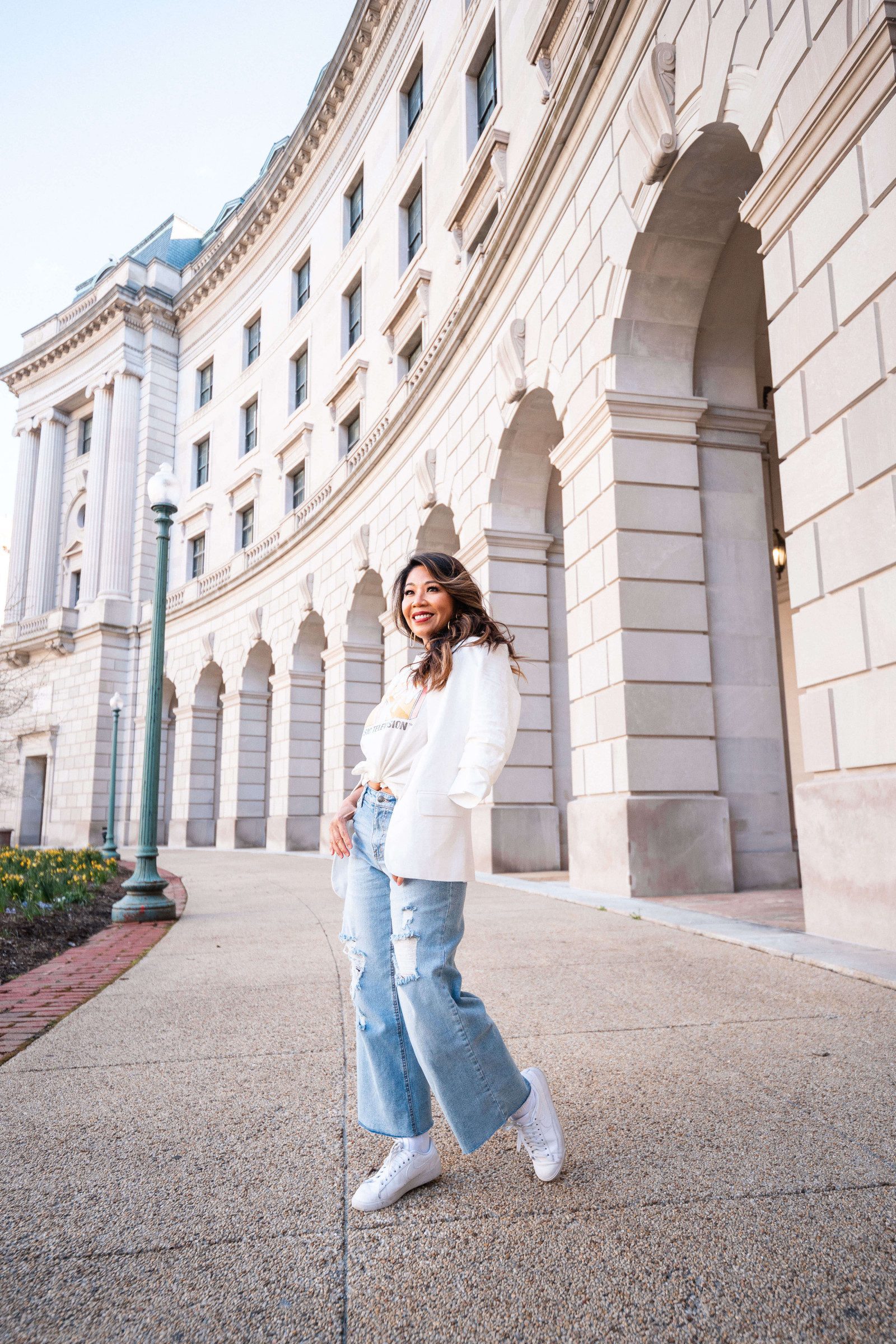 With the shift in temperatures (as lack thereof…you know how finicky it can be, especially for those of us on the east coast), there is a little bit of light layering involved. You won't need the heavy, thick layers anymore, but instead, replace them with lightweight pieces of jackets/shackets, blazers, cardigans, and sweaters.

A great idea is to combine textures such as a light knit sweater over a silk dress. You can also wear a boyfriend blazer over a bodysuit and light-washed jeans or shorts. Still holding on to the comfort of wearing loungewear? Then add a cute striped cardigan like the one below to add some pop of color.
Shop More Layers

Tip 2: Add Color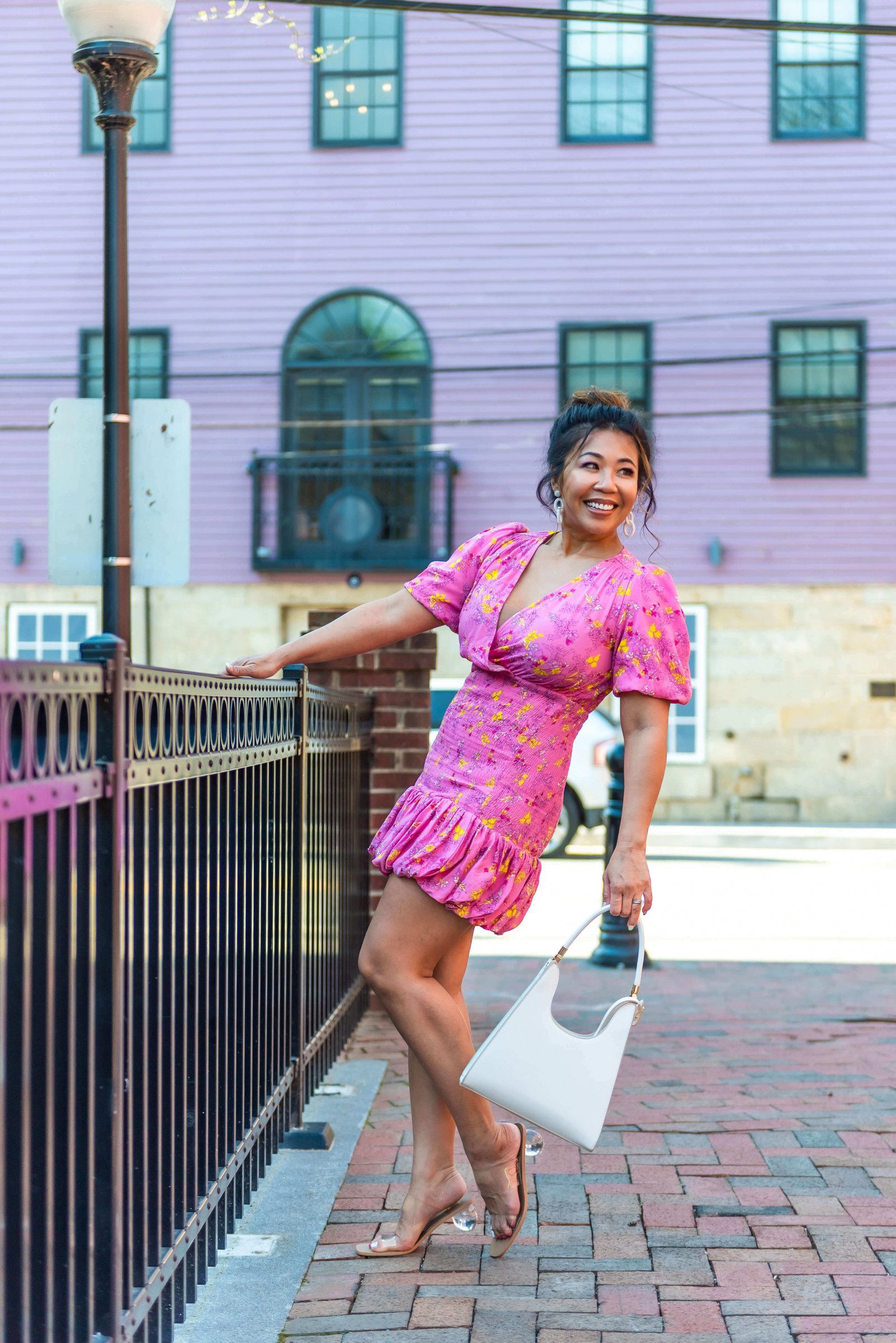 Since fall and winter are about deeper and richer shades of colors, spring is all about going lighter and brighter. Go for creams, pastels, or bright colors – similar to the pops of color in flowers and brightness the sun brings during spring.
Pair up a cream dress with a yellow raincoat or neutral trenchcoat. Dress-up shorts and a blazer with the current trend of wearing a bustier or corset underneath. Or try out a bright pink blazer and pant set to add some bright color to you wardrobe.

By the way, be on the lookout for my next blog post on popular spring colors this season!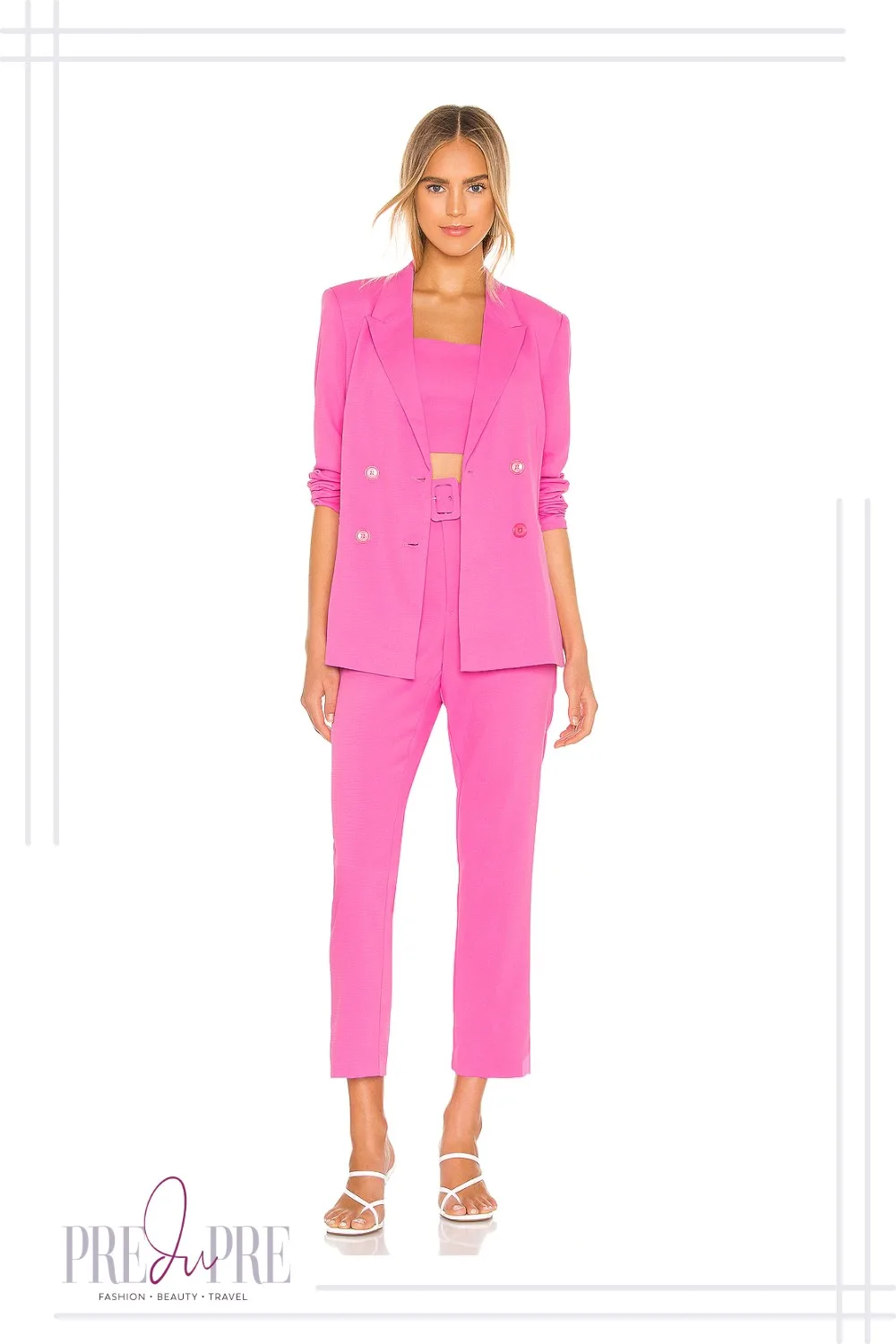 Shop More Color

Tip 3: Add Pattern and Change Textures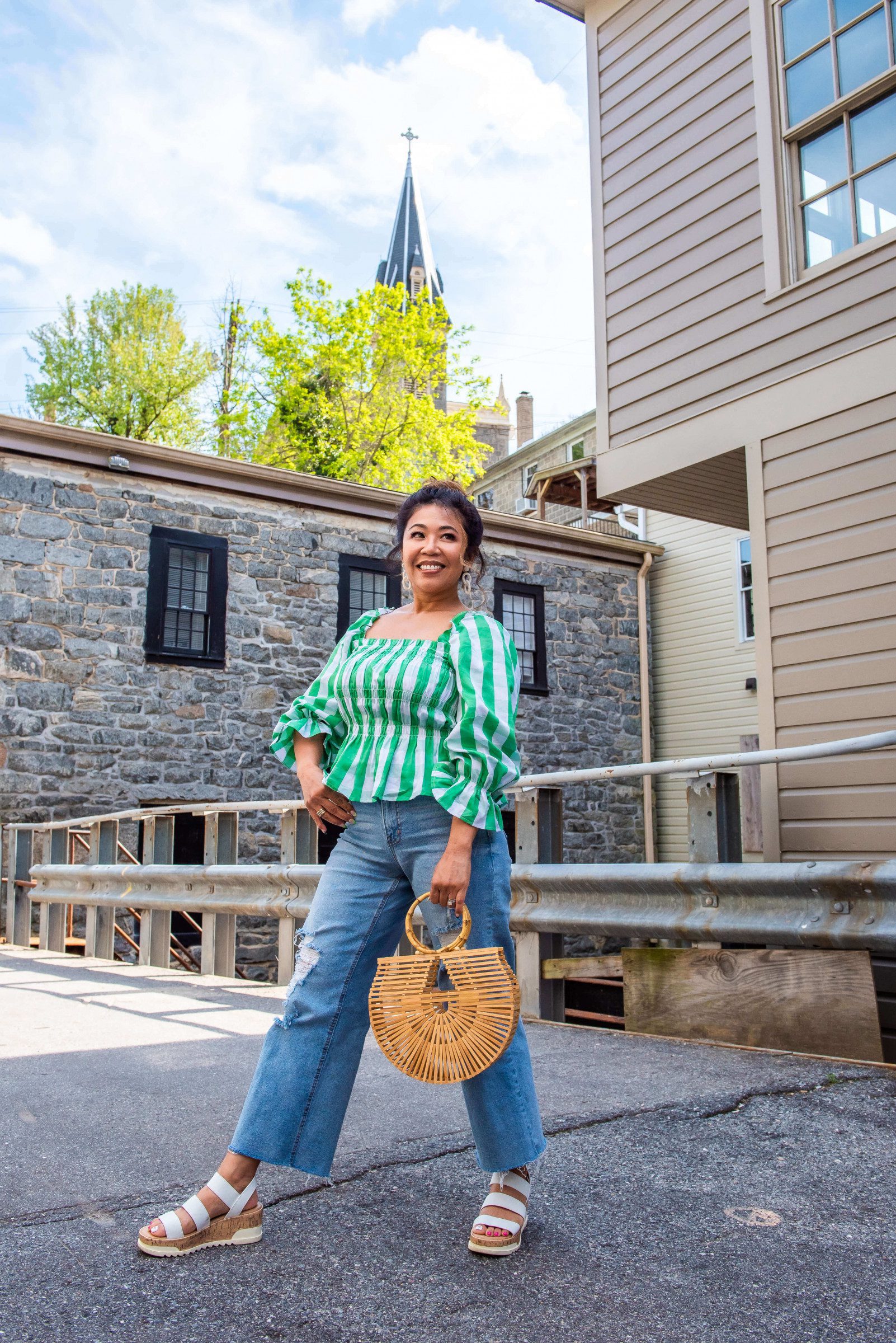 Of course, if you're adding some color back into your wardrobe, don't miss out on the patterns and textures. Switch from chunky knits and heavy fabrics like cashmere and flannels to softer looks of cotton, linen, silk, or pops of sheer fabric.

Patterns such as florals and gingham are very "springy". Wear a gingham top or cut-out floral dress with a cute pair of sandals for instant springtime vibes. A striped pattern top or bottom is also a classic piece that is great to wear (nautical themes are perfect this time of year). Or how about going for a combination of a sheer sleeve bodysuit and white pants for a casual chic look during the day. If you're feeling adventurous, add a feather dress to your wardrobe (feathers are in this season).
Shop More Prints

Tip 4: Wear Flowy Pieces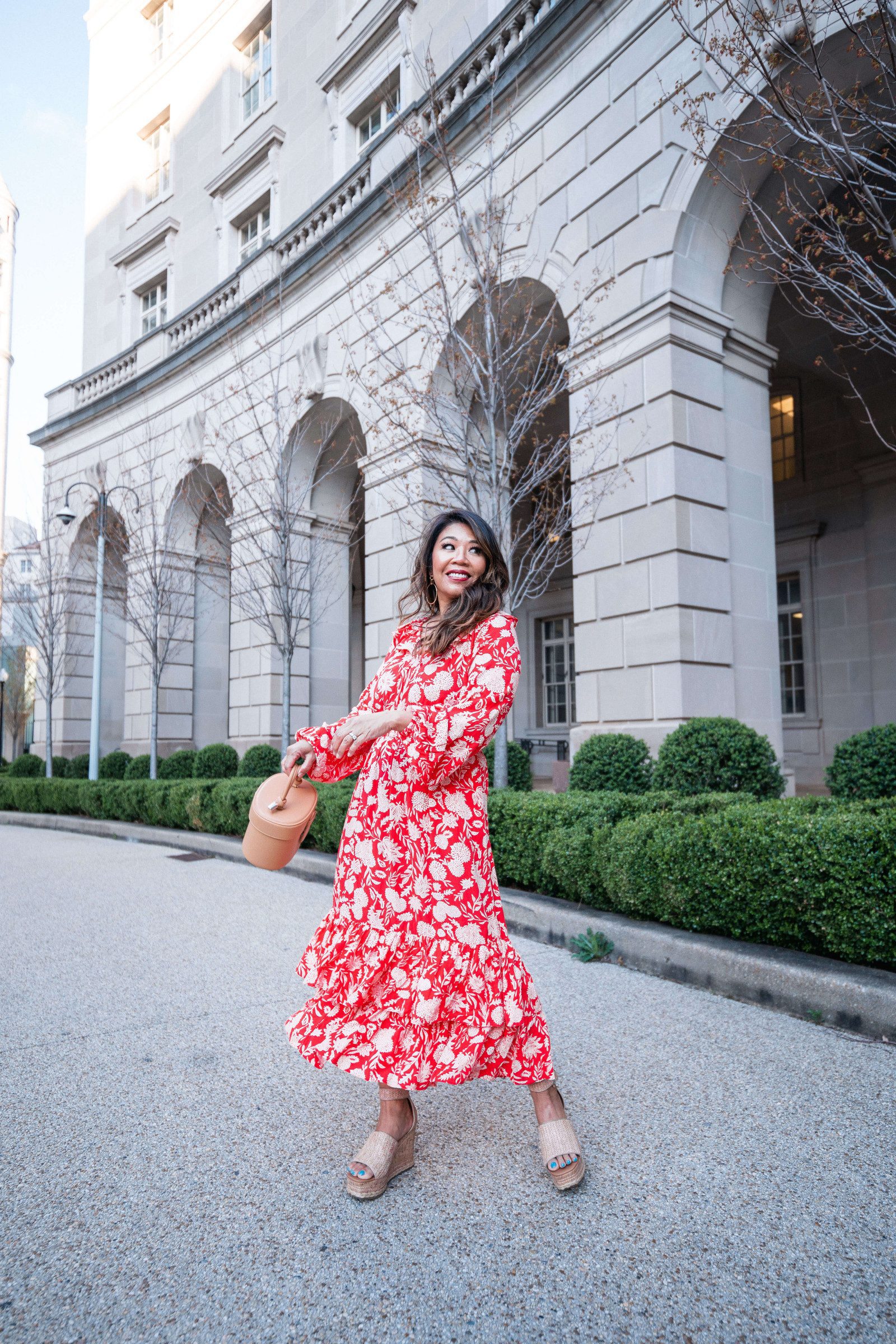 I'm talking about those flowy fabrics, fun prints, and bright colors. Remember the dresses and skirts you put away for the winter? Well, time to take them out again!

You can still wear sweater dresses (as long as it's light-knit fabric) and pair them with cute ankle booties or sneakers. Another idea is to wear a flowy floral dress with a boyfriend blazer for a cute combo. Wear a lightweight cardigan sweater with a skirt and sandals.
Shop More Dresses and Skirt sets

Tip 5: Change Footwear
Keep the ankle booties for spring and put away the chunky, fur-lined, over-the-knee boots. Get those pretty sandals and slip-on mules ready. With the weather warming up, start looking for some pedicure inspo, so you can start showing off those pretty toe designs to go with your warm-weather shoes!

The braided design is a big hit when it comes to footwear; you'll see them on heels and sandals. If that isn't your style, go for classic heels but with a pop of spring color like blush or chartreuse. Wearing a fun pattern like an embellished sandal also adds some pizzazz.
---
How do you transition your clothing into spring?