Check out a few of my favorite fashion pieces for the Nordstrom Anniversary Sale 2021!
Disclosure: Some of the links on this post are affiliate links, which means I may receive a small commission if you click a link and purchase something I have recommended. While clicking these links won't cost you any extra money, they will help me keep this site up and running and keep it ad-free! Please check out my disclosure policy for more details. Thank you so much for being so supportive!
I'm sharing a few of my favorite fashion items on my Nordstrom Anniversary Sale 2021 wish list! I will be posting a few more #nsale recommendations this week, but I thought you'd like to see what's currently on my list. Also, if you haven't read my beauty product recommendations, head on over to that post.
what is the nordstrom anniversary sale?
If you're not familiar with the Nordstrom Anniversary Sale, I've written about it in a previous blog post (this year's sales dates below). Basically, it's Nordstrom's biggest sale of the year, and if you're a Nordstrom cardholder, you get early access! Depending on your spend level and card type, you'll be able to shop on the following dates this year:
July 12: Early Access for cardmembers with Icon status.
July 14: Early Access for cardmembers with Ambassador status.
July 16: Early Access for cardmembers with Influencer status.
July 28: Anniversary Sale opens to the general public.
Don't have a card? Don't worry! You can learn more about the benefits (like getting early access to the sale) right here. You can apply for a Nordstrom credit card here.
what's on my wishlist
Here are a few items I'm definitely eyeing! If any of these are of interest to you, double-click on the images below, and it will take you to the product page.
Black Dress
I love the casual look of the black dress! I've paired it with this crossbody animal print and slip-on sandals with gold earrings. I think this is a great day style. Whether it's for a casual work look or just to do some shopping, you'll be sure to look cute and comfy!
Gray Dress
This is a little bit more on the modern, edgy look. I picked out this gray jersey dress with shoulder pads and paired with a faux leather moto jacket. If you want, you may also layer it up with an oversized white shirt or dress shirt underneath to make it look like a vest. I paired it with these booties to finish the contemporary style.
Sweater Style
I'm such a fan of this look! I love the oversized sweater look, and the caramel color of this sweater just says fall! I've selected two pairs of pants: one is a sleek, shiny pair of jeans that have an elastic waistband, and the other is a crop high-waist, wide-leg denim. You can wear either these pointed-toe white booties or slip-on sandals. Of course, it's almost fall, so topping this look off with a caramel wool Panama hat is totally fitting for the upcoming season!
Jumpsuit
This jumpsuit would be great for a laid-back look. I love that you can dress this up by wearing black slip-on mules and a clutch or down by wearing it with sneakers. Here, I'm envisioning it more like a travel outfit while being comfortable yet stylish. I'm adding this cute luggage to my list, as my old ones have seen better days. This white marbled luggage will stand out amidst a sea of bags, so I'm excited about that!
Faux Leather Dress
I had to have this dress on my wish list! I mean, c'mon! Look at how beautiful it is! The ruffles on the cap sleeves are a perfect way to flatter this faux-leather shirtdress. Oh, and this also comes in black (yay)!
With this, I would definitely pair it with neutral color shoes to not take away from this dress, but go bold with animal print booties if you're going for that street-chic look.
More to come!
I'll be writing up a few more blog posts to cover more Nordstrom Anniversary Sale fashion looks! For the first time, I'll be creating home decor and accessories suggestions as well, so I'm excited about that!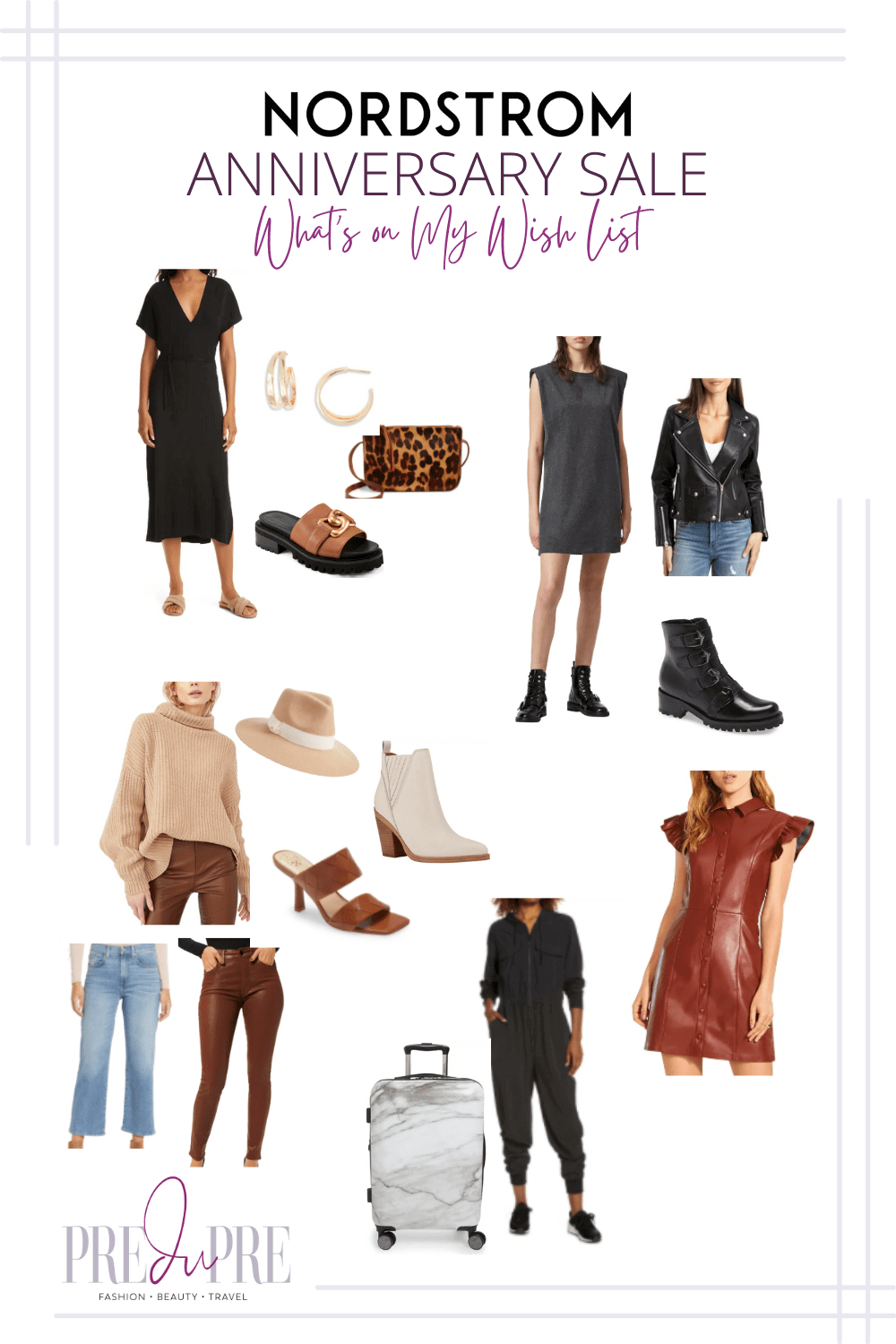 ---
What's for favorite items to shop during the Nordstrom Anniversary Sale?