I'm sharing my go-to recipe for delicious spicy chili that's perfect for a cold winter day (or any day you're craving this comfort food)!
Disclosure: Some of the links on this post are affiliate links, which means I may receive a small commission if you click a link and purchase something I have recommended. While clicking these links won't cost you any extra money, they will help me keep this site up and running and keep it ad-free! Please check out my disclosure policy for more details. Thank you for your support!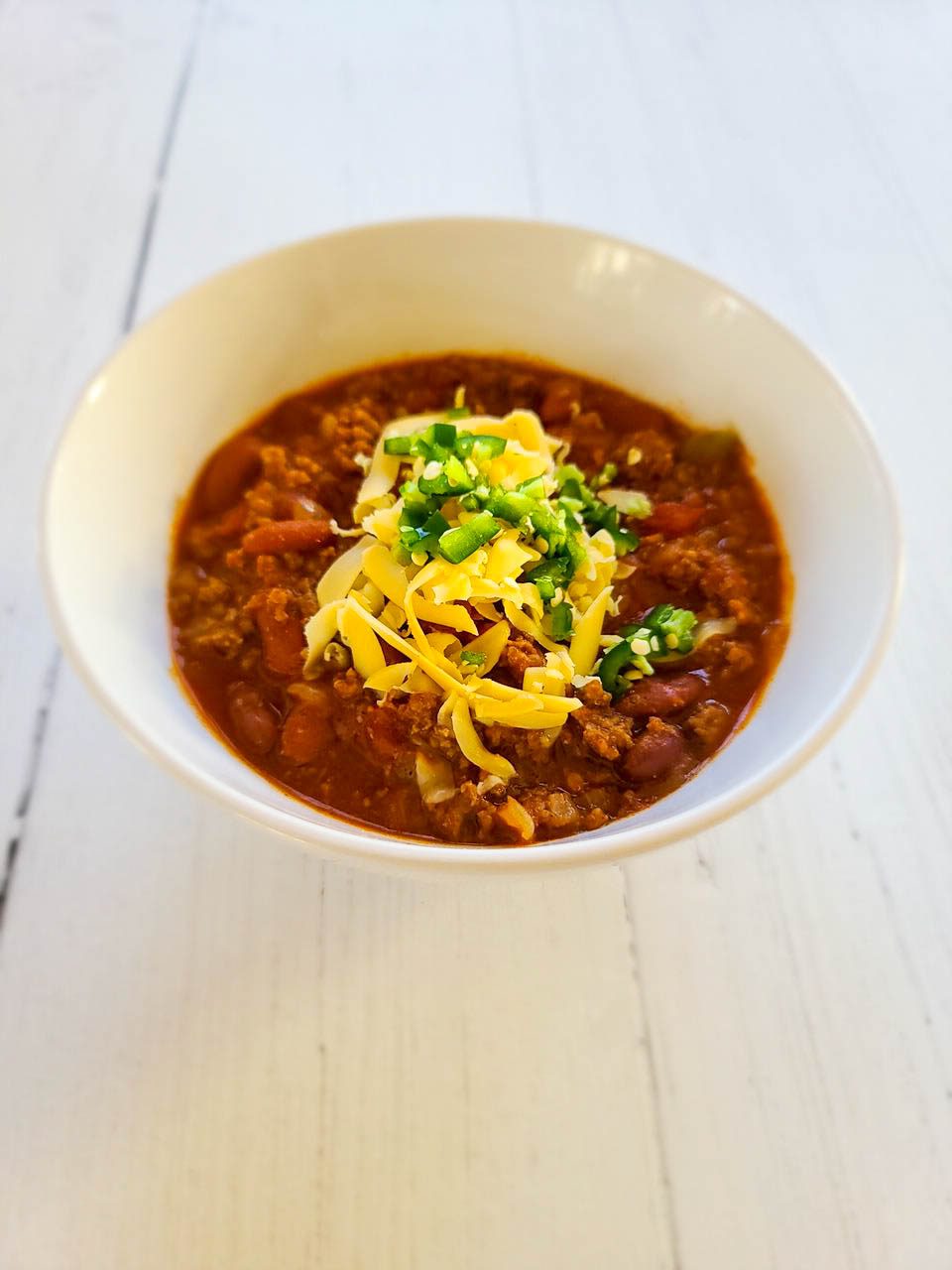 I came across this spicy chili recipe from an old Calphalon cookbook called Calphalon Cooks Weekends. I tried it once, and that was the end of my search for a great chili recipe! It's absolutely tasty and easy to make – a perfect meal to make during the work week! If you're lucky enough to have leftovers, you'll be pleased to know this dish gets even better the next day!
This chili recipe is spicy due to the cayenne pepper, but for my non-spicy readers, you may omit that and still enjoy the delicious flavors of this recipe. I also think the secret to this being sooo good is to "toast" the spices. I find this brings out quite a bit of the smoky flavor and makes quite a difference! When I say "toast," by the way, I mean heating the spices. In this case, I saute it in my Calphalon pot with the onions and bell pepper, as I'll have in my instructions below.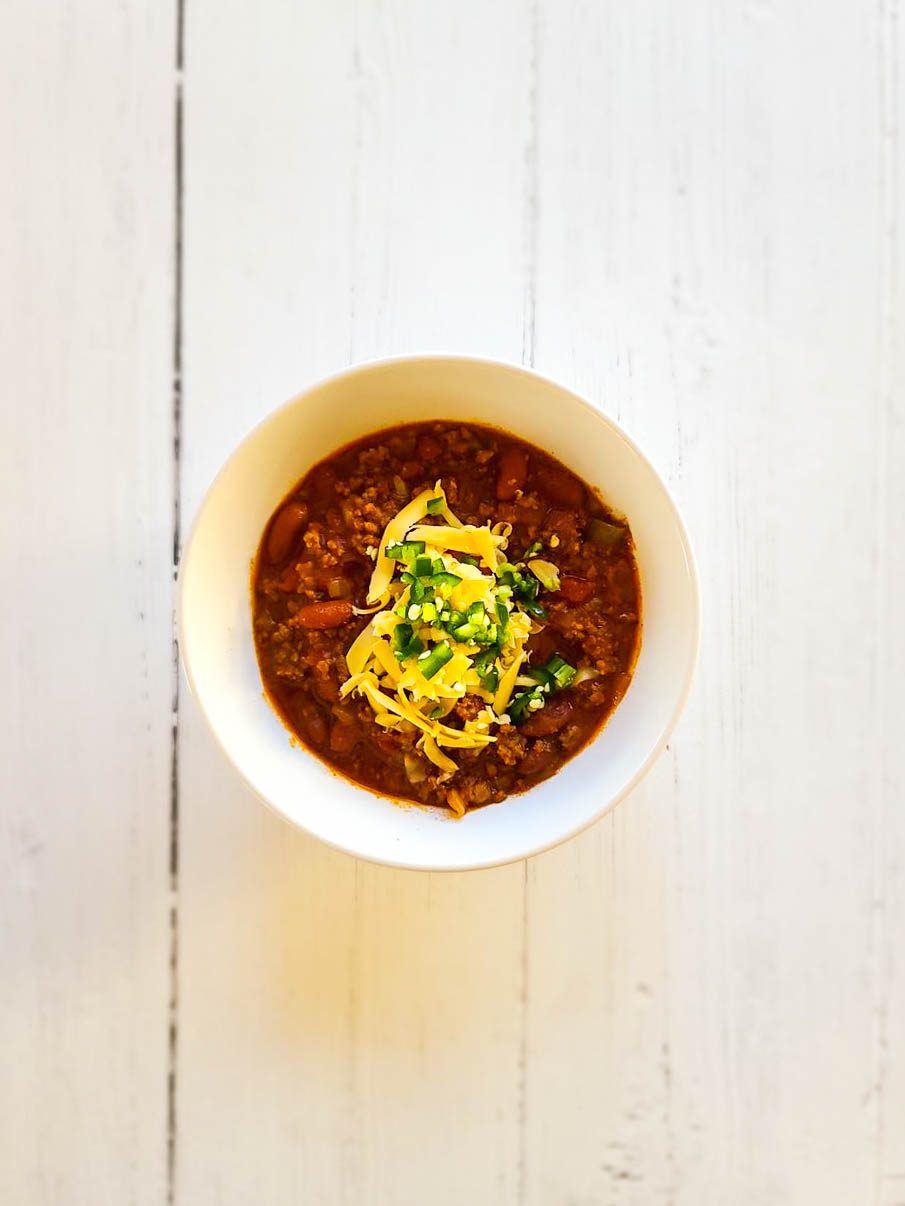 This recipe yields eight servings. There are only two of us, so we have plenty of leftovers with this recipe. I always find different ways of serving this: as is (with a variety of condiments like cheese, jalapenos, onions, and sour cream), over a baked potato, hot dogs, fries, in a salad, with pasta, in a bread bowl, over rice, and so much more! By the way, if you prefer to freeze the leftovers, it is ok to do that as I've done that many times using my trusty FoodSaver!
ingredients (yields 8)
2 tbsp olive oil
1 to 2 cloves of garlic, minced
3 lbs of ground beef
1 large onion, diced
1 large green bell pepper, chopped
1 tbsp ground cumin
3 tbsp chili powder
2 tsp cayenne pepper
1 tsp dried oregano
3 dried bay leaves
1 large can diced tomatoes (28 oz)
3 cans tomato sauce (about 8 oz ea)
1 large can red kidney beans (about 27 oz) – don't drain the liquid
Salt and pepper to taste
Directions
Preheat the pot on medium-high heat. When it is hot to the touch, brown the ground beef. I typically don't add oil as ground beef naturally yields fat. Feel free to add cooking oil if it's sticking to the pan. Stir occasionally until done, then drain the fat. Set the beef aside in a separate container.
Using the same pot, add olive oil, then saute the onions and bell pepper until the onion is soft (about 5 minutes). Then add the spices (cumin, chili powder, cayenne pepper, and oregano) and mix with the onion and bell pepper mixture for about 1 minute. As mentioned earlier, heating the spice helps to release the robust flavor. Add the garlic until fragrant (about 15 seconds).
Add the beef back to the pot, then stir in the diced tomatoes, tomato sauce, kidney beans and the canned liquid, and bay leaves. Bring to a boil, then reduce heat to simmer. Keep it uncovered. Stir occasionally and cook for 30 to 45 minutes until somewhat thickened.
Season with salt and pepper. Serve with toppings like diced onions, jalapenos, shredded cheese, and sour cream.
---