Get a glimpse of what's to come this season and find the style that speaks to you!
With the spring and summer 2019 collection about to hit the stores, I want to give you a sneak peek as to what trends to expect. Some of the predominant looks are a nod to the '80s with the strong shoulders and metallics on board. Reds, yellows, greens, and neutrals were prime colors featured on the runway. As far as style on repeat, you'll see more of the off and one shoulder designs in stores this season.
Read more below to find a few things coming at a store near you (and all over Instagram, for that matter).
The talented Ashlee Wilcox of Ashlee Wilcox Photography captured all of these fashion looks. Follow her on Instagram @ashleewilcoxphoto, Facebook at Ashlee Wilcox Photography or her website.
Bows
This season there are a lot of feminine details incorporated into designer's collections such as a bow that comes in big and small sizes. For example, at the Nolcha show, models showed off Hathairat's romantic designs that included a blouse with red bows on puffy sleeves and a fitted V-neck satiny top with bows both in the front and on the sleeves. Indonesian Diversity used hand-woven silk and taffeta materials where some designs featured a prominent bow on an off-the-shoulder emerald green long-sleeve blouse and a midnight blue midi skirt complete with a beautiful off-the-shoulder black blouse ensemble.
Layers
Continuing with the feminine and romantic theme, lots of layers are definitely in this season. You'll find this in designer XY's flowy blouson silk blouse and her dreamy, white multi-layered organza dress. Consistent with the femininity theme, the Vitruvius collective also shows off a 2-piece off-shoulder and mini skirt with layers of ruffles all the way down to its side train. Want to be noticed? Kim Tiziana Rottmuler is your designer of choice. Her Oblivion collection will have you dreaming of layers upon layers of ruffles and over the top garments.
Ruffles
Speaking of ruffles, this girly look will help your outfit stand out from the rest! No frills go unnoticed! Check out designer Hathairat's sleeves and high-waist pants both delicately highlighting ruffles for that perfect finishing touch. Taking on the romantic yet street savvy look, Ozlana's Dream Still collection incorporates the ethereal design using soft pastel-shades of chiffon material. Remember the Oblivion collection by Kim Tiziana Rottmuler? Yep, she continues the ruffles throughout her designs (and how about that headpiece! Wow!).
Ruching
Ruching adds fun details to any outfit! Canadian designer Kirsten Ley includes quite a bit of it in her line such as these densely ruched tops. This Jasmine dress will be a great one to wear this season – simple ruched dress accentuated with graceful and elegant lace detail.
Pleats
There was plenty of pleating on quite a bit of ensemble, as displayed on the Indonesian Diversity runway. Crisp pleats run across the upper half of ensembles and a beautiful bodice tops pleated midi dress. An American designer, Carlton Jones, uses light-loving sparkly fabric and has a bit of pleating on the side of this neutral yet fun dress, ready to wow at your next special event!
Fur
Fur
Fur adds plush embellishment to an outfit! Just take a look at these fur vests designed by Kirsten Lay and Ozlana. Nothing like having a third piece to elevate your look!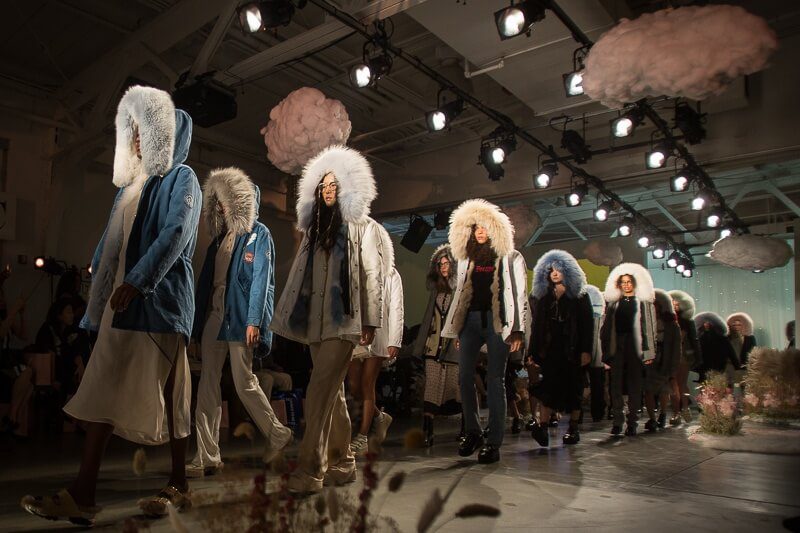 Fringe
Swaying fringe sure captivates anyone's attention! These long, playful strands on this Vesuvius dress sure caught my eye! Designer Custo Dalmau of Custo Barcelona integrated a few of this in his designs. Take notice of this off-the-shoulder and deep plunging v-neck dress both accentuated with dazzling sequins and playful, swinging fringe. Note how the fringe adds a flirtatious style! XY's beautiful red top with swaying fringes definitely commands head-turning movement (ok, ok, those angel's wings kinda made us look, too)!
T-shirts
Sometimes all you need is a comfortable, casual essential like a t-shirt to look chic! There were a few elevated t-shirt looks that rocked the runway. Wear it while traveling and look confident while pairing with these colorful patch pants by XY. Graphic tees are back and styled with just about anything, even with light material like this long and flowy floral-layered skirt by Ozlana. Channel your inner rocker look with this Not Dead Yet t-shirt and leather pants to add a bit of rock 'n roll edge!
See-through plastic
Say whaaaat? Yep – see-through plastic! I saw this at my first show and thought, "hmmm, interesting". Then I kept noticing more of it in other shows as well. Bring on the April showers and summer rain – we're ready for you!
Vitruvius weaved this design into these futuristic looking dresses. Ozlana's raincoat keeps it clear, so your fashionable clothing can still be seen and appreciated.
Which "suits" you?
Menswear-inspired clothing infiltrated the runway. Pair cropped or structured jacket by Nozomi Kuwahara Hathairat, and XY with traditional pieces like skirts and pants to the edgy trend of biker shorts! Same is true when it comes to footwear – put on oversized suits and wear with conventional pumps or stylish sandals and platform sneakers.
Shoulders on display
Remember when I mentioned 80's styles in my intro? Well, here are great examples of that trend taking over for spring and summer! The shoulder pads of Amnesia's white trench is what modern sophistication is all about. Another nod to the '80s is the puffy sleeves seen on this model wearing Indonesian Diversity. Feeling bold? Kirsten Ley's strong shoulder designs may be the one for you!
Off-shoulder and one-shoulder styling
I'm happy to say the graceful and elegant off-the-shoulder and one-shoulder neckline makes a strong comeback! These shoulder-baring designs are so alluring yet sophisticated. You'll find them on dresses from designers such as XY, Indonesian Diversity, Amnesia, Hathairat, and Carlton Jones.
Predominant colors this season
Hopefully you like these colors, as you'll encounter them in the spring and summer lineup!
Yellows
Indonesian Diversity, Jasmine, Nozomi Kuwahara
Reds
Amnesia, XY, Indonesian Diversity
Neutral
Ozlana and Carlton Jones
Greens
Indonesian Diversity, LillzKillz, Nozomi Kuwahara
Metallic
Custo Barcelona
That's a wrap!
So, you'll see there is a combination of 80's throwbacks and one-of-a-kind looks – a little bit of something for everyone!
Special thanks to The Riviere Agency, EB Consults Worldwide, THB Marketing House, Jasmine, and Custo Barcelona for the invite!
Which one are you adding to your fashion lineup this season?