Pamper yourself at Solaya Spa and Salon and the Trellis Spa by The Houstonian, where massage therapists and aestheticians are waiting to treat you in their luxurious spas!
This is a sponsored post with The Houstonian, where I received a complimentary stay. I do not earn commission from any bookings or affiliate sales. As always, my reviews remain honest, and all opinions are my own.
It has been a good while since my sister and I have vacationed together. For her birthday, we headed to Houston, Texas, to get away from the cool weather in Maryland and have some much-needed R&R.
When you think of a girl's weekend, what comes to mind? Facials, a spa day, and wine? Check, check, and check! We went to two different spas for different treatments. We started our day off at the fabulous Solaya Spa and Salon, where the reception staff warmly greeted us.
Solaya Spa and Salon by the Houstonian
Solaya Spa and Salon is located in the Highland Village of Houston. Solaya is a full-service spa with massages, facials, body treatments, hair services, and even professional make-up services.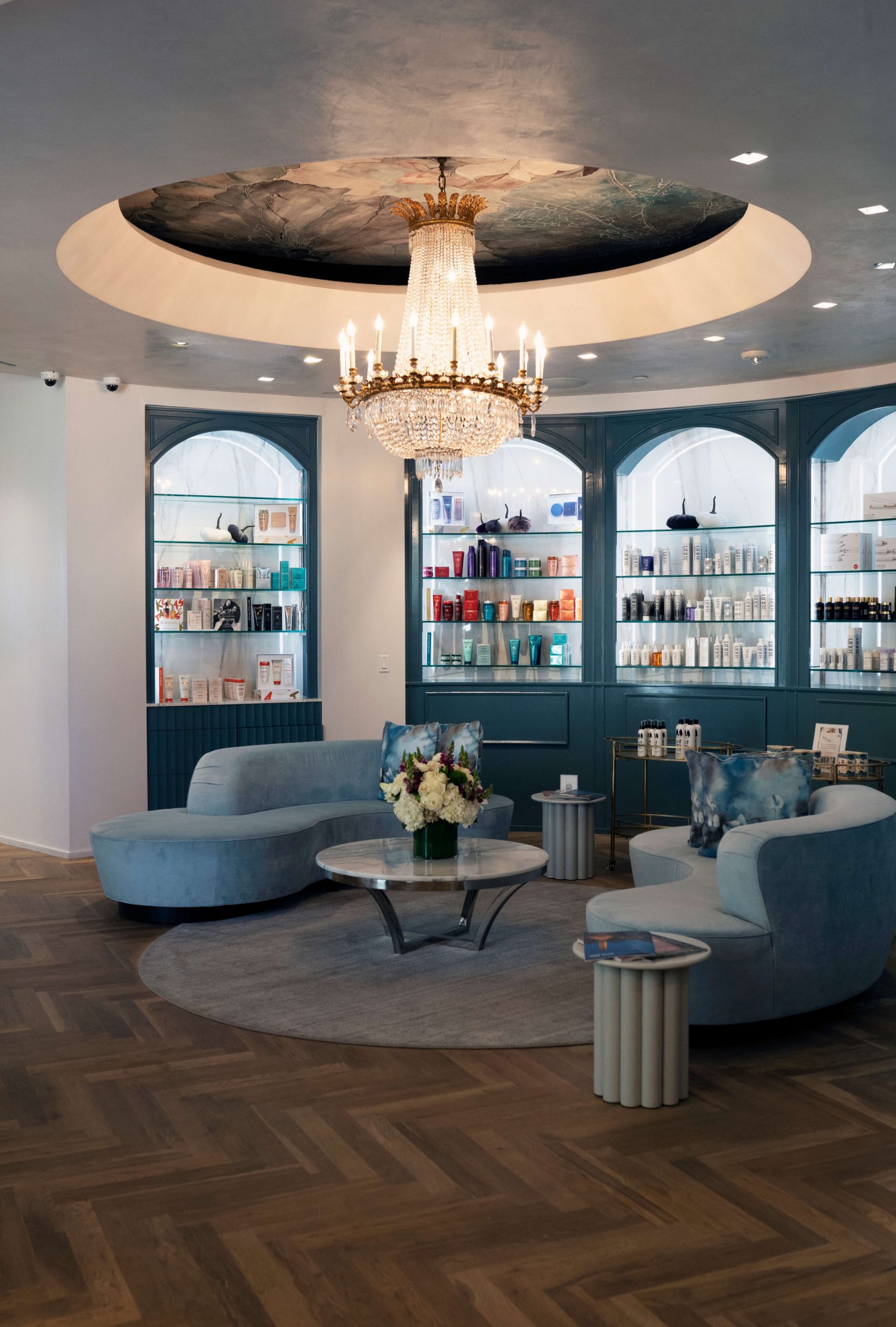 It had been a while since the beginning of the pandemic that we enjoyed services like facials. We were very much looking forward to our treatments!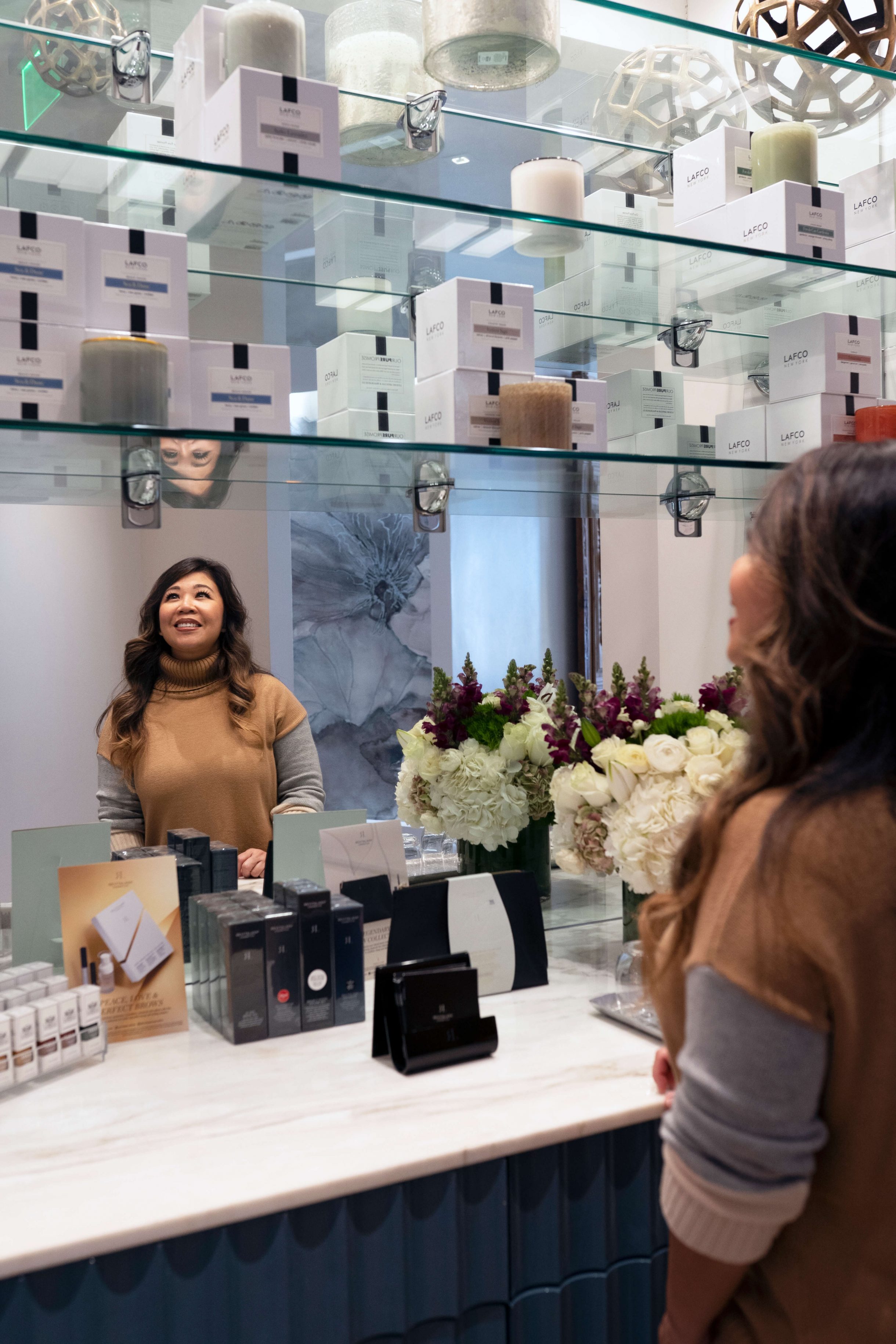 We received the Essential Solaya treatment which was a mix of Orveda and Natura Bissé products. I was not familiar with these products, so I was excited to try them out! The products felt so luxurious on the skin. It was a refreshing and relaxing facial that included a deep cleanse and a soothing head, neck, and shoulders massage.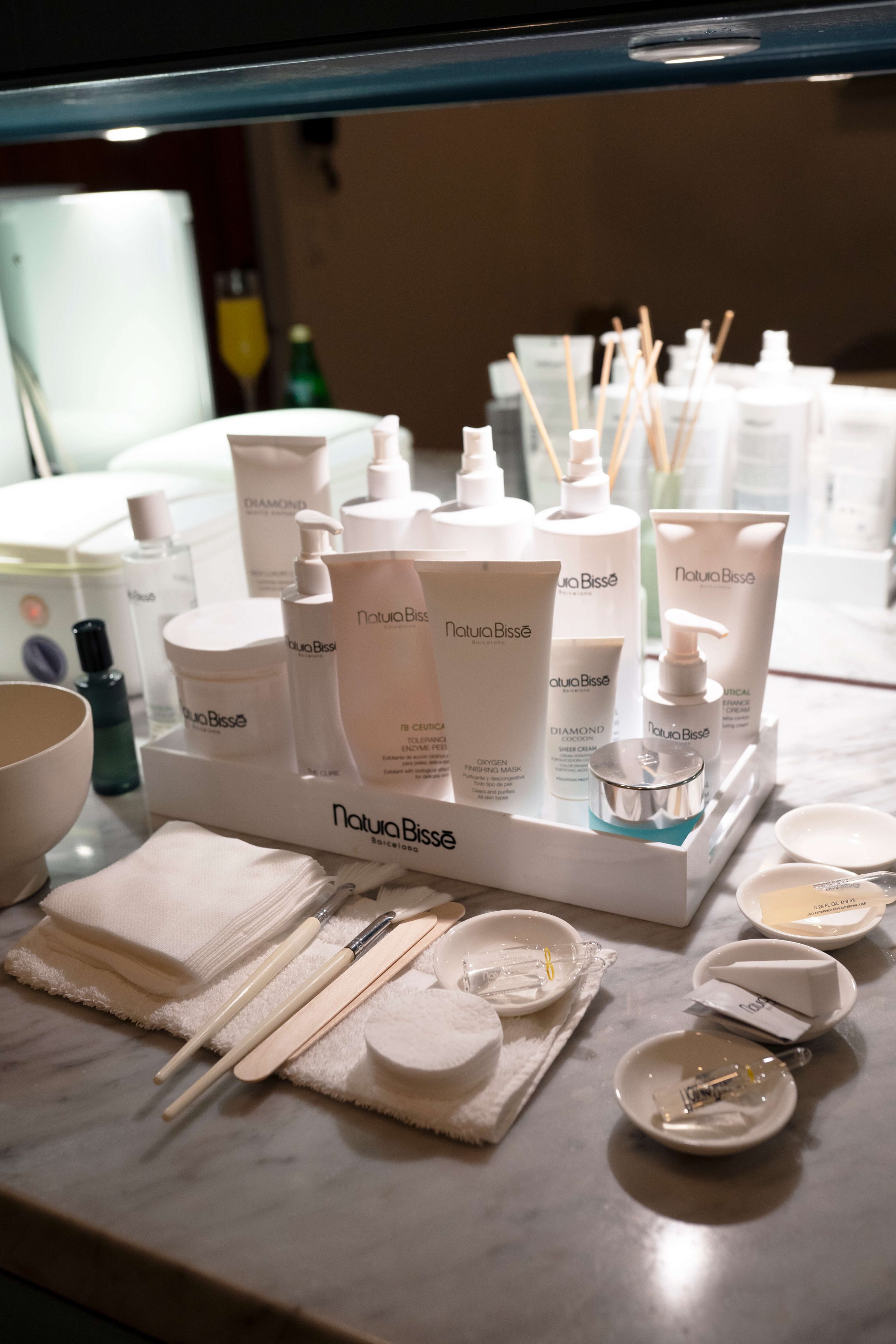 It was such a pleasant experience! Our aestheticians were very knowledgeable about the products and services and ever so friendly. They worked their magic, and our skin was absolutely glowing!
After our treatment, we enjoyed mimosas in the sitting room with comfy couches and chairs. There was a fireplace that kept us warm and cozy.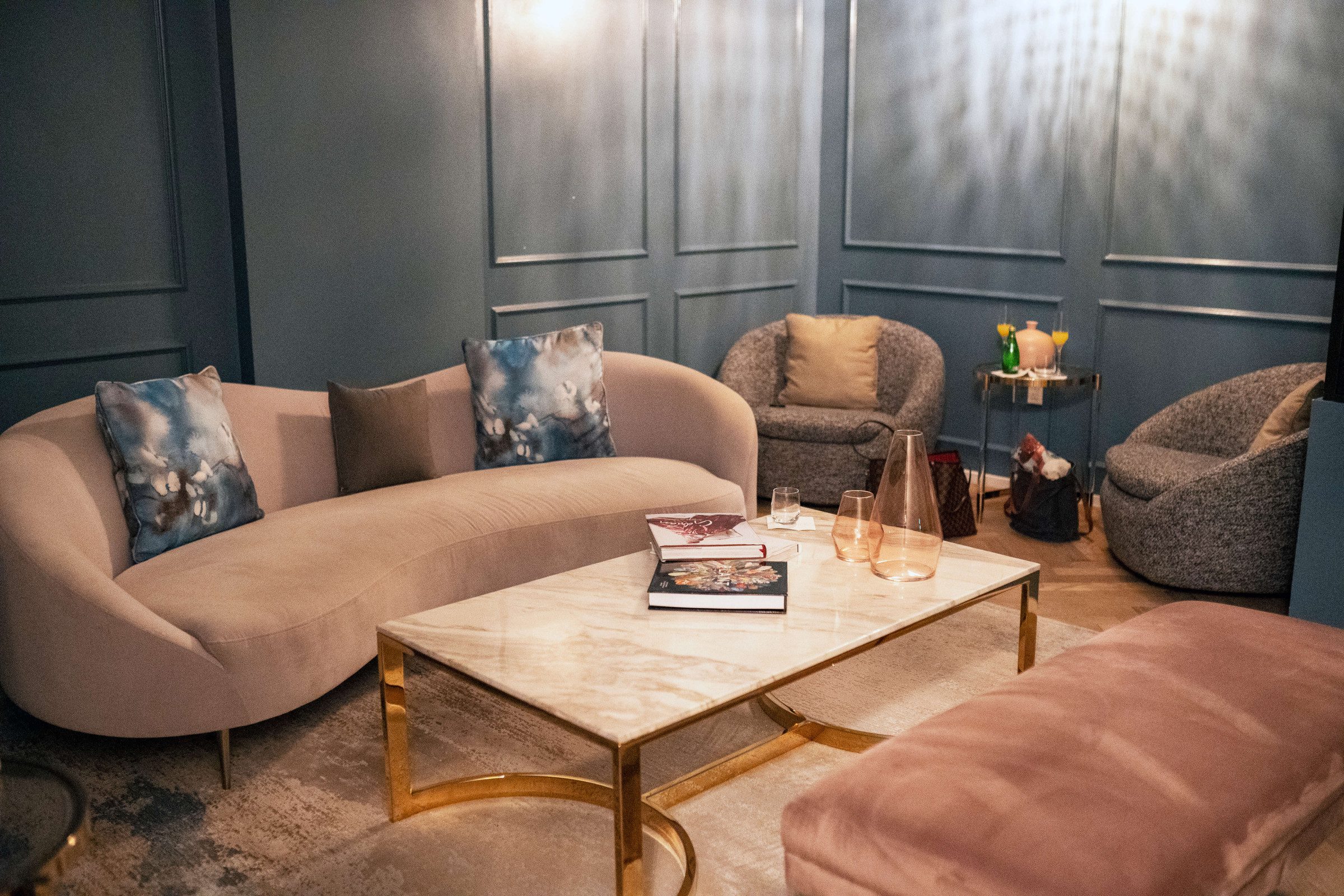 Trellis Spa by the Houstonian
After our morning at Solaya, we ventured to Trellis Spa by The Houstonian Hotel to continue our spa day. Upon arrival, we were given a tour of the facilities. We were given lockers to store our belongings, so we could be free to enjoy all the amenities without having to carry around anything.
With our robes and slippers, we were off to enjoy our lunch at the outdoor patio.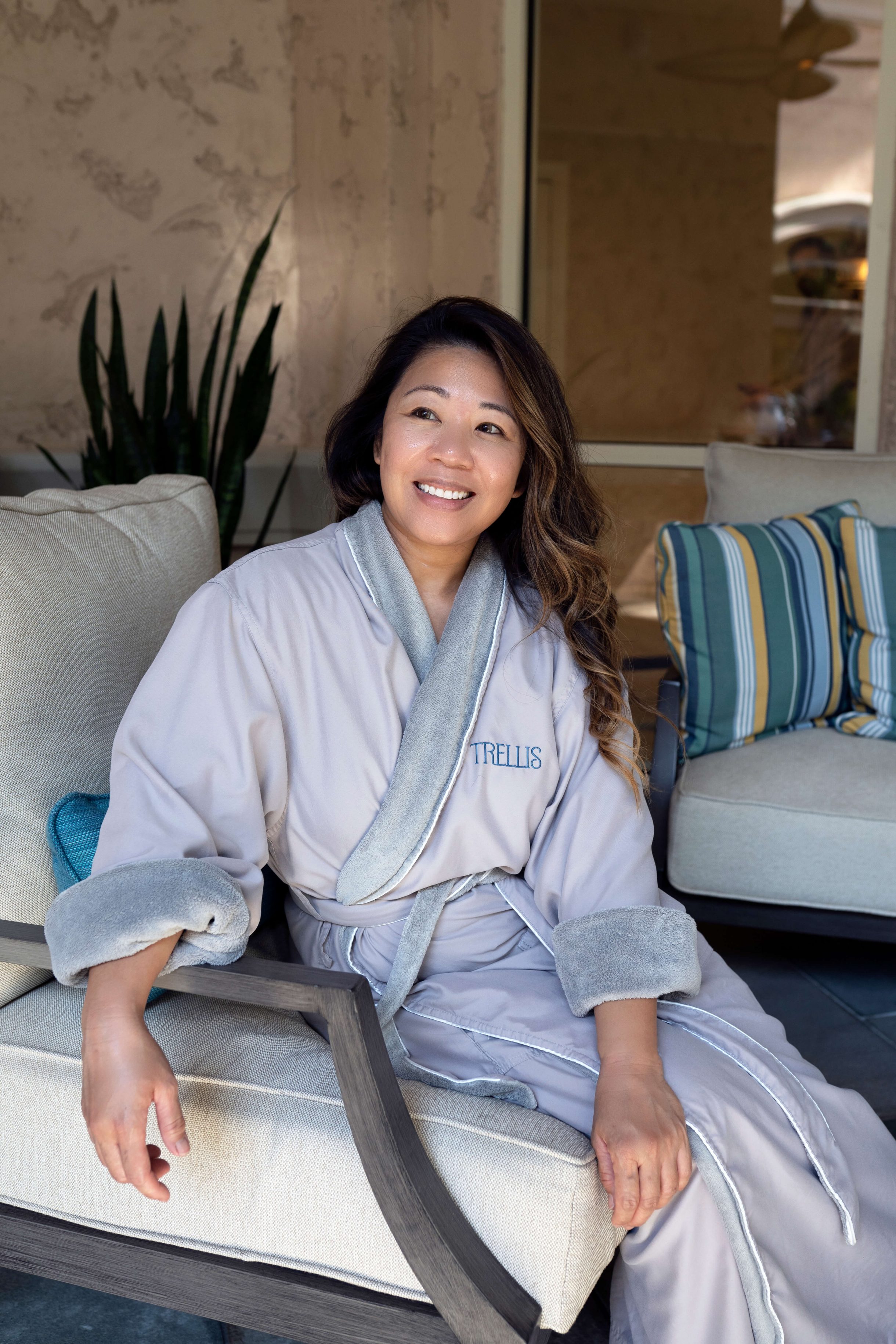 To drink, we enjoyed the seasonal sangria and prosecco. We started with the artisanal cheese board with an assortment of local Texas cheeses served with an assortment of fruits for lunch. For our main dishes, I had the Wild Salmon Mediterranean salad on a bed of baby spinach. My sister had the Smoked Chicken Salad, which came with Jalapeno-Cheddar Toast, served over a marinated cabbage slaw. The salads were full of flavor and just the right amount, perfect for a light (but filling) lunch.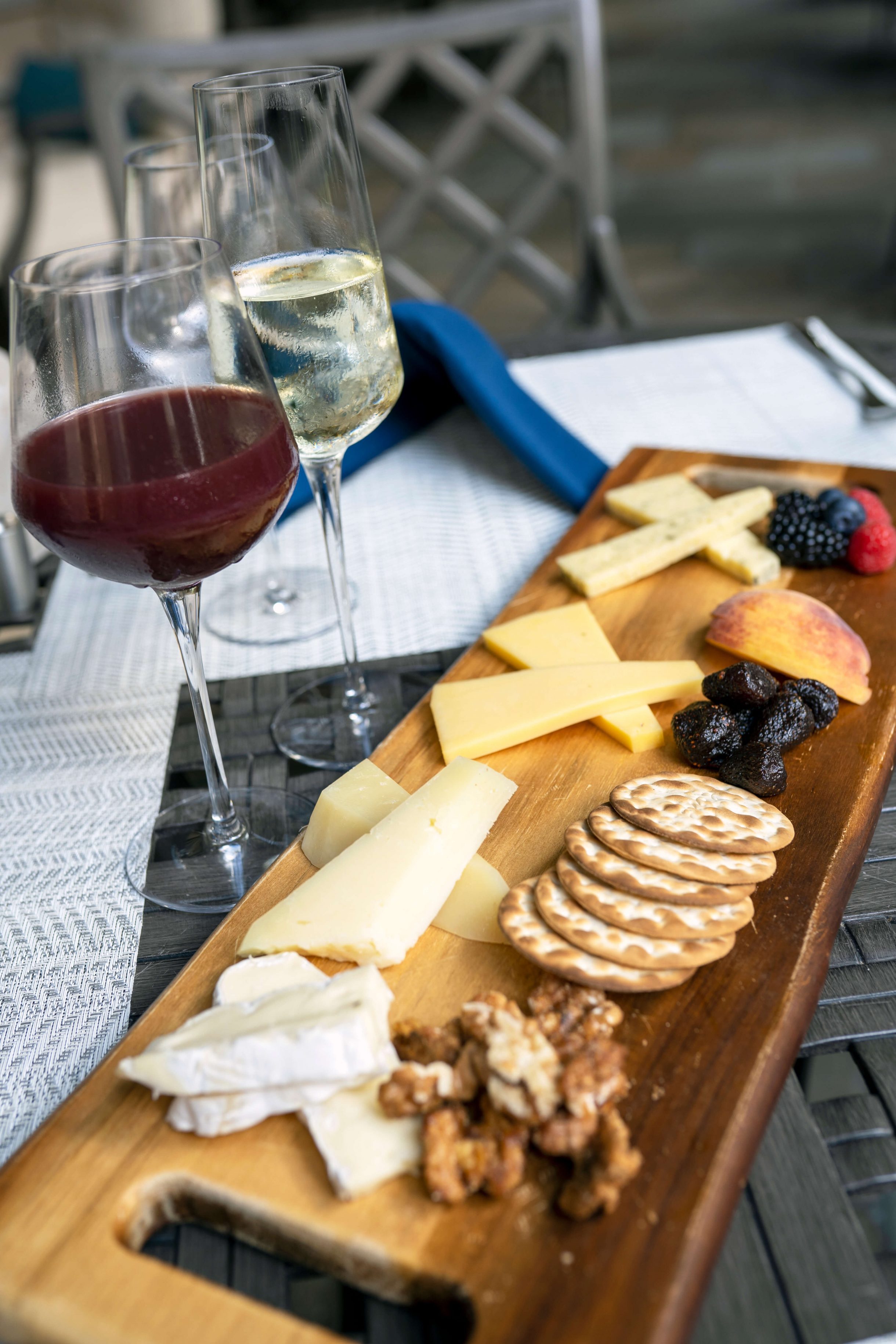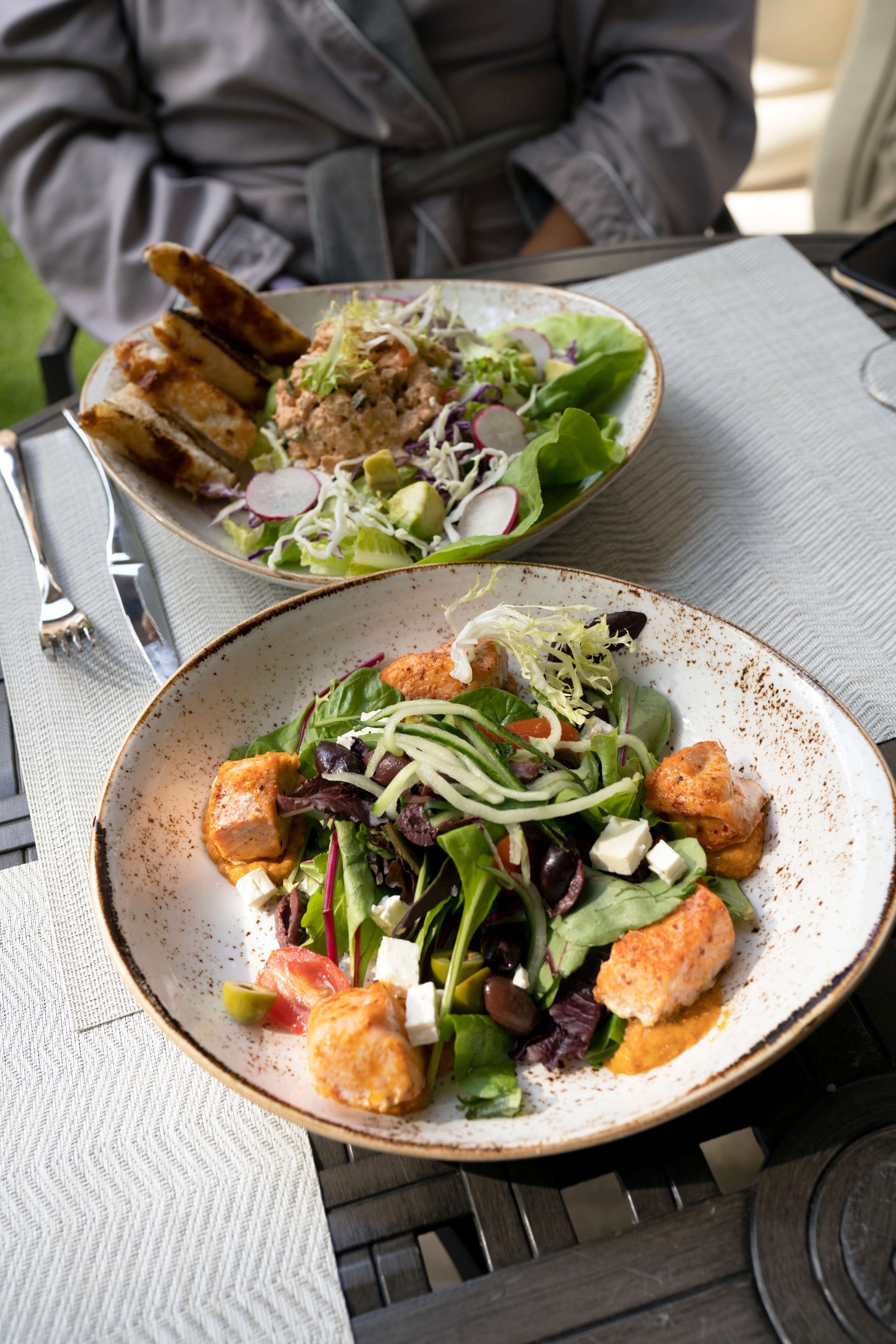 After lunch, we had our choice of 3 soaking pools: 1 indoor and 2 outdoors. The indoor pool was between 70 – 80 degrees F; one of the outdoor pools was 90 degrees, and the other was 100 degrees. The outdoor area has 6,500 sq ft of space including the pools and garden. After your soak, there were cabanas, outdoor fireplaces, and other seating to enjoy the fresh air and mild temperatures, unique to a spa setting.
The outdoor pools had jets that were on-timers. It was like getting a massage with the pressure of the jets! The staff always ensured the jets were on if anyone wanted them on in the pool.
My favorite was the indoor Tranquility Room and Reflection Pool where beautiful blue mosaic tiles lined the pool. There was also fountain-like water streaming from the sides enhancing the overall look. Overhead, you'll find four silver and crystal chandeliers, where the style mimics that of wooden branches. When you walk into the room, and you see all these features, it really has that "wow" factor that you rarely find.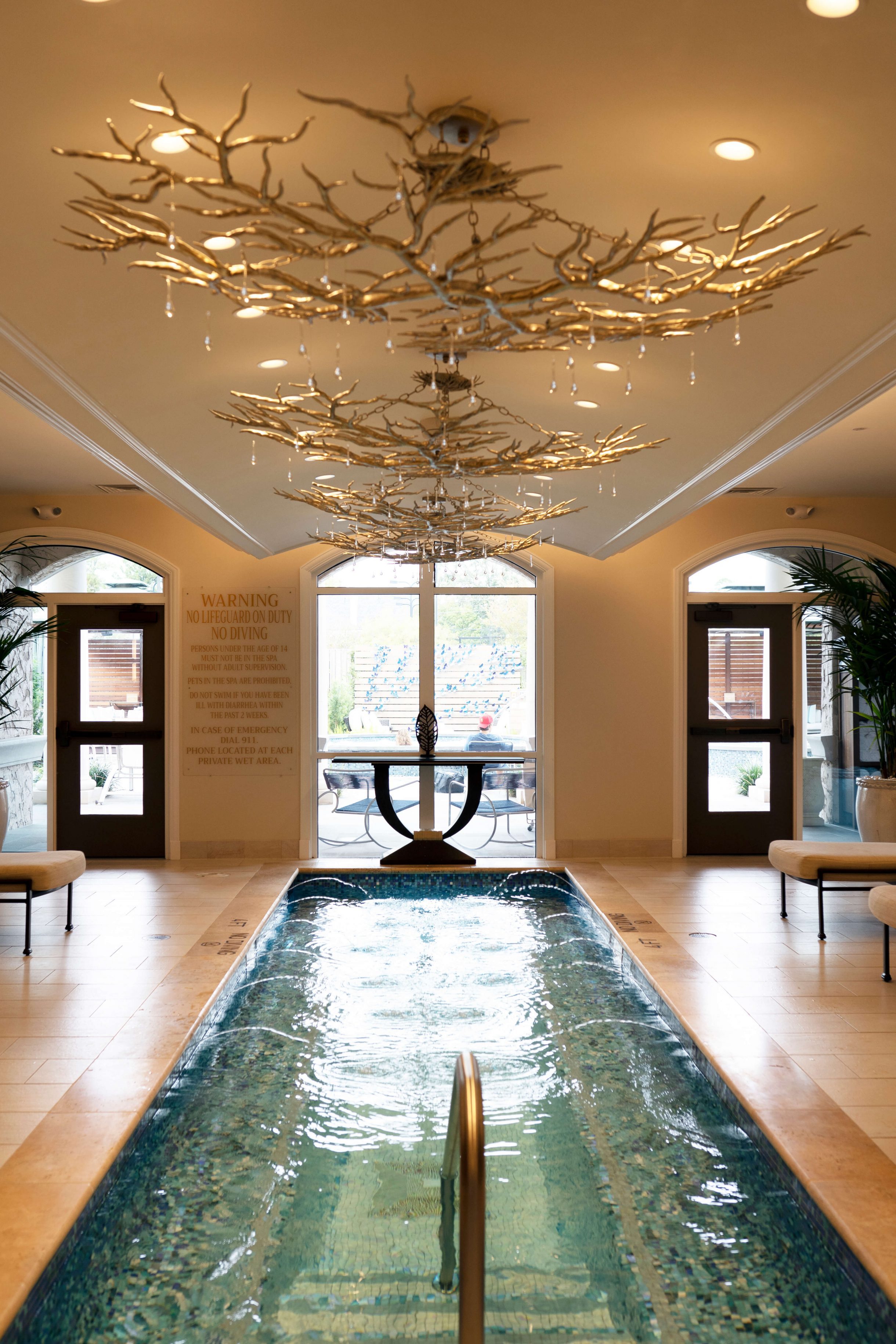 It was a warm fall day in Houston, and we were lucky to be outdoors to lounge in their many sitting areas with beautifully manicured lawn and garden. Food and drink service were readily available, and someone was around to check on guests to offer any assistance or service.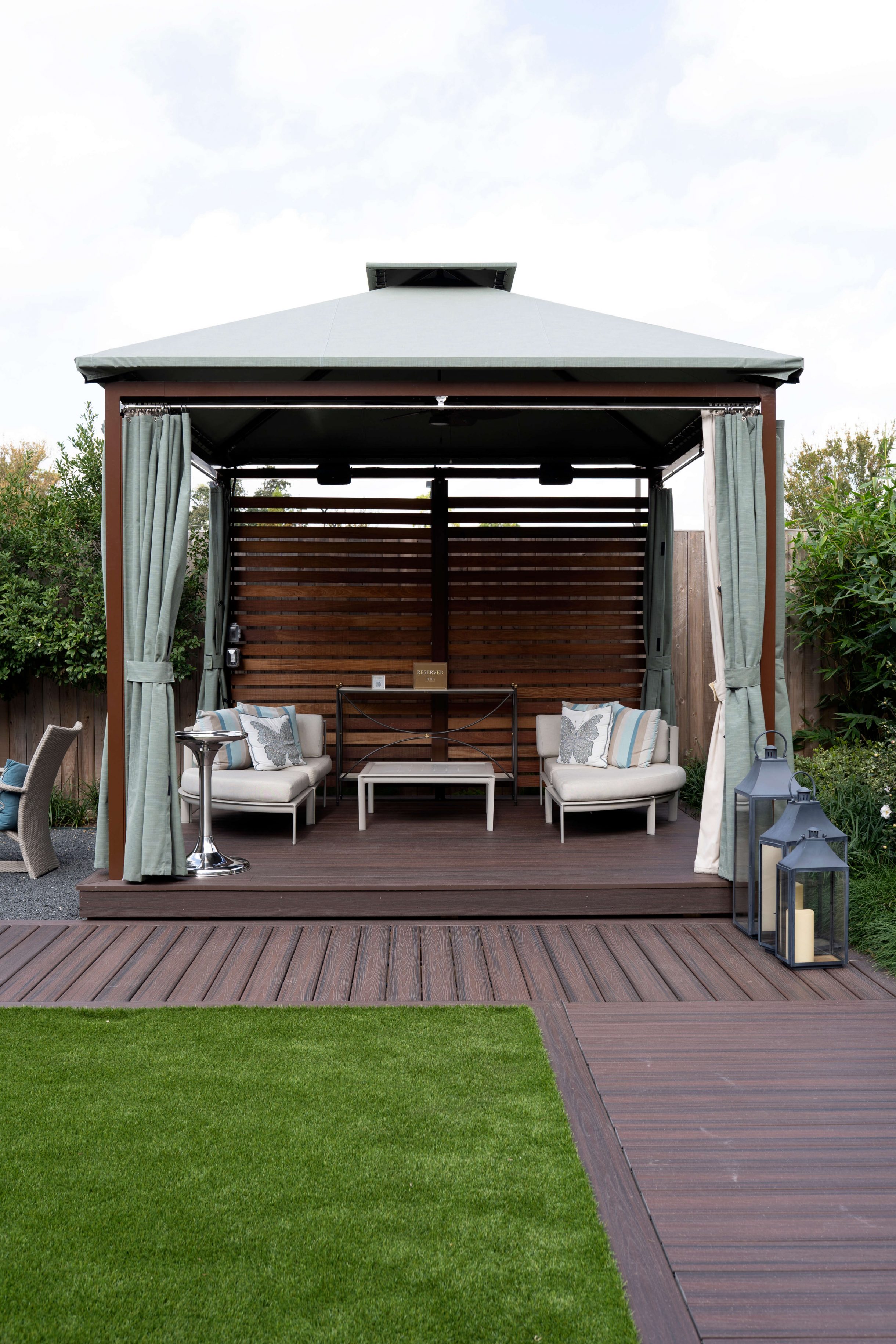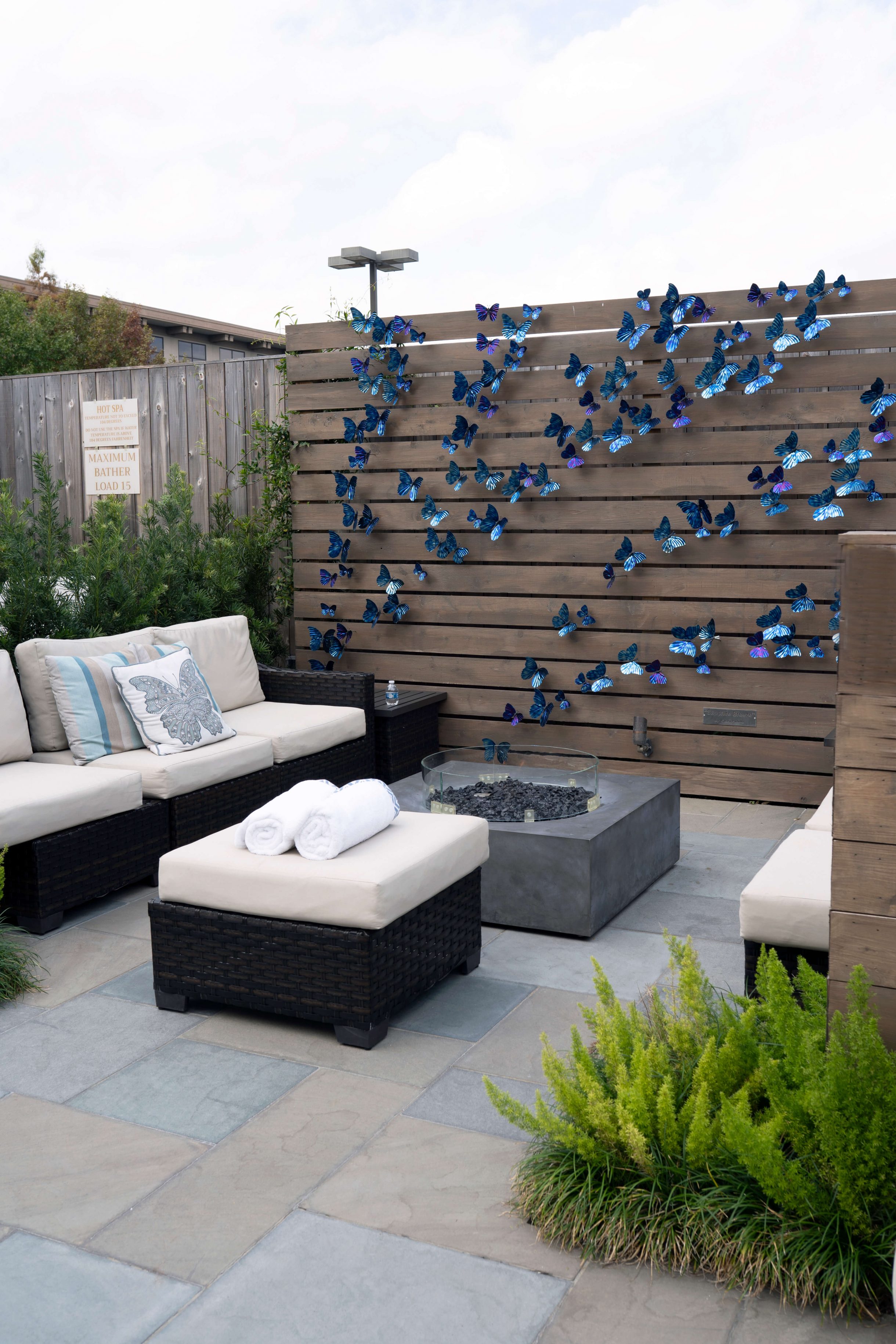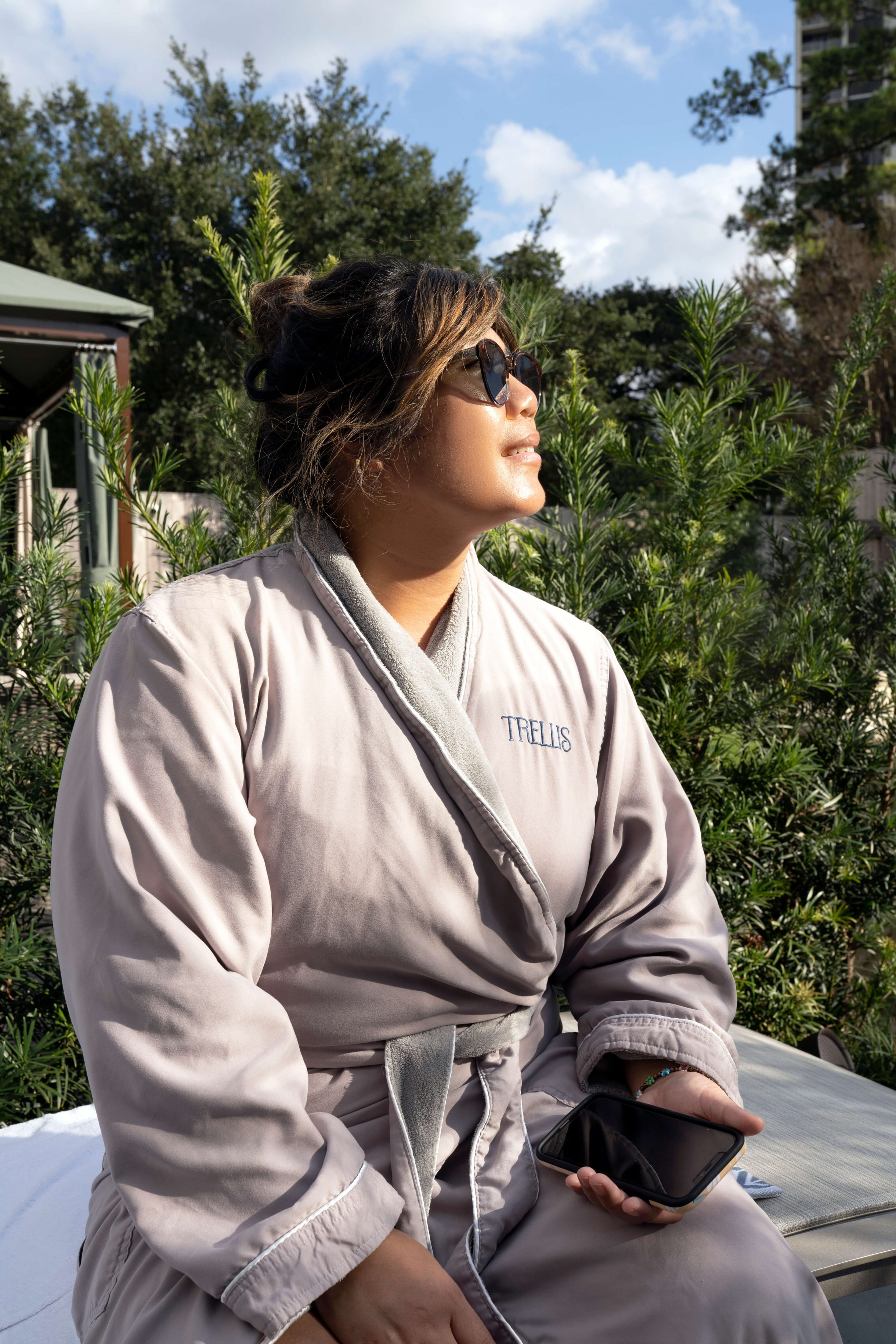 Inside, next to the locker room, was a hot tub and an enclosed steam room. The steam room was spacious and was pumping out fresh steam every few minutes. It was very refreshing to sit and sweat it out.
Throughout the spa, the staff was incredibly welcoming and helpful. There was always someone available to assist and answer any questions.
Overall it was an incredibly relaxing and tranquil self-care day! A special thank you to Solaya Spa and The Trellis for the fantastic and memorable experience with the excellent care from the staff and fabulous facilities!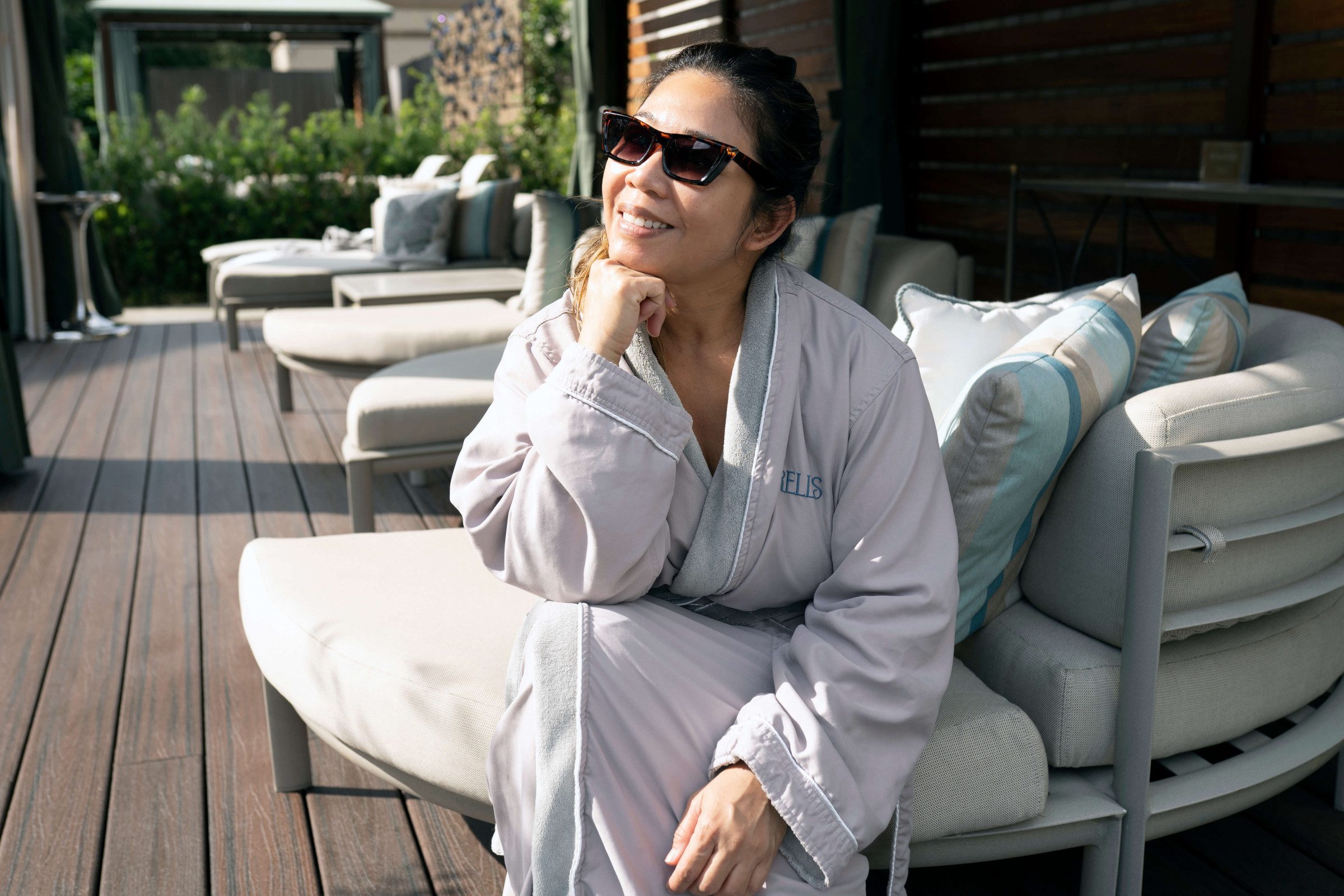 If you're ever in the Houston area, be sure to book your treatments at either Solaya Spa and Salon or The Trellis by The Houstonian. These are places you wouldn't mind building a day around!