Explore West Virginia's beautiful terrain for a modern mountain getaway, and experience the Appalachian charm, culture, and cuisine!
This is a sponsored post by the West Virginia Department of Tourism. All thoughts and opinions are my own.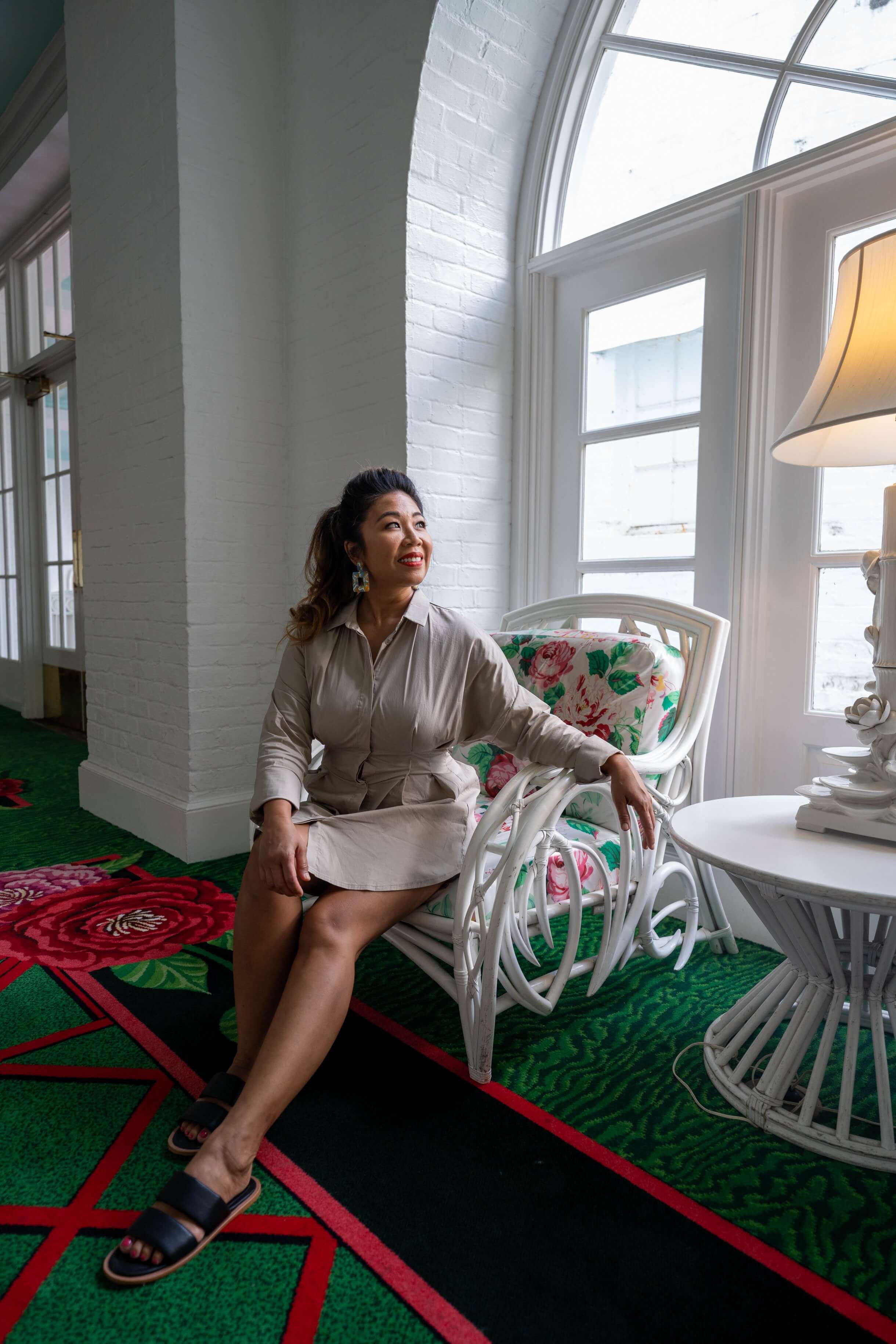 "Almost heaven, West Virginia…." It has been 50 years since the song "Take Me Home, Country Roads" was released by John Denver. The iconic song about West Virginia captures the beauty and elegance of this unique vacation destination. Thanks to the West Virginia Department of Tourism, Dan and I had a chance to sample the luxury, the scenery, and some of the friendliest people we have met while we were there. It was a relaxing and fun way to take a road trip for a long weekend.
We headed out on Friday morning to The Greenbrier in White Sulphur Springs, West Virginia. Planning our road trip, we were surprised to find it was only a 4 ½ drive from the Baltimore / D.C. area. It turns out this scenic trip through the Appalachian Mountain Range is just a day's drive for nearly 2/3rds of the U.S. population. What better time for a road trip than heading into the fall season!
The drive was also easier than expected. While some mountain drives have challenging roads to maneuver, this had a nice combination of mainly four-lane highways running through the beautiful mountain terrain. It was quick and easy and put us in the right mindset for a relaxing weekend.
The Greenbrier
The last part of the drive was through White Sulphur Springs, a quaint town with trees everywhere and a population of 3,000 people (fun fact: no town in West Virginia has more than 50,000 people). We had perfect weather with low humidity and light breezes which we found refreshing during what has been a sweltering summer.
When we pulled up to The Greenbrier, we were amazed at the size and beauty of the facility! The grounds were impeccable, with manicured areas full of shrubs, blooming bushes, and flowers. So much color and texture in a fantastic setting! The massive main building, the Greenbrier Hotel, stands majestically surrounded by the evergreen mountains. Having heard it was a nice place to go, we had no idea how many activities were offered there at the resort for families of all ages. This was much more than a large hotel, and it came complete with southern charm and hospitality.
The main grounds are on 11,000 acres and dates back to 1778 when people would go there to "take to the waters" of the sulphur springs to restore their health. It has a fascinating history as to how it came to prominence as a fashionable resort in the 1830's, the first hotel opening in 1858, its use during the Civil War, the impact of the Chesapeake and Ohio Railway opening in 1873, the railroad ownership of the resort off and on for 99 years, and its use in WWII.
The main grounds have too many activities to note, but here are a few to highlight: indoor/outdoor pools, multiple golf courses, tennis courts, carriage and horseback rides, falconry, shooting range, off-roading, croquet field, indoor theatre, bowling alley, casino, multiple restaurants, and high-end shops. They have extensive meeting facilities and great venues to hold a wedding or other special occasion. You could spend your entire vacation at the resort and not run out of things to do – impressive!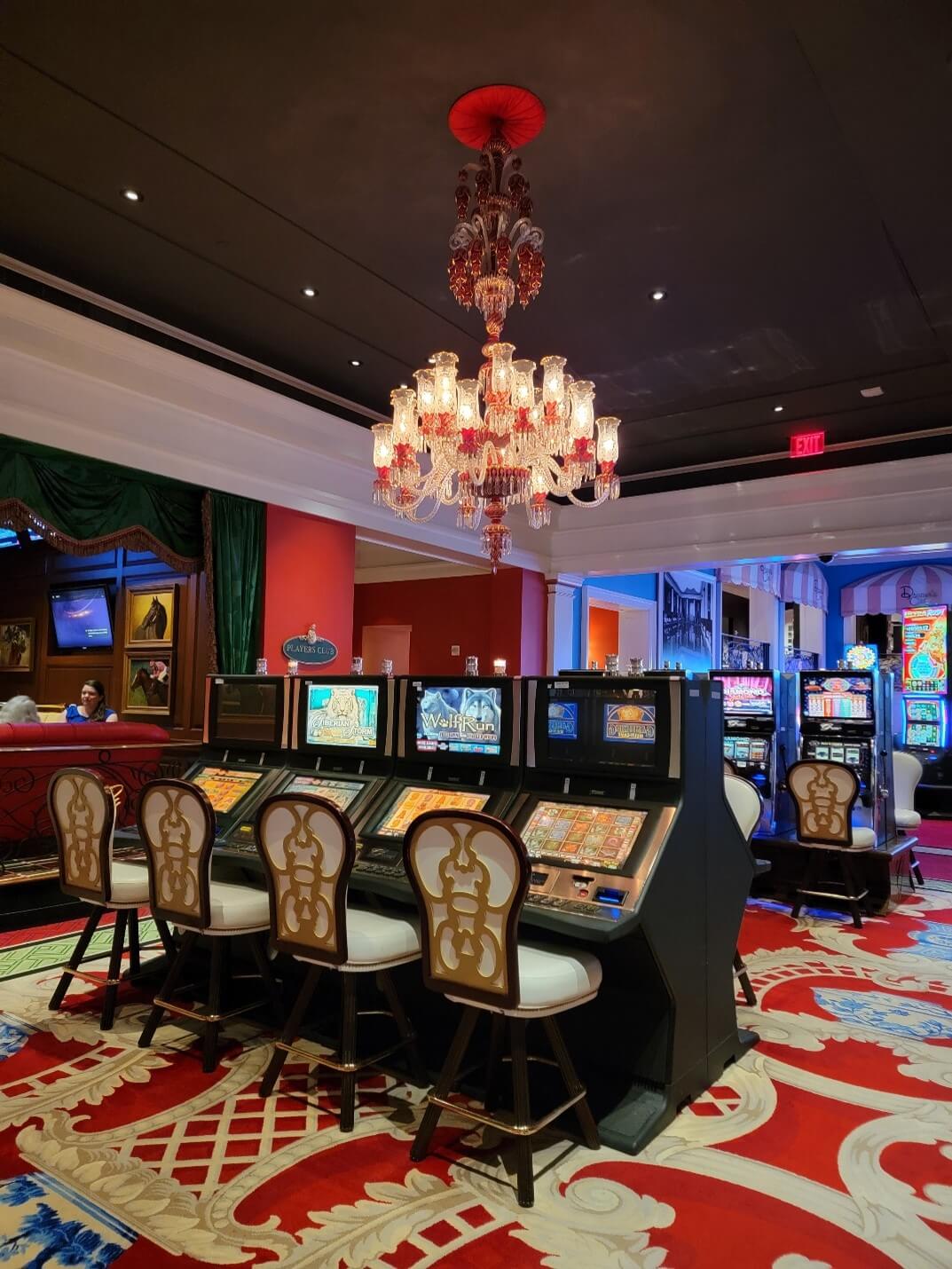 Things to do in Lewisburg, West Virginia (and surrounding area)
During our stay, we had several opportunities to venture outside the resort to the surrounding towns to get a better feel for the area. I am so glad we did – interacting with the local business owners and getting a chance to speak with people from the area added to the experience. Several of our events were in the City of Lewisburg, about a 15-minute drive from the resort.
We started one morning at The Wild Bean, a local coffee shop in the central part of downtown. It was an eclectic setting full of customers enjoying the shop. Some were in groups chatting and enjoying their roasted organic coffee and baked goods, a few couples were sitting outside enjoying an excellent start to their day, and others were working on their laptops. The smell of freshly brewed coffee mixed with baked goods just added to the ambiance.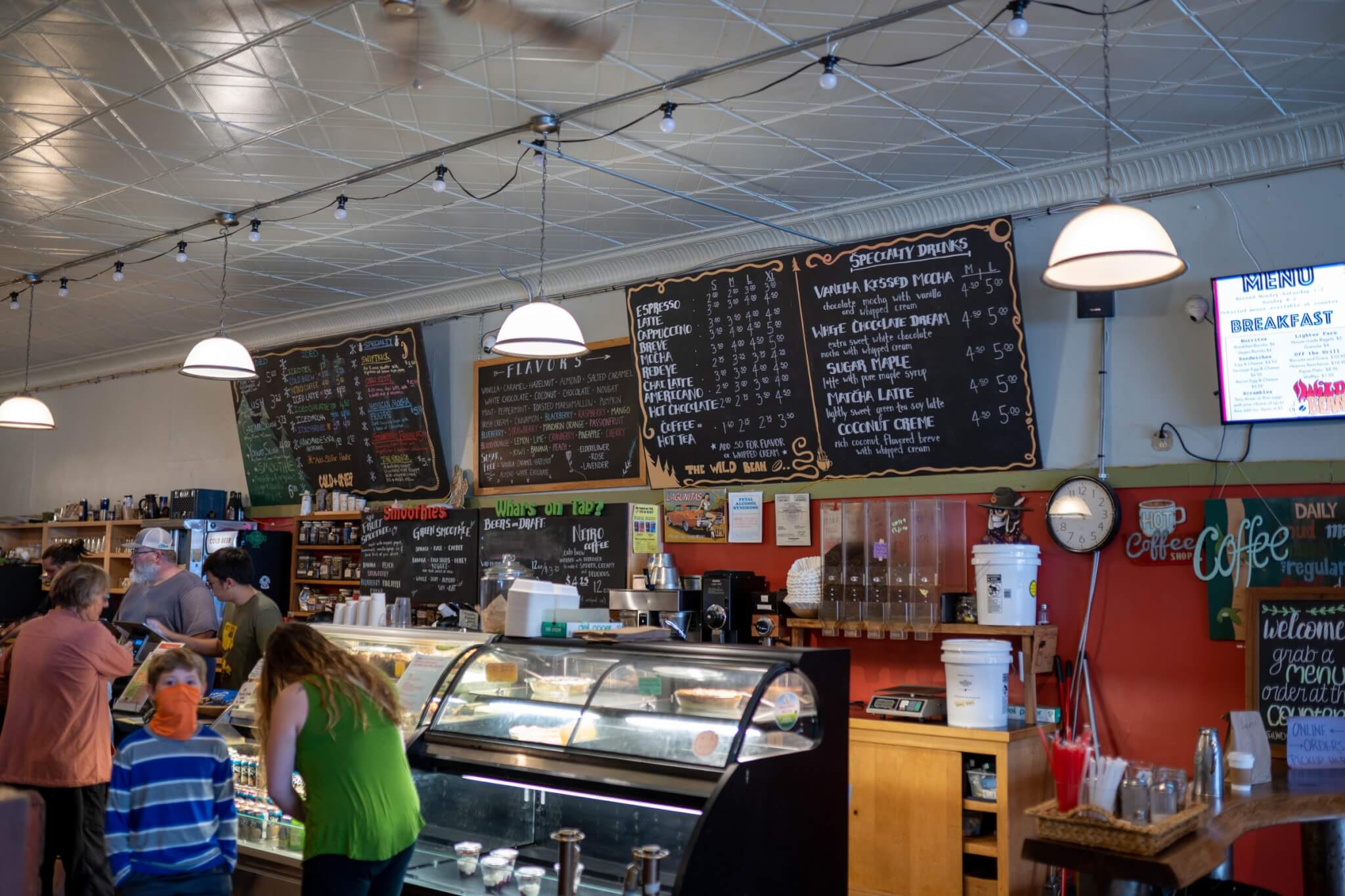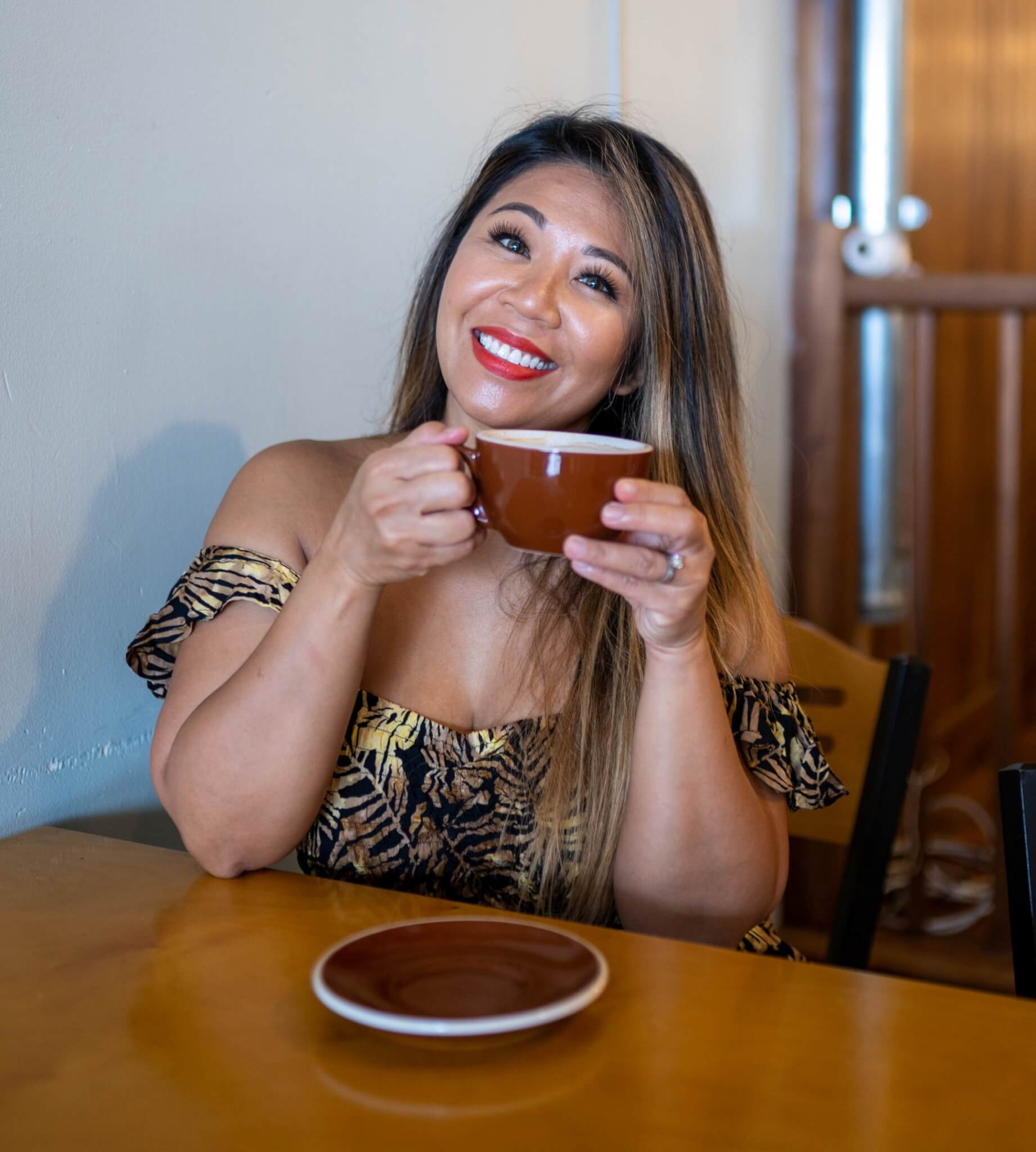 Later, we had lunch at Food and Friends. Yes, that really is the name, and it describes the feeling inside. You almost expect everyone to know each other.
We had a light snack given our afternoon plans, and by the time we left, we felt like a local. The staff was so friendly, and even when we needed to get going to stay on schedule, the cashier came around to help us close out our bill when our server was tied up. Their assistance and warm and sincere approach to helping us were much different than your typical experience. We found that wherever we went on this trip.
The highlight of our trip came at our next stop – The Salt Cave and Spa. Who doesn't like a nice massage while on vacation (or anytime, for that matter)? Dan and I have had many opportunities to get massages at many different places, and without a doubt, this was one of the best! The sense this would be something different hit us right away. While not on The Greenbrier property, this venue was in White Sulphur Springs, a short country ride down the road.
Already relaxed from the scenery, we pulled into The Salt Cave and Spa, which sits by itself in a few buildings on a hill surrounded by wildflowers. After heading up the stairs, we went to the building with the massage rooms and enjoyed another warm and friendly greeting during our quick check-in.
We then went to the couple's massage room, where Camie and Amanda proceeded to give us both a deep tissue massage. Everything about the experience was fantastic! The masseuses were terrific, with great talent to find those stress areas and work them. The products they used for the massage were different than other places we have been, enhancing the pleasure of the service.
The room was great, the lighting and music were ideal, and the location by itself provided a quiet and comfortable atmosphere. Their use of perfect pressure on the stress points and long flowing motions were just the right combination. They took their time to provide a great experience, and we would highly recommend them to anyone! As they say on those T.V. ads,"…but wait, there's more…."!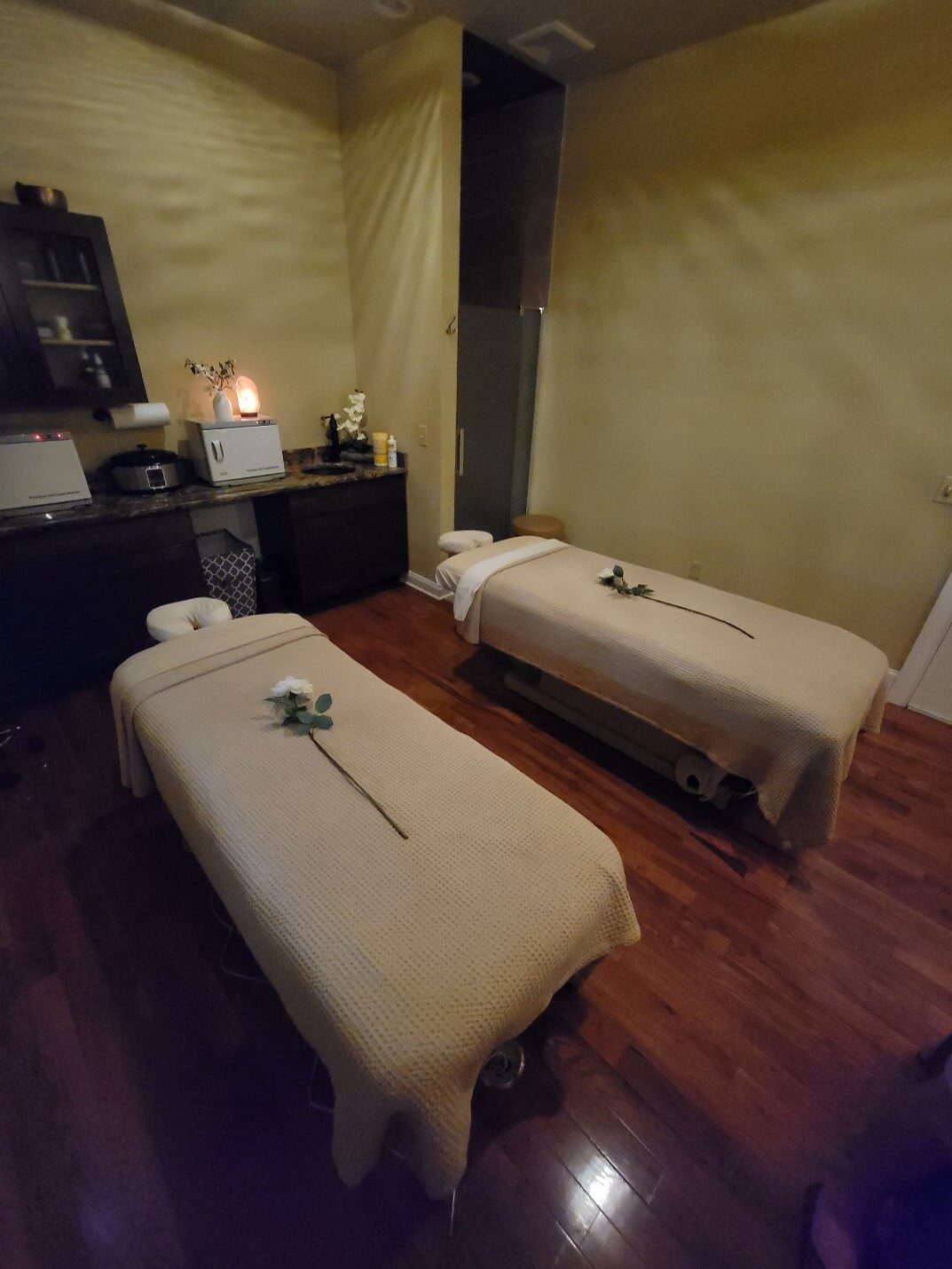 After our massage, we went next door to the Salt Cave, which neither of us had experienced before. It is precisely what you would expect it to be – a cave full of salt! When you walk into the building, you are in the middle of this man-made domed cave. Complete with brown mud walls, it looks so real, but the owners designed it to capture the look and feel of a natural cave.
Once we checked in, we went into a separate "cave" where you walk on salt crystals and sit down in a lounge chair that fully reclines. Then they start a machine that releases salt ions in the air for you to breathe, which has anti-inflammatory properties that may help reduce inflammation in the respiratory tract. This allows for higher oxygen intake, increased energy, and an improved immune system.
Having just come from a top-notch massage, this was the proverbial icing on the cake. Lying in this dimly lit cave, with just the sound of music, was such a relaxing experience. Dan noticed on his fit bit that his resting heart rate dropped to 58 while he was there! It was a surreal experience and one we will do again!
From there, we enjoyed another scenic ride on the country road (you know we kept hearing John Denver's "Take Me Home, Country Roads" in our heads the entire trip) back to a Lewisburg farm for a tour and tasting at the Hawk Knob Cidery and Meadery. We had a fantastic experience as Jason (their Sales Director) took us through the history of Appalachian hard cider and how Hawk Knob was founded to capture that tradition and heritage of local hard cider.
In the back of the tasting room, he walked us through the process and equipment used to make hard cider and how they only use local Appalachian apples to create the unique flavors they sell. For those who have done a winery tour, there are many similarities to how white wines are made. The history of this craft and his remarkable passion for honoring the age-old methods used were incredible to hear.
We then enjoyed a tasting of five of his ciders (after the cider mimosa appetizer). We learned more about the process, the use of old bourbon barrels for some flavors, and how they keep the product local and natural. It was a unique experience, and we left there feeling like we made a new friend with Jason. If you enjoy hard cider and appreciate an all-natural product, check out their website and support a small local business.
Our last stop in Lewisburg was dinner at the Stardust Café back in the downtown area. Another wonderful experience at a small establishment focused on an organic experience using quality ingredients, local sourcing, wines from around the world (and even some local Hawk Knob Cider), all accompanied with local hospitality. We shared the Lobster and Artichoke dip, and I enjoyed the Spicy Fish Stew while Dan had the Pasta Marinara.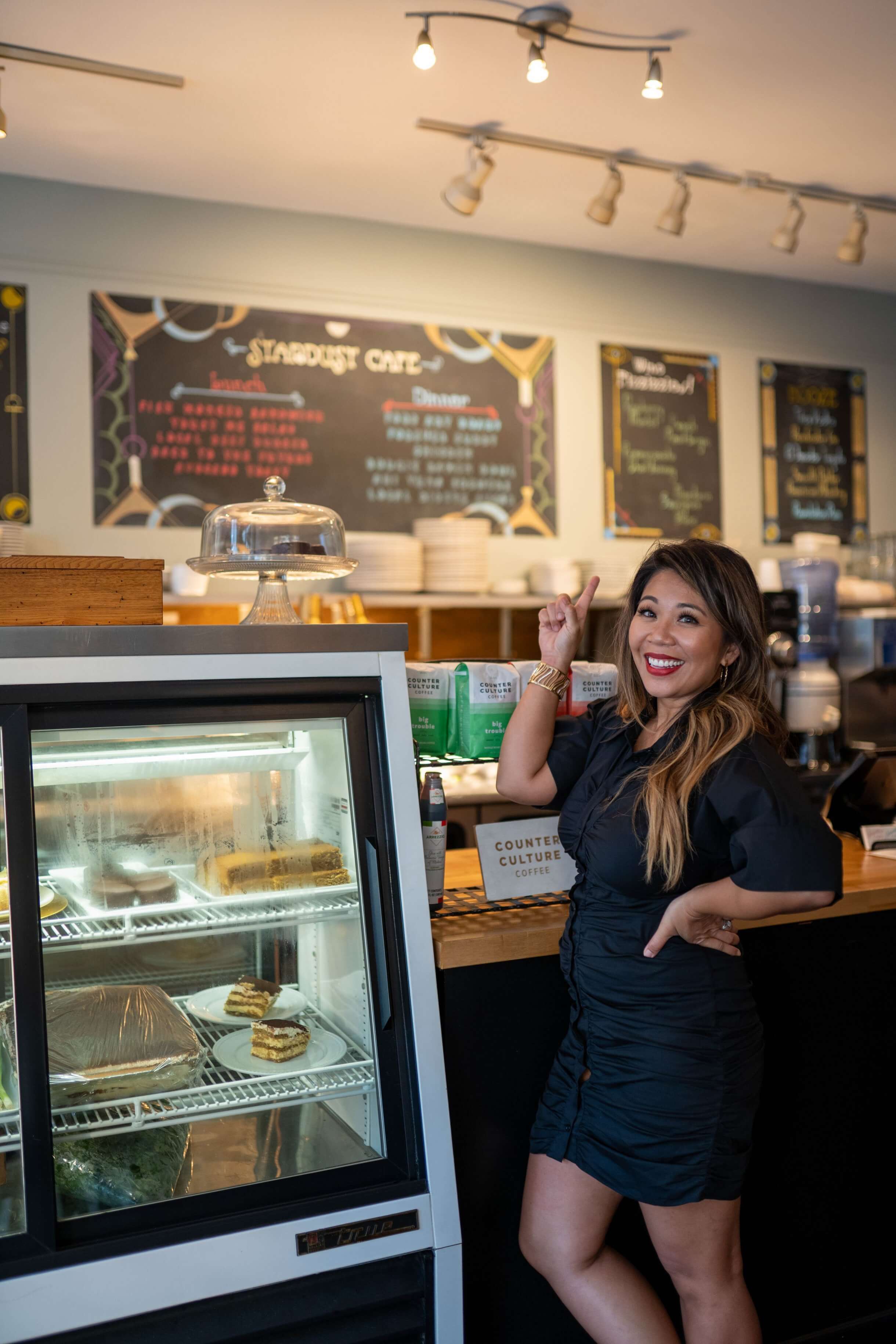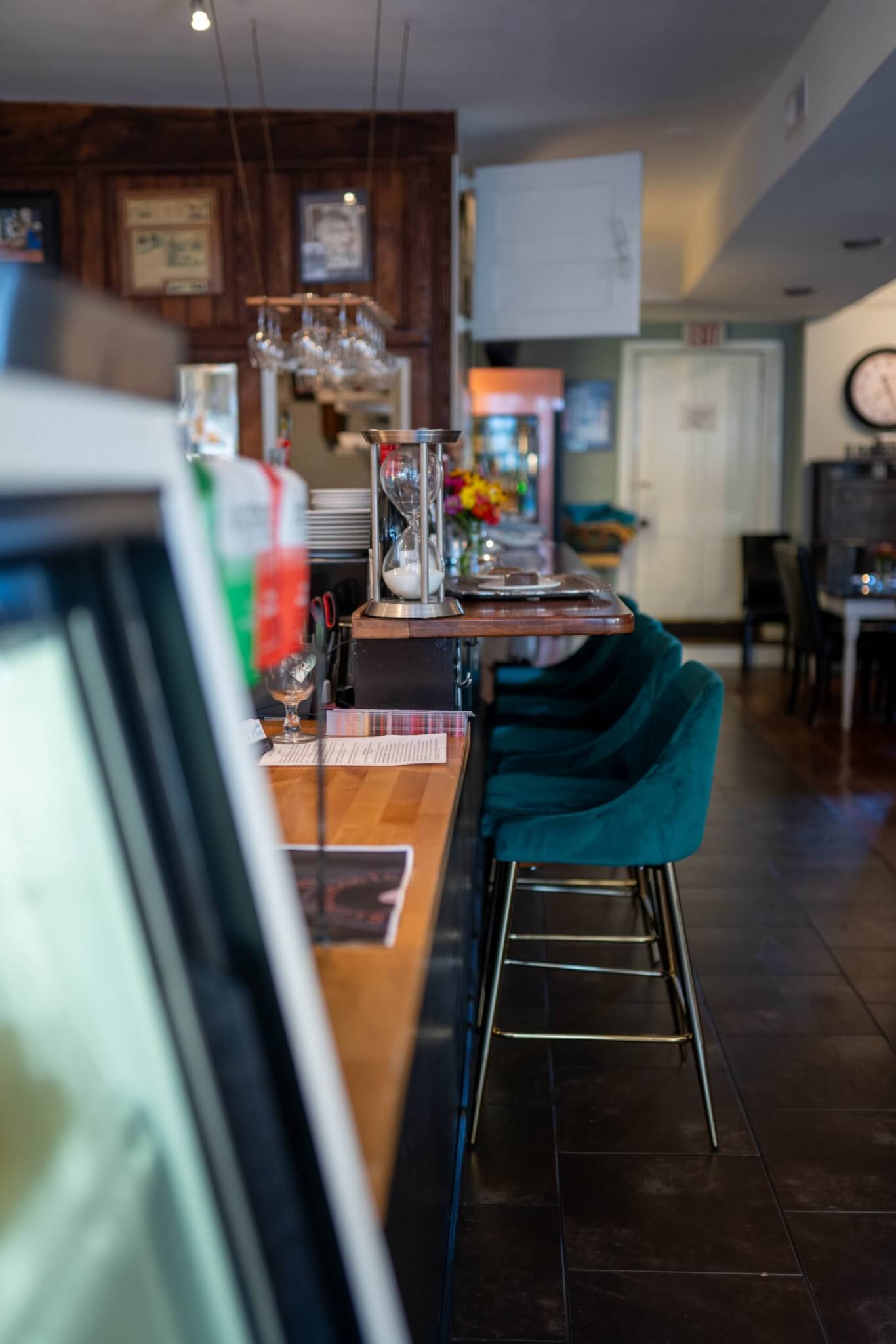 We spent the rest of the trip alternating activities between The Greenbrier and other venues in Lewisburg. We enjoyed breakfast in the Main Dining room at The Greenbrier.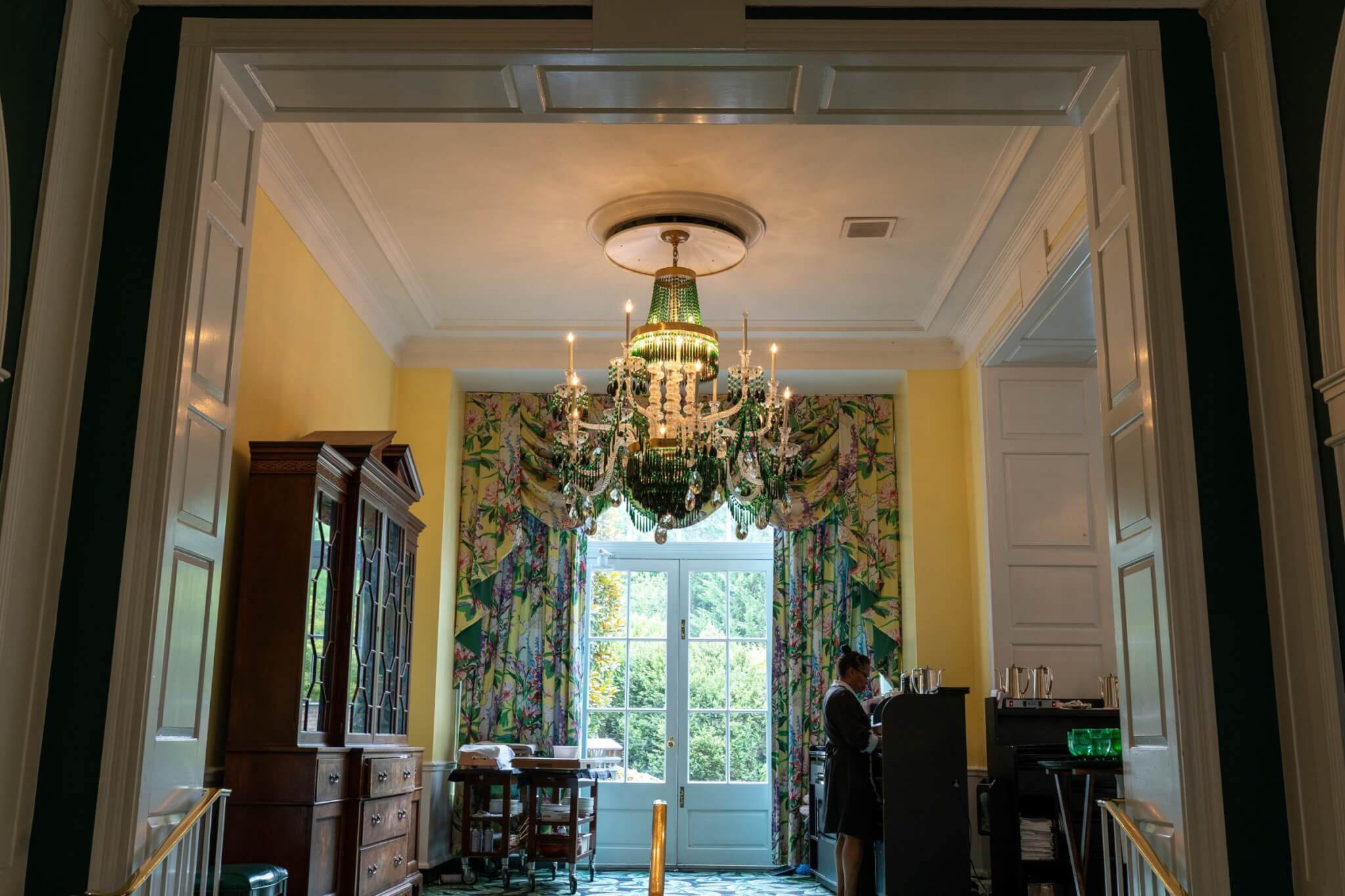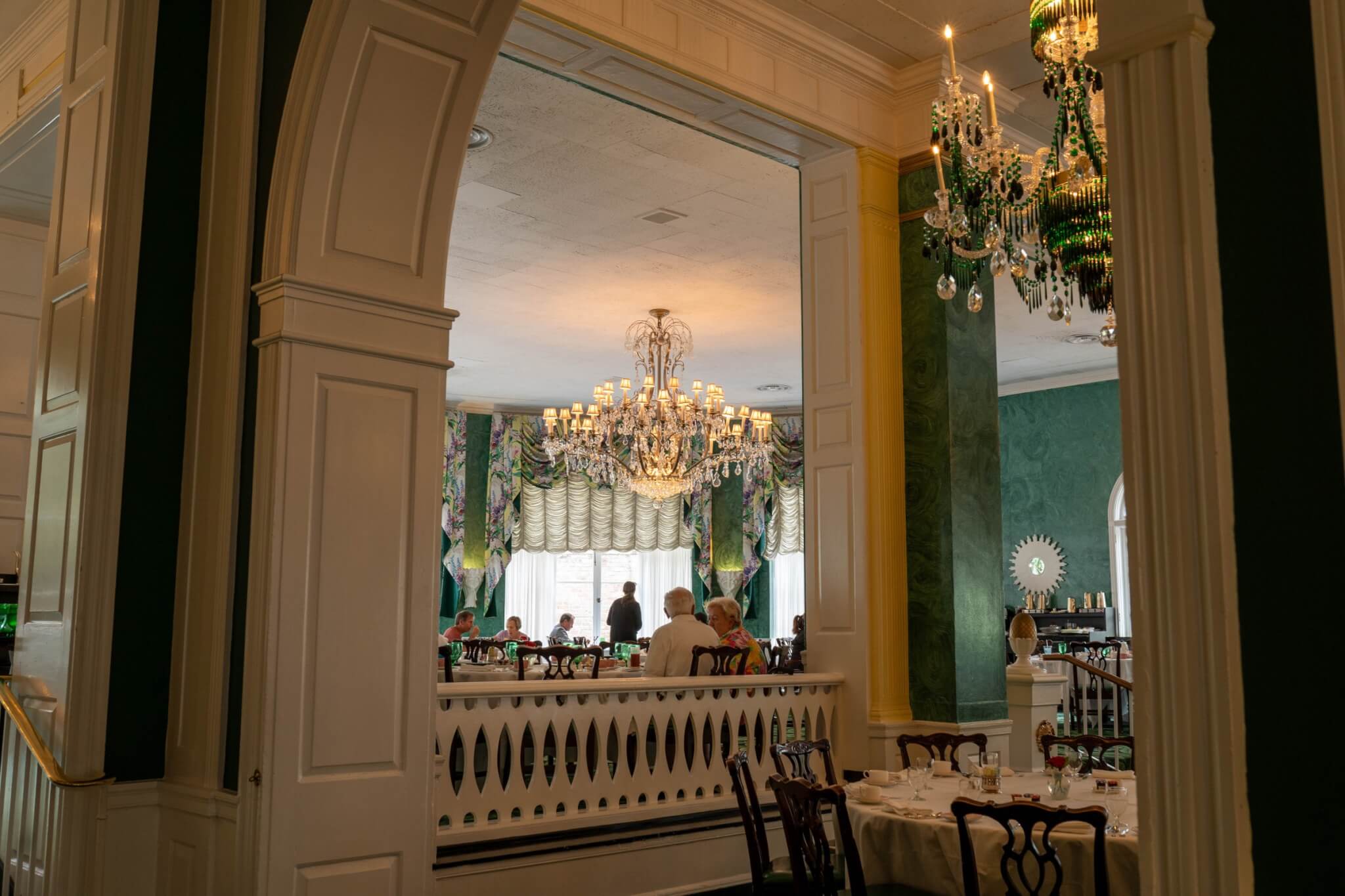 Like much of the resort, the room is decorated by Dorothy Draper, known as the pioneer of interior design. You can feel the anti-minimalist style she used with bold colors and large prints to bring the feel of luxury to her spaces.
We then took a carriage ride around the property to learn more about the history and see firsthand the many things the resort offers. Our coachman was Dillon, and despite having been on the job just over a month, he was full of fun facts and details about The Greenbrier. Seeing some of the 11,000 acres, so pristinely manicured, made you appreciate the effort required to keep up the grounds.
Later, we spent time by the infinity-edge pool overlooking the Allegheny Mountains. That was a popular place that day, with families gathered to enjoy the refreshing pool. Adjacent to the pool is the Tree Tops restaurant offering outdoor seating along the pool to enjoy lunch. You could sit at the restaurant or order lunch to be delivered to your poolside chair.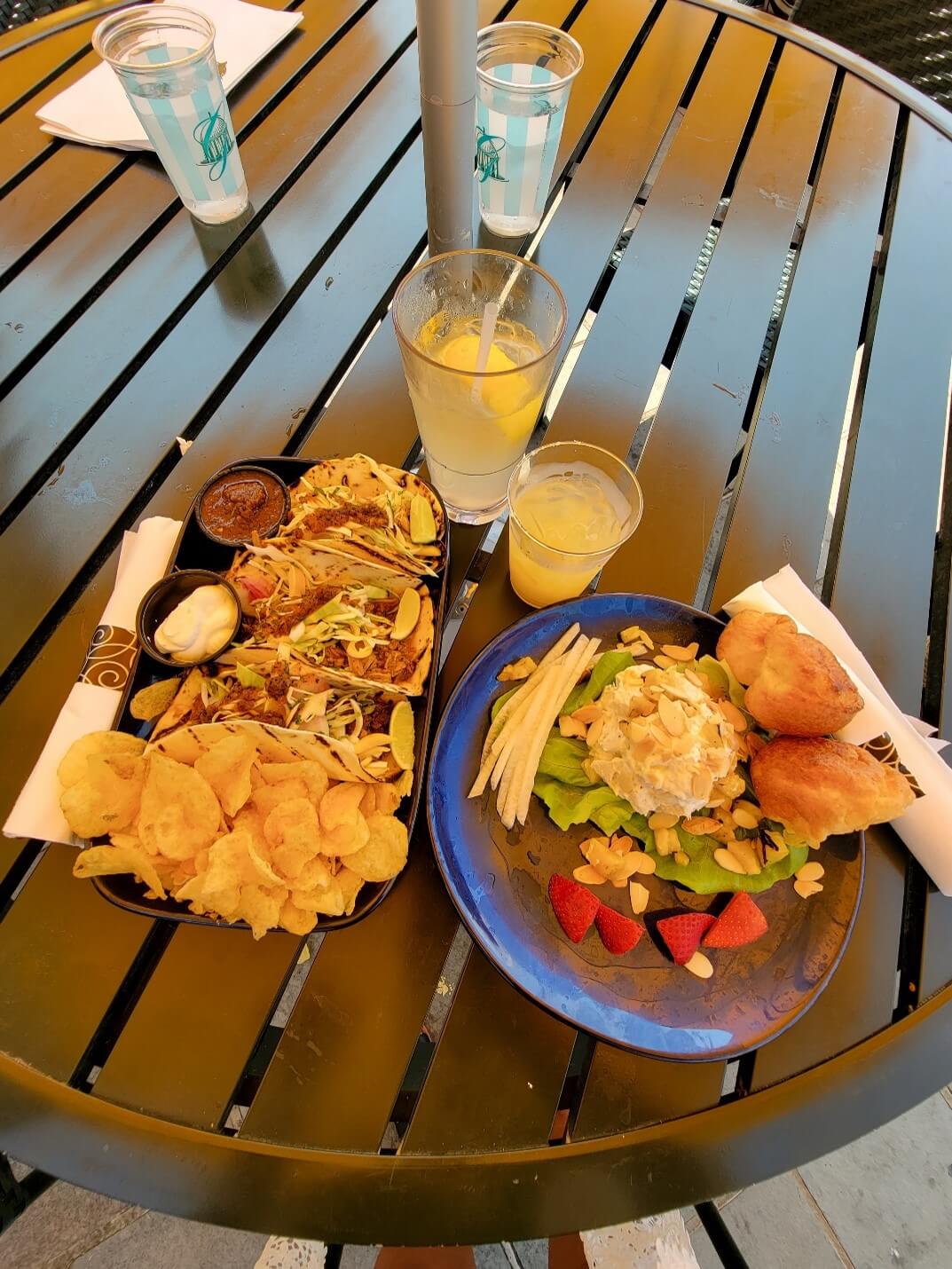 We finished our day with another trip to Lewisburg for pre-dinner drinks at the Briergarten (a cute play on the words "Greenbrier" and "Biergarten"). They had an excellent choice of beers both local and beyond (of course, along with Hawk Knob Cider for the non-beer drinker), which we were able to sample before dinner. Dan enjoyed trying out some of the new beers, so it was a nice way to start the evening.
We then walked 3 minutes down the road to The French Goat restaurant. It is a French-style bistro located in an old home, giving it that unique charm. We had great service and enjoyed Steak Frittes and Truffled Chicken. We finished off the evening with some unique desserts. One was a chocolate crème brûlée which we have never seen before. It was really well done, and we enjoyed it. We also had the crème brûlée cheesecake, where they take a lighter than N.Y. style cheesecake and caramelize the top for a different twist on a classic dessert.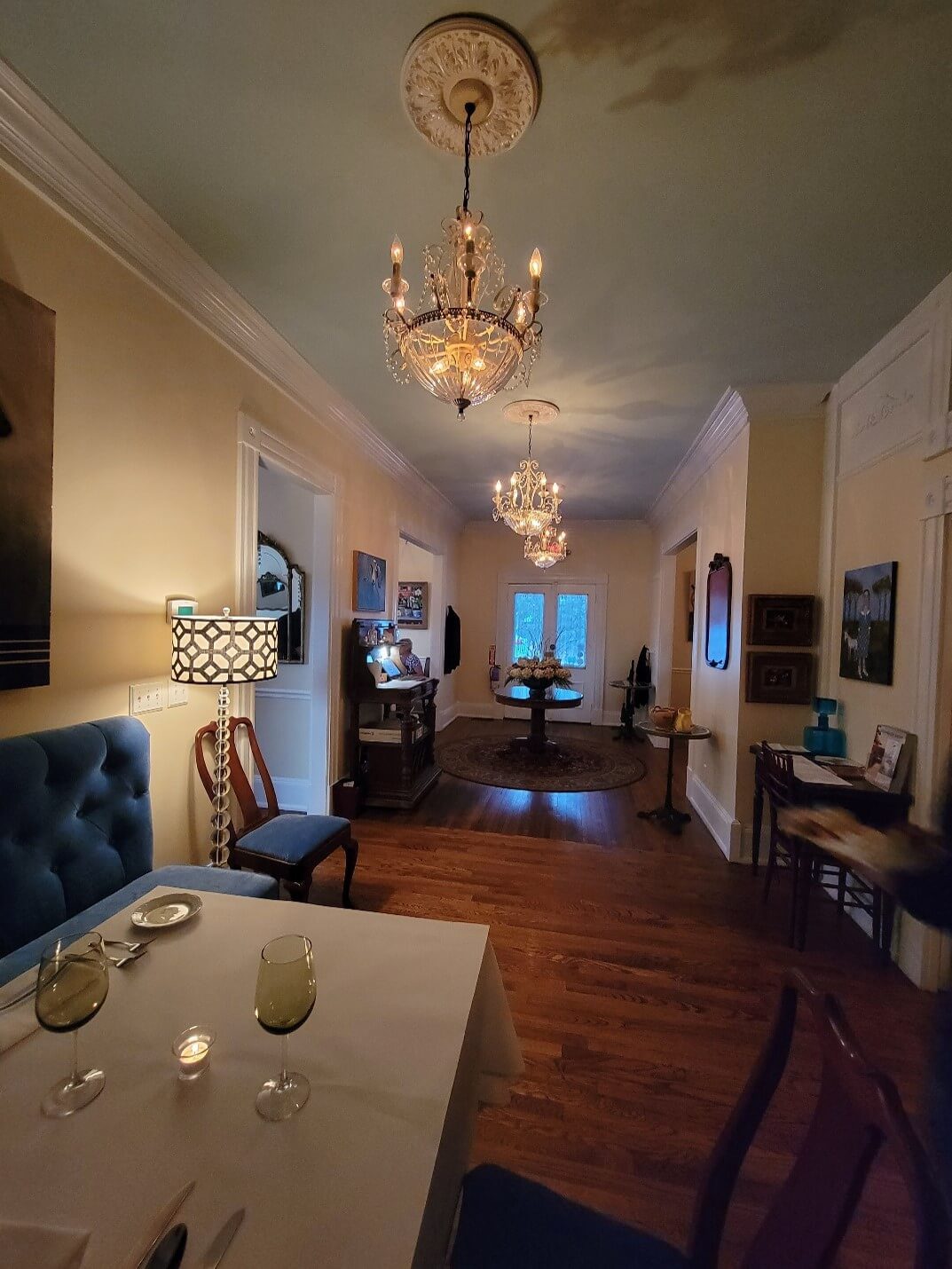 Great weekend getaway
As we drove home the next day, enjoying the scenic drive, we reflected on the trip and how much West Virginia had to offer. Given it is one of the states that borders Maryland, we realized it had never really come up on our vacation radar of places to go. This was a great chance to sample what it offers, and there is much to do! So much outdoor activity is available in addition to the places we went. They even have good skiing in the winter with venues like Snowshoe and Timberline Mountain for those not making the trek out west. Being a mountainous state, I can only imagine the fall scenery as you drive on endless miles of tree-lined streets with the mountains as your backdrop.
Make sure you add West Virginia to your vacation destinations – it is probably close by and is definitely worth a trip! "Almost Heaven, West Virginia…." – come see what inspired John Denver's classic song!
Thanks again to the West Virginia Department of Tourism for sponsoring this post!
Enter a giveaway to win a trip for two to West Virginia
OHHHH, and saving this best news for last! The West Virginia Department of Tourism is doing a giveaway for a free road trip to New River Gorge (America's Newest National Park)! This consists of a 4-night stay for you and a friend, a gift card for 5 days of meals and activities, and so much more! Be sure to enter here by October 31, 2021! Good luck!