Here's some fashion inspiration on dressing to stand out for that unique horse racing event like the Preakness. Providing some helpful tips to ensure your outfit impresses from the starting gate to the final stretch!
This is a sponsored post with America's Best Racing. My reviews remain honest, and all opinions are my own.
Disclosure: Some of the links on this post are affiliate links, which means I may receive a small commission if you click a link and purchase something I have recommended. While clicking these links won't cost you extra money, they will help me keep this site up and running! Please check out my disclosure policy for more details. Thank you for your support!
All photos by Vernon Davis of VSDavis Photography. This Maryland-based photojournalist specializes in portraits, weddings, and street photography. You can follow him on Instagram @vsdavisphotography or his website.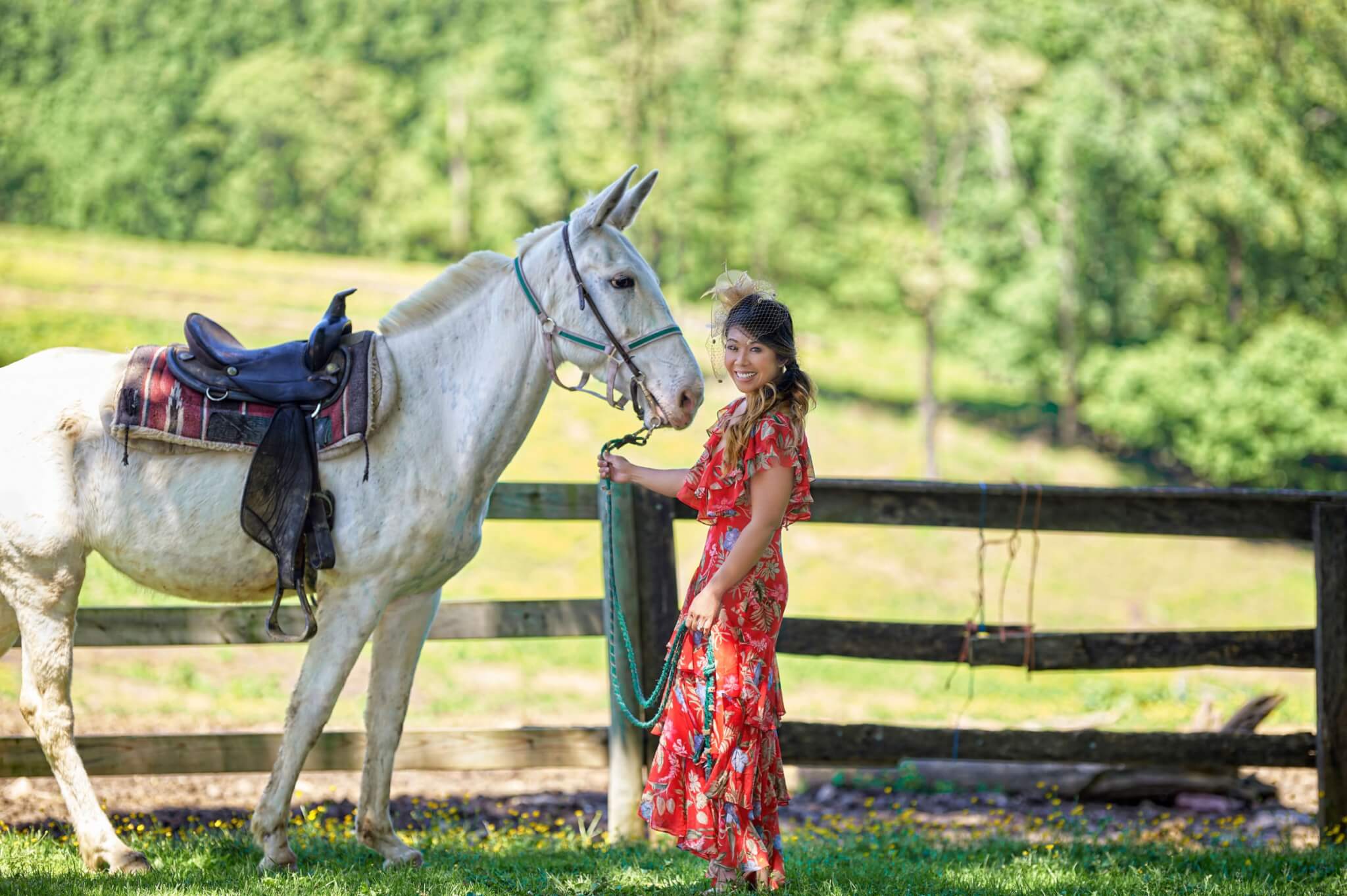 I've attended the Preakness in the past, and it was so fun to see all the latest fashion, especially when it comes to fancy headpieces!
Fun Fact: The Preakness, the second jewel of the Triple Crown, is held at Pimlico Race Course located in Baltimore, Maryland. Did you know that the Preakness has been around since 1873 (Kentucky Derby started in 1875, and Belmont Stakes began in 1867) and was named after the horse that won the Dinner Party Stakes in 1870?
Thanks to America's Best Racing, I had the opportunity to attend my first horse racing event! America's Best Racing is a source for those interested in learning more about the sport of Thoroughbred horse racing events in North America. The platform's main focus is on the sport's lifestyle and competition. It was created and funded by The Jockey Club. If you will be in town for the Preakness and are new to the Baltimore area, here's an article they featured on the food and drink guide to the city.
OK, I'll stop horsing around (pun intended) and get to the point of this blog post. Let's talk about what to wear to horse racing events such as the Preakness (or Belmont or Kentucky Derby).
Spring dresses, blazers, and jumpsuits are among the favorites. Depending on your hat or fascinator, you might want to keep this simple and let the hat be the highlight of your outfit. Keep an eye on the weather in case of rain, and don't forget to pack that poncho (FYI – umbrellas are not allowed for the Preakness)
We know the hats are the standout accessory for this event! Unless you live in England, where you might be able to wear it on more than one occasion, this is the time to showcase that fascinator you've been eyeing. Go big, bold, or colorful; this is the time to wear it proudly
As for shoes, keep in mind the grounds might be a little difficult to walk around, so consider wearing wedges or block heels as opposed to stilettos. Bring comfortable backup shoes since this is an all-day event. In case of rain, pack a pair of rain boots for safe keeping
Jewelry can be kept simple (or even omitted), especially if you have that show-stopping fascinator or hat on display
Find a clutch or small over-the-shoulder bag that matches your outfit perfectly. You can also put that small bag inside a bigger bag (for Preakness, it can't be bigger than 18×18) to carry sunblock, a change of shoes, extra phone chargers, and any other essentials
I've put together a few looks for inspiration, so click on the photo or link to shop!
Shop the Look
Something Pant-cy
Who says dresses are the only way to get a good glam look? You can still achieve a chic look wearing a jumpsuit or fancy pants! A beautiful lace jumpsuit does the trick, but if you aren't feeling the challenge of wearing one (we all know how tricky those trips to the bathroom can be wearing a jumpsuit), you can opt to wear a pantsuit instead. Boss babe vibes don't just have to be worn to the office! These are great for going to outdoor events as well! What's great about this plaid pantsuit is it's something you can definitely wear again together or as individual pieces throughout spring and even summer.
Classy Chic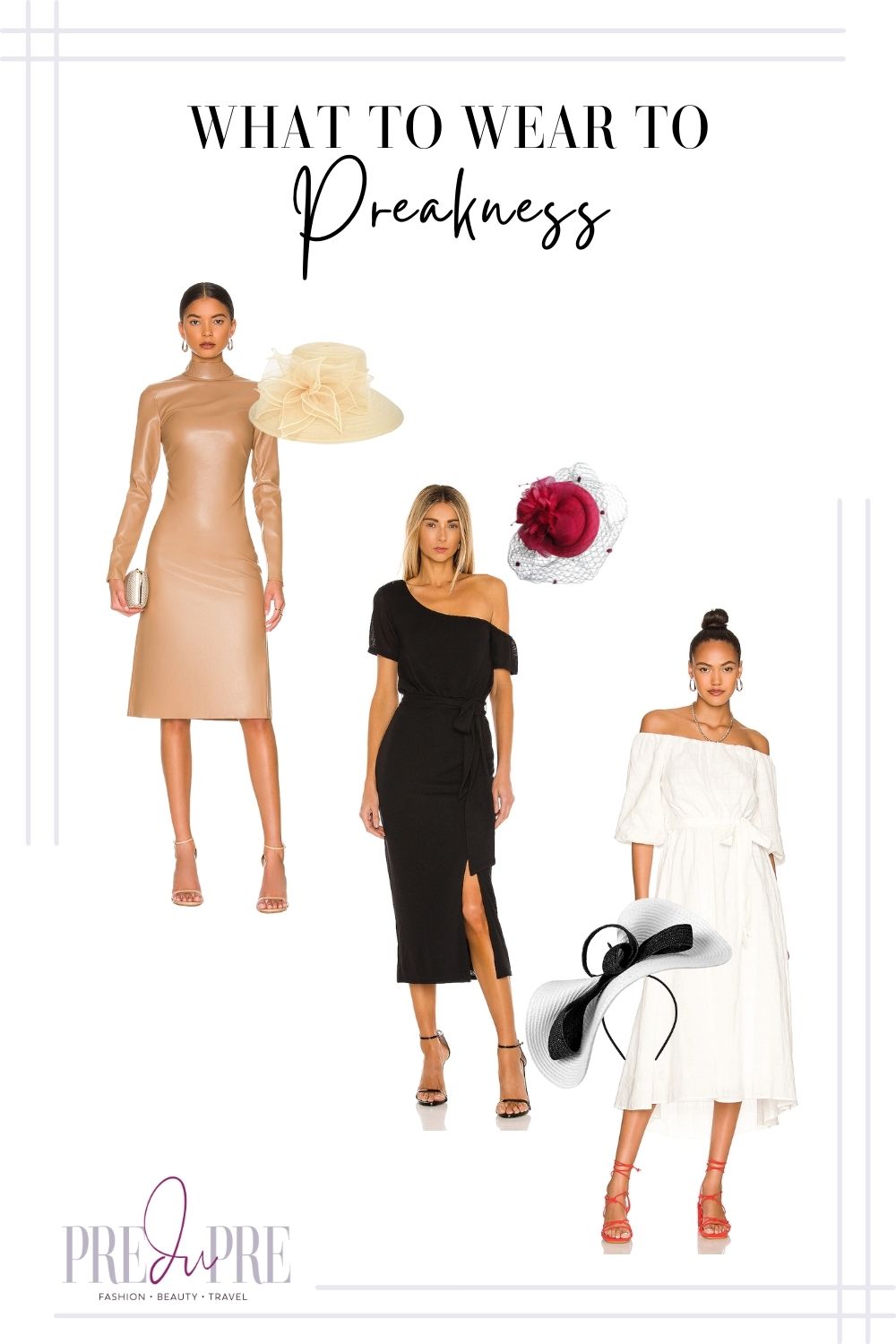 Classics are always in style. In this case, what I mean by classics is a neutral and simple dress. Whether it's black, white, brown, gray, or navy, these colors are sure to make you look good at Preakness! The best part is your hat will surely stand out. Here I feature a simple yet oh so sleek leather dress in a beautiful shade of brown. If wearing brown makes you feel too neutral, then a classic LBD is perfect. Of course, feel free to change things up by pairing it with a bright red fascinator.
Texture Fun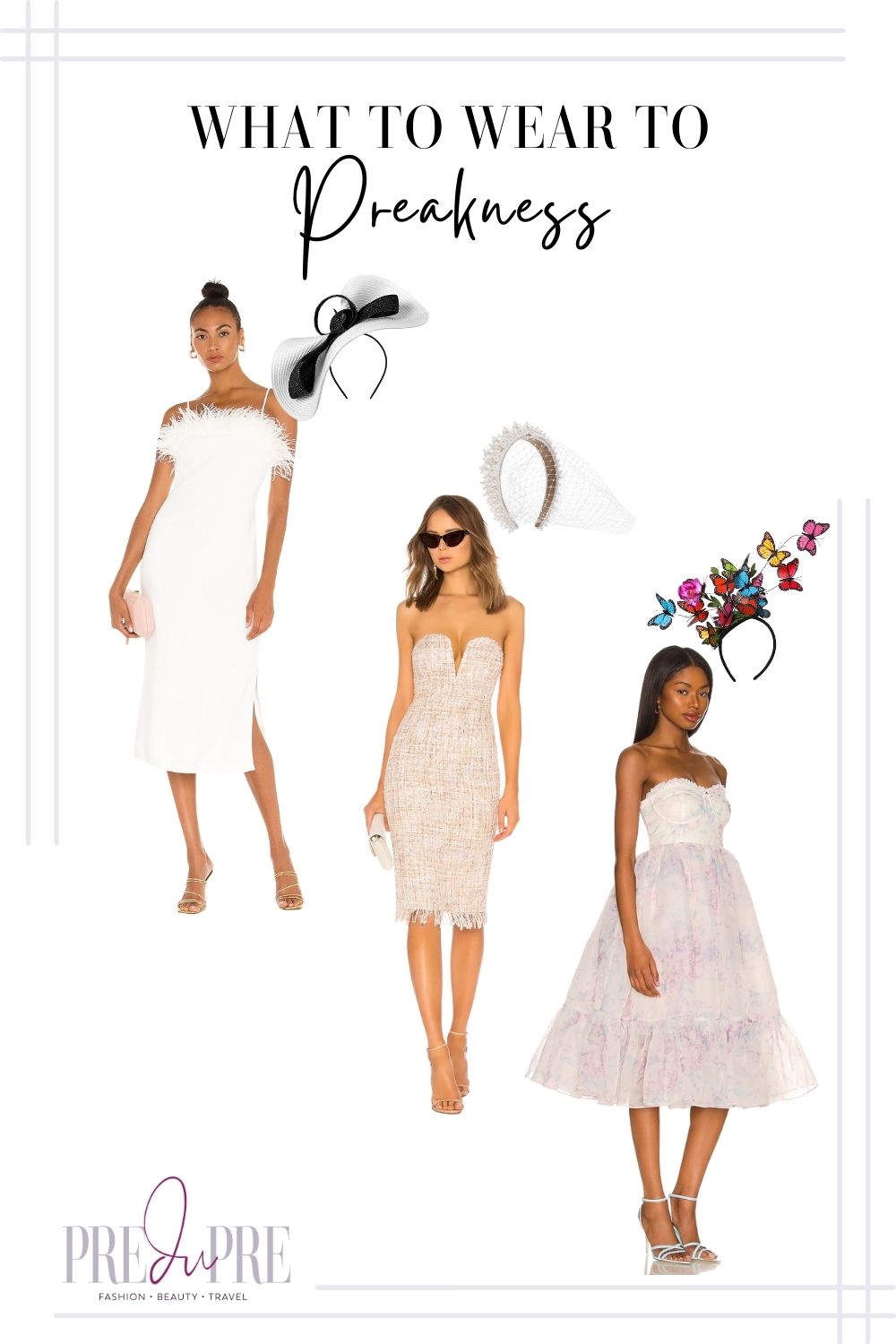 Texture is a great way to go if you're more adventurous! Add some fun with a classy dress with a feather trim neckline. Not a fan of that kind of "froo-froo"? Maybe a dress with sequins and fringe or a tulle dress will be more your fancy for that extra "princess-y" drama.
Floral Feminine
You can't go wrong with florals! Like the classic neutrals, a floral print outfit is a classic piece on its own. Most likely, you already have something floral in your wardrobe, so this is an accessible version to pull out for the event! Whether it's a midi, maxi, or in between, a floral dress paired with a neutral-colored hat or fascinator is a great look to go for at Preakness.
Stand Out Loud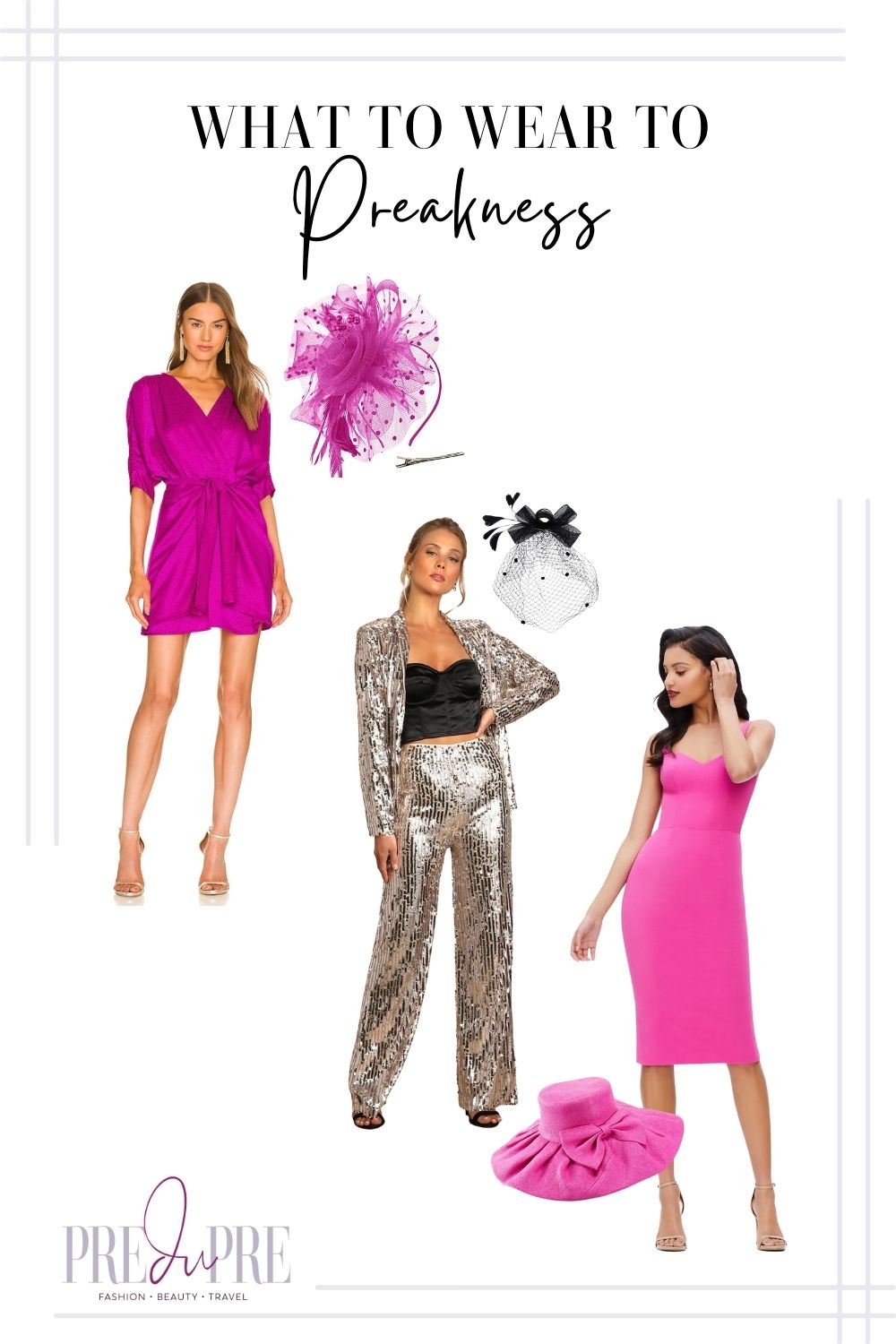 If texture isn't your way of daring, color is a great way to be bold. Hot pink is our favorite color we've been seeing since fall, and it looks like it is here to stay! Try other bold colors or textures like a silver sequin pantsuit.
Wild Side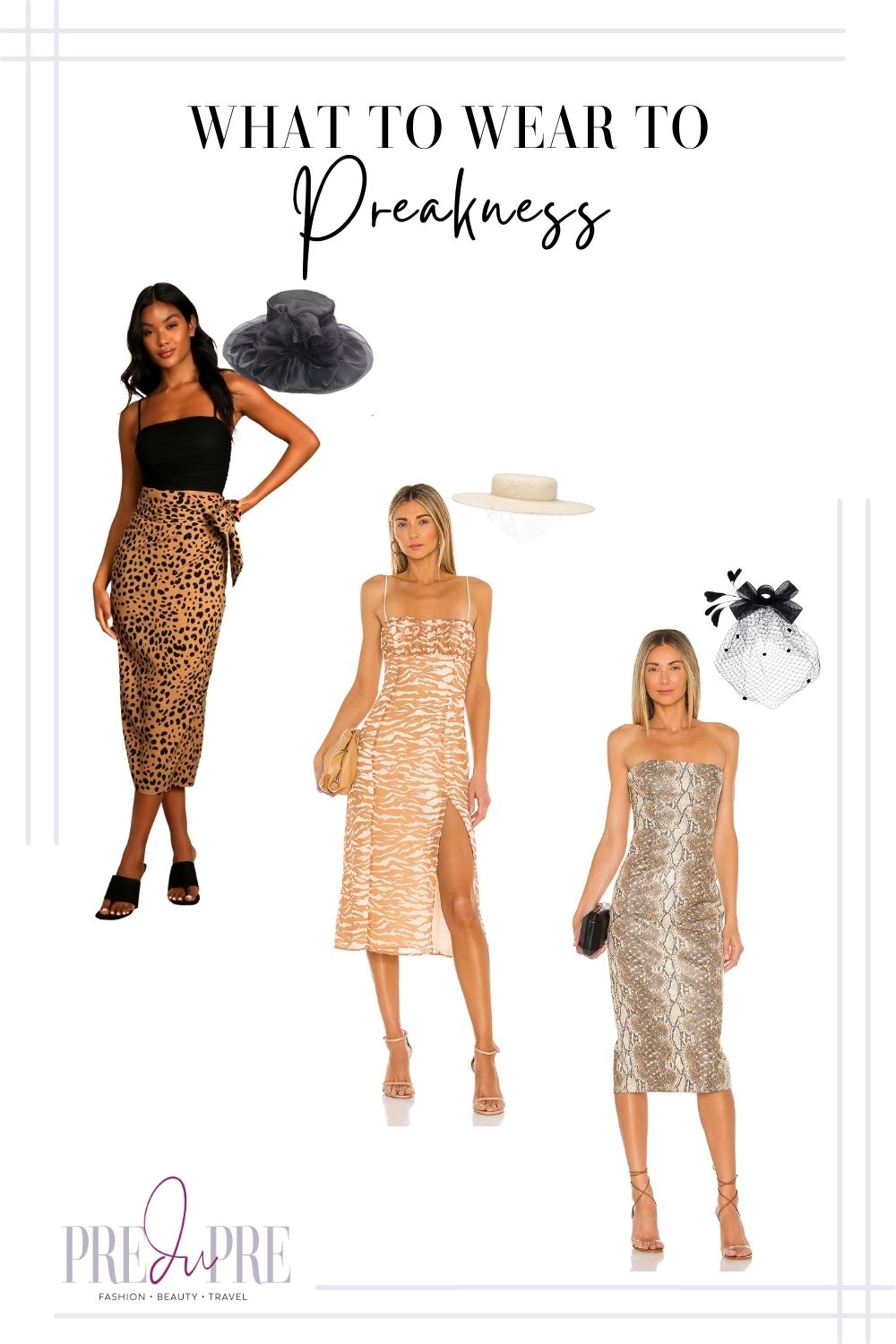 You know my love for prints, so I've included it here in my round-up of clothing options for the event! Animal prints are an option to consider. Dresses are a great way to start, like this snakeskin dress, but it doesn't have to be just that. You can also opt to wear a skirt paired with a black tank for a more subtle wild look.
---
Those are a few suggestions I have for you this year! Did anything catch your eye?
Have SO much fun at the event! If you're placing a bet, good luck to you, and may the best horse win!