Ever wonder what to wear to a wedding? I've put together a comprehensive wedding guest attire guide for you!
Disclosure: Some of the links on this post are affiliate links, which means I may receive a small commission if you click a link and purchase something I have recommended. While clicking these links won't cost you any extra money, they will help me keep this site up and running and keep it ad-free! Please check out my disclosure policy for more details. Thank you so much for being so supportive!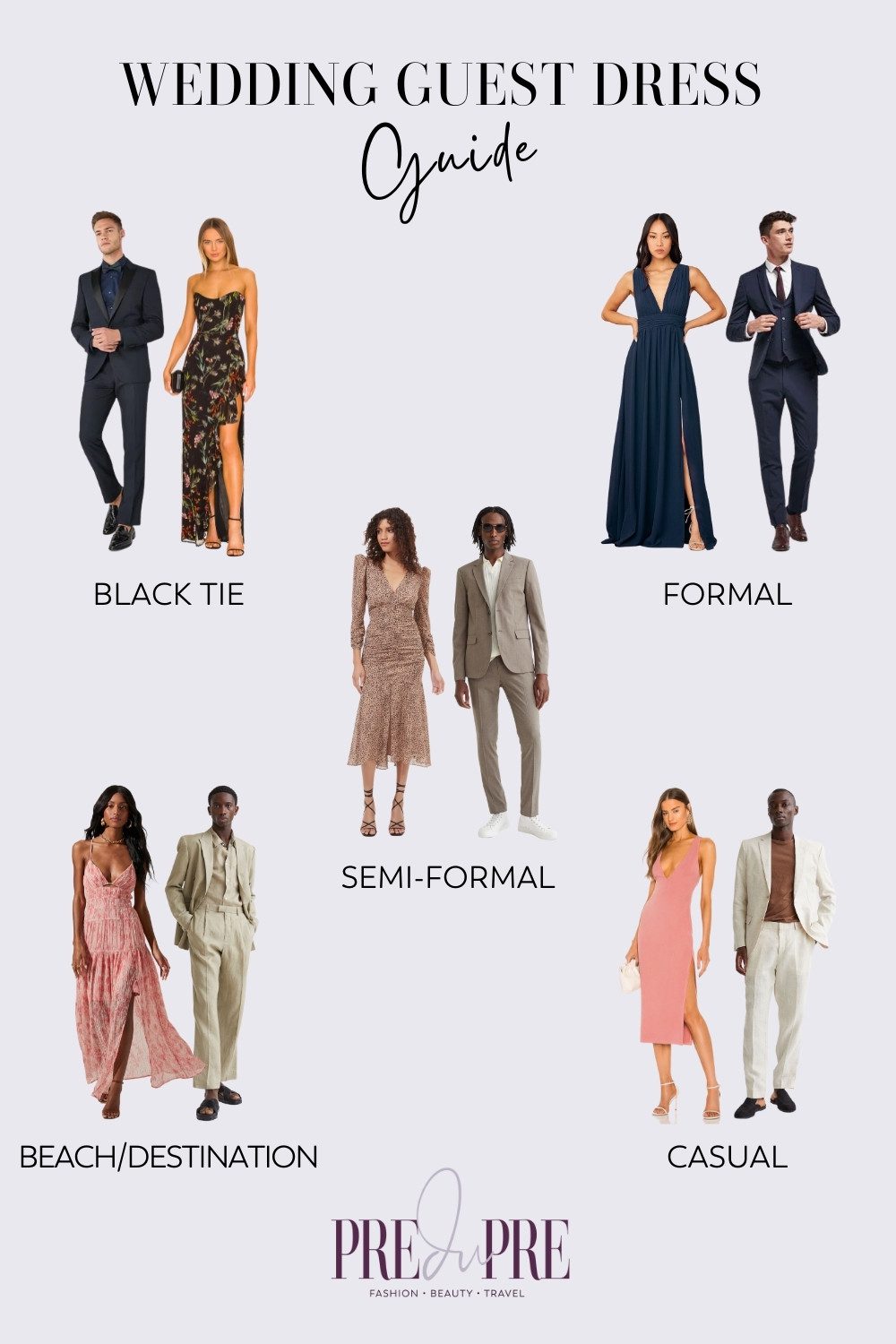 ---
Don't you just love weddings?! Nothing more beautiful than witnessing two people express their love and exchange their vows to one another. Of course, it's also fun to celebrate the event and get a chance to dress up! If you need tips or a little inspo on what to wear to a wedding, you've come to the right place. The wedding guest dress code can get a bit tricky between black-tie, formal, and semi-formal looks, so we are here to bre
To make it easier, I've narrowed it down to several wedding looks for the different wedding themes:
Black tie
Formal
Semi-Formal
Beach or Destination
Casual
Themed
Before going through different wedding guest outfits, let's go over a few things.
Why Dress Up?
A dress code is usually included when given a wedding invitation because the couple has a vision in mind. While your presence is what matters the most, your dressing up is a sign of respect (especially when the couple took the time to create a wedding dress code or theme). When a theme is involved, it usually means the couple wants you to dress accordingly. For example, "an all-white" dress code is an exception to the "don't wear white" rule.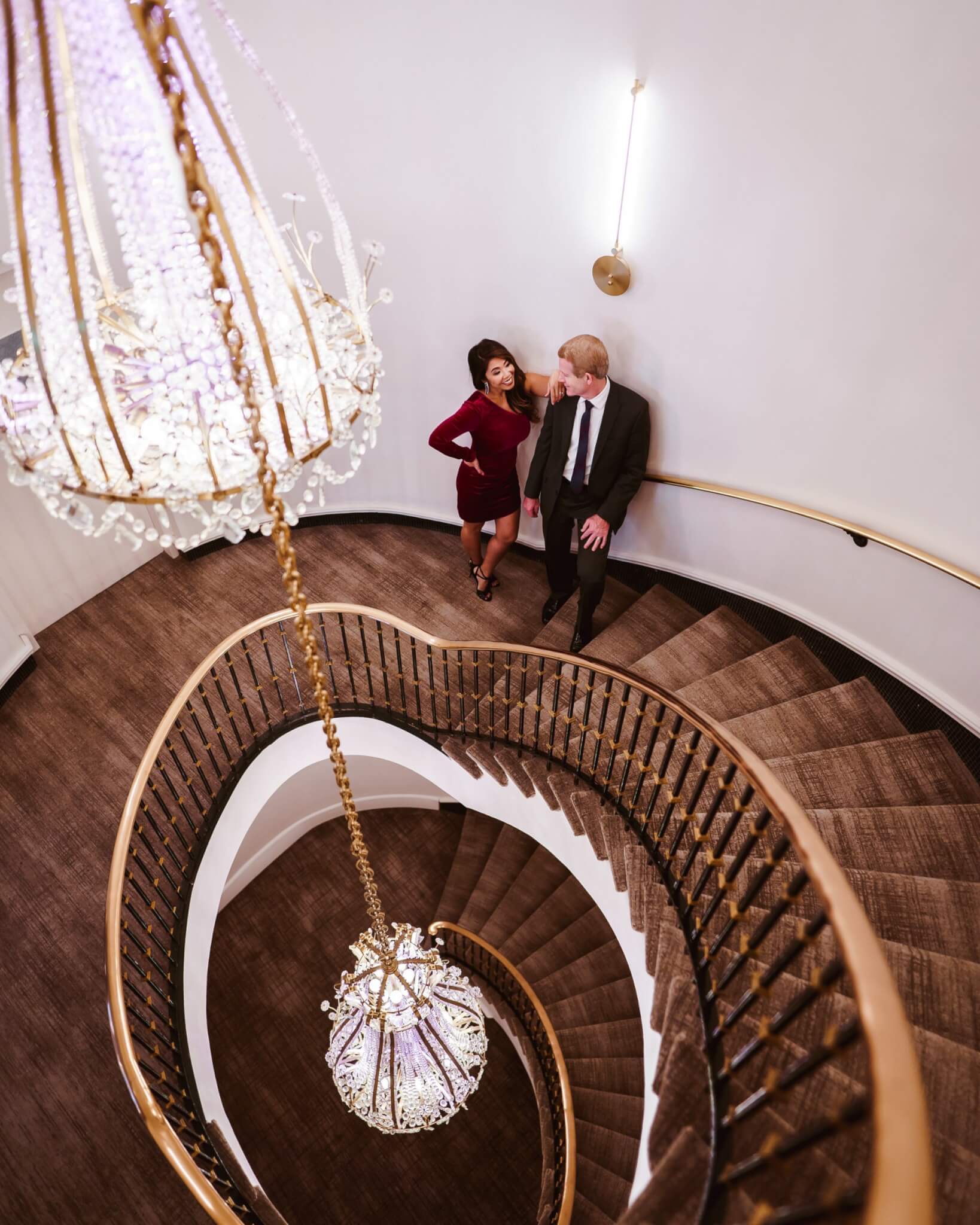 In some cases, some couples ask their guests not to worry about their attire and show up however they want. This can be confusing, so consider the location of their wedding, the time of day it's taking place, and a theme incorporated. Find something that makes you feel confident. As the saying goes, "If you look great, you'll feel great"!
What Not To Wear
With that said, there are several don'ts you should know. For example, the well-known "Don't wear white" rule (or off-white, cream, or champagne) is not to steal the bride's spotlight. The bride deserves to be the center of attention, so you don't want to do anything to upset her. As mentioned above, if the couple requests an all-white-themed wedding (which has been trending lately), it's okay to do so.
Jeans, hats, and non-collared shirts are also a no-no in a wedding. Unless it's a western-themed wedding, then it's appropriate. But usually, it's discouraged to wear such clothing. I know you may be wondering who would wear such things, but you'd be surprised how casually people dress! It looks like an eyesore among the crowd, especially in photos with the bride and groom.
Another thing to avoid is wearing something too revealing or too short. If you're constantly pulling on the hem of your dress/pants or lifting your neckline/fiddling with your collar, then that means it's not comfortable.
Avoid looking unkempt and wrinkled. Take time to get your outfit steamed and pressed for the wedding. I can't believe I even have to say that, but I have seen it a time or two!
Last but not least, don't underdress or overdress, especially if the dress code is straightforward. The goal is to compliment the couple and not to take away attention.
What To Wear
Now we've got the don'ts sorted out, let's go over the different ways to dress up for weddings! The goal is to feel good about how you look. Your presence matters most to the couple, so don't stress out for that perfect wedding guest outfit.
Remember to have fun! Pick an outfit that makes you feel comfortable, so you'll feel like partying all day or night (or both, haha)!
I have put together a few dresses for you to pick from below! Just double-click on the images to shop!
Black Tie Wedding
A black-tie wedding connotes that the wedding is formal and is usually held in the evening.
Women: Floor-length gown is most appropriate. Recently, it has been acceptable to wear mid-length, cocktail, or tiered dresses, as long as the material, cut, or embellishment is formal. Women may also wear an elegant pantsuit or a women's style tuxedo.
Men: Tuxedos are usually the attire of choice and probably the only kind of wedding it is appropriate to wear. Pair a dark tuxedo with either vest, cummerbund, suspenders, or bow tie or tie. In some cases, a black suit and black tie will do.
Formal Wedding
A formal wedding is similar to a black-tie wedding, with the difference that men aren't required to wear a tuxedo.
Women: For a formal wedding, the choices for women are the same as a black-tie wedding: floor-length gown, cocktail dress, or an elegant pantsuit.
Men: Wearing a tuxedo is optional since the wedding is less formal than a black tie. Wear a dark suit, white shirt, and tie.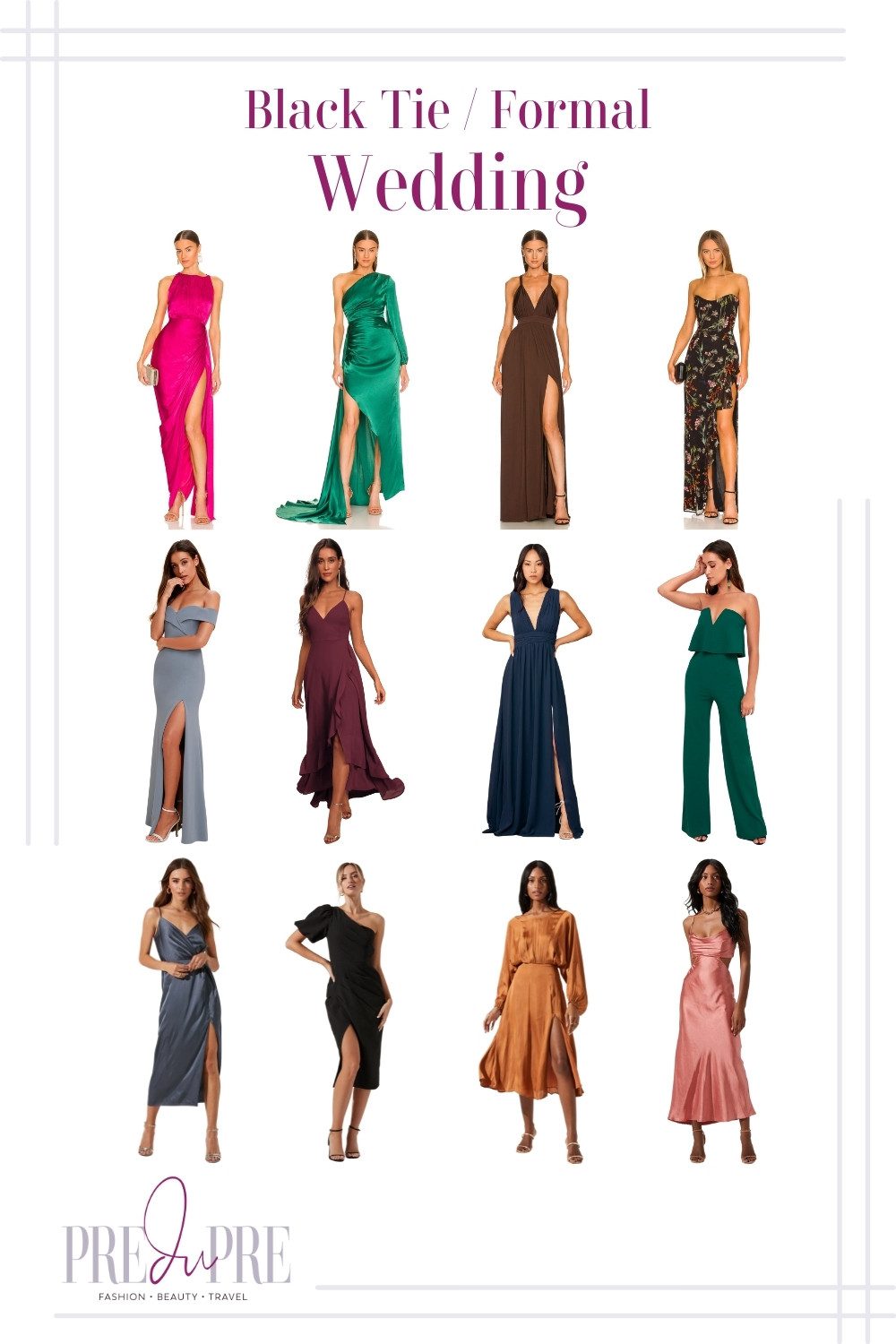 ---
Semi-Formal Wedding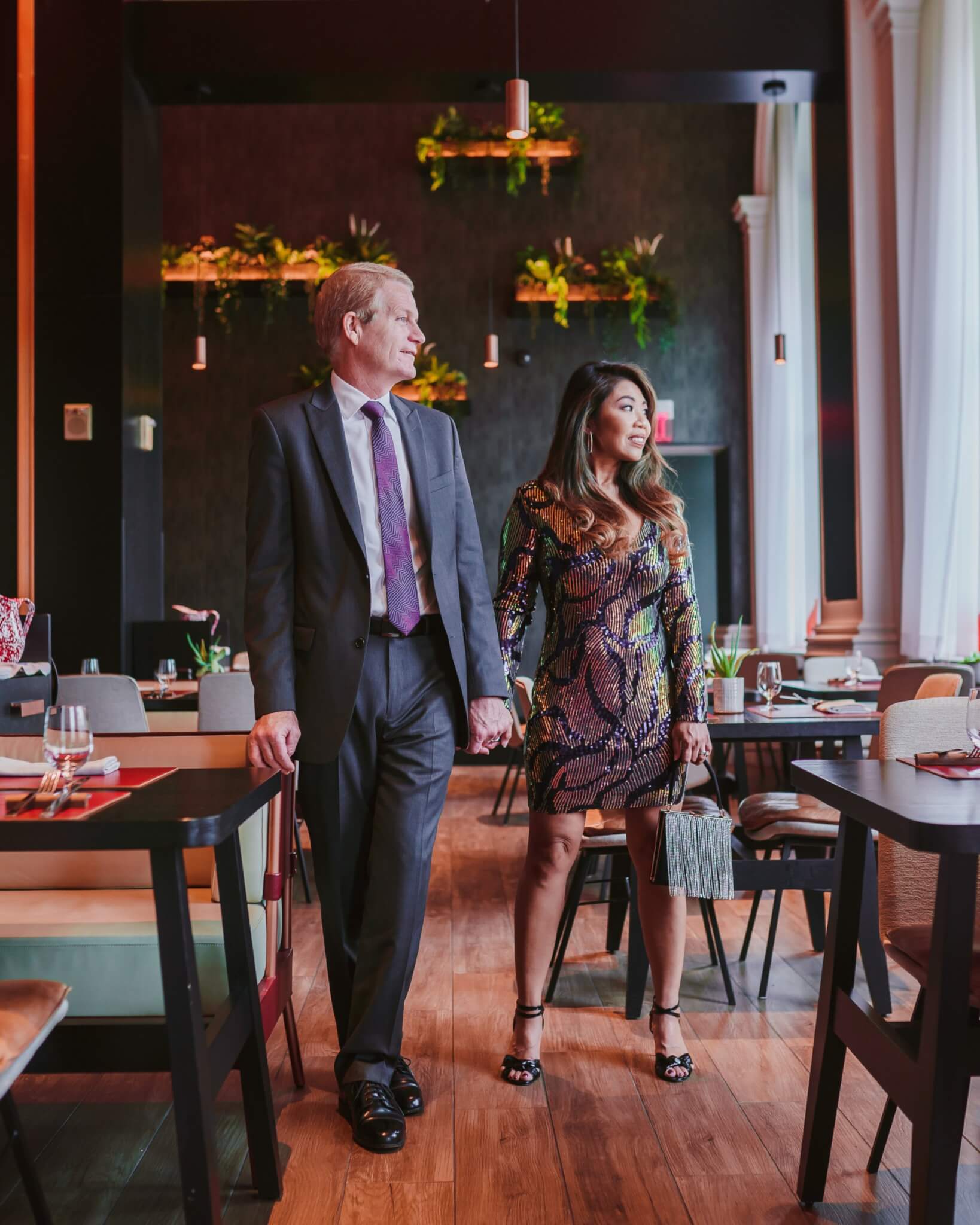 A semi-formal wedding is more of a dressy casual event. What you wear will depend on the time and venue of the wedding: dark, formal colors for an evening wedding and light colors for a daytime wedding.
Women: Dresses in cocktail length are great, but women can also opt to wear a mid-length or ankle-skimming hemline like a maxi dress. Fabrics such as satin, chiffon, silk, or velvet (if it's a wedding in the winter) are suitable.
Men: A dress shirt and slacks work great. Of course, take into account the time of day and theme to pick the color to wear. Men also have the option to wear a tie at a semi-formal wedding.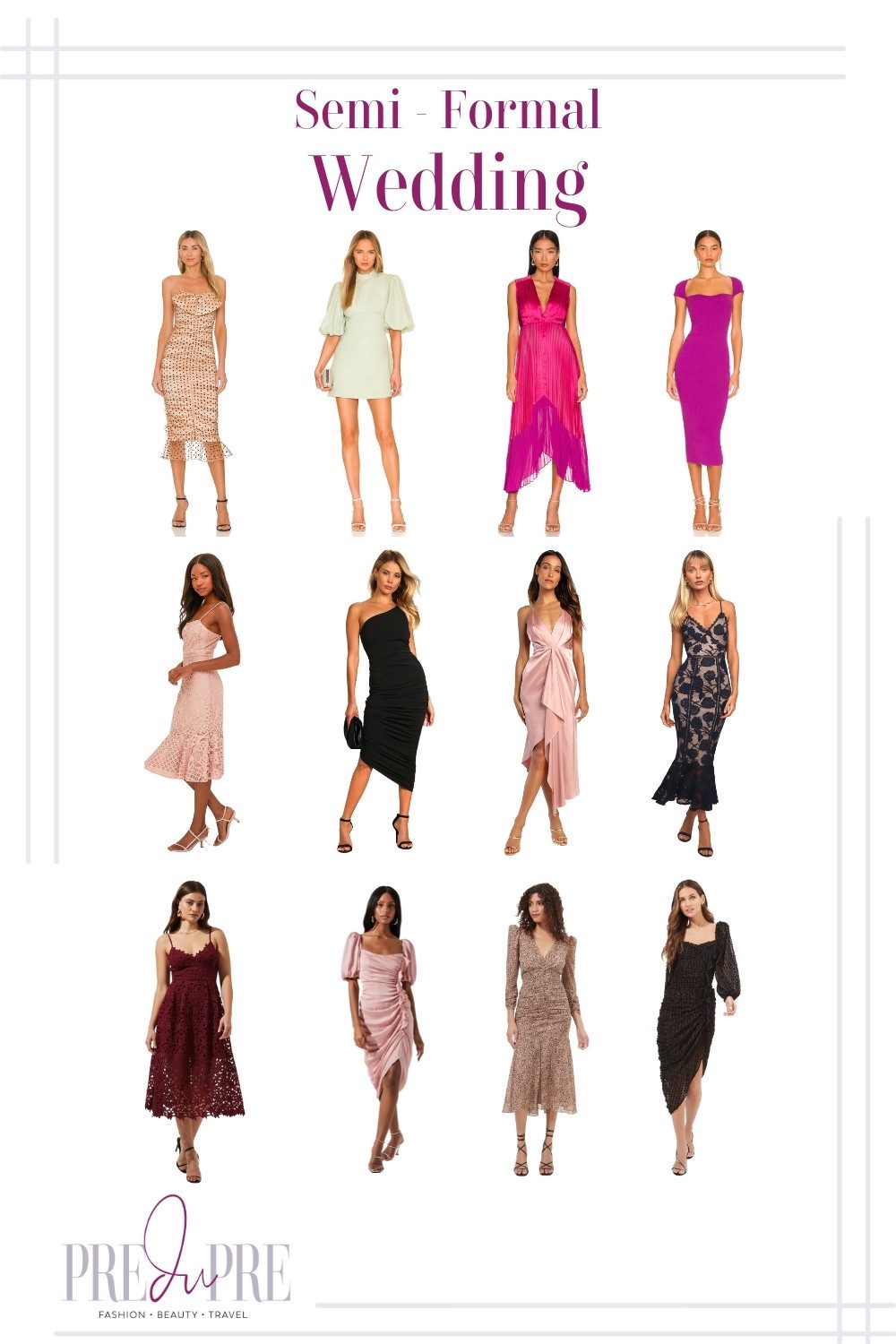 ---
Beach or Destination Wedding
When you think of a beach or destination wedding, you think of traveling to a tropical beach full of soft sand and blue seas. Still, be mindful of the venue, current weather and season, and time of day for the wedding.
For example, a beach wedding can happen at your local beach with a more casual ambiance. In contrast, the wedding may be held at an upscale resort with luxury amenities and waiters serving your every need. The difference between the two also means a difference in attire.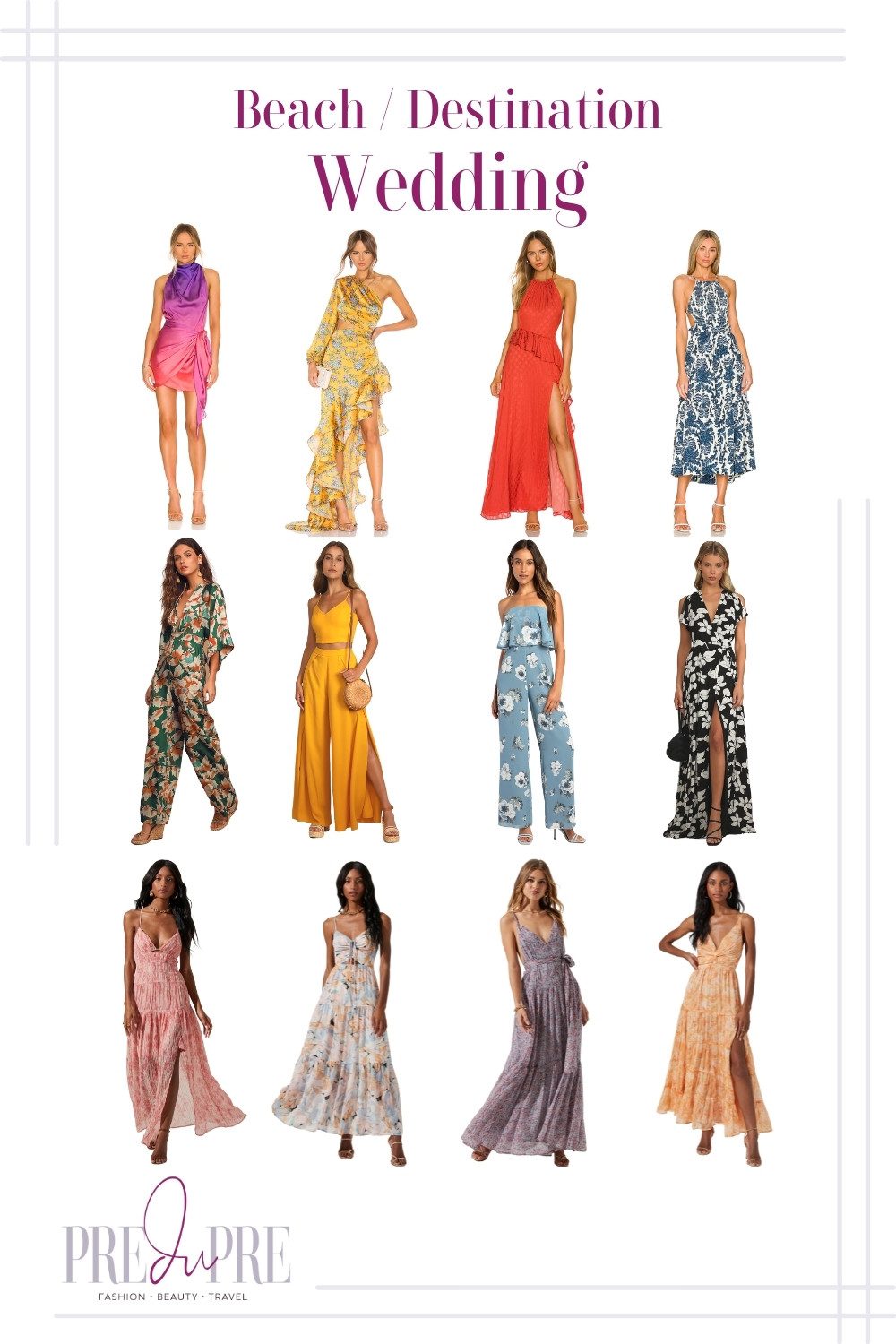 ---
With that said, overall, a beach or destination wedding involves dressing with comfort in mind. Cotton and linen will be the ideal fabric choice.
Women: Think of beautiful floral print sundresses, pastel-colored maxi dresses, or a dressy top and linen pants combo.
Men: Just like women, men should opt to wear light fabric clothing. Linen collared shirts or button-down paired with pants or shorts will look great for a beach/destination wedding. Prints also work for men, but nothing too loud (unless the wedding calls for it).
Casual Wedding
A casual wedding is the most laid-back one of all weddings. Although that doesn't mean you can come wearing jeans and a shirt. The venue of an informal wedding will be what helps you figure out what to wear. Usually, a casual wedding happens in the morning/daytime or afternoon, so light-colored fabrics and soft fabrics like floral prints and chiffon work well.
Women: A sundress or casual cocktail dress is perfect. If dresses aren't your thing, then a top with dress pants will work.
Men: Like a beach/destination wedding, a collared or button-down shirt (tie optional) and pants are perfect for a casual wedding. Men can also opt to wear a patterned blazer to add more formality if the wedding calls for it.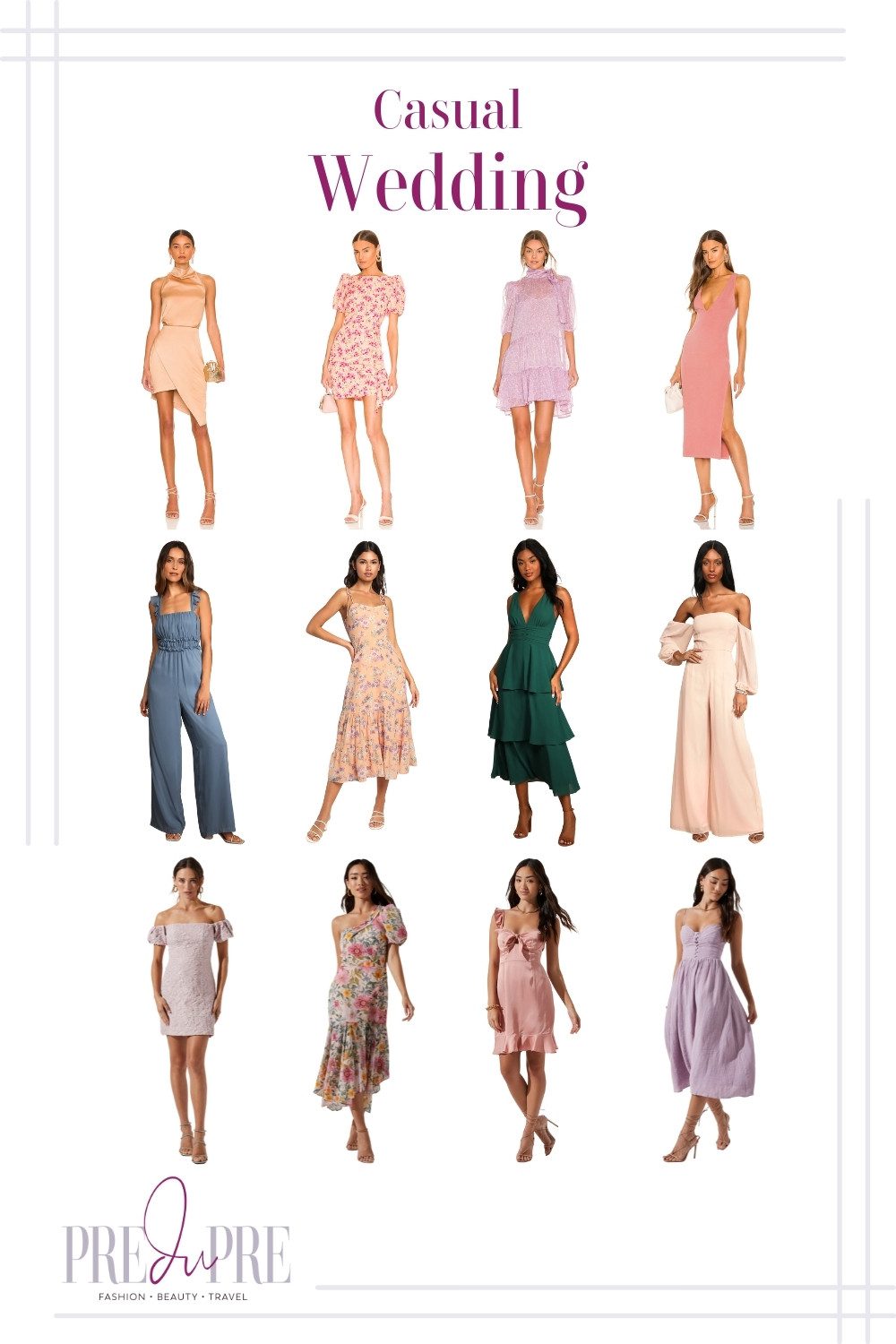 ---
Themed Wedding
Over the years, weddings have evolved, and themed weddings have become a hit for those who dare to be different. The variety of themed weddings are endless and creative. Some examples are:
Rustic country weddings, where it's a mix of nature and wood elements with soft and detailed textures like lace
Fairy tale weddings, where it's like taken straight out of a book – ball gowns, horse carriages, and even orchestra music
Holiday-themed weddings, where it incorporates a holiday like Christmas (think lots of green and red colors) or Valentine's Day (think of lots of pink and red)
Color-themed weddings like an all-white or conversely an all-black themed wedding – all creates an aesthetically pleasing wedding.
So what you wear will depend on the theme. You can search online to look for ideas on what to wear for a themed wedding.
---
Do you enjoy dressing up? If you can pick, what's your favorite style to dress?